S'mores cookies have crushed graham crackers right in the dough, are topped with a mini Hershey's bar, and are finished with a roasted marshmallow! These cookies are huge and so very much fun!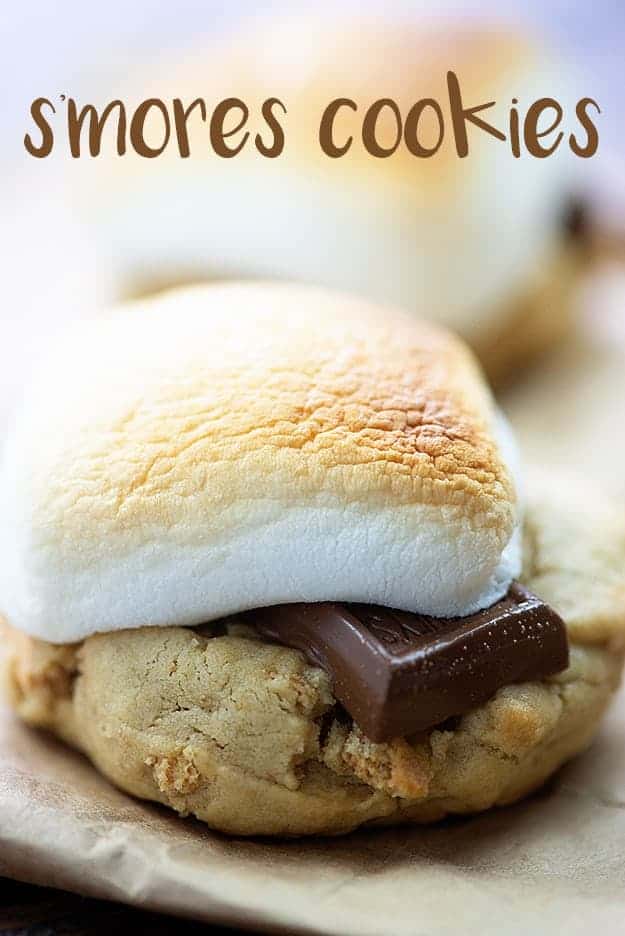 Okay, friends, I can not even believe how long it's been since I shared a s'mores recipe with you guys!
Back in the day, it seemed like I was sharing s'mores goodies every month. I mean, it's hard to go wrong with graham crackers, chocolate, and marshmallows, right?
I have an entire category dedicated to s'mores. These cookies mark my 17th s'mores recipe. Overkill? Nah.
We even did Air Fryer S'mores!
Anyway, you guys are going to FLIP for these humongous, over the top, outrageous s'mores cookies.
My kids both literally did a happy dance when they saw these coming out of the oven. And okay, I did too. 😉
S'mores Cookies Ingredients:
Butter – Melted butter means no waiting for it to be perfectly soft! ?
Sugars – We're using both brown and white sugar for texture and flavor.
Vanilla – Try out our favorite vanilla extract!
Graham Crackers – Crumbs and small pieces. Try out these graham crackers.
Hershey's Chocolate – You can buy the mini bars or break full sized bars into smaller pieces.
Marshmallows – A must! Use the s'mores kind (they're flat!) or the regular ones. Both work!
What We Love About This Recipe!
You get all of the best parts of a s'mores (ooey gooey marshmallow, melty chocolate, graham crackers) in cookie form, with no campfire needed! These are a riff on my PERFECT cookie dough, which means there's no need to soften the butter or chill the dough – hello EASY!
How to Make S'mores Cookies:
Cookie Dough: We're starting with my perfect chocolate chip cookies. The dough is OUTRAGEOUS and it always bakes up thick and chewy with no chill time. Plus, you start with melted butter so it's beyond easy to make these cookies.
I've left the chocolate chips out of the dough and instead added in some graham cracker crumbs in place of a bit of flour.
I also broke up some graham crackers into larger chunks and stuck a few pieces into each ball of cookie dough.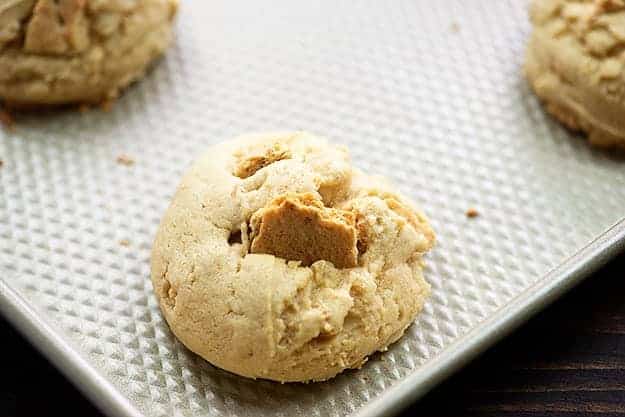 Bake: When the cookie dough is ready you can go ahead and scoop it out into equal sized portions onto a baking sheet. They won't take long, only about ten minutes!
Top: Once the cookies are baked, you'll immediately press a fun-sized Hershey's bar into the top of the cookie. It starts to soften up and gets nice and melty around the edges pretty quickly.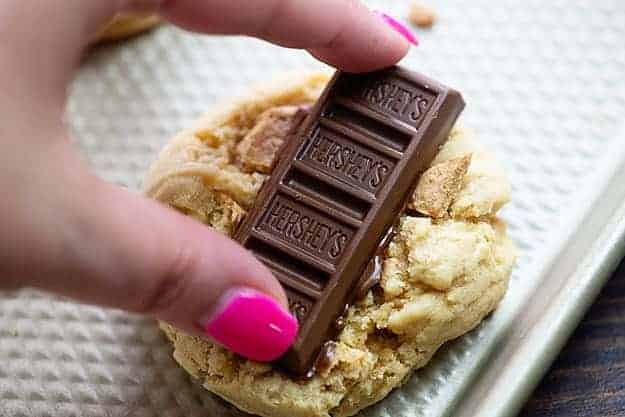 Top that off with one of the flat s'mores marshmallows. They're huge, I know. It's okay though, because the cookies are also huge. Go big or go home, right? 😉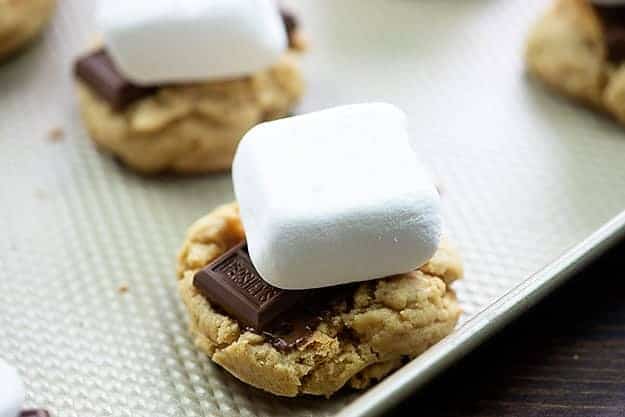 Broil: Turn your oven to broil and stick the cookies under the broiler. You want to keep a close eye on your mallows at this point. They go from perfectly toasted to blackened quite quickly.
These cookies are obviously best served warm, so dig in!
You can also reheat them in the microwave for about 10 seconds if you're saving these for later.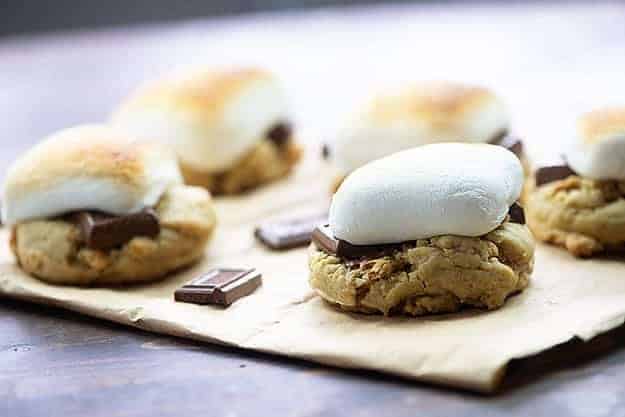 Helpful Tip!
Want to make these ahead, but still serve them all warm and gooey? Bake the cookies as directed and top them with the Hershey's bar. Let cool and store tightly covered. When you're ready to serve, place the cookies bacon a baking sheet, pop on the marshmallow, and broil! The chocolate should soften right back up and the cookies will taste freshly baked!
More S'mores Recipes:
As I said, I've made a lot of s'mores recipes in my days of blogging. You're going to want to try a few of my favorites.
Peanut Butter S'mores Cookie Cups – If you love peanut butter and you love s'mores, you should marry the two. 🙂
S'mores Bars – Literally one of my favorite things on the planet.
S'mores Pie – This one has Christmas sprinkles on it, but change it up for any holiday or just skip the sprinkles all together.
S'mores Brownies – Brownies and S'mores together! Need I say more?
Biscoff S'mores Bars – Biscoff makes everything taste better, even S'mores!
S'mores French Toast – Who says you can't have S'mores for breakfast?
S'mores Cupcakes – The perfect party treat.
S'mores Donuts – You're going to flip for these.
Okay, friends, go forth and MAKE SOME S'MORES!
Your kids will love you, your belly will be happy, and I won't feel alone over here in my love of all things marshmallow goo.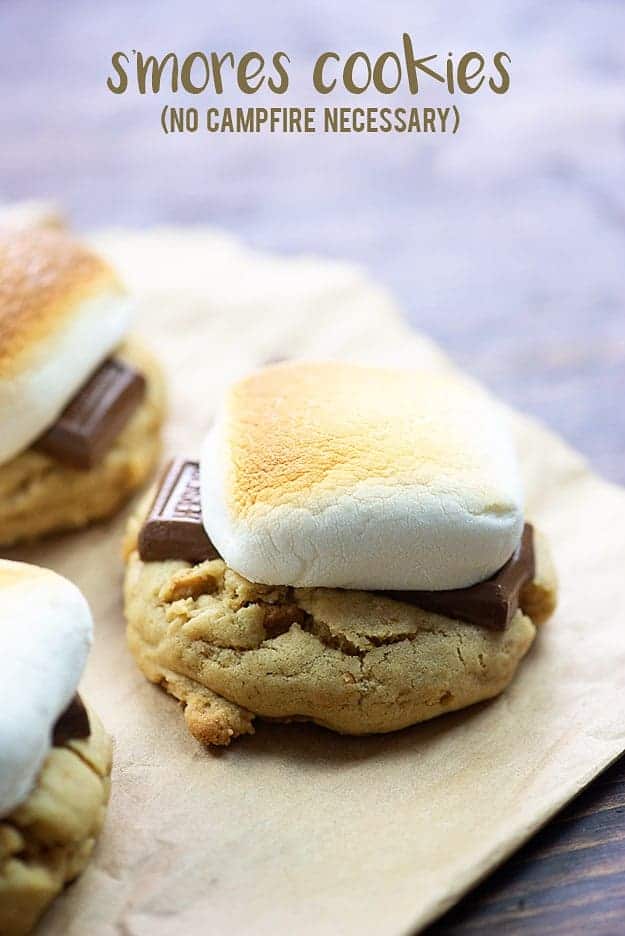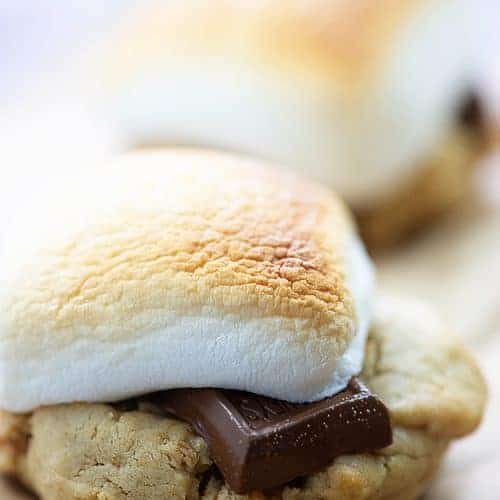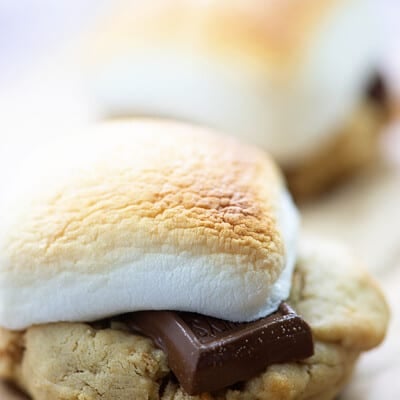 S'mores Cookies
These s'mores cookies are humongous, soft, chewy, and totally over the top! Kids love them!
Prep5 minutes
Cook13 minutes
Total18 minutes
Ingredients
1/2 cup butter melted
1/2 cup brown sugar
1/4 cup granulated sugar
1 large egg
2 teaspoons vanilla extract
1 1/2 cups flour
1/3 cup graham cracker crumbs
1/2 teaspoon baking soda
1/2 teaspoon salt
1 graham cracker broken into small pieces
12 mini Hershey's bars
12 marshmallows
Instructions
Preheat oven to 350 degrees.

Add the melted butter, brown sugar, and granulated sugar to a mixing bowl and mix well.

Beat in the egg and vanilla until well combined.

Stir the flour, graham cracker crumbs, baking soda, and salt into the butter mixture until well combined.

Stir the broken graham cracker into the cookie dough and scoop into 12 evenly sized cookie dough balls.

Place cookie dough on a large baking sheet and bake for 10 minutes.

Remove the cookies from the oven and carefully press a Hershey's bar lightly onto each cookie.

Top each cookie with a marshmallow and return to the oven under the broiler. Broil on high for 1-2 minutes or until marshmallows are toasted to your liking.

Serve immediately.
Tips & Notes:
To store the cookies, keep in a tightly closed cookie jar. Reheat in the microwave for 10 seconds before serving.
Nutrition Information:
Serving: 1cookie| Calories: 230kcal (12%)| Carbohydrates: 34g (11%)| Protein: 2g (4%)| Fat: 9g (14%)| Saturated Fat: 5g (31%)| Cholesterol: 36mg (12%)| Sodium: 249mg (11%)| Potassium: 38mg (1%)| Sugar: 19g (21%)| Vitamin A: 260IU (5%)| Calcium: 21mg (2%)| Iron: 1mg (6%)