August 8, 2018
S'mores French Toast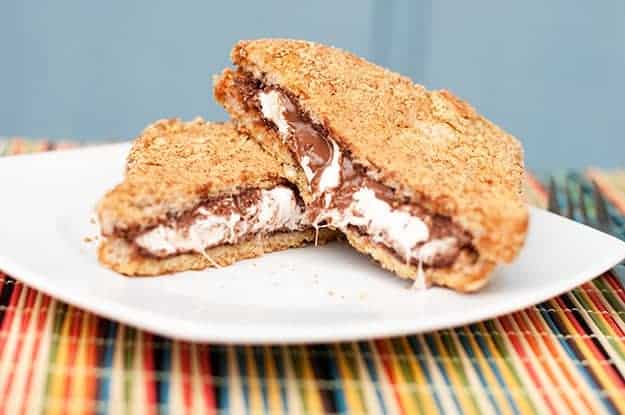 It's back! The blog is back! Hallelujah, praise Bieber.
Thanks for sticking with me through all of the "account suspended" business. I was finally able to get things transferred to a new host that does not hate me and want me dead, so that's nice!
To celebrate I made brinner. You know…breakfast for dinner. Brinner.
My husband works third shift and usually wakes up just as I'm starting dinner. He loves when I make breakfast for dinner since it actually is his breakfast. I was so sure he was going to be pleased when he saw this.
Instead, he walked in the kitchen, looked around, and asked where dinner was.
Um, hello? Don't you see the marshmallows and Nutella? What about the WHOLE GRAIN BREAD and EGG?
Dinner. Duh.
Normally, I'd probably call this dessert, but it's been a rough few days and the idea for a s'mores stuffed french toast popped in my head and wouldn't get out. So, I went with it. I'm glad I did, even if it did cause my husband to put his cheek against my forehead to check for a fever.
I'm not sick. I'm just brilliant.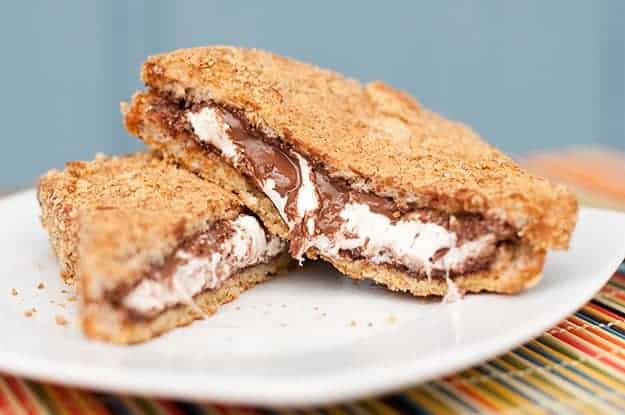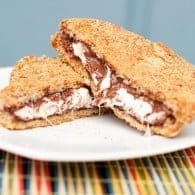 S'mores French Toast
Servings: 1 sandwich
Calories: 640 kcal
This decadent s'mores French toast make a fun dessert!
Ingredients
2 slices sandwich bread
1/4 cup mini marshmallows
2 tablespoons Nutella
1/2 cup graham cracker crumbs
1 large egg
2 tablespoons milk
Instructions
Heat a skillet over medium heat.

Beat the egg and milk together in a pie plate or shallow dish. Pour the graham cracker crumbs in a second pie plate or shallow dish.

Spread Nutella on both slices of bread. Top one slice with mini marshmallows and then put the other slice of bread on top, Nutella side down. Squish it together a bit.

Place the sandwich in the egg mixture and turn to coat. Remove from the egg mixture and place in the graham cracker crumbs, turning the sandwich to coat each side with crumbs.

Place the sandwich on the skillet and cook until lightly browned and the marshmallows are melted. Let sit for a few minutes before cutting in half. Enjoy!
Nutrition Facts
S'mores French Toast
Amount Per Serving (1 sandwich)
Calories 640 Calories from Fat 198
% Daily Value*
Fat 22g34%
Saturated Fat 13g81%
Cholesterol 189mg63%
Sodium 631mg27%
Potassium 391mg11%
Carbohydrates 91g30%
Fiber 4g17%
Sugar 41g46%
Protein 16g32%
Vitamin A 270IU5%
Calcium 265mg27%
Iron 6mg33%
* Percent Daily Values are based on a 2000 calorie diet.
Nutrition Disclaimer: All information presented on this site is intended for informational purposes only. I am not a certified nutritionist and any nutritional information shared on bunsinmyoven.com should only be used as a general guideline.