This Pumpkin Crisp recipe is made with a creamy pumpkin custard topped with a buttery, crispy, crumbly cinnamon sugar oat topping. Serve this warm or cold with a dollop of whipped cream on top!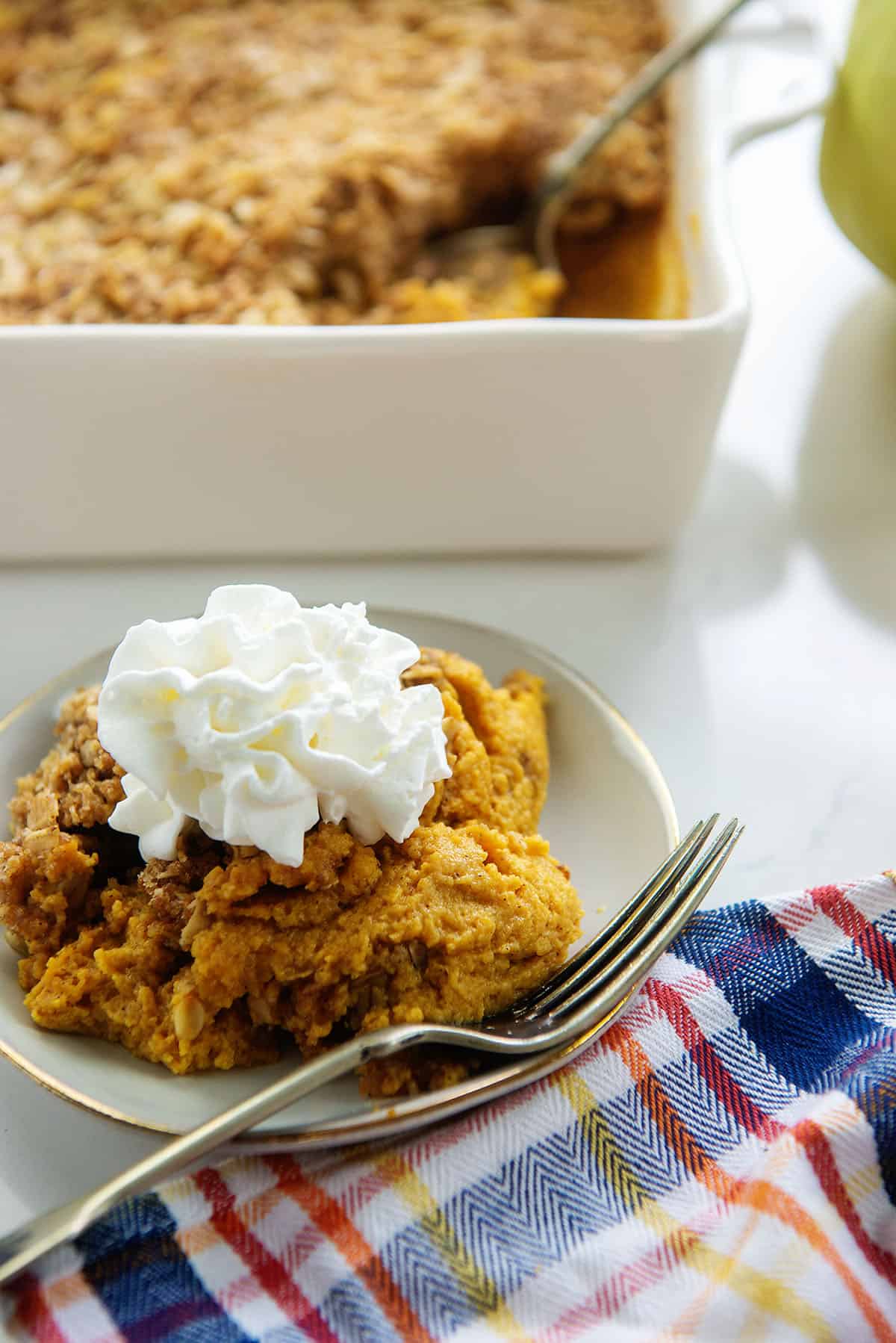 There's no better season than pumpkin season, if you ask me!
The only problem is that, as a food blogger, our seasons are a bit different than everyone else's. I'm making pumpkin in June and Christmas in July so that I can have these recipes ready to go for you!
I don't really mind though – I bake pumpkin desserts in the summer and then get to eat them from bakeries and friends in the Fall. I guess it's really a win win situation! 🙂
Anyway, this pumpkin crisp is for PUMPKIN LOVERS ONLY!
It has a thick, creamy, custard layer that will have you diving in face first. We love it when it's nice and cold, straight from the fridge!
The topping is so simple, but adds the perfect touch.
Serve this up with whipped cream or even vanilla ice cream. Yum!
Feel free to grab an extra can of pumpkin when you shop for this one. We have loads of other pumpkin goodies, like pumpkin chocolate chip bread and pumpkin crunch cake!
Pumpkin Filling Ingredients:
This post contains affiliate links. As an Amazon associate and member of other qualifying programs, I earn from qualifying purchases.
Pumpkin – This easy filling starts with a can of pure pumpkin puree. Make sure you get pure pumpkin and not canned pumpkin pie mix.
Evaporated Milk – This is sold in a can in the baking aisle. This is NOT the same as sweetened condensed milk.
Pumpkin Spice – This is what gives pumpkin the pumpkin flavor, honestly. Plain pumpkin doesn't have much taste on it's own. This is a mix of cinnamon, nutmeg, ginger, and cloves. Give our homemade pumpkin pie spice a try. We make a big batch to bake with all season.
Crisp Topping Ingredients:
Oats – We're using old fashioned oats here, but quick oats would work as well. Do not use steel cut oats in this recipe.
Brown Sugar – We prefer dark brown sugar, but light will also work.
Butter – You'll want to use cold butter that you've cut into small cubes.
What We Love About This Recipe!
The buttery cinnamon and sugar oat topping adds the perfect crunch to the dense pumpkin filling! Served cold from the fridge with a dollop of whipped cream, this has all the makings of the perfect Fall dessert and you don't even have to deal with making a pie crust.
How to Make Pumpkin Crisp:
Pumpkin Filling: The first step for this recipe is to prepare the pumpkin filling. Both the filling and the topping are pretty simple, there isn't a lot of work involved in this recipe! Add the sugar, eggs, and pumpkin pie spice to a mixing bowl and whisk until they are well combined.
You can now mix in the pumpkin puree and finally the evaporated milk. Whisk it all together until the pumpkin filling is smooth with no lumps in the mix. Pour the pumpkin filling into a prepared baking dish and set it aside for now.
Crisp Topping: This is another quick and easy mix! Add all of the topping ingredients (flour, oats, etc) except for the cold butter to a mixing bowl and stir to combine. You'll need a pastry cutter or a couple butter knives for this next part.
Add the cold cubed butter to the oat topping mix and start cutting it in with the pastry cutter or butter knives. You want it to form into coarse crumbs that sort of looks like wet sand.
Helpful Tip!
Add Pecans!
If you want to add even more good stuff to this cinnamon sweet crispy crunchy topping you could change it into a pecan oat topping by mixing in some chopped pecans!
Bake: Now to complete this pumpkin crisp recipe you can go ahead and start sprinkling the cinnamon oat topping over the pumpkin filling. Bake it for about 55 to 65 minutes or until the top has turned golden and the center is set.
Allow the pumpkin crisp to cool for about an hour before placing it in the fridge to chill completely before serving!
FAQs:
How do I store pumpkin crisp?
The pumpkin crisp should last for 3-4 days, covered, in the refrigerator. We prefer to serve this cold, but it can also be warmed in the microwave.
Can I freeze pumpkin crisp?
Wrap your pumpkin crisp tightly in foil and freeze for up to 3 months. Thaw overnight in the fridge before serving.
How to serve pumpkin crisp?
This dish is best served cold! We like to top ours off with some whipped cream or a big scoop of vanilla ice cream.
MORE FALL PUMPKIN RECIPES!
Pumpkin Crisp
This pumpkin crisp has a thick, dense layer of pumpkin pie filling all topped off with a simple topping made of cinnamon, sugar, and oats. Serve cold with a dollop of whipped cream for the perfect Fall treat.
Prep15 minutes
Cook1 hour 5 minutes
Chill Time4 hours
Total5 hours 20 minutes
Ingredients
For the topping:
¾ cup flour
¾ cup rolled oats
¼ cup brown sugar
1 teaspoon cinnamon
¼ teaspoon baking soda
1/3 cup cold butter cubed
Instructions
To make the filling:
Preheat oven to 375 degrees. Grease a 9×9 baking dish.

Add the sugar, eggs, and pumpkin pie spice to a large mixing bowl and whisk well until combined.

Whisk in the pumpkin to combine.

Whisk in the evaporated milk until fully combined and no lumps are in the mixture.

Pour into the prepared baking dish and set aside.
To make the topping:
Add the flour, oats, brown sugar, cinnamon, and baking soda to a mixing bowl and stir to combine.

Add the butter to the oat mixture and use a pastry cutter or two butter knives to cut the butter into the oat mixture until you have coarse crumbs resembling damp sand.
To bake:
Sprinkle the topping evenly over the the pumpkin pie filling.

Bake for 55-65 minutes or until the top is golden and the center is set.

Cool for one hour on the counter before transferring to the refrigerator to chill completely.

Serve cold with whipped cream on top, if desired.
Tips & Notes:
Stir pecans into the oatmeal topping for extra crunch, if desired. We prefer this dish served cold, but you can eat it warm if preferred.
Nutrition Information:
Calories: 444kcal (22%)| Carbohydrates: 65g (22%)| Protein: 10g (20%)| Fat: 17g (26%)| Saturated Fat: 10g (63%)| Polyunsaturated Fat: 1g| Monounsaturated Fat: 5g| Trans Fat: 1g| Cholesterol: 106mg (35%)| Sodium: 227mg (10%)| Potassium: 415mg (12%)| Fiber: 4g (17%)| Sugar: 42g (47%)| Vitamin A: 11573IU (231%)| Vitamin C: 4mg (5%)| Calcium: 201mg (20%)| Iron: 3mg (17%)