You can't let fall pass you by without making this APPLE CRISP at least once! I make sure the apples are perfectly spiced with cinnamon and sugar and then top it off with loads of topping! No skimping on the apple crisp topping here. Serve with a scoop of vanilla ice cream.
Okay, I'm going to be real with you for a second…
I like apples. They're a totally fine fruit.
They're just…not…chocolate.
So, sure, I like apples in dessert, but mostly I'd rather have some chocolate eclair cake or chocolate banana bread. Ya know?
But, then I decided to make an apple crisp for my dad, because the man loves fruit desserts and I thought…you know? If we make EXTRA TOPPING, this is gonna be good.
And that's the story of how I ate an entire apple crisp all by myself in a 3 hour period. Chocolate who?
I'm pretty obsessed with this apple crisp recipe and I bet you will be too!
Best Apple Crisp Recipe:
Peel and slice up about 3 pounds of tart apples and then toss them in a simple mix of sugar, flour, and cinnamon. If you can avoid eating half the apple slices one by one as you work, well, you're a stronger person than I am. 😉
Add the apples to a 9×13 baking dish and whip up that topping.
Apple Crisp Topping:
This apple crisp topping is super simple and it makes A LOT, because let's be real: the topping is the best part!
Add flour, oats, and brown sugar to a mixing bowl with a little baking powder and baking soda.
Stir in some melted butter to form the topping.
Sprinkle the apple crisp topping over your pan of apples.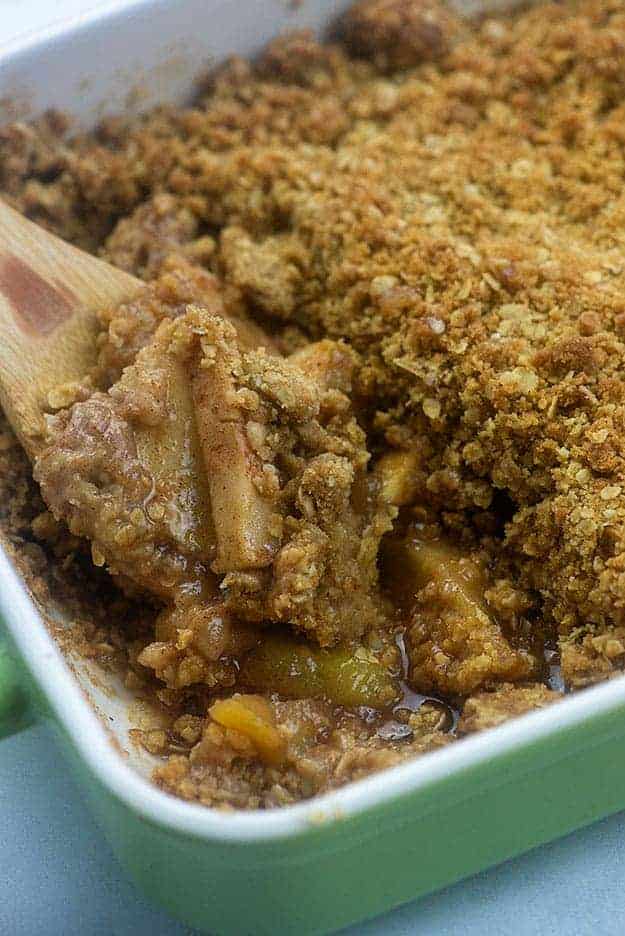 This apple crisp recipe bakes in about 45 minutes.
We like to serve this warm with a big scoop of vanilla.
Of course, I also like to pick chunks of topping off the apple crisp every time I walk through the kitchen. It's kind of dangerous, honestly.
Which apples are best for apple crisp?
I like to use Granny Smith apples in baked apple recipes because they're nice and tart and can hold up to the added sugar without getting too overwhelmingly sweet.
Honeycrisp is also a good choice for baking.
I normally keep things simple by using just Granny Smith, but a mix of the two are great as well.
Does apple crisp need to be refrigerated?
You'll want to cool your freshly baked apple crisp on the counter until warm and then store any leftovers in the refrigerator for up to 5 days.
I like to place a single layer of paper towels over the top of the crisp and then wrap the pan in foil. The paper towels soak up any extra moisture and prevent the topping from getting too soggy.
More apple recipes to try:
Apple Cake: Made with fresh apples and a cinnamon sugar topping!
Apple Cobbler: Perfection!
Apple Fritters: You've got to try these homemade fritters!
Snickers Apple Salad: One of my favorite fall treats!
Applesauce Cake: This is a favorite in my family!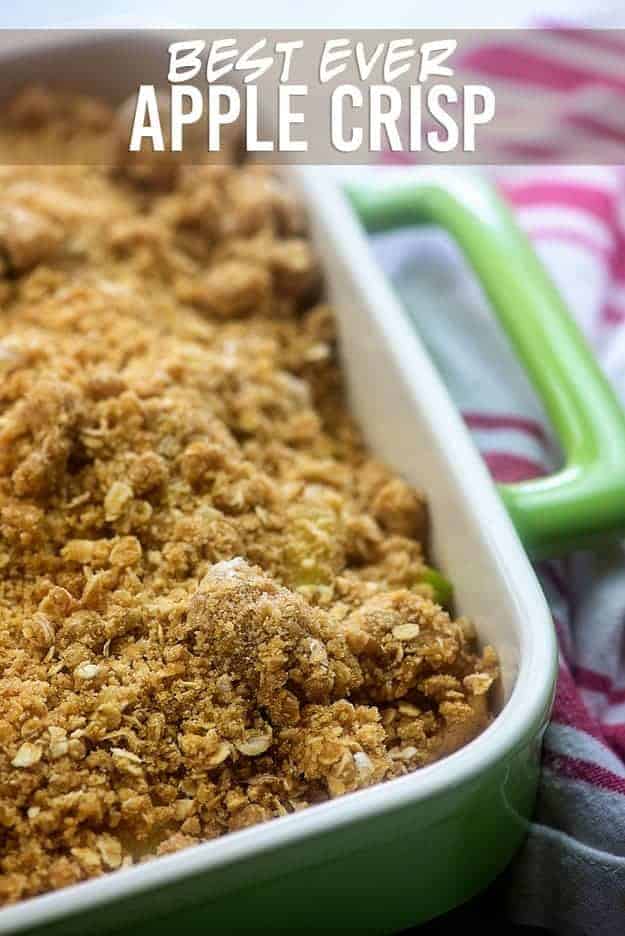 Apple Crisp
This apple crisp has an extra thick layer of the crisp topping for more crunchy goodness!
Prep20 minutes
Cook45 minutes
Total1 hour 5 minutes
Ingredients
For the filling:
3 pounds Granny Smith apples
1 cup white sugar
1 tablespoon all-purpose flour
2 teaspoons ground cinnamon
For the topping:
1 1/2 cups quick-cooking oats
1 1/2 cups all-purpose flour
1 1/2 cups packed brown sugar
½ teaspoon baking powder
¼ teaspoon baking soda
3/4 cup butter melted
Instructions
Preheat oven to 350 degrees F.

Peel and core the apples. Slice into 1/2 inch thick slices.

Add the apples, sugar, flour, and cinnamon to a large mixing bowl and stir well to combine.

Pour the apples into a 9x13 baking dish.

Add all of the topping ingredients to a mixing bowl and stir well to combine.

Crumble evenly over the apple mixture.

Bake for about 45 minutes or until the topping is golden and the apples are soft.

Serve warm with vanilla ice cream, as desired.
Nutrition Information:
Serving: 1| Calories: 427kcal (21%)| Carbohydrates: 79g (26%)| Protein: 4g (8%)| Fat: 13g (20%)| Saturated Fat: 7g (44%)| Cholesterol: 31mg (10%)| Sodium: 134mg (6%)| Potassium: 231mg (7%)| Fiber: 4g (17%)| Sugar: 55g (61%)| Vitamin A: 416IU (8%)| Vitamin C: 5mg (6%)| Calcium: 51mg (5%)| Iron: 2mg (11%)