Our Fresh Apple Cake is made with loads of tart apples tucked in a simple spiced cake batter. It's perfect for a Fall day on it's own or served with a scoop of vanilla ice and a drizzle of caramel sauce. We love that this cake is loaded with fresh apples!
Going to the apple orchard every Fall is one of my favorite things to do.
When the kids were younger, we'd play at their playground, grab lunch, and then go pick our own apples.
Now that my kiddos are older, they aren't as interested in playgrounds so we skip that and just shop the little farm store and bakery.

They make the BEST apple cider donuts there! (Which we've turned into apple cider donut bread!!)
Then we grab a few bags of already picked apples and head home to bake allllll. the. things. 😉
This fresh apple cake recipe is a yearly thing in our house. The texture is amazing, it's not too sweet, it's perfectly spiced, and we like to serve it with a scoop of ice cream and drizzle of caramel sauce. How can you go wrong with a treat like that?
Ingredient Notes:
This post contains affiliate links. As an Amazon associate and member of other qualifying programs, I earn from qualifying purchases.
For the apple cake:
Dry Cake Ingredients – You'll need some pretty standard baking ingredients here including flour, baking powder, sugar, cinnamon, and salt!
Wet Cake Ingredients – The remaining cake batter ingredients you'll need are eggs, vegetable oil, and some vanilla extract.
Applesauce – Use an unsweetened applesauce since you'll be adding sugar. This is going to add moisture to the apple cake to keep it from drying out, and it'll add even more apple flavor!
Apples – You'll need some peeled and diced apples. I prefer to use tart apples for baking. They pair well with the added sugar in the cake. Jonagold, Honeycrisp, Braeburn, or Granny Smith are all excellent choices.
Pecans – Some chopped pecans will add a little crunch to this fresh apple cake! If you don't like the crunchy texture you can omit them. Walnuts would also work in place of pecans.
Cinnamon & Sugar – We'll sprinkle this over the top of the cake for a delightful crunch to each bite.
What We Love About This Recipe:
Irresistibly Moist: This apple cake is wonderfully moist thanks to the addition of applesauce, ensuring every bite is bursting with flavor and a delightful texture.
Fresh and Fruity: Made with fresh apples, this cake captures the essence of the season, infusing each slice with natural sweetness and a hint of tartness.
Perfectly Spiced: The cinnamon in this cake makes it warm and inviting. Perfect for a cozy fall treat.
Easy to Make: This recipe is straightforward and simple, allowing you to whip up a delicious apple cake effortlessly, even if you're not an experienced baker.
It's so easy to whip up dessert with this cute hand mixer. It doesn't take up much space and is a must for any kitchen!
How to make this fresh apple cake recipe:
Mix: This easy apple cake recipe starts off with the usual cake ingredients: flour, sugar, eggs, oil, baking powder, and vanilla.
We're also adding in some unsweetened applesauce for extra apple flavor and moisture, along with some cinnamon to spice the cake up a bit. You could use apple pie spice if you like those flavors better. I'm a simple cinnamon girl myself.
Beat together all of the ingredients with your mixer until smooth and creamy.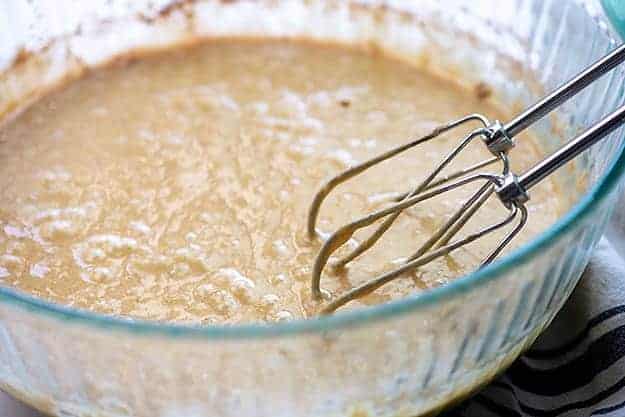 Apples: Peel and chop 5 apples. Jonagold, Honeycrisp, Braeburn, or Granny Smith are all excellent choices here. I always use at least 2-3 Granny Smith apples and then mix in a couple of the others.
Pecans: This apple cake also needs a handful of chopped pecans. It adds a little bit of crunchy texture and it goes really well with the cinnamon, sugar, and apple flavors.
Helpful Tip!
You can dice the apples and chop the pecans into pieces as small, or large, as you prefer.
If you don't like the chunkier texture from the apples, just chop them into smaller pieces or shred them. And you can omit the pecans for a nut-free treat.
Combine: Stir the freshly diced apples with the chopped pecans together with the cake batter ingredients and then pour the fresh apple cake batter into a greased 9×13 baking dish.
Topping: Since we're not going to frost this one, we're instead going to dust it with a bit of cinnamon and sugar before baking. It just adds a little extra oomph to the flavor and the crackly cinnamon sugar crust looks amazing and gives a nice texture to the top of the cake.
Bake: This cake bakes in about an hour. You'll want to let it cool before cutting and serving.
Serve: We like this one just how it is for a sweet breakfast treat with a cup of coffee.
For dessert, we like to serve with a scoop of vanilla and a drizzle of caramel sauce.
You really can't go wrong either way!
FAQs:
Does apple cake need to be refrigerated?
This apple cake recipe is very moist and loaded with fresh apples, so you'll want to keep it in the fridge or it will go bad quickly. In the refrigerator, this fresh apple cake should last 4-5 days.
How to reheat apple cake?
You can definitely enjoy this apple cake while it is cold, but I think it's even better when it's still warm! You can warm individual pieces in the microwave in 10 second bursts.
MORE APPLE RECIPES TO TRY!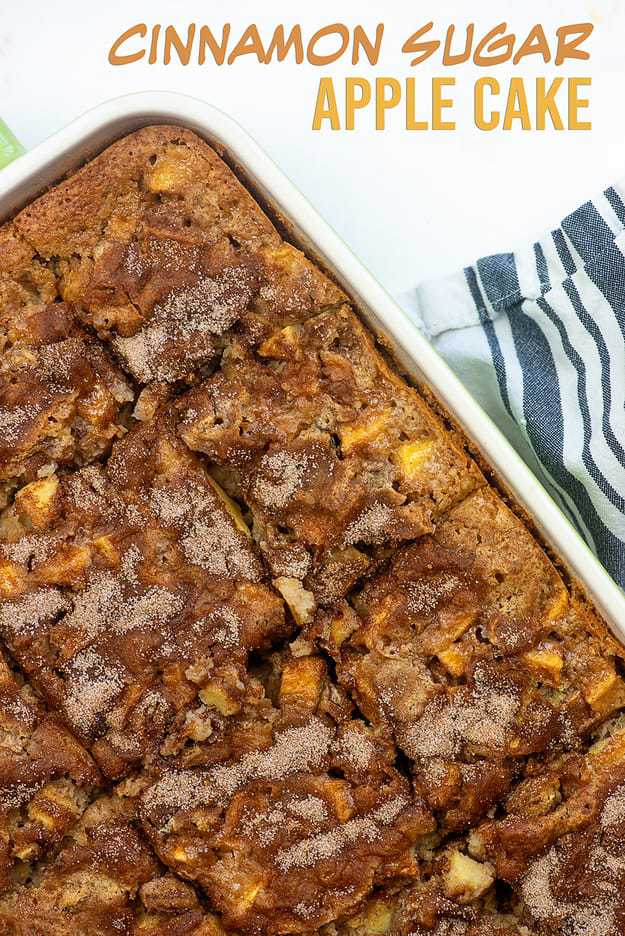 Fresh Apple Cake
Simple, sweet, and loaded with fresh apples!
Prep15 minutes
Cook1 hour
Total1 hour 15 minutes
Ingredients
For the cake:
2 cups flour
4 teaspoons baking powder
1 tablespoon cinnamon
½ teaspoon salt
2 cups white sugar
4 large eggs
1/2 cup unsweetened applesauce
1/2 cup vegetable oil
1 tablespoon vanilla
5 medium tart apples peeled and diced
1 cup chopped pecans
For topping:
4 teaspoons sugar
1 teaspoon cinnamon
Instructions
Preheat oven to 350 degrees. Spray a 9×13 baking dish with non-stick spray.

Whisk together the flour, baking powder, cinnamon, and salt in a large mixing bowl.

Add the sugar and eggs to a medium mixing bowl and beat with an electric mixer on medium speed for 3 minutes. Eggs should be thick, creamy, and pale yellow.

Add the oil, applesauce, and vanilla to the eggs and mix to combine.

Pour the liquid ingredients over the dry ingredients and mix well.

Add the apples and pecans to the batter and fold together.

Pour batter into prepared baking dish.

Combine the topping ingredients and sprinkle evenly over the cake batter.

Bake the cake for 50-60 minutes or until a tester comes out clean.

Cool completely before slicing and serving.
Tips & Notes:
Store cake tightly covered in the refrigerator for 4-5 days. Heat individul slices of cake in the microwave in 10 second bursts if you prefer it served warm.
Nutrition Information:
Serving: 1slice| Calories: 428kcal (21%)| Carbohydrates: 65g (22%)| Protein: 6g (12%)| Fat: 18g (28%)| Saturated Fat: 9g (56%)| Cholesterol: 70mg (23%)| Sodium: 127mg (6%)| Potassium: 309mg (9%)| Fiber: 4g (17%)| Sugar: 44g (49%)| Vitamin A: 148IU (3%)| Vitamin C: 4mg (5%)| Calcium: 91mg (9%)| Iron: 2mg (11%)