Apple cider donuts, are among the best easy fried donuts you can make. If you've been a reader for long, you know I am a donut addict.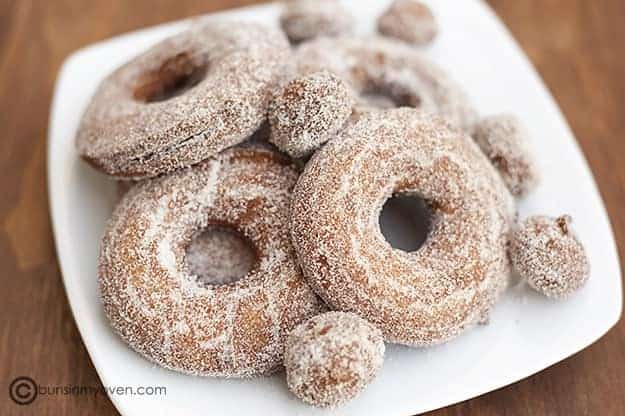 Oh, hi. You look kinda hungry. Don't worry. I made donuts.
And, again.
Also…again.
And one more time, but no link to that one since I still haven't shared the recipe. It's a doozy. I'll share it soon.
What? It's not like I have a problem with donuts or anything. I can stop anytime. Really. I can totally stop.
Quit judging me.
Just be happy that I'm sharing Apple Cider Donuts with you. I promised apple week, and apple week I shall deliver.
I know you all hate frying food (at least, I'm assuming that's the case based on all of the scared/mean/angry/frightened emails I get every time I post a recipe that involves frying), and honestly, I don't get it. Are you scared? Do you not do it for health reasons? Is it just that it's something new to you and you're leery about trying it? Do you just not know how?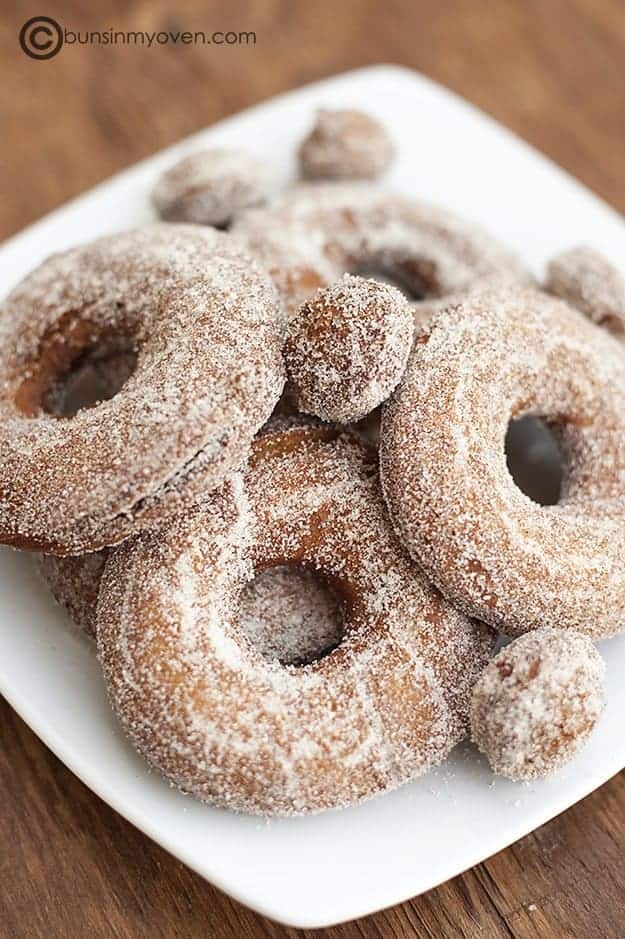 If you'd rather not fry, but you're craving apples, try my homemade applesauce instead!
Frying donuts is easy!
Really, guys, frying isn't difficult and it's not horribly unhealthy if you do right and do it in moderation.
Make sure your oil is hot enough and your food won't soak up a ton of grease.
I save the bottles that the oil comes in and I dump it back in the bottle through a funnel when the used oil is cool and toss the bottle with the lid tightly closed. I've also been known to just dump the pan full of oil out in a far corner of the backyard in the treese. I don't fry often, maybe twice a month (is that often?), but it's certainly not hard or scary.
Besides, freshly fried donuts are totally worth busting out a big pot of hot oil.
As you can see, I tossed my donuts in a bit of cinnamon and sugar, but I'm including the recipe for a yummy apple cider glaze that you could use instead. I just have this thing for cinnamon sugar donuts.
Go forth and fry. Report back and let me know how it goes.
Apple Cider Donuts
Nothing beats homemade donuts and this apple cider version is simply amazing.
Prep20 minutes
Cook5 minutes
Resting Time40 minutes
Total25 minutes
Ingredients
For the donuts:
1 cup apple cider
3 1/2 cups flour plus a few tablespoons for the work surface
2 teaspoons baking powder
1 teaspoon baking soda
1/2 teaspoon cinnamon
1/2 teaspoon salt
1/8 teaspoon nutmeg
4 tablespoons butter room temperature
1 cup sugar
2 eggs
1/2 cup buttermilk
For topping:
1 cup granulated sugar
2 tablespoons cinnamon
Instructions
Add the apple cider to a small sauce pan set over medium heat. Bring to a simmer for 20 to 30 minutes and reduce the apple cider to about 1/4 cup. Set aside to cool.

Combine the flour, baking powder, baking soda, cinnamon, salt, and nutmeg in a small bowl. Set aside.

In the bowl of a stand mixer, beat together the butter and sugar until light and creamy. Beat in the eggs one at a time until completely incorporated. Reduce the speed to low and add the apple cider and buttermilk, stirring just until combined.

Stir in the flour mixture just until the dough comes together.

Line two baking sheets with parchment paper and sprinkle with flour.

Place the dough on one baking sheet and flatten it out with your hands to about 1/2 inch thick.

Transfer the dough to the freezer for about 20 minutes.

Use a donut cutter to cut donuts and place them on the second baking sheet. Re-roll and cut out any scraps. Place the cut donuts in the refrigerator for 20 minutes.

Add enough oil or shortening to a deep sided pan to measure about 3 inches deep. Heat to 350 degrees. Line a plate with paper towels for draining the donuts.

Carefully add donuts to the pan of hot oil, being careful not to crowd the pan, and fry until golden brown, about 60 seconds per side. Drain on the paper towel lined plate for 1 minute and dip in a mixture of cinnamon and sugar.

Serve immediately.
Nutrition Information:
Serving: 1donut| Calories: 216kcal (11%)| Carbohydrates: 43g (14%)| Protein: 3g (6%)| Fat: 3g (5%)| Saturated Fat: 1g (6%)| Cholesterol: 25mg (8%)| Sodium: 163mg (7%)| Potassium: 103mg (3%)| Fiber: 1g (4%)| Sugar: 23g (26%)| Vitamin A: 115IU (2%)| Vitamin C: 0.1mg| Calcium: 44mg (4%)| Iron: 1.3mg (7%)
recipe from Smitten Kitchen