This fried donut recipe is filled with Nutella. No regrets!!!

What would you say if I told you that I don't really eat donuts for breakfast? Or, honestly, any sweets? I'm more of a savory kind of girl when it comes to breakfast.
All that sugar first thing in the morning? No, thank you.
Then I saw these donuts. And I died.
Then I promptly whipped up the dough (easy!), stuck it in my fridge, and set my alarm for about 3 hours earlier than I normally wake up (not so easy!) so that I could get up and cut out some donuts.
It was totally worth the loss of sleep.
Totally, absolutely, completely worth it.
I may not eat donuts for breakfast, but that doesn't mean that I don't eat them as sweet afternoon treats and I certainly know a good donut when I taste one. These donuts? Are the best I have ever tasted.
The original recipe called for filling them with pastry cream, but that sounded a little too boring for me. I chose Nutella. It just felt right.
Tasted right, too. However, I'd be hard pressed to choose a favorite between the sugary, un-filled donuts and the melty Nutella filled ones. They were both out of this world good. I should know…I ate two of each. Then I died again.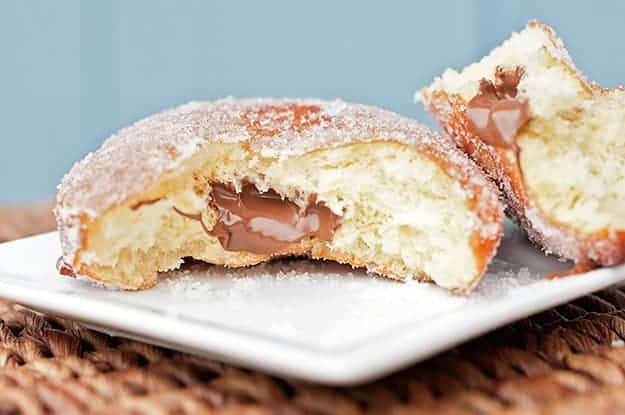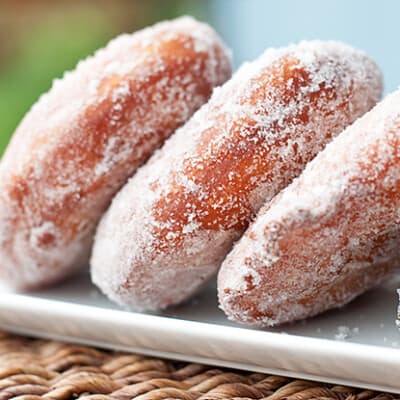 Nutella Filled Sugar Donuts
Best sugar donuts ever!!
Prep20 minutes
Cook5 minutes
Rise time8 hours
Total25 minutes
Ingredients
2 1/2 teaspoons active dry yeast
2/3 cups milk at room temperature
3 1/2 cups all-purpose flour
1 1/3 cups sugar
2 teaspoons kosher salt
3 eggs
7 tablespoons butter at room temperature, cut into 7 pieces
Canola oil for frying
Nutella for filling
Instructions
In the stand mixer fitted with the dough hook, combine the yeast and milk. Allow the yeast to dissolve, about 1 minute. Add the flour, 1/3 cup of the sugar, salt, and eggs and mix on low for about 4 minutes to develop the dough. Begin adding the butter, one piece at a time, and continue mixing for 5 to 6 minutes.

Remove the dough from the bowl and tightly wrap in plastic wrap. Refrigerate for 6 - 15 hours.

Lightly flour a baking sheet. Flour your work surface and roll out the dough into a 12 inch square about a 1/2 inch thick. Using a 3 1/2 to 4 inch round biscuit cutter, cut out the donuts. (I ended up with 11 total.) Arrange the donuts on the prepared baking sheet and cover in plastic wrap. Allow to rise in a warm spot for 2 - 3 hours or until doubled in height and feel poufy and pillowy.

When ready to fry, heat 3 inches of oil in a heavy pot to 350 degrees. Line a try with paper towels and add the remaining 1 cup of sugar in a small bowl. Add the donuts to the hot oil, being careful not to crowd the pan, and fry on each side until golden brown, about 2-3 minutes per side. Remove from the oil with a slotted spoon and allow to drain on the lined tray. When cool enough to handle, toss in the sugar to coat. Return each donut to the tray to cool completely, about 3o minutes.

Fill a pastry bag fitted with a small round tip with Nutella. Poke a hole in the donuts equidistant between the top and bottom and squirt in about 1/3 cup of Nutella. Serve immediately.
Nutrition Information:
Serving: 1donut| Calories: 309kcal (15%)| Carbohydrates: 51g (17%)| Protein: 6g (12%)| Fat: 8g (12%)| Saturated Fat: 4g (25%)| Cholesterol: 59mg (20%)| Sodium: 469mg (20%)| Potassium: 95mg (3%)| Fiber: 1g (4%)| Sugar: 23g (26%)| Vitamin A: 285IU (6%)| Calcium: 29mg (3%)| Iron: 1.9mg (11%)
recipe from flour