Nutella stuffed cookies will probably rank among your favorite cookies!

Pin It
I really wanted to name these cookies OMGNOMNOMNOM!!1!, but since this is another recipe that I snagged from someone else, I figured I'd not rename them in such a way.
I first saw these cookies over at Bake at 350 where Bridget's little dude thoroughly convinced me with all of his cuteness to try these cookies. I snagged the recipe from Darla over at Cookin' Canuck. She is quite possibly an evil cookie genius, but I like her anyway, evil genius or not.
Nutella stuffed cookies are for people who luv da cookies
Y'all know that my husband is a cookie connoisseur. He eats cookies for breakfast and lunch fairly regularly. He has been known to regularly eat monster cookies and chocolate chip cookies as his entire meal. Our kids would like to get away with that, but no. He's kind of a freak. I like him anyway. He happens to be both exceedingly cute and very good at following instructions. In fact, he totally obeyed when I asked him to join pinterest for the sole purpose of following this board: Things For The Husband to Buy Me. That has resulted in this board: Things The Husband Bought Me!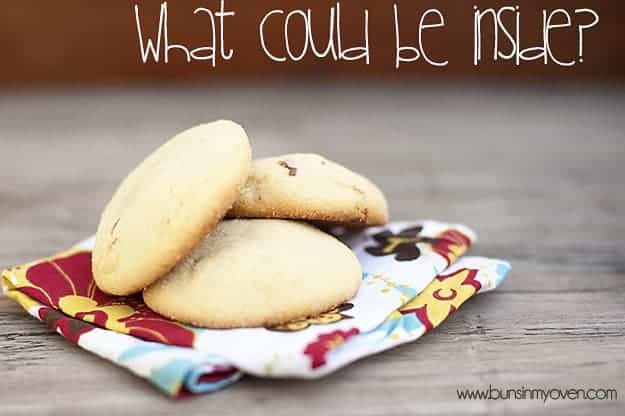 See? Even if he eats cookies 24 hours a day and is still skinnier than me, I like him anyway.
All of that was my extremely long-winded way of saying that these just tied with his first place, gold medal, all time favorite cookies. He sorta died when he ate these. So did I. It was very romantic, both of us eating cookies and then falling over dead on the floor, staring into each other's eyes and reaching out our hands to hold as we took our last breath of the cookie-scented air.
Then we hopped up and gobbled down the rest of these magical cookies.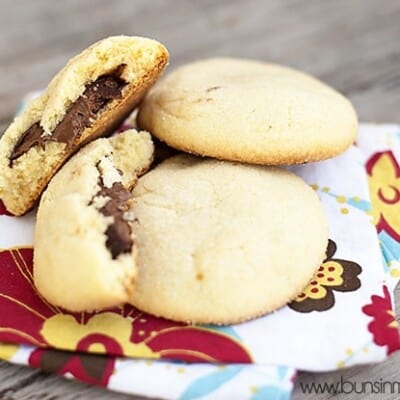 Nutella Filled Sugar Cookies
Soft sugar cookies stuffed with Nutella! So fun!

Prep10 minutes
Cook20 minutes
Total30 minutes
Ingredients
1/2 cup Nutella
2 1/2 cups flour
1/2 teaspoon baking powder
1/2 teaspoon salt
1 1/2 cups plus 1/3 cup granulated sugar divided
14 tablespoons butter, softened 1 3/4 sticks
2 large eggs
2 teaspoons vanilla
Instructions
Using a 1 teaspoon measure, scoop out Nutella and place in small drops on a cookie sheet lined with parchment. Place in the freezer for 15 minutes.

Preheat the oven to 350 degrees. Line 2 large baking sheets with parchment paper.

In a medium bowl, whisk together flour, baking powder, and salt.

In the bowl of your stand mixer, beat together the butter and 1 1/2 cups granulated sugar on medium until light and fluffy, 3 to 5 minutes. Beat in the eggs, one at a time, and add in the the vanilla.

Turn the mixer to low and gradually beat in the flour mixture until just combined. Scrape down the bowl to ensure everything is well incorporated.

Place 1/3 cup granulated sugar in a small bowl. Use 2 tablespoons cookie dough for each cookie. Split the piece of dough in half and slightly flatten the bottom half by pressing it together with the palms of your hands.

Use a small metal spatula to lift the mounds of Nutella from the baking sheet and lay on the bottom half of cookie dough. If the Nutella starts to soften, place it back in the freezer for a few minutes.

Cover the Nutella with the other piece of cookie dough. Seal the edges with your fingers and roll the ball in the sugar to coat it. Place the cookies on the prepared baking sheet.

Repeat with the remaining dough and Nutella mounds, spacing the cookies about 2 inches apart from each other on the baking sheets.

Bake the cookies, one sheet a time, rotating from front to back halfway through baking. The edges will start to turn brown when they are finished, about 10 to 13 minutes. The centers should still be soft and puffy.

Remove the cookies from the oven and cool on the baking sheet for 10 minutes. Using a spatula, remove the cookies from the baking sheet and cool on a rack. They can also be served warm. Don't forget the milk!
Nutrition Information:
Calories: 195kcal (10%)| Carbohydrates: 26g (9%)| Protein: 2g (4%)| Fat: 9g (14%)| Saturated Fat: 6g (38%)| Cholesterol: 33mg (11%)| Sodium: 115mg (5%)| Potassium: 55mg (2%)| Sugar: 15g (17%)| Vitamin A: 225IU (5%)| Calcium: 17mg (2%)| Iron: 1mg (6%)