Our Applesauce Cake starts with a box of spice cake mix and a jar of applesauce! This Fall cake is so simple to whip up and that browned butter glaze on top is irresistible.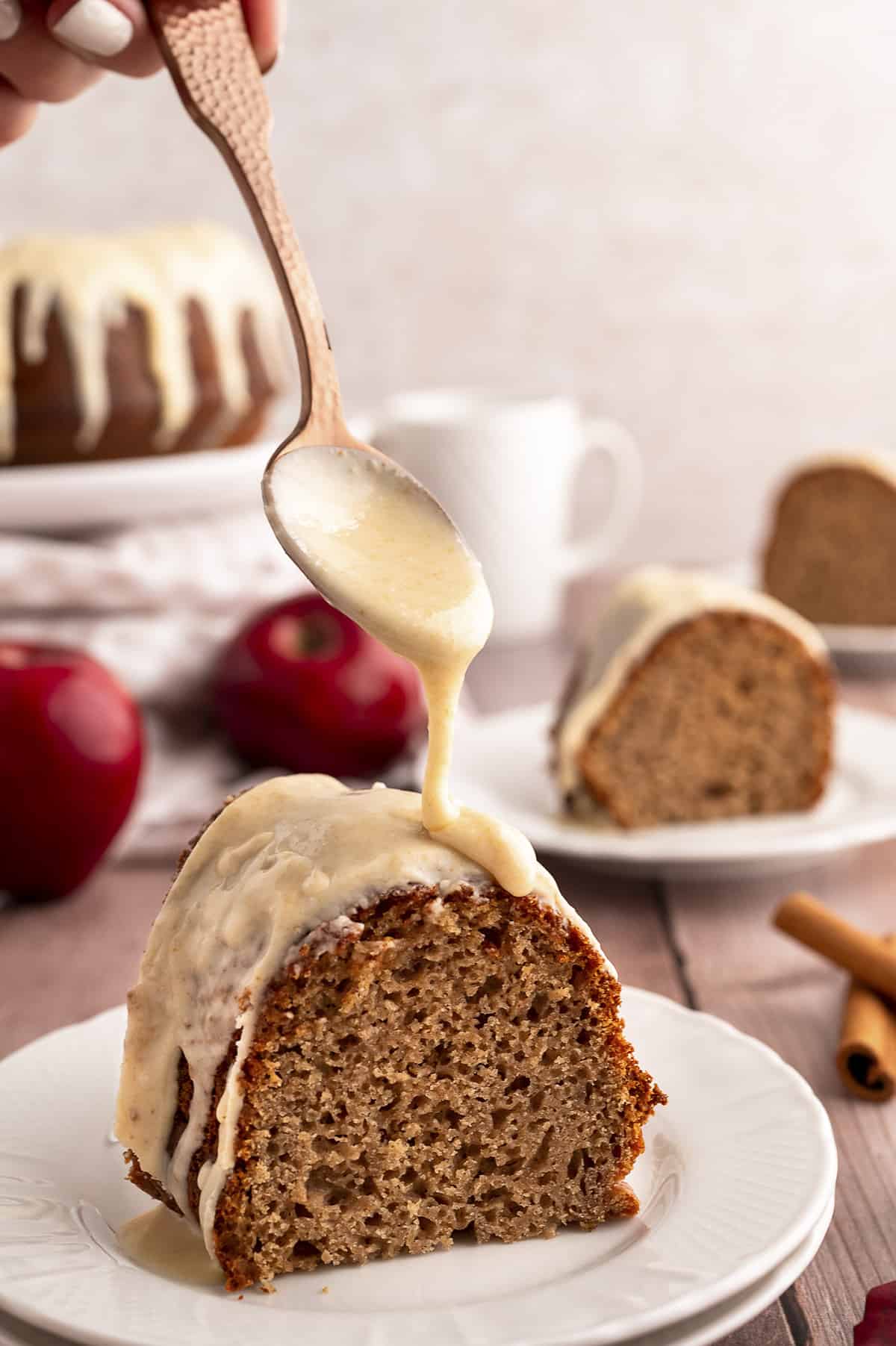 I'm a firm believer in keeping life both simple and delicious, and that's why we started this applesauce cake with a box of spice cake mix!
It's pretty foolproof when you start with a box of cake mix, the flavors are basically like taking a bite out of fall, and it only takes about 10 minutes of hands on time to get this cake mixed, baked, and glazed!
We're big on warm and cozy spices this time of year, like in our pumpkin coffee cake and our homemade recipe for apple butter.
This applesauce cake, made in a bundt pan and topped with the absolute most delectable browned butter glaze is a huge hit for Fall!
You'll see this glaze on our browned butter rice krispies treats too. They're insanely good.

Ingredient Notes:
This post contains affiliate links. As an Amazon associate and member of other qualifying programs, I earn from qualifying purchases.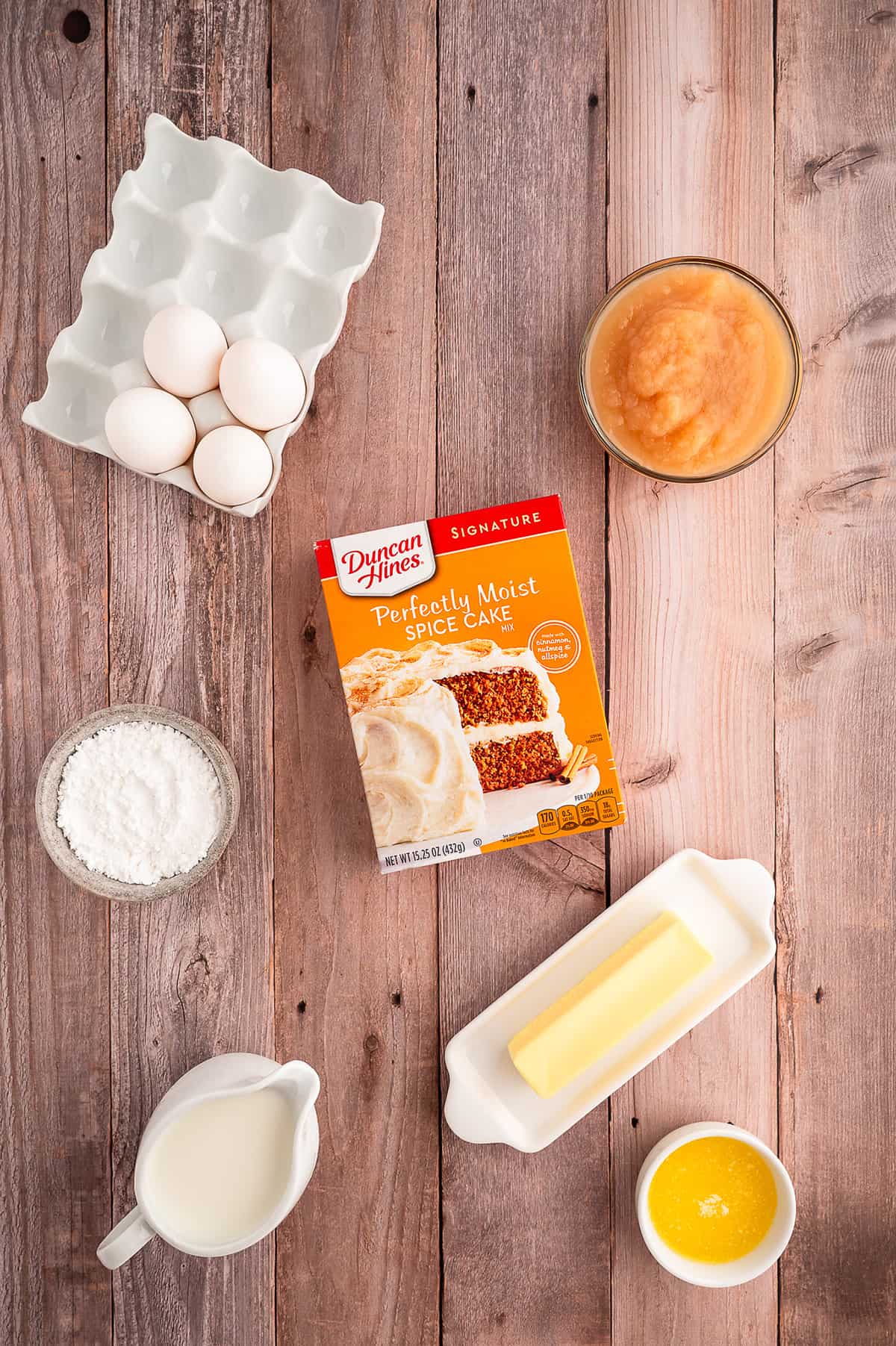 For the cake:
Spice Cake Mix – This applesauce cake starts with a boxed spice cake mix. Any brand will work fine here, but look for one that's around 15-18 ounces in size.
Wet Ingredients – In addition to the dry spice cake mix you're going to need some milk, melted butter, and eggs for preparing the cake batter.
Cinnamon Applesauce – I'm using a cinnamon flavored applesauce because I love all that cinnamon flavor! Follow the link to try my homemade applesauce recipe or use any brand from the store!
For the browned butter glaze:
Butter – We recommend salted butter here. It helps balance the sweetness.
Powdered Sugar – This will make the glaze smooth and sweet. Don't use granulated sugar in this one.
What We Love About This Recipe:
Easy Peay: With about 10 minutes of hands on time and 40 minutes in the oven, you'll have a bakery-worthy cake to share with friends and family.
Wholesome Goodness: Recreate the warm memories of homemade baking, as applesauce infuses this cake with a wholesome and nostalgic touch.
Flavorful: The combo of spices in the spice cake pairs perfectly with the applesauce for an autumn inspired treat.
Elegant: No one will know how simple this gorgeous cake was to prepare. There's just something about a bundt cake that feels fancy and special.
Tips & Tricks for the Perfect Applesauce Cake: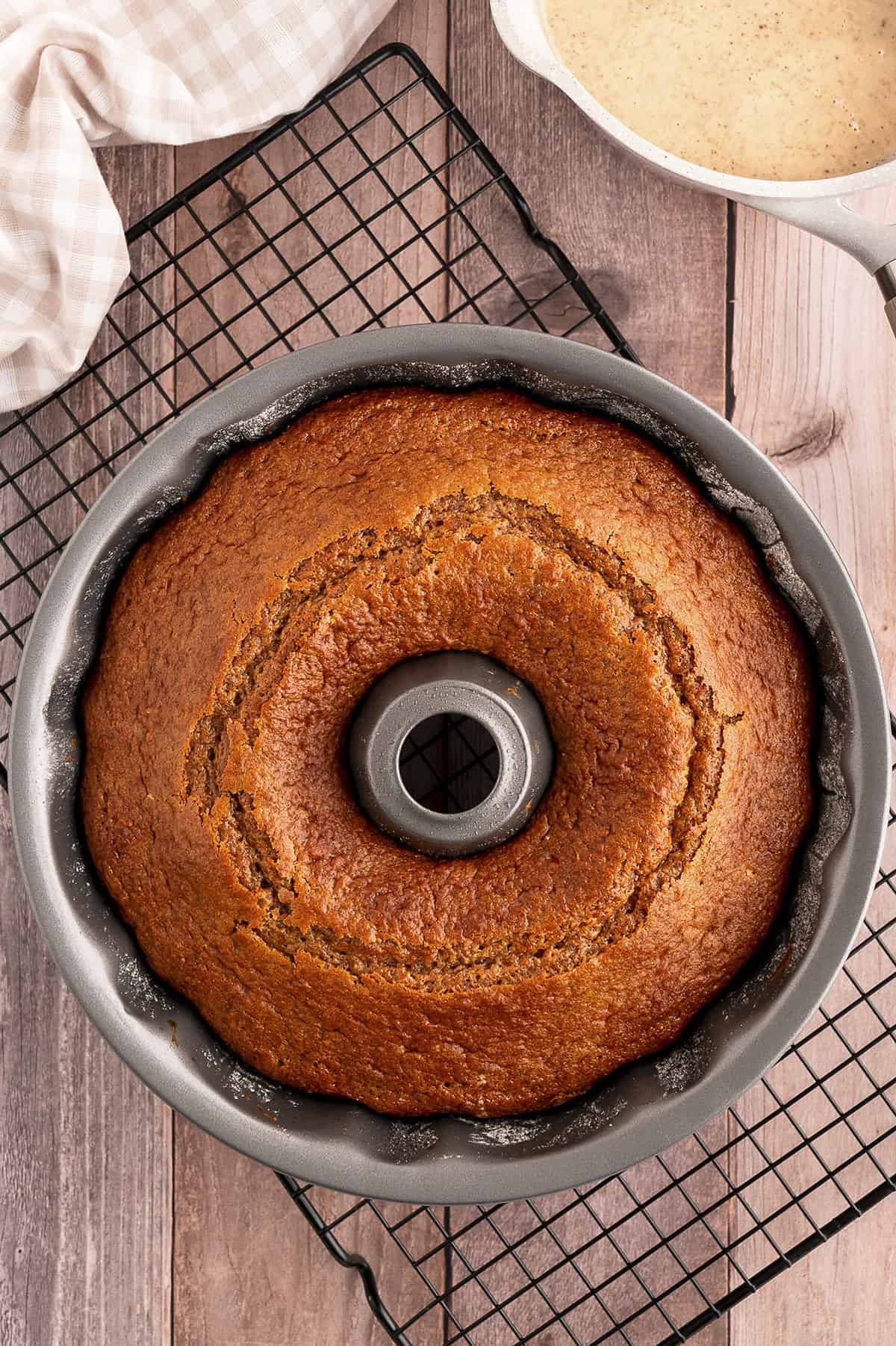 Prep the Pan: One of the trickiest parts about baking a bundt cake is ensuring it pops out of the pan nicely. We use our hands to rub softened butter in every nook and cranny of the pan and then we lightly dust it with flour.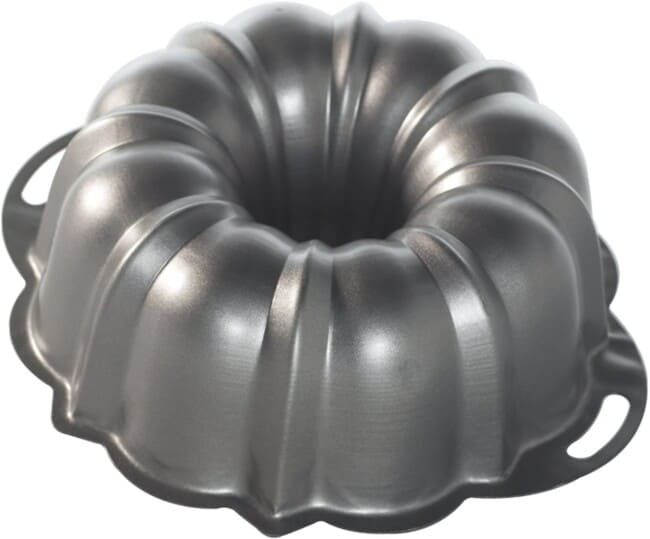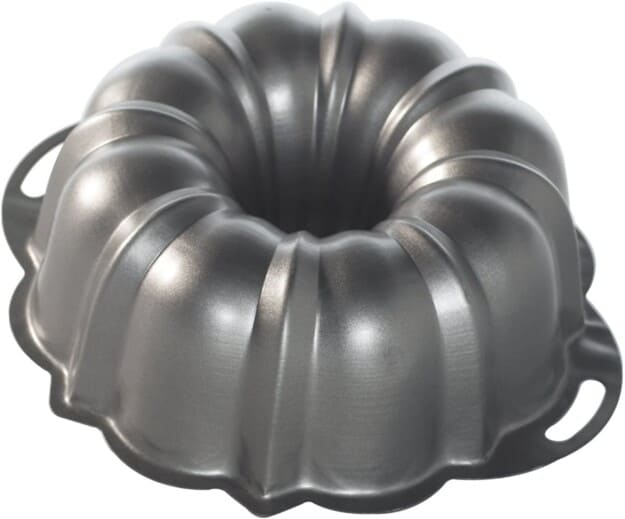 A quality bundt pan is essential! This one is non-stick, budget friendly, and gets used often in my home.
Cake Mix: We developed this recipe years ago, back when the standard size box of cake mix as 18.25 ounces. Those boxes have shrunk and now they clock in around 15 ounces. We've tested the recipe and it still works great with the smaller amount of cake mix, however the cake does bake a bit quicker than it used to. We've updated the recipe card to reflect this.
Cool: When the applesauce cake has finished baking let it cool for 10 minutes in the pan before flipping it onto a cake plate. Let it cool completely before moving on to preparing the glaze and topping the cake!
How To Make Browned Butter Glaze: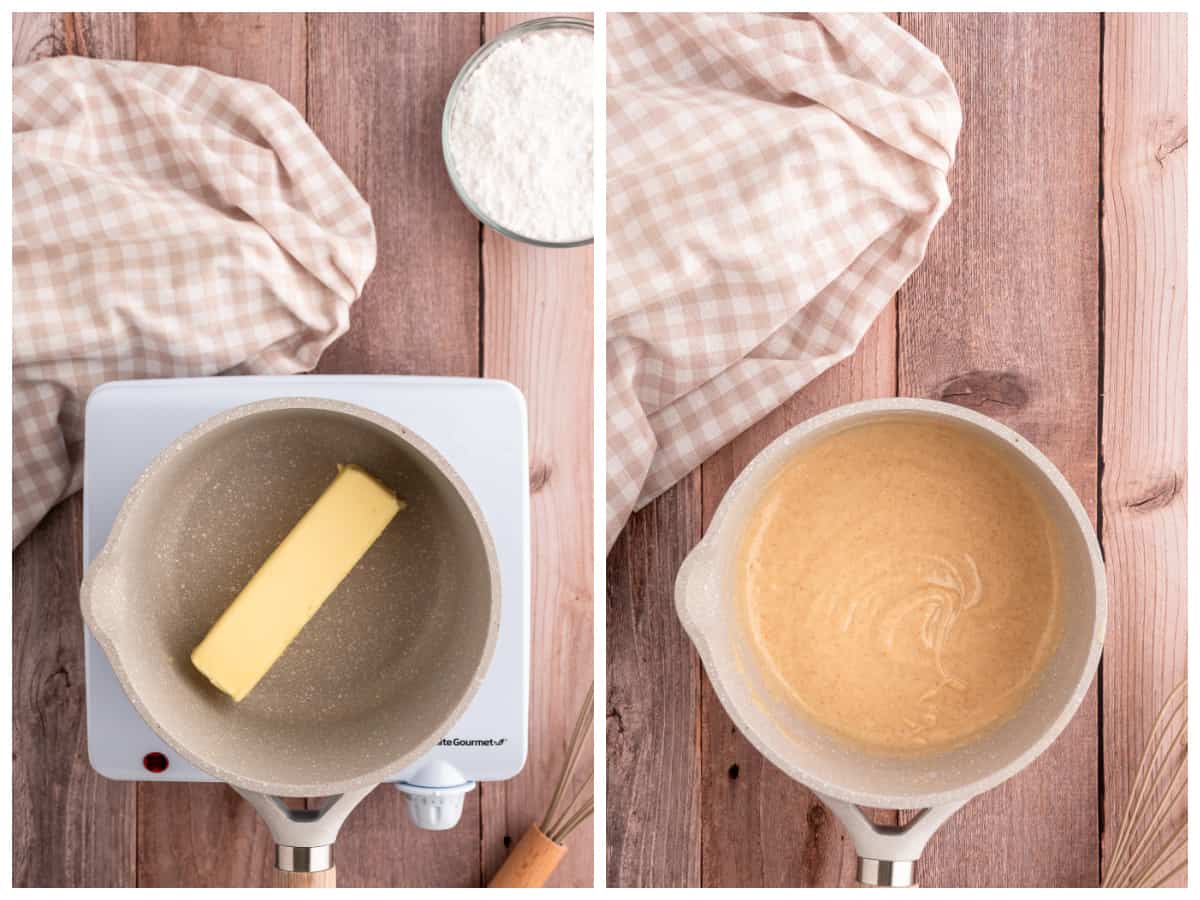 Butter: Start by melting the butter in a small sauce pan over medium heat. Let it continue to cook, whisking often, until it begins to foam and turn a golden brown color. It's easy to burn the butter if you aren't careful, so don't turn the heat up too high and keep an eye on it. Once it gets foamy, you'll want to whisk constantly so that you can see the color of the butter under the foam. Let it get a nice golden brown.
Sugar: When you've finished browning the butter you can remove the sauce pan from the heat and start whisking in the powdered sugar! Keep whisking until it forms a smooth glaze. It'll seem like too much sugar at first, but it will melt into the hot butter and become smooth and pourable.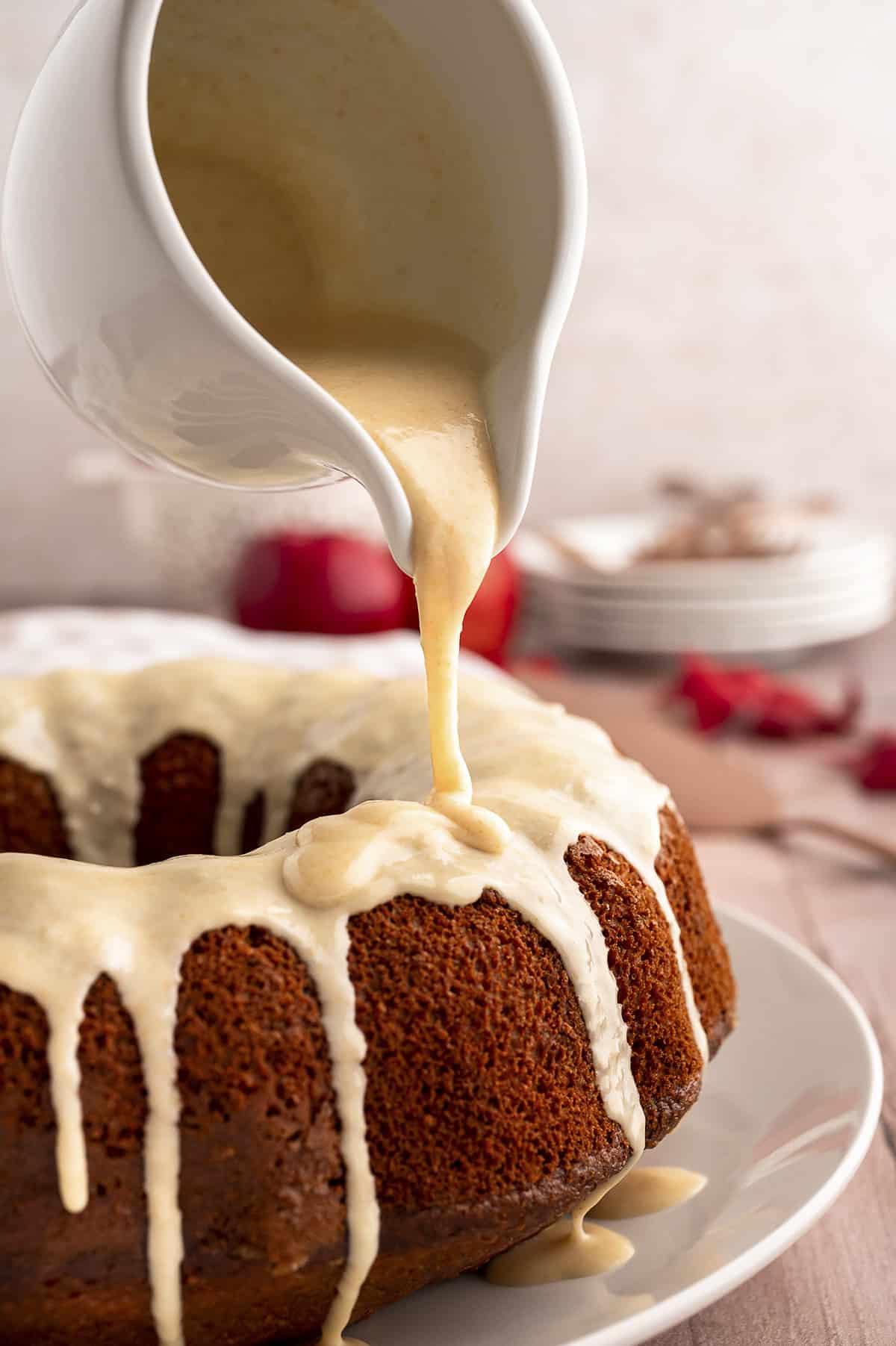 Finish: Now all that's left to do is pour all the sweet browned butter glaze over the top of the applesauce spice cake! The sweet glaze pairs perfectly with the spiced cake and applesauce. It's the perfect Fall dessert!
If you enjoyed this applesauce Bundt cake then you'll love my applesauce donut muffins topped with streusel! My pumpkin crunch cake is another great Fall cake recipe too!
See below for more of my favorite pound cake recipes.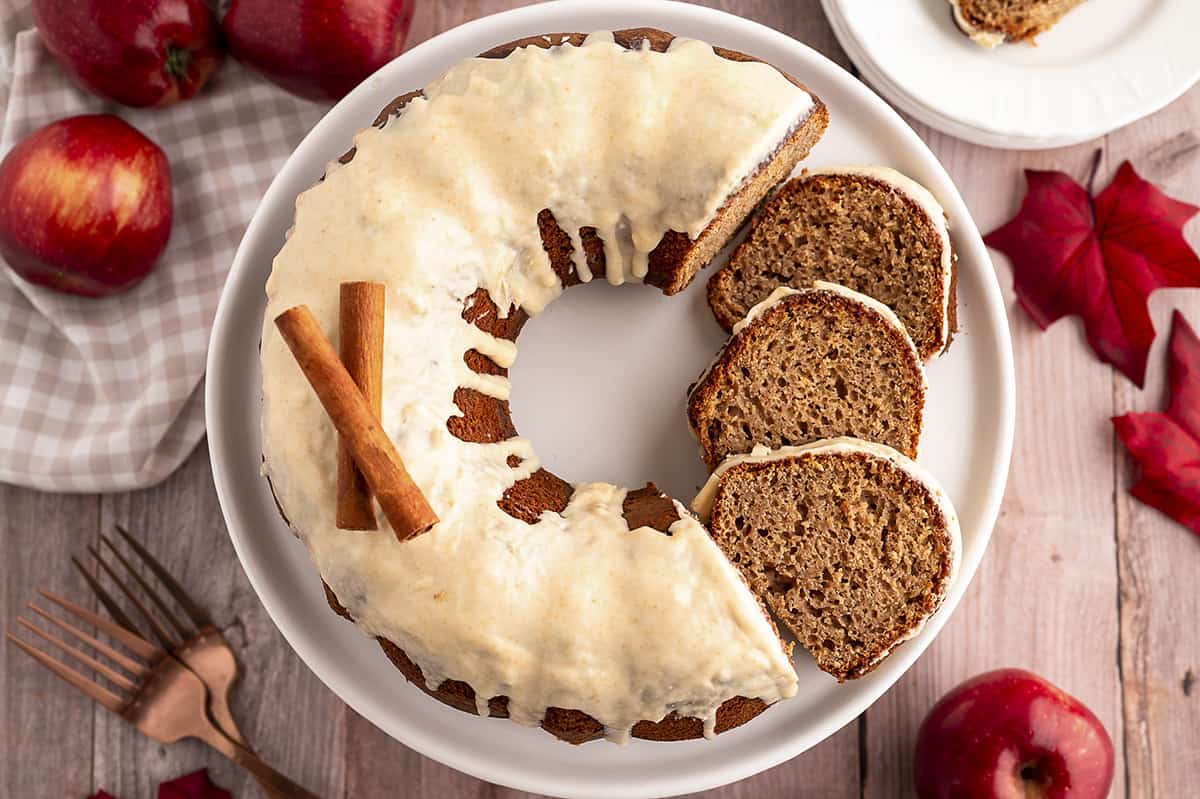 Cake Mix Sizes:
This recipe was originally developed back in 2016, when the standard size of a box of cake mix was 18 ounces in the United States.
Companies have shrunk many products down, including cake mix, and the standard size cake mix is now around 15 ounces.
We've tested this recipe with the 15 ounce cake mix and it still works great! If you'd like, you can always measure out an extra 3 ounces from a second box of cake mix to add to the recipe, but we don't think it's necessary. The cake bakes up just perfect with the new size too.
FAQ's:
How to store applesauce cake?
This cake will last for around 5 days in the fridge or for 1-2 days on the counter. Keep the cake tightly covered so that it retains it's moisture.
What type of applesauce to use?
We use cinnamon flavored applesauce here to add even more spice to our applesauce cake, but you can use plain, unsweetened applesauce if preferred. Both will work well.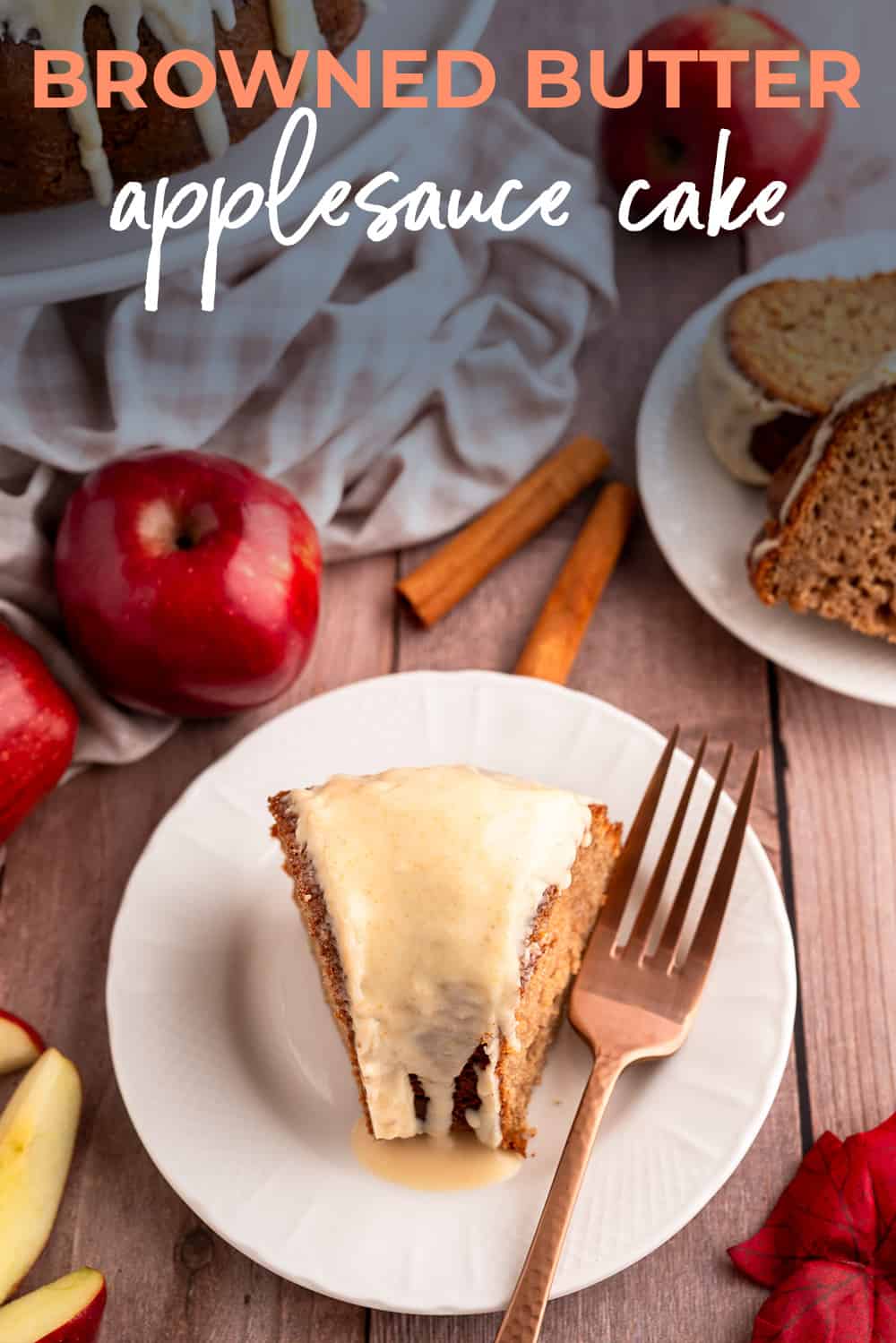 Applesauce Cake
This is a simple applesauce cake with just a handful of ingredients. It's moist and fluffy and sure to be a new favorite!
Prep10 minutes
Cook40 minutes
Total50 minutes
Ingredients
1 15 ounce box Spice Cake mix
1 1/4 cups cinnamon applesauce
1/4 cup melted butter
1/3 cup milk
3 large eggs
1/2 cup butter
1 cup powdered sugar
Instructions
Preheat oven to 350 degrees. Grease and flour a bundt pan.

Add cake mix, applesauce, melted butter, milk, and eggs to the bowl of a mixer and beat until well combined, about 2 minutes.

Pour batter into prepared bundt pan and bake for 35-40 minutes or until a toothpick inserted in the center comes out clean.

Let cake cool for 10 minutes in the pan before flipping onto a cake plate. Cool completely before glazing.

To prepare the glaze, melt the butter in a small sauce pan over medium heat. Once butter begins to foam, whisk constantly so that you can see the color of the butter underneath the foam. Continue cooking until butter begins to turn a deep golden brown.

Remove from the heat and whisk in the powdered sugar until smooth.

Drizzle the glaze over the top of the cake.

Let sit for 15 minutes for the glaze to firm up before serving.

Store in the refrigerator, tightly covered, for up to 3 days.
Tips & Notes:
Cake Mix: We prefer to use a spice cake mix for this recipe, but you could also use a yellow cake mix and add 1-2 tablespoons, depending on preference, of apple pie spice to the batter. Bundt Pan: Be sure to liberally grease your pan. We use softened butter and rub it in every nook and cranny with our fingers and then dust flour all over the pan. This will ensure you cake doesn't stick. Applesauce: I love the extra burst of cinnamon in cinnamon applesauce, but feel free to use plain, unsweetened applesauce if that's what you have on hand. Browned Butter: Be sure to whisk constantly once the butter starts to foam so that you can keep an eye on the liquid butter under the foam. It goes from golden to burnt very quickly. If burnt, throw it out and start again. Do not be tempted to add vanilla to the glaze – it will break and get clumpy.
Nutrition Information:
Serving: 1slice| Calories: 420kcal (21%)| Carbohydrates: 59g (20%)| Protein: 5g (10%)| Fat: 19g (29%)| Saturated Fat: 10g (63%)| Cholesterol: 101mg (34%)| Sodium: 343mg (15%)| Fiber: 1g (4%)| Sugar: 15g (17%)