These Halloween brownies are easy to make thanks to a box mix, topped with my mama's famous fudgy frosting, and then loaded with Halloween candy! Perfect for bake sales or just to make the kiddos happy!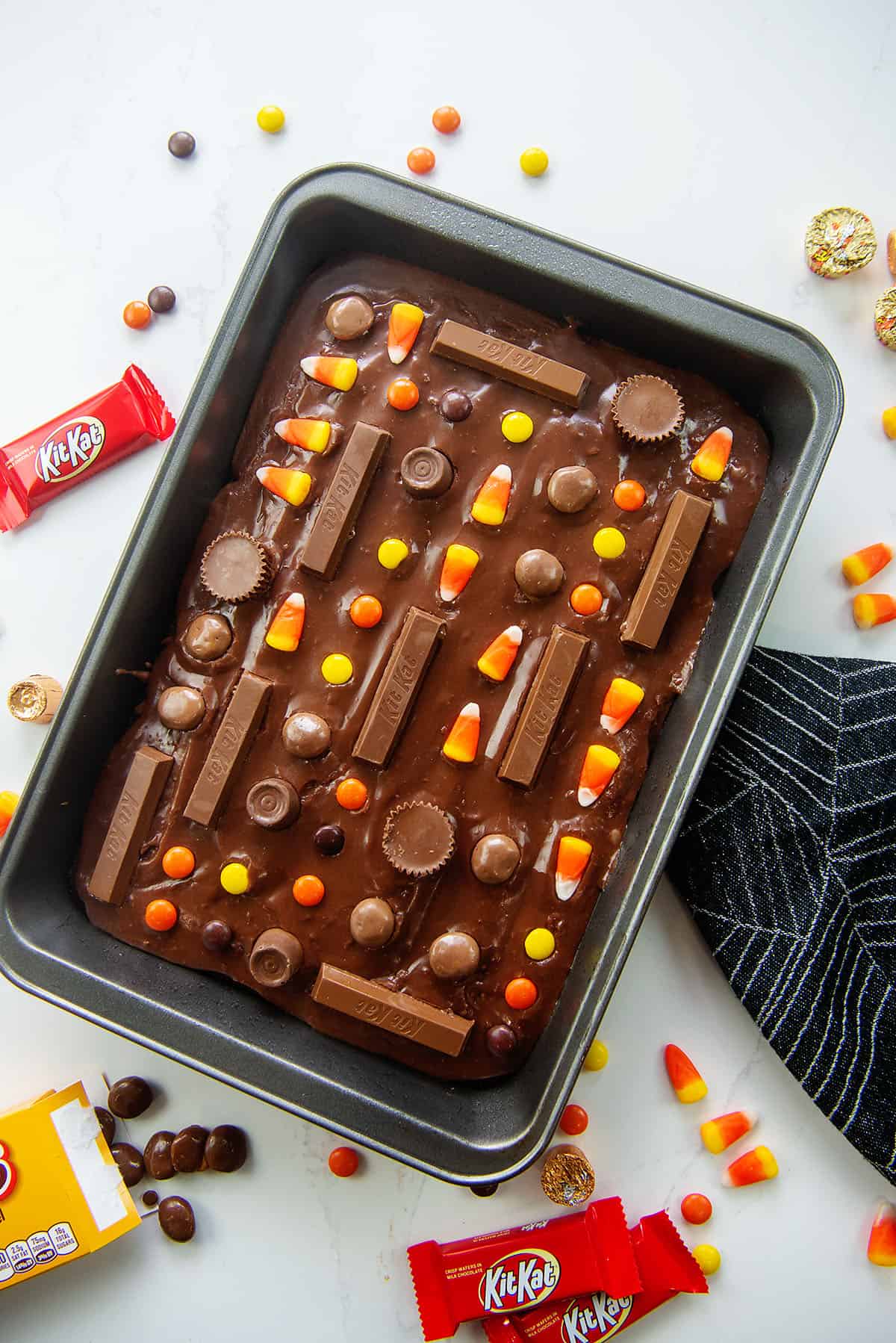 Halloween has always been my favorite holiday to celebrate.
Who doesn't love dressing up, decorating the house with spooky things, and banging on your neighbors' doors asking for candy?
Of course, my love for Halloween started as a kid, but I love it even more watching my own kids experience it.
It's just fun and we go all out.
Speaking of going all out…peep these Halloween brownies.
They are very…extra. Extra chocolate. Extra candy. Extra kid-friendly. Extra fun.
These are the PERFECT thing to take to the next bake sale…what kid would see these on the table and let their parent pass it by? 😉
But, they're also great for just brightening up your kid's day or for using up some of their leftover Halloween candy.
👩‍🍳 Ingredient Notes:
This post contains affiliate links. As an Amazon associate and member of other qualifying programs, I earn from qualifying purchases.
Brownies – I've got an amazing homemade brownie recipe that would work well for these Halloween brownies, but you can just as easily grab a box mix from the store.
Frosting – My mom's famous homemade chocolate frosting is our go to for this recipe, but you could also use a can of chocolate frosting if you're in a rush.
Halloween Candy – Some spooky Halloween themed candy is just what you need to finish these brownies off. Add some fun sprinkles or candy eyes to make it even more colorful or spooky, if you like!
🍫Halloween Candy Ideas:
KitKats
Mini Reese's
Milk Duds
Reese's Pieces
Halloween m&m's
Mini Snickers
Candy Corn
Mini Twix
Why We Love These Halloween Brownies!
These are definitely a 'once in a while' treat, as they're loaded with sugar, but that just makes them more fun! Chewy brownies and fudgy frosting are hard to resist, but adding Halloween candy just makes it more fun. These are fun to decorate and the kids love to help arrange the candy.
🎃How to:
Brownie Mix: We usually start these with a box mix to keep things simple, but homemade brownies are definitely a good option. My Nutella brownies would be a great base here too! Homemade certainly tastes best, but you're about to top these with candy bars, so I feel like a box mix is totally fine in this instance. 😉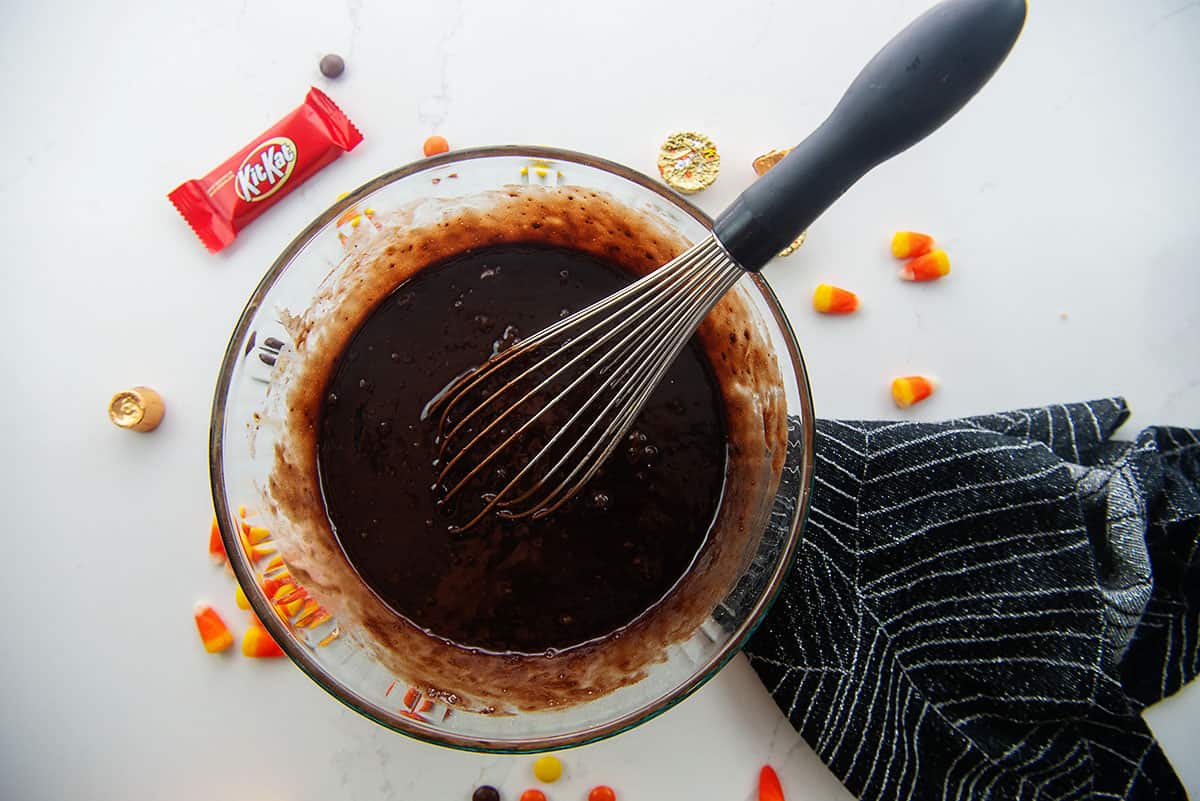 Frosting: My mom has been making this fudgy chocolate frosting my whole life and it is an all time favorite. You just bring sugar, milk, and butter to a boil on the stove for exactly one minute and then remove from the heat and stir in chocolate chips.
The frosting crusts over and is basically the texture of a soft fudge after it sets.
Don't want to go the homemade route? Grab a can of chocolate frosting, remove the foil cover completely, and microwave it for about 30 seconds. Pour the melty frosting over the top of the brownies!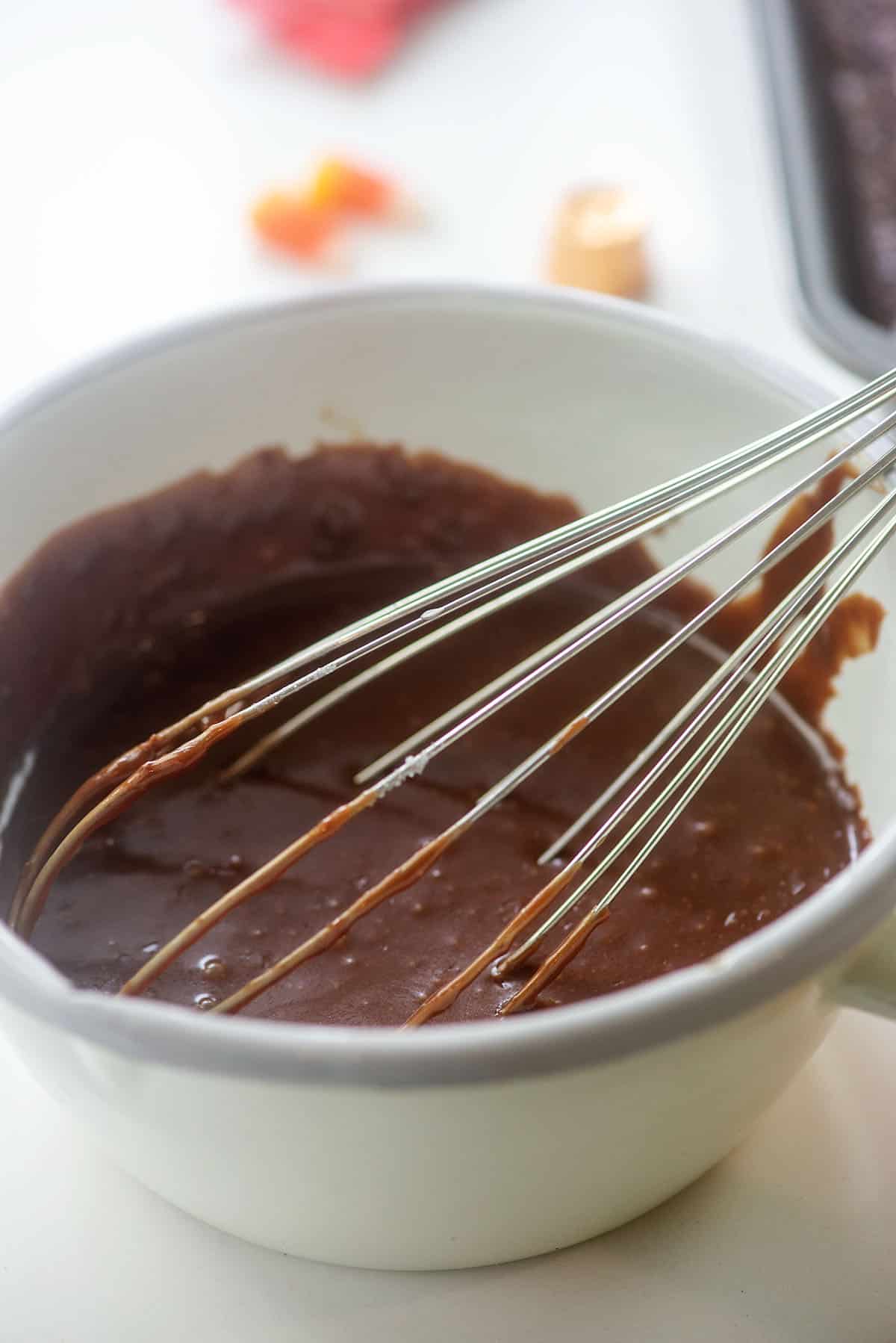 Decorate: You'll want to work fairly quickly so the frosting doesn't have time to fully set. Grab some candy and just arrange it however you like. I like to use little candy eyes to make things extra creepy. You can use whatever candies you have around the house for this! It's also a great way to use up candy from trick or treating after Halloween.
It can help to arrange the candy along the lines where you'll cut the brownies so that you're now sawing through KitKats and Milk Duds, but it's easy enough to work around them.
Cut: You'll want to let the brownies cool and the frosting harden back up before cutting these brownies. We give them an hour or two, which honestly can feel like an eternity. They're worth the wait though!
Helpful Tip!
Use a plastic knife to cut perfect brownies. The Halloween brownies won't stick to the plastic knife and you'll get nice, smooth edges.
❔ FAQs:
Can I store these brownies?
Yes, keep the Halloween brownies stored in an airtight container at room temperature and they'll last for 3-5 days.
What kind of brownie mix should I use?
Be sure to use a brownie mix meant for a 9×13 pan. They're often labeled 'family size.'
How do I know when my brownies are done?
We like to test brownies about 1-2 inches from the edge of the pan and pull them when the tester comes out clean. If you test them directly in the center of the pan, the edges will be overdone by the time the tester comes out clean. Testing near the edges ensures you end up with nice edge pieces and fudgy centers.
👻MORE HALLOWEEN RECIPES!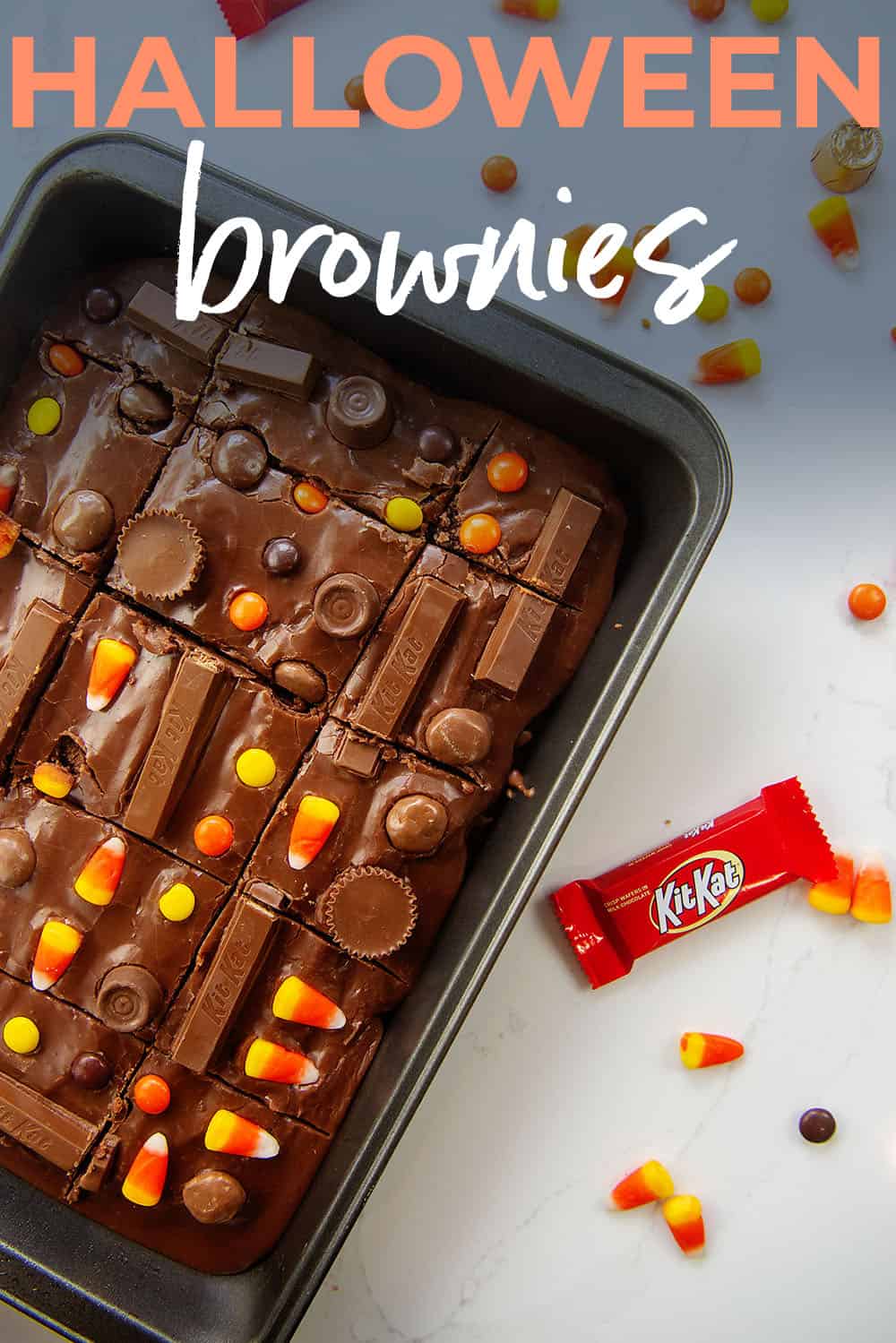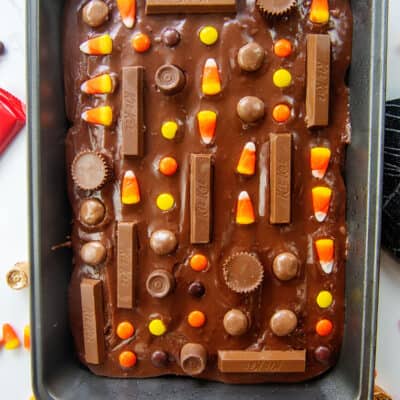 Halloween Brownies
We start with a box mix to keep these brownies super simple and then top it all off with my mama's famous fudgy frosting and plenty of candy. Use up your leftover Halloween candy, I won't tell!
Prep20 minutes
Cook25 minutes
Total45 minutes
Ingredients
1 box brownie mix prepared as directed on box
1 cup granulated sugar
6 tablespoons butter
6 tablespoons milk
1/2 cup semi-sweet chocolate chips
Halloween candy for decorating
Instructions
Bake the brownies as directed and let cool completely.

Add the sugar, butter, and milk to a small sauce pan over medium heat and whisk often until fully melted.

Let the butter mixture boil for exactly 1 minute.

Immediately remove from the heat and whisk in the chocolate chips until melted and smooth.

Pour the chocolate frosting over the brownies.

Arrange the Halloween candy over the frosting as desired.

Let the frosting set for 1 hour before slicing and serving.
Tips & Notes:
You can skip the homemade frosting in you're in a hurry and use a can of chocolate frosting. Microwave for 30 seconds or until pourable and pour over the brownies. Let sit for 5 minutes before adding the candy. We like to use KitKats, mini Reese's, Milk Duds, Rolos, and candy corn. Eyeball candies are also fun, if you can find them.
Nutrition Information:
Calories: 150kcal (8%)| Carbohydrates: 23g (8%)| Fat: 6g (9%)| Saturated Fat: 2g (13%)| Sodium: 69mg (3%)| Potassium: 74mg (2%)| Sugar: 21g (23%)| Calcium: 3mg| Iron: 0.5mg (3%)