These Halloween brownies are so fun for the kids to help make and they're a great use for all of that Halloween candy!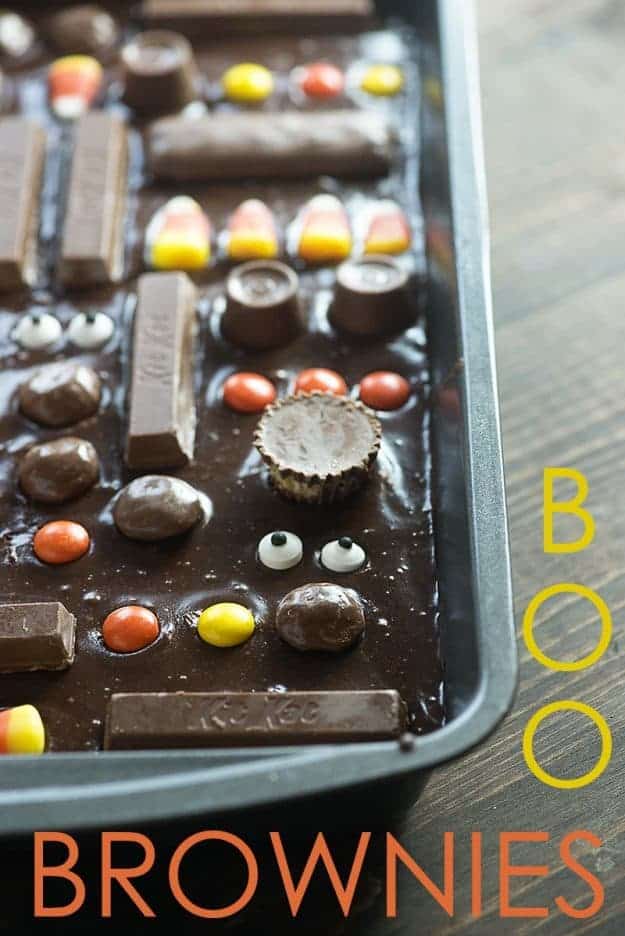 I have a confession to make.
I have decorated my house for Halloween. I mean, I don't feel bad about it. But I know a lot of you people are sticklers for waiting until at least October 1st.
Personally, the sooner the better. Last year I put my decorations up on Labor Day. The neighbors were swimming and I was scattering bones in my yard. <— Sounds creepier than it was.

This year I waited until mid-September, but I'm still early by a lot of your standards.

I can't help myself!! Halloween has always been my favorite holiday to decorate for, although Christmas is somehow beginning to take over since we moved into our current home. It's basically the perfect Christmas house, but Halloween is still fun.
Anyway! Halloween is here in my house. Which means that I can officially start buying Halloween candy and swearing up and down that I won't open it until October 31st. Then I'll open the bag but swear that I'm only doing it so I have a few chocolates sitting out in case any unexpected guests pop by. Then I'll eat all the chocolate while watching Netflix. Then I'll repeat the process.
Does this sound familiar? Anyone else do this? 😉
So, I've found that another use, a perfectly reasonable use even, is to put that Halloween candy to work in these Halloween brownies! The kids love to make these and they are just beyond easy. Wait until you see my trick for getting perfectly smooth frosting on these guys.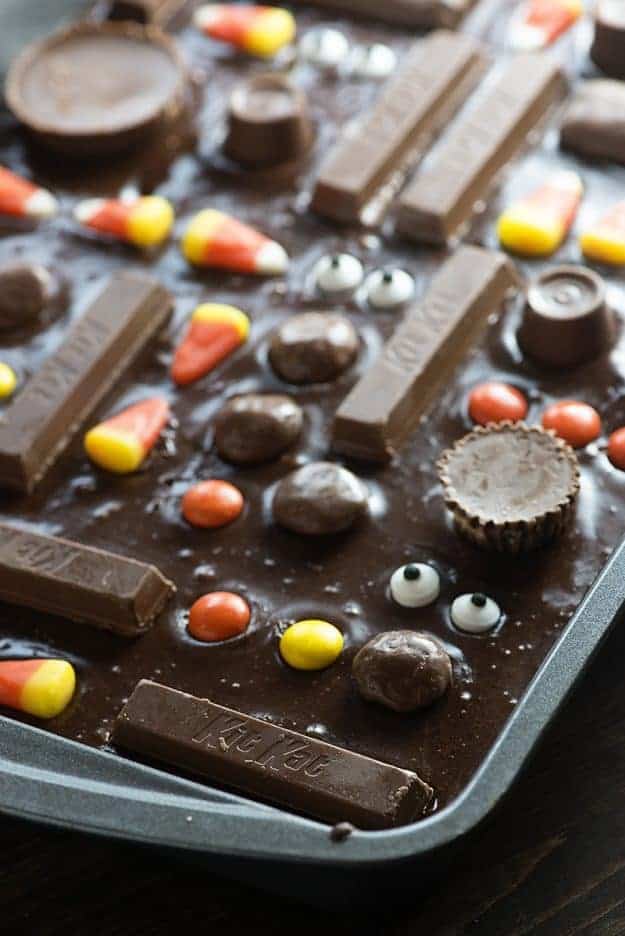 So, for these brownies you can either use your favorite box mix or you can use my homemade brownies. My Nutella brownies would be a great base here too! Homemade certainly tastes best, but you're about to top these with candy bars, so I feel like a box mix is totally fine in this instance.
Once the brownies have baked and cooled, you grab a can of chocolate frosting. Yes. A can of frosting. Like I said – we're topping these with candy bars. There is no reason to get all Betty Homemaker on us today.
Get the kids to help with arranging the candy on these Halloween Brownies! So fun!
Microwave the can of frosting (after removing the foil seal, of course) in short bursts, stirring a few times, until it's pourable. It pours out perfectly smooth and creamy.
Let that cool a bit and then start adding on your candy! So fun and easy!
I like to use little candy eyes to make things extra creepy. You can use whatever candies you have around the house for this!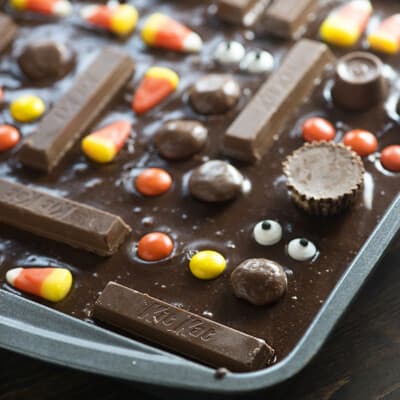 Halloween Brownies
Use up your leftover candy, I won't tell!
Prep20 minutes
Cook25 minutes
Total45 minutes
Ingredients
1 recipe 1 recipe boxed or homemade brownies, baked and cooled
16 ounces chocolate frosting
Halloween candy, as desired
Instructions
Remove the lid and foil seal from the can of frosting and microwave in 30 second intervals, stirring each time, until the frosting has melted enough to be pourable.

Pour chocolate frosting evenly over the baked and cooled brownies to form a smooth top.

Let frosting sit for 5 minutes to cool slightly.

Arrange Halloween candies over the frosting as desired.
Nutrition Information:
Calories: 150kcal (8%)| Carbohydrates: 23g (8%)| Fat: 6g (9%)| Saturated Fat: 2g (13%)| Sodium: 69mg (3%)| Potassium: 74mg (2%)| Sugar: 21g (23%)| Calcium: 3mg| Iron: 0.5mg (3%)