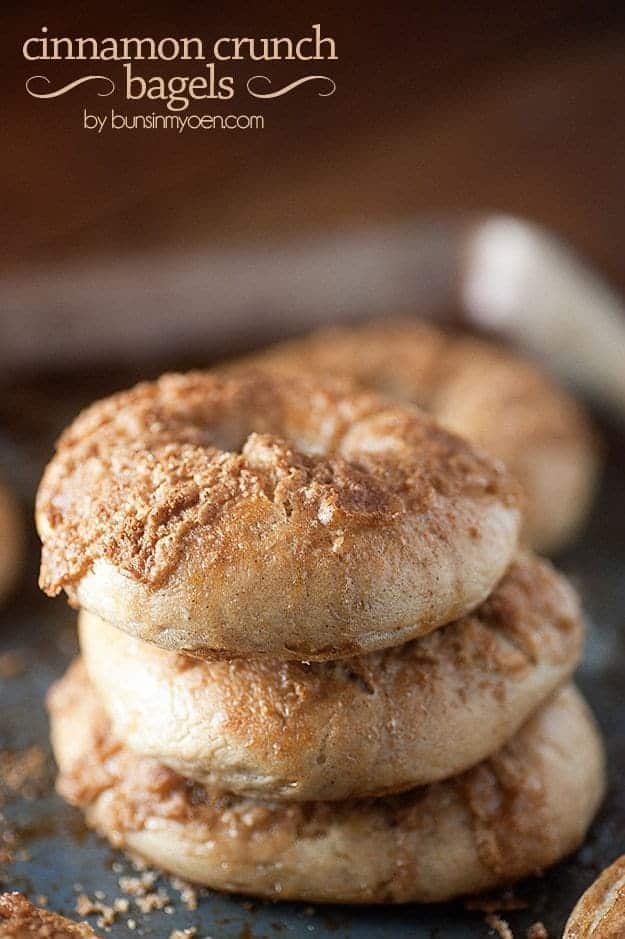 You want to know what the worst part of being a food blogger is? Besides the dishes, of course.
It's all of the food. I mean, yes, the food part is also the best part, but yeah. Worst part, too.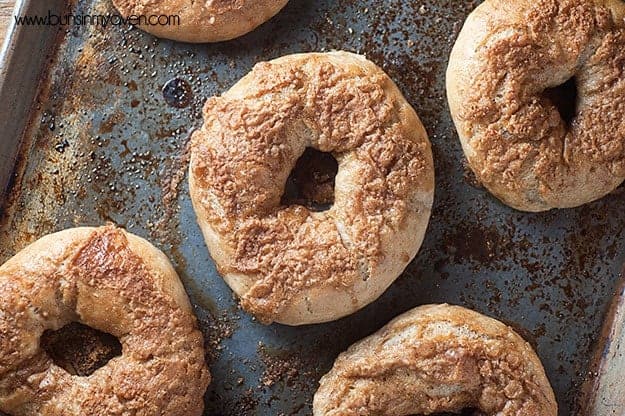 We have so much food laying around the house that it's not even that exciting. My husband loves Panera's Cinnamon Crunch Bagels. I decided to make some for him and do you know what? He didn't even try one.

What a jerk! Except, he wasn't being mean. He had just eaten our favorite baked spaghetti for dinner and some ridiculous Nutella brownies for dessert and he doesn't eat breakfast like a normal person and he just never got around to trying one of these bagels. If I were the type of person who did not have a ton of food spread all over our kitchen all the time, he'd probably have inhaled the entire dozen bagels!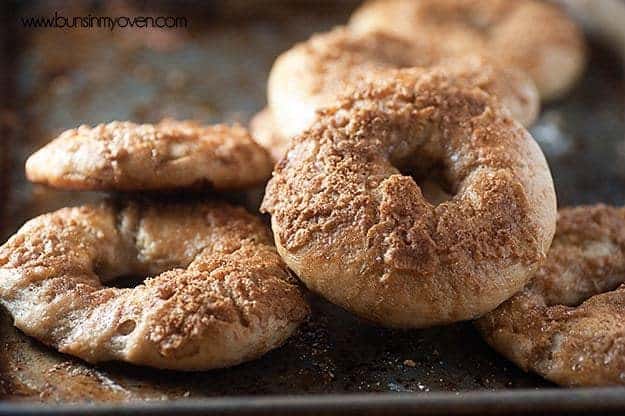 Oh, well. More bagels for me!
I haven't had a Panera or Einstein's cinnamon bagel in a loooooong time, so I can't state with certainty that these are a good copycat recipe. That said, these are absolutely, ridiculously, outrageously good bagels. They're just perfection. The crunchy topping is amazing and the bagel itself is dense and chewy, just the way bagels should be! I really enjoyed this recipe! I have quite a few of these stashed away in the freezer and plan to heat them up in the oven on a day when my husband is around to enjoy them.
Do you love bagels? What's your favorite flavor?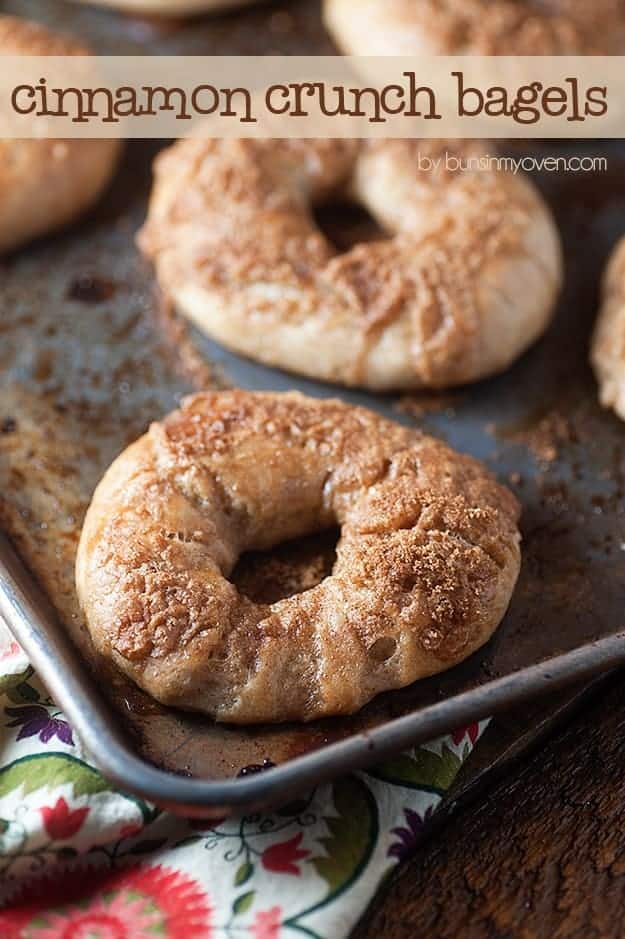 Cinnamon Crunch Bagels
This bagel dough is spiced with cinnamon and then topped with even more cinnamon and sugar that bakes up crunchy and fabulous!
Prep1 hour 30 minutes
Cook30 minutes
Total2 hours
Ingredients
For the bagels:
2 teaspoons active dry yeast
1 1/2 cups warm water 110-120 degrees
1/4 cup brown sugar divided
3 teaspoons cinnamon
1 1/2 teaspoons salt
5 cups all purpose flour
For the topping:
1/4 cup white sugar
1/4 cup brown sugar
3 teaspoons cinnamon
Instructions
In the bowl of a stand mixer, add the yeast, warm water, and 3 tablespoons of brown sugar.

Let sit for 10 minute or until the yeast is bubbling and foamy. Stir in the cinnamon, salt, and 2 cups of flour.

Use the dough hook to begin kneading the dough on low speed. Gradually add more flour until the dough just begins to come together. You may not need the full 5 cups of dough or you may need a bit more. Knead for 10 minutes or until the dough is smooth and elastic.

Transfer dough to a greased large bowl and cover. Let rise for 1 hour or until doubled.

Punch down dough and break off into 12 small balls. Push your thumb through the centers of each ball of dough and form into a bagel shape. Place on a floured surface and let rest for 10 minutes.

Fill a large pot with water and add the remaining tablespoon of brown sugar. Bring to a boil. Drop the bagels into the water, two at a time, and boil for 45 seconds. Flip over and continue cooking on the other side for another 45 seconds. Remove with a slotted spoon and place on a paper towel lined plate. Blot to dry and remove to a greased baking sheet 2 inches apart.

Combine the topping ingredients and sprinkle evenly over all of the boiled bagels.

Bake at 400 degrees for 15-20 minutes or until golden brown and cooked through. Cool on a wire rack.
Nutrition Information:
Calories: 249kcal (12%)| Carbohydrates: 54g (18%)| Protein: 6g (12%)| Sodium: 297mg (13%)| Potassium: 87mg (2%)| Fiber: 2g (8%)| Sugar: 13g (14%)| Calcium: 26mg (3%)| Iron: 2.6mg (14%)