This yogurt parfait board is loaded with colorful fresh fruit and berries, sweet and crunchy toppings, and all the yogurt you'll need! It's perfect for a holiday brunch, like Easter or Mother's Day!
We've been on a charcuterie board kick lately, with our St. Patrick's Day Board and our Easter Board! We thought we'd bring things back around to breakfast!
This easy breakfast board is the perfect way to make a yogurt parfait at home, especially if you have family and friends around to help enjoy!
Whether you go the Greek yogurt parfait route or you just munch on all the fruits and toppings separately, this breakfast parfait smorgasbord is a huge hit!
We're sharing all of the ingredients we used, but please feel free to get creative and swap things out for your own tastes and to use up what you have on hand! The most important thing is that you load your board up with what you and your family love!
Ingredients for Yogurt Parfaits:
This post contains affiliate links. As an Amazon associate and member of other qualifying programs, I earn from qualifying purchases.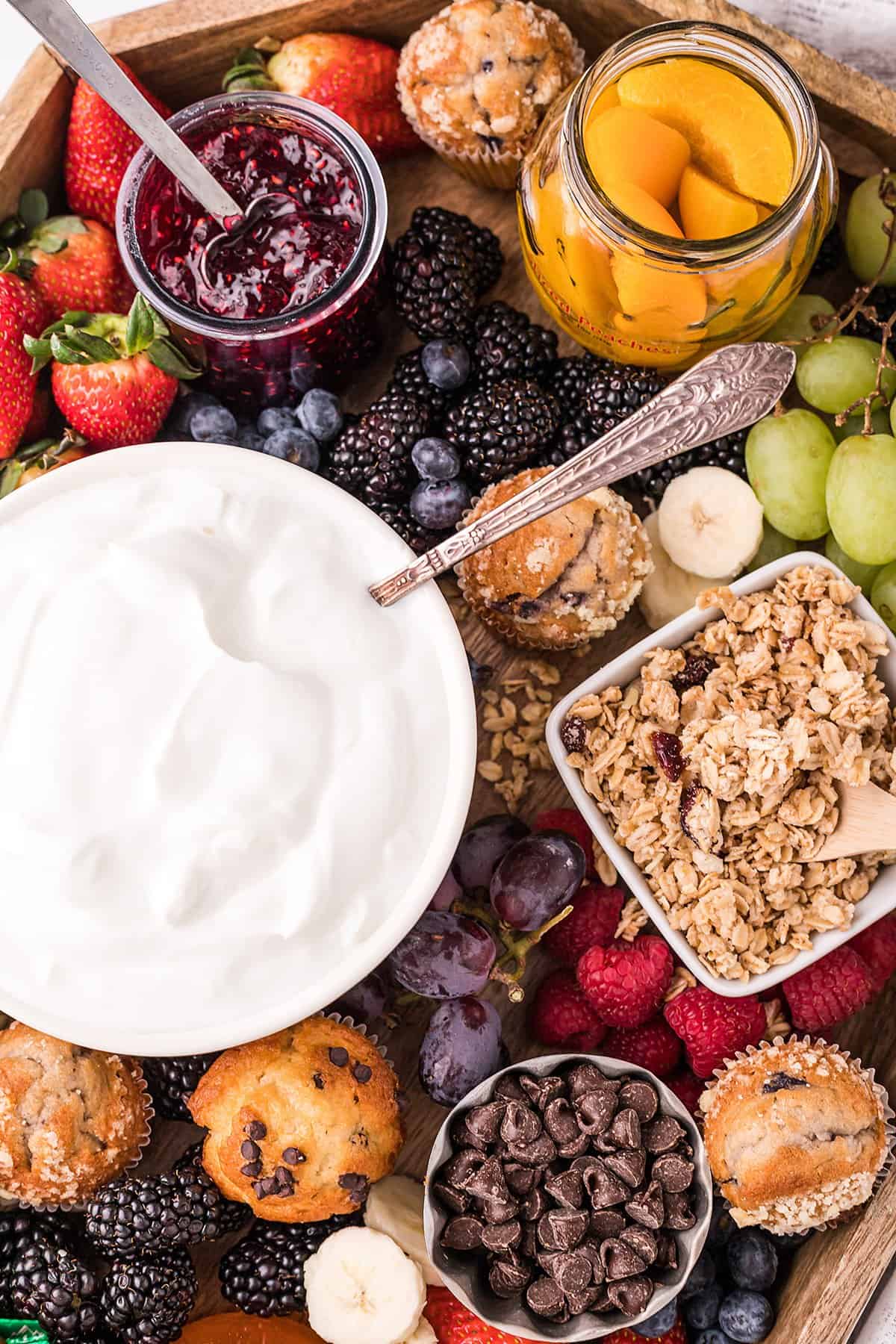 Yogurt – We use a simple plain or vanilla yogurt as our base. Greek yogurt is always a great option for extra protein.
Granola – Any brand you'd like will do for this (or make homemade granola!).
Raspberry Jam – Buy your favorite or make homemade raspberry jam.
Sliced Peaches – I'm using jarred, sliced peaches in syrup. If you have fresh peaches, all the better!
Fresh Fruit – Grab whatever looks fresh at the store and pile it on. We're using bananas, strawberries, blackberries, raspberries, blueberries, and grapes.
Mini Muffins – We love a mix of muffins! Try our mini chocolate chip muffins, mini pumpkin muffins, or donut muffins! Of course, your local grocery store probably has a bakery section loaded with mini muffins, if you'd like to save time.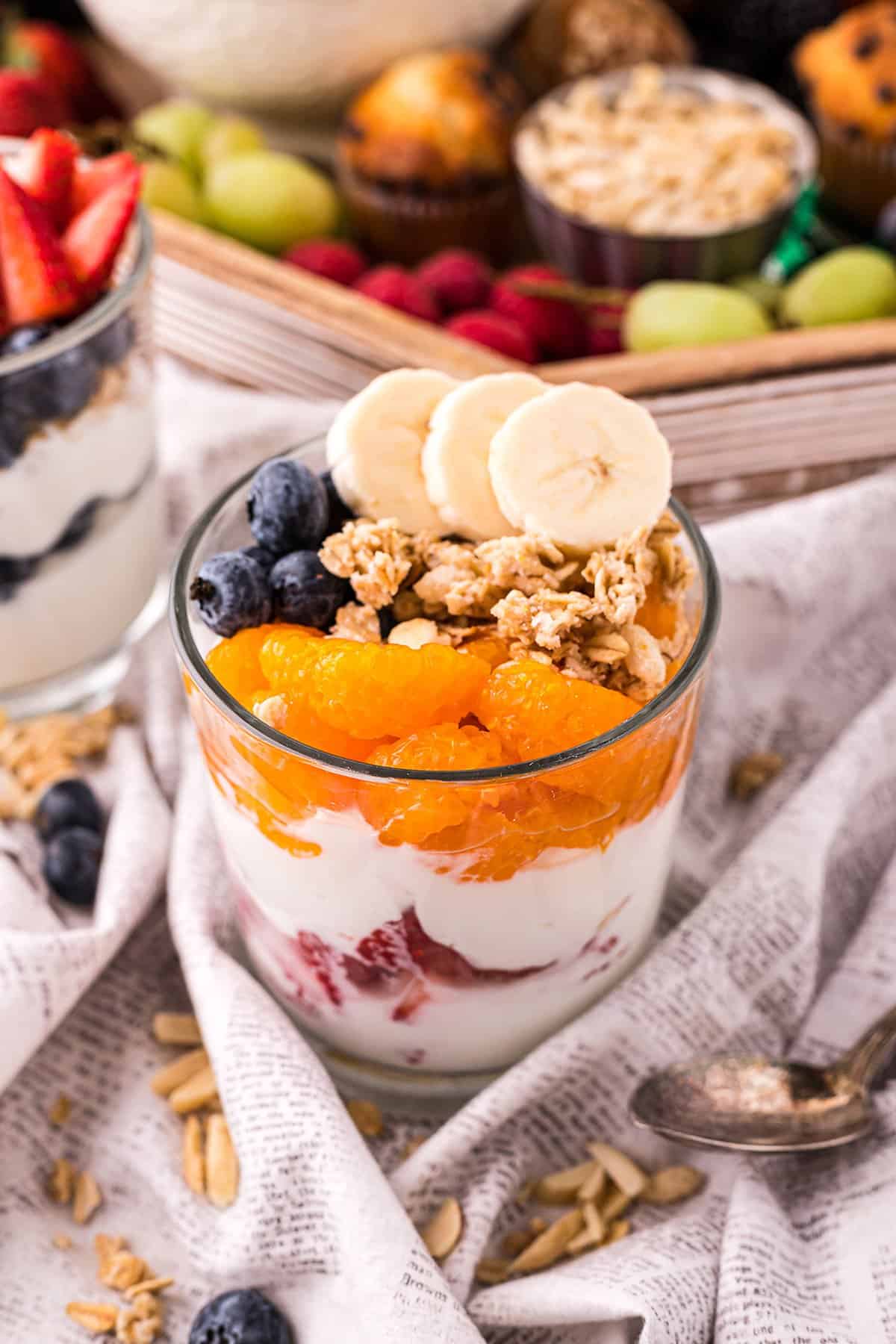 What We Love About This Recipe!
You're almost certain to impress any guest with this yogurt parfait board! All those colorful fruits and toppings are irresistible. It's a great choice for brunch on Mother's Day or anytime you have guests staying with you.
Tools Needed:
Serving Tray – This isn't exactly the same as the one in the photo, but it is similar if you are looking for something close to it. You can really use any type of tray or board that you want!
Bowls – You'll want to have a few small decorative bowls or jars to hold different toppings like the slivered almonds, chocolate chips, and granola. You'll also need empty bowls or cups for everyone to build their fruit and yogurt parfait!
Honey Dipper – Keep things easy, mess free, and fancy with a wooden honey dipper!
How to Make a Yogurt Parfait Board: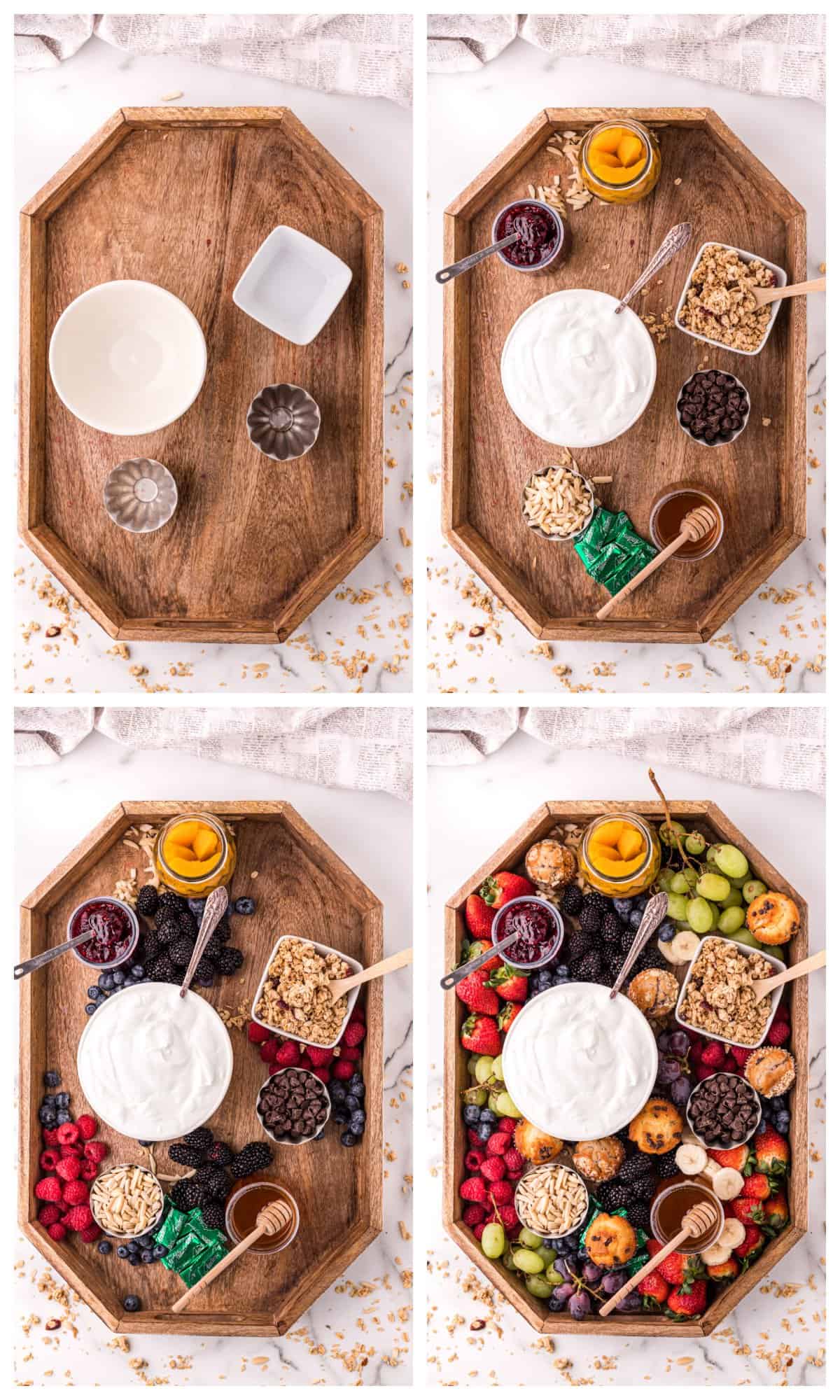 Plan: Make a plan for the toppings and ingredients you'll use and gather them up, along with the number of bowls you'll need.
Bowls: Place the bowls on the board first and fill them with your yogurt, granola, and other toppings.
Fruit & Extras: Arrange the fruit, muffins, and mints around the bowls. The only rule here is to make sure you really load the board up. Keep packing on the fruit until the board is nice and full and there is no empty space.
Parfait Board Tips & Tricks:
These tips and tricks apply for just about any type of parfait board, fruit board, snack board, dessert board, or charcuterie board recipe. So whether you're piling it up with fresh fruits, sugary treats or savory meats keep these tips and tricks in mind!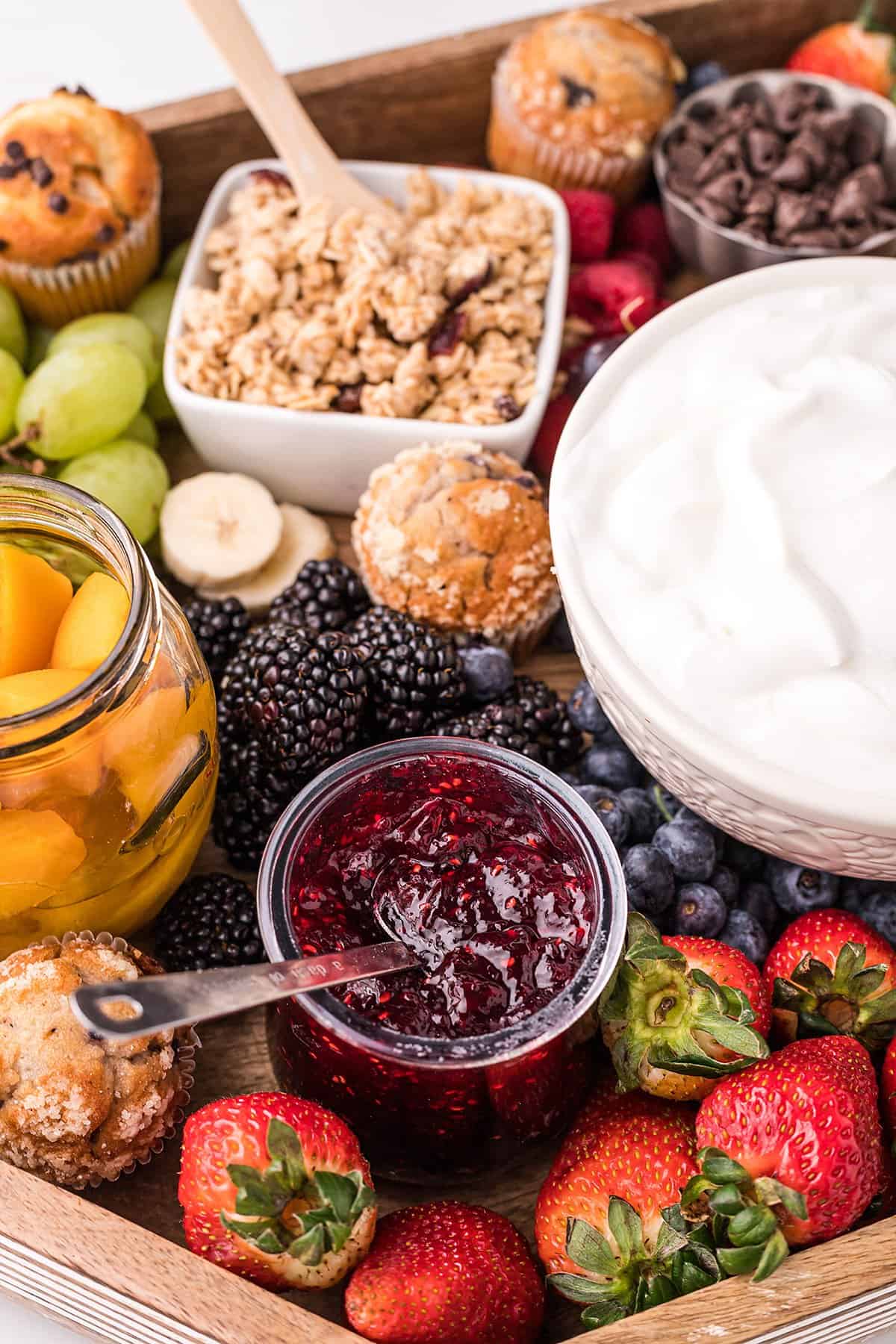 Board: Whatever type you're making you'll obviously need an appropriate board or platter to go with it. They come in all shapes and sizes; some are simple, some are fancy, and some are even themed for holidays or events! We've even used sheet pans as the base for our parfait board!
Size: Before choosing a charcuterie board you'll want to keep in mind just how much food you plan to put on it. The bigger the board, the more you'll need to add to fill in all the spaces to keep it looking as appealing as possible.
Shape: There is no rule for what shape of board to use. They are usually either rectangular or circular. Just pick whichever you feel is going to look the best for the theme you are going for!
No Board: You can't have a parfait board, snack board, or charcuterie board without a board! Or can you? You could lay down some parchment paper (or butcher's paper) over a table and arrange the goodies on it if you don't have a board or platter.
Appeal: A lot of the appeal of a fruit board is visual! When you see all those colorful fruits and toppings for the yogurt (or meats if you're going for charcuterie) it's supposed to look a bit overwhelming. You want guests to be wowed and a little bit unsure of where to start, because there are just so many tasty options.
Color: In a parfait or snack board you're going to want as much color as possible, arranged artfully to look as appealing as possible! Try to space out the colors all across the board. It's a good thing fruit and berries are so colorful!
Space: Nothing is sadder than a charcuterie board with lots of gaps or empty spaces. You want the board to look like it is bursting with options! Fill in as many gaps and empty spaces on the board as you can so that it's totally packed with fruits, berries, and bowls with toppings! When you think you've added enough, go back and sprinkle in a little more.
Variety: Go for lots of variety! If you've only got a few toppings to choose from you may want to opt for a smaller board.
Quantity: I prefer variety over quantity on a snack board, so you don't need to have a huge amount of each item unless you've got room to fill in. There's a good chance you'll have leftovers but if we're having a large party, we often refill the board after guests have gone through the first time. It keeps it looking full when people come back for more.
Budget: Snack boards do cost a bit of money to prepare, because you're just buying such a large variety of goodies. You can keep it more budget friendly by limiting yourself to 4-5 varieties of toppings and just create several different piles of each rather than keeping them all grouped together. This will make the board look more visually appealing.
FAQs:
Where do I put everything?
That's where the artistic or creative part of a charcuterie board comes in. It's really up to you how you want to arrange it so go for appealing as possible. I'd recommend starting with any bowls or containers, filling those up, and then adding in the other items.
How large should it be?
That depends on how many guests you'll be having and how impressive you want the parfait board to look! You kind of want to go big with something like this, so you may have leftovers.
What are yogurt parfaits?
A yogurt parfait is just layers of yogurt, fruit, and granola in a bowl or glass. They're easy to make, fun to customize, and turn out so pretty!
Are yogurt parfaits healthy?
That'll depend on what you make your parfait with! We recommend using plain Greek yogurt as the base for a healthier parfait and loading up on fresh fruit and low sugar granola.
MORE FRUITy Favorites!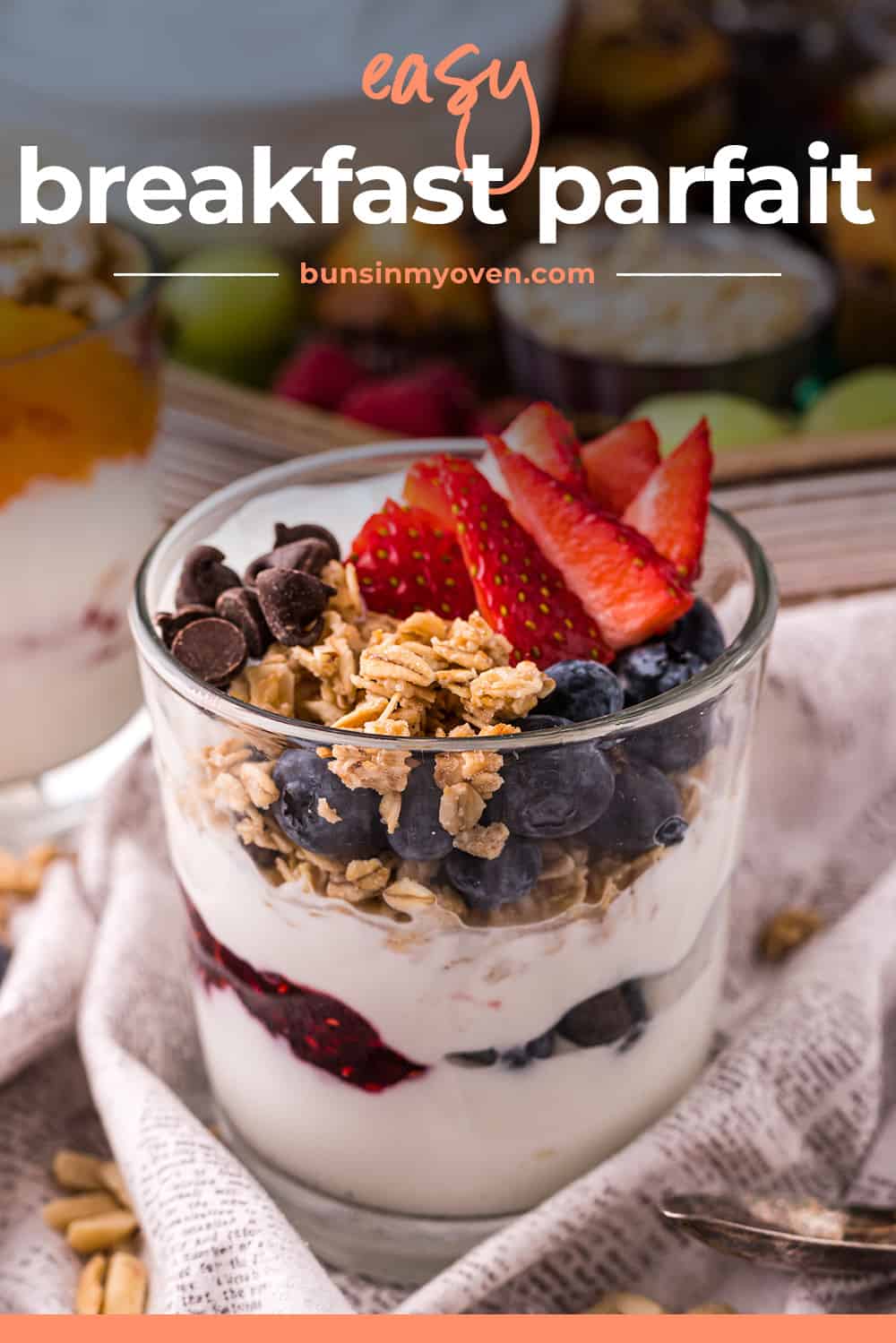 Yogurt Parfait Board
We love making charcuterie boards for family gatherings and figured a brunch parfait board would be a big hit with family and friends, too! This board has everything you need to make the perfect breakfast parfait, plus a few extra goodies tossed in for good measure.
Prep30 minutes
Total30 minutes
Ingredients
4 cups yogurt see notes
2 cups granola
1 cup raspberry jam
1 cup honey
1 cup mini chocolate chips
1 cup slivered almonds
23 ounces sliced peaches in juice
bananas sliced
strawberries
blackberries
raspberries
blueberries
grapes
chocolate mints
Mini Muffins optional
Instructions
Place your board, tray, or sheet pan on the counter and fill bowls with the yogut, granola, jam, honey, chocolate chips, almonds, and peaches.

Arrang the bowls on the board.

Arrange the fruit, mints, and muffins around the bowls, filling in any empty space and making the board very full.

Serve your yogurt parfait board with small bowls or cups for people to build their own parfaits.
Tips & Notes:
We prefer plain regular yogurt or vanilla Greek yogurt for making parfaits. Add both, if you'd like variety! Feel free to swap out the jam, nuts, and fruits for your own personal favorites. This board is easy to get creative with. The mini muffins are optional, as they don't go in the parfait, but they're fun to grab and munch on while standing around the board. Purchase muffins from the grocery bakery or make your own at home! Nutrition information will vary based on the parfait you build and the fruits and toppings used.
Nutrition Information:
Calories: 250kcal (13%)