These barbecue meatballs are the perfect comfort food! I took homemade meatballs, pan fried them to get them a bit browned on the outside, and then coated them in a simple BBQ sauce before baking!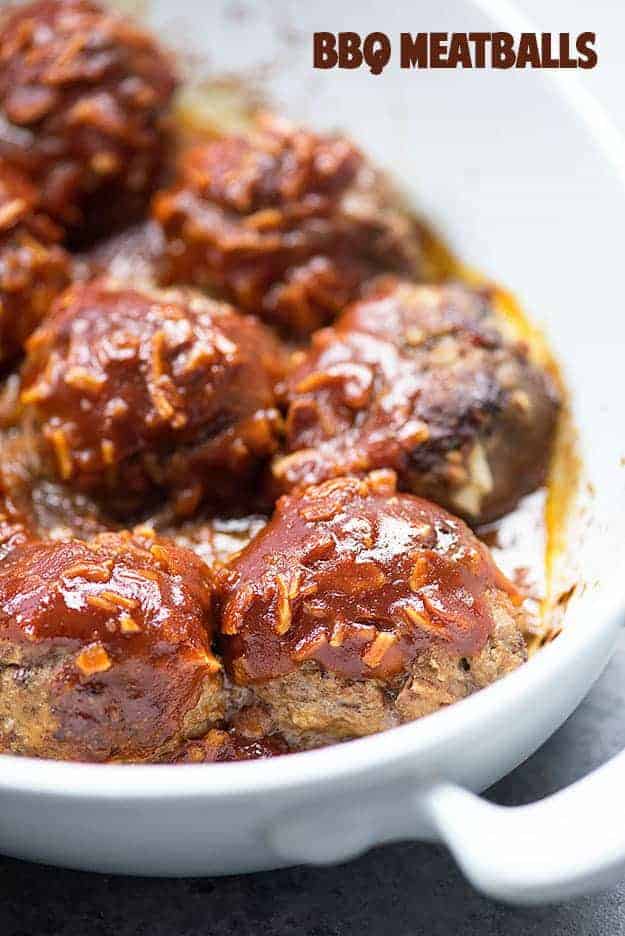 I have the worst news ever, you guys.
It's my kids.
They're going through one of their phases where they hate meatballs.
It's weird. One day they love them, the next day they're moaning and groaning if that's what's on the menu.
It is possible that I've overdone the meatball thing with them. I just LOVE meatballs.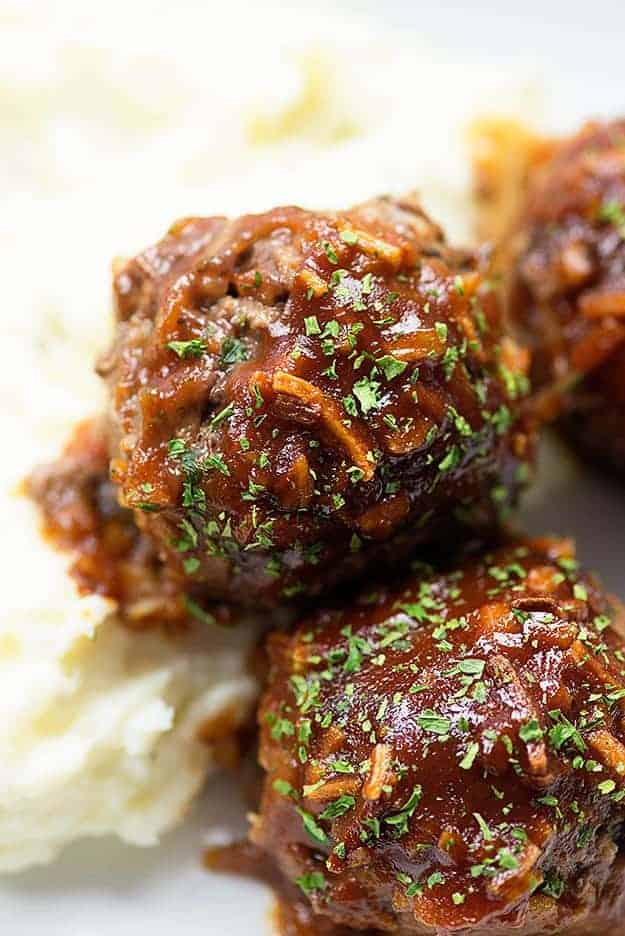 I keep trying new meatball recipes on them. Surely I'll convince them to fall back in love, right}?

These barbecue meatballs? Heaven.
I mean, I literally do not understand how one can turn their nose up at these. Kids do that though, don't they? Scrunch up their faces and turn away the most delicious things.
Infuriating.
This BBQ meatball recipe starts with homemade meatballs.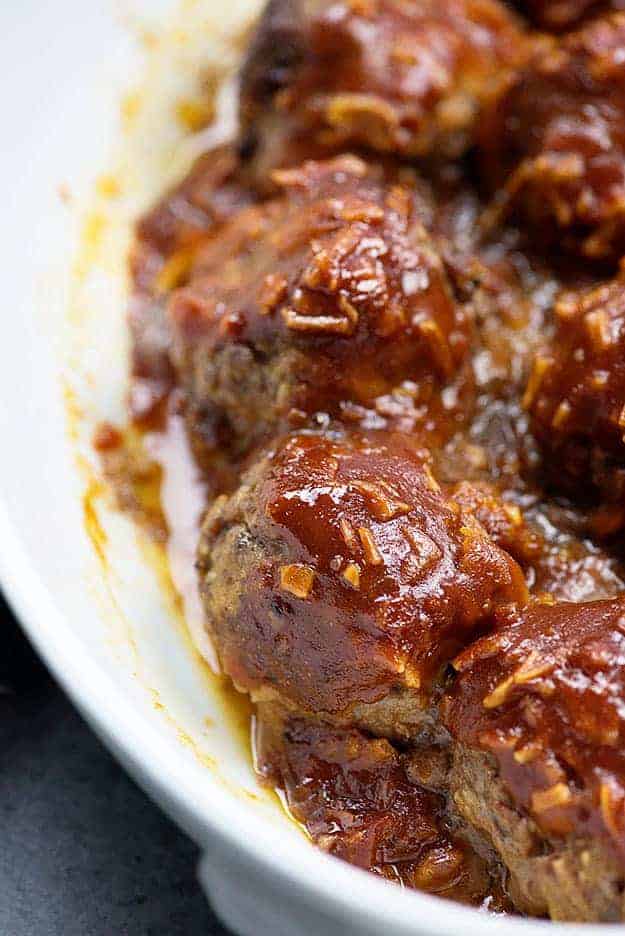 I like the frozen kind as much as the next girl and the super easy BBQ sauce that goes on top of these would work fine over frozen meatballs too. But, my homemade meatballs are fabulous and I think you should try them!
You'll use simple ingredients – ground beef, onions, oats, the usual meatball things.
I brown these in a skillet before putting them in a baking dish to finish off in the oven. I know, it's an extra step, but it really does help seal in flavor and make these extra scrumptious.
The sauce for these barbecue meatballs is a little different. It's not a traditional barbecue sauce at all.
You're going to whisk together ketchup, onion soup mix, and water.
Weird and strange and confusing and also, totally freaking delicious.
This sauce is fairly salty thanks to the onion soup mix, so this recipe is not for everyone. If you don't like salty flavors, move on.
Personally, I love big bold flavors and I like my food to be fairly salty.
I used a full packet of onion soup mix, but you can reduce it by half if you're watching the saltiness.
You could also use a homemade onion soup mix. Just mix together the beef base and seasonings in my recipe for onion soup burgers and add that to the ketchup and water!
My bbq meatballs recipe is total comfort food.
I serve these bbq meatballs over my baked mashed potatoes. The tangy sauce pairs great with creamy potatoes!
If you love meatballs, try my grape jelly meatballs too! My meatball casserole and buffalo chicken meatballs are both favorites of mine as well!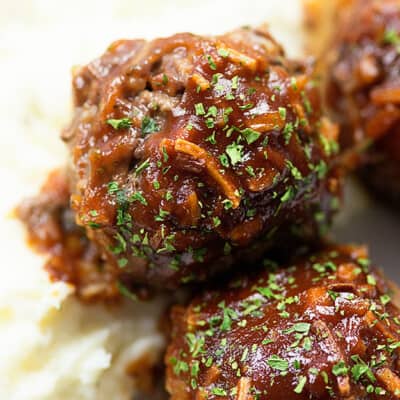 BBQ Meatballs
These BBQ meatballs are the perfect comfort food! We like them served over my creamy baked mashed potatoes.
Prep10 minutes
Cook30 minutes
Total40 minutes
Ingredients
For the meatballs
1 pound lean ground beef
1/3 cup rolled oats
1/4 cup whole milk
1/4 cup diced onion
1 large egg
2 teaspoons Worcestershire sauce
2 cloves garlic minced
2 tablespoons vegetable oil
For the barbecue sauce
1/2 cup ketchup
1 packet onion soup mix less to taste as it's fairly salty
2 tablespoons water
Instructions
Preheat oven to 400 degrees.

Add ground beef, oats, milk, Worcestershire sauce, egg, onion, and garlic to a large bowl and mix well.

Form mixture into 12 evenly sized, loosely compacted balls.

Heat oil in a large skillet oven-safe skillet over medium heat.

Add the meatballs to the skillet, working in batches if needed, and cook for 3 minutes per side or until browned.

While meatballs are cooking, whisk together the ketchup, water, and onion soup mix in a small bowl.

Spoon the mixture over the browned meatballs and place in the oven to bake for 20 minutes. Alternately, transfer the meatballs to a casserole dish and cover with the sauce before baking.
Tips & Notes:
I sprinkled the tops with parsley to brighten them up a bit.
Nutrition Information:
Calories: 339kcal (17%)| Carbohydrates: 21g (7%)| Protein: 28g (56%)| Fat: 14g (22%)| Saturated Fat: 9g (56%)| Cholesterol: 118mg (39%)| Sodium: 1205mg (52%)| Potassium: 659mg (19%)| Fiber: 1g (4%)| Sugar: 8g (9%)| Vitamin A: 245IU (5%)| Vitamin C: 3.1mg (4%)| Calcium: 63mg (6%)| Iron: 3.6mg (20%)