These Keto Lettuce Wraps are filled with cauliflower fried rice, seasoned chicken, and a simple sauce that packs a big flavor punch. They're hearty and filling and the perfect low carb take out fake out recipe!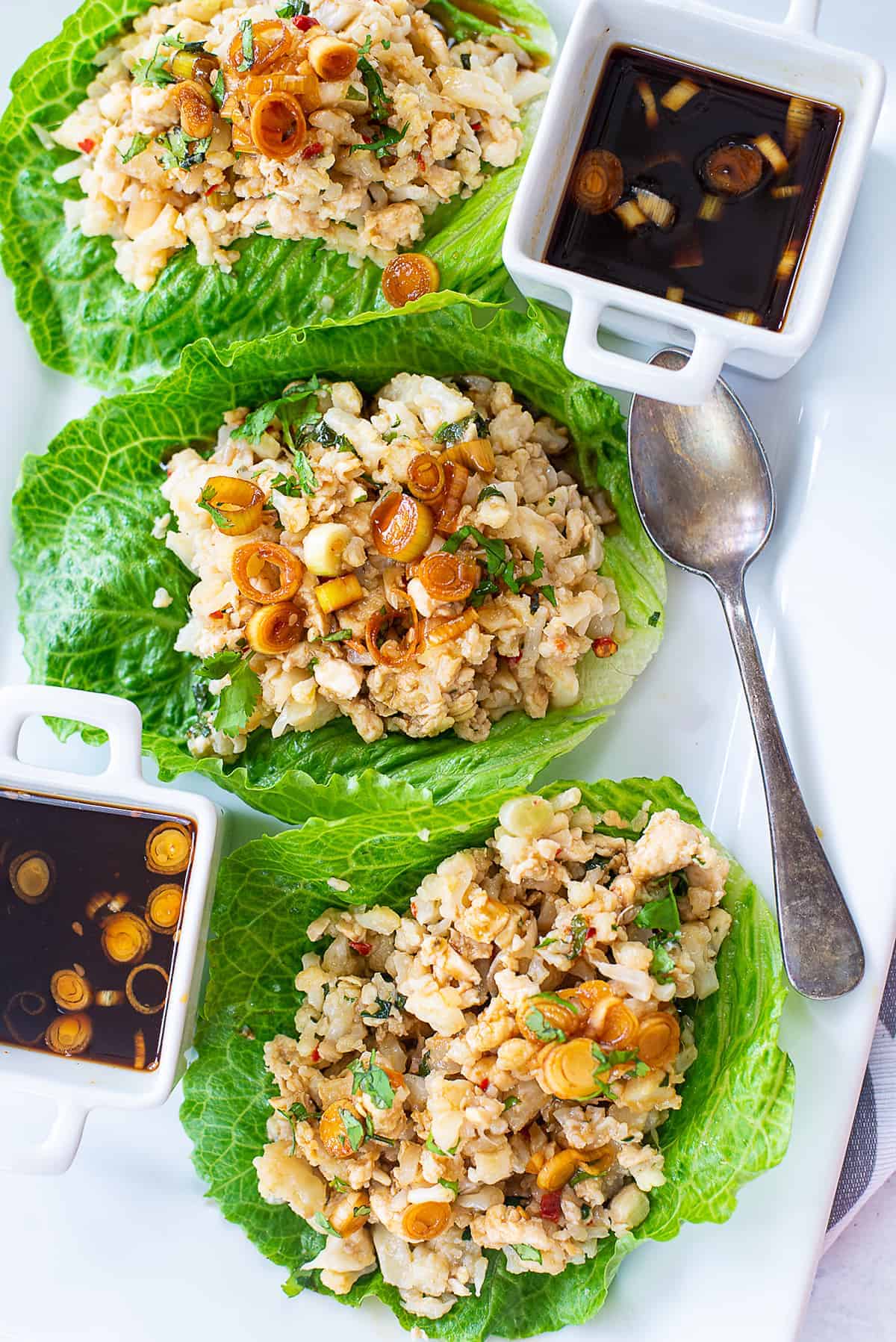 The truth is that lettuce wraps are not my usual go to meal, but lately I've been trying to eat less carbs while packing in tons of flavor and I have to tell you…these Asian lettuce wraps are the ticket!
So fresh and flavorful with the cool, crisp lettuce, the perfectly seasoned cauliflower, the tender bits of chicken…but it's the the soy sesame sauce we drizzle over the top that's the real star of the show!
My daughter took a bite of these and said they were her new favorite Asian dish, which is big because she usually just sticks to spring rolls and potstickers when we do Asian for dinner!
Not to mention, the kid ate cauliflower rice and didn't complain. If that isn't a win, I don't know what is!
These keto lettuce wraps might just turn your family into lettuce wrap lovers too!
Ingredient Notes:
This post contains affiliate links. As an Amazon associate and member of other qualifying programs, I earn from qualifying purchases.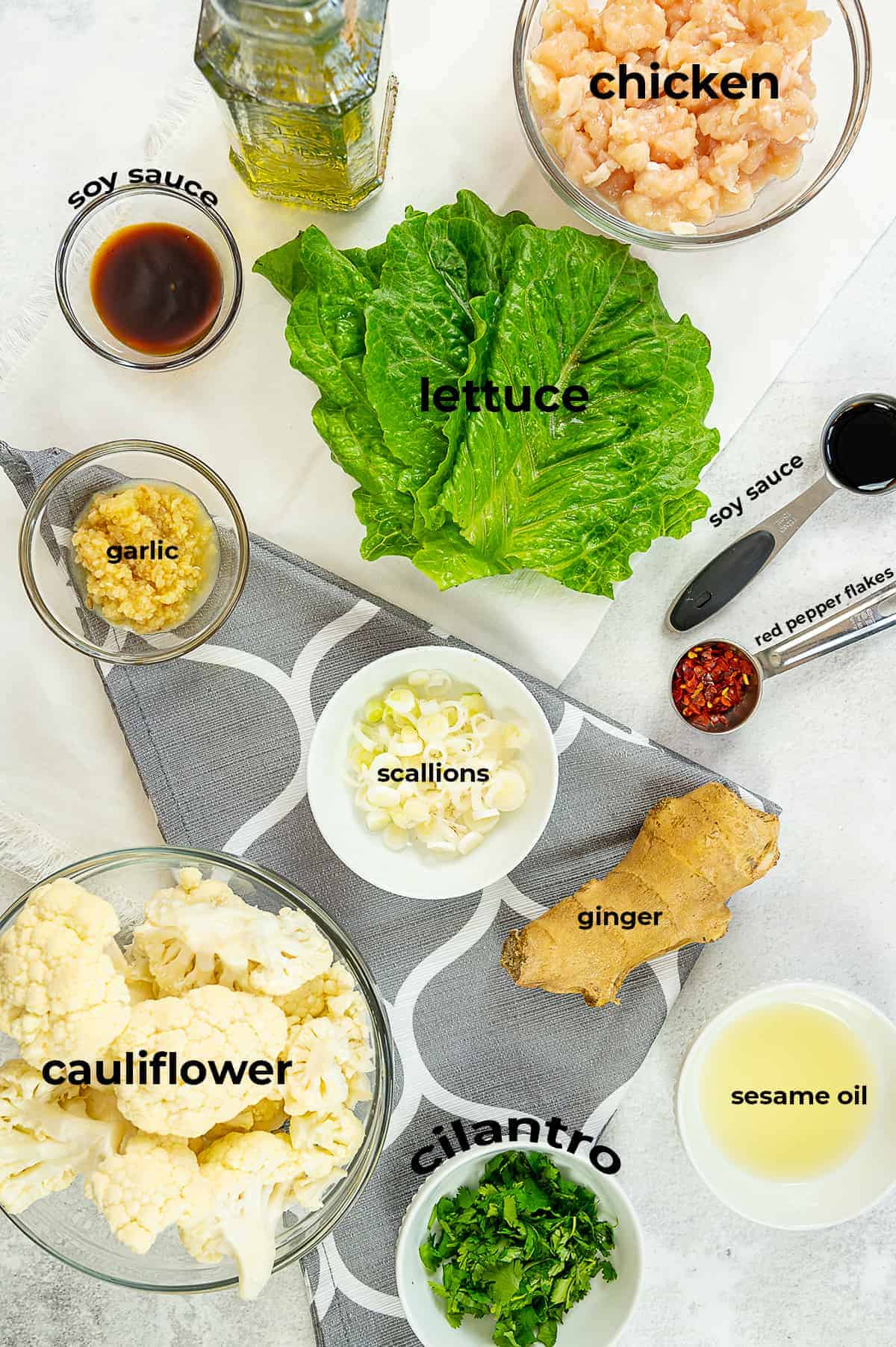 Cauliflower Rice – Buy a bag of already chopped cauliflower or use a sharp knife or food processor chop it up yourself.
Ginger – Fresh ginger is easy to find in most grocery stores, but the squeeze tube of already minced ginger works great too!
Ground Chicken – This can be a little tricky to find, but we sub in ground turkey often and no one knows.
Sesame Oil – There really is no substitute here. It adds the perfect toasty flavor. You'll find this in the Asian aisle at the store or you can order from Amazon.
Helpful Tip!
Not a cauliflower fan? No problem!
If you want to swap out the cauliflower fried rice for regular rice, go right ahead. We suggest our bacon fried rice or spam fried rice here. Of course, you can leave the meat out of either recipe, if desired.
What Readers are Saying!
"I made this tonight and it was delish! I used the frozen cauliflower rice and it worked wonderfully! Thanks!!" – Sarah
How to make chicken lettuce wraps:
Cauliflower rice – Put the florets in a food processor until you get rice sized pieces of cauliflower. Alternately, use a sharp knife to chop the cauliflower finely. Add olive oil to a skillet and add your cauliflower, garlic, ginger, and soy sauce to hot oil and cook for a couple of minutes. Remove from heat and place in a large bowl to and mix in the scallions and cilantro.
Cook the chicken – Add another teaspoon of olive oil back to your pan you just cooked the rice in. Add your ground chicken and cook until it is no longer pink. Add the garlic, soy sauce, and red pepper flakes to the chicken and cook for one more minute. Add the chicken to your large bowl with the rice in it.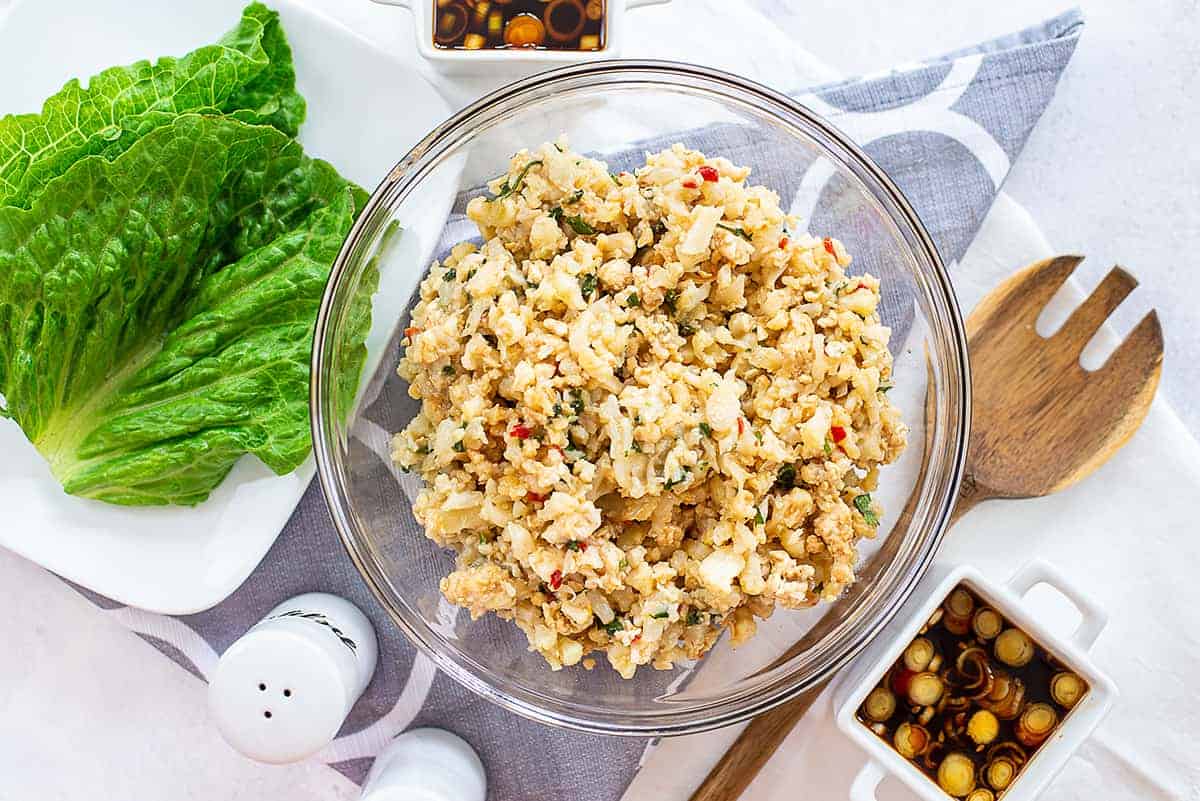 Serve – Toss the rice and chicken together in your large bowl. Whisk together your soy sauce, lime juice, and sesame oil for a sauce. Spoon the chicken mixture into a piece of lettuce sprinkle salt, extra scallions, and cilantro over the chicken to taste. Drizzle the sauce over the top or use as a dip for your wrap.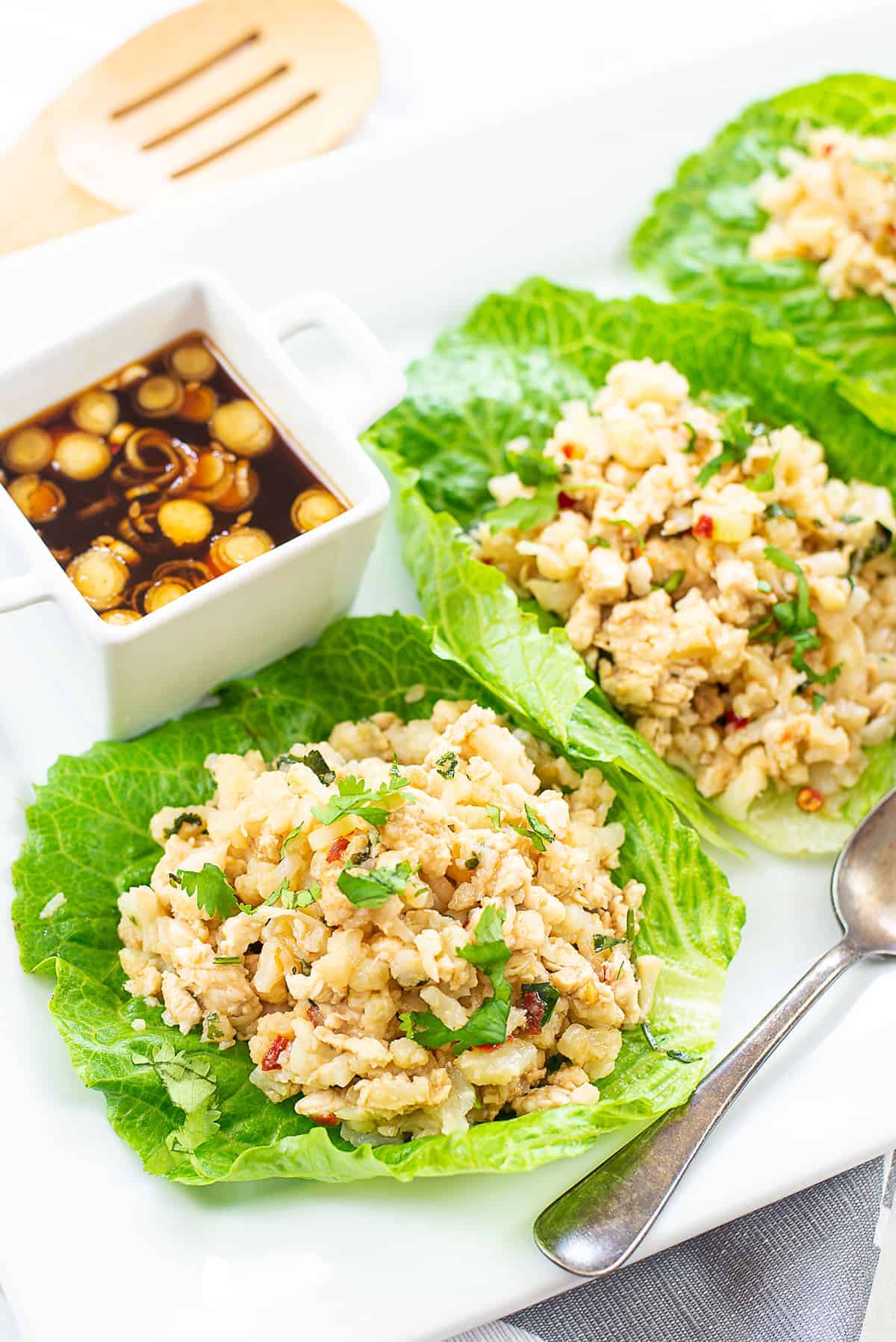 Why We Love This Recipe:
Keto Friendly: We love to serve up veggie-forward dishes that are lower in carbs and big on flavor. These lettuce wraps fit the bill perfectly and are perfect for those on a keto diet.
Fresh & Flavorful: The cool, crisp lettuce pairs perfectly with the seasoned fried cauliflower rice. And that sauce on top? The icing on the cake.
Easy: This recipe is quick and easy to make, perfect for busy weeknights when you want a healthy and satisfying meal. These are ready in about 30 minutes.
Meal Prep: These keto lettuce wraps are a great option for meal prep, as they can be made ahead of time and stored in the fridge for a quick and healthy meal on the go. Store your filling and lettuce separately and combine when you're ready to dig in.
More low carb recipe ideas: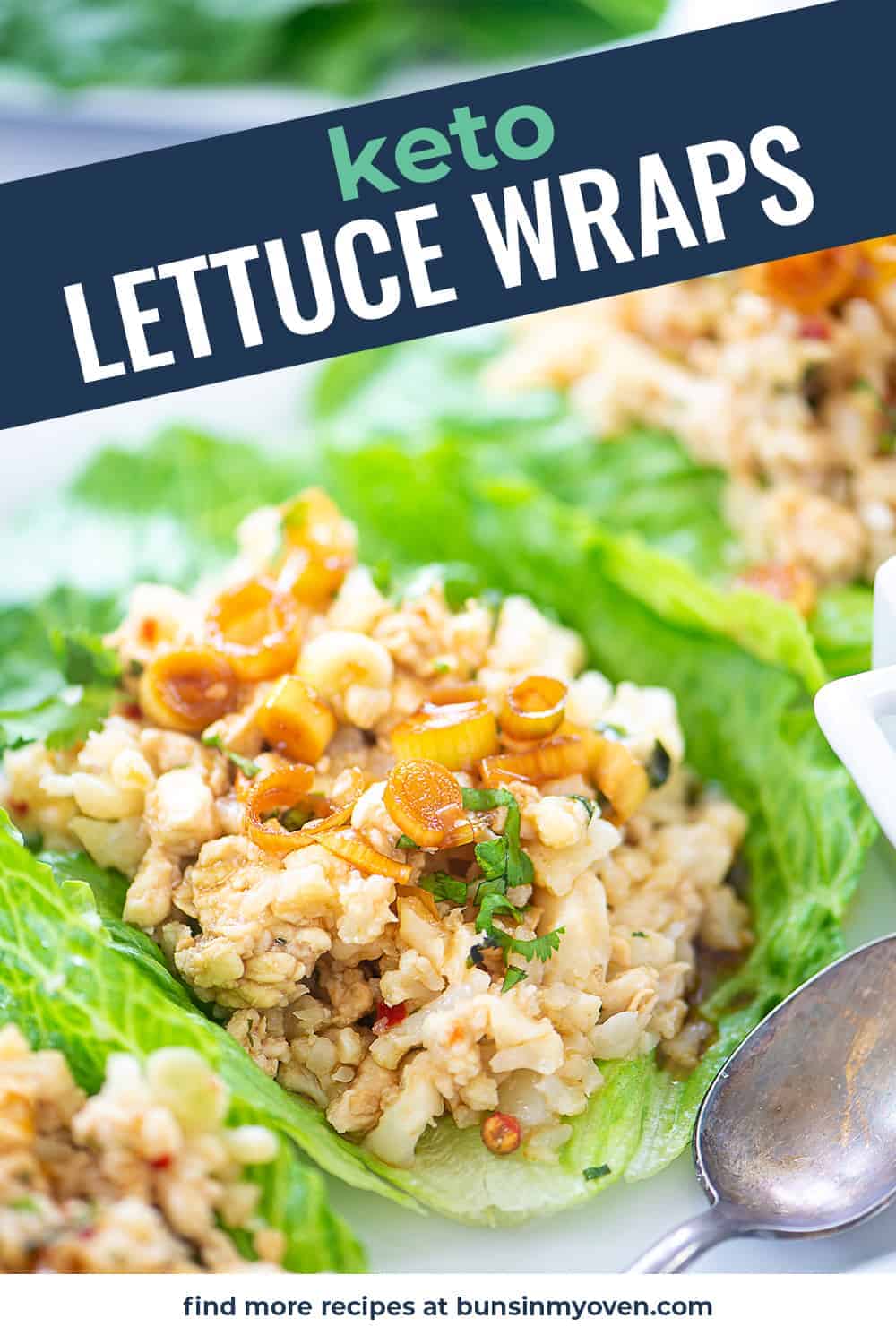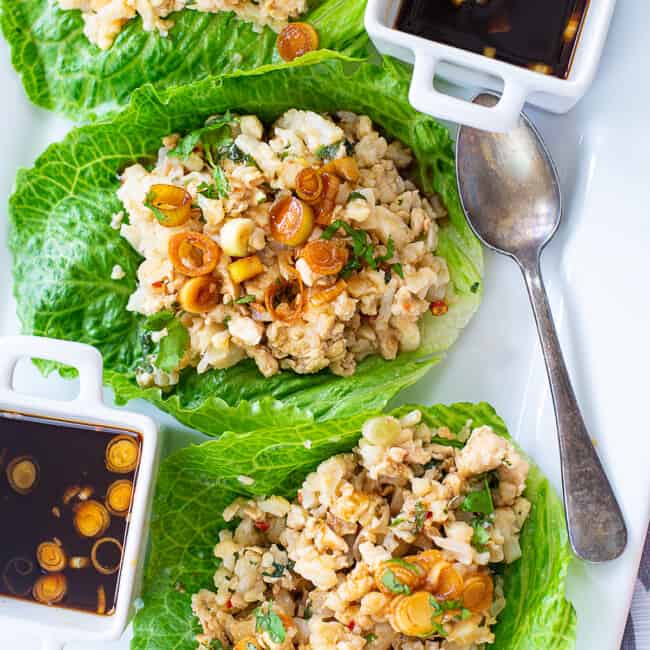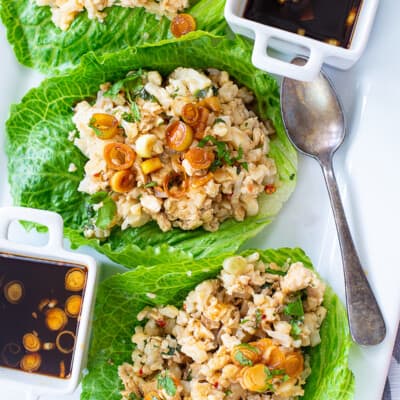 Asian Chicken Lettuce Wraps
These lettuce wraps are low carb dinner perfection. We love the dipping sauce and even my kids gobble these up!
Prep15 minutes
Cook20 minutes
Total35 minutes
Ingredients
For the cauliflower rice:
1 head cauliflower riced
1 teaspoon olive oil
2 cloves garlic minced
1 inch piece of ginger minced
1 teaspoon soy sauce
1/4 cup chopped scallions
1/4 cup chopped cilantro
For the chicken:
1 pound ground chicken
1 teaspoon olive oil
1 clove garlic minced
1 teaspoon soy sauce
1 teaspoon red pepper flakes
For the sauce:
1/4 cup soy sauce
1 tablespoon lime juice
2 teaspoons sesame oil
1 tablespoon chopped scallions
Butter lettuce rinsed and dried
Extra scallions and cilantro for serving
Instructions
Heat a large non-stick skillet over high heat. Add the olive oil to the skillet and heat.

Add the cauliflower, garlic, ginger, and soy sauce to the hot oil and cook for 4 minutes, stirring constantly.

Remove from heat and transfer to a large bowl. Toss in the scallions and cilantro.

Return the pan to the heat and add another teaspoon of olive oil to the skillet. When hot, add the ground chicken and cook until not longer pink, breaking up the meat as you cook it.

Add the garlic, soy sauce, and red pepper flakes to the chicken and continue cooking for 1 minute.

Add to the bowl with the cauliflower and toss to combine.

Whisk together all the ingredients for the sauce.

To serve, spoon the chicken mixture into the pieces of lettuce. Top with scallions and cilantro. Drizzle sauce over top or use as a dip.
Tips & Notes:
You can purchase already riced cauliflower in the produce section or rice it yourself in a food processor or with a sharp knife.
Nutrition Information:
Calories: 253kcal (13%)| Carbohydrates: 10g (3%)| Protein: 24g (48%)| Fat: 13g (20%)| Saturated Fat: 3g (19%)| Cholesterol: 97mg (32%)| Sodium: 1099mg (48%)| Potassium: 1079mg (31%)| Fiber: 3g (13%)| Sugar: 3g (3%)| Vitamin A: 295IU (6%)| Vitamin C: 72.8mg (88%)| Calcium: 49mg (5%)| Iron: 2.1mg (12%)