These Asian chicken lettuce wraps are low carb and filled with cauliflower fried rice. They're hearty and filling and just the perfect low carb Chinese food when you're really craving take out.
Do you know what I'm utterly obsessed with?
I know. That's kind of a weird thing to obsess about, but I love it so stinkin' much.
It just adds the perfect toasty flavor to everything!
So, the other day when I was at the store searching for a new bottle of my favorite oil, I couldn't find any. All the store had was a chili sesame oil.
"Alright," I thought. "No big. I'll just adjust my recipe by omitting the chili pepper flakes and use this instead."
Ha. Haaaaaaaa.
You guys. I had no idea I was such a wimp, but that chili sesame oil is not even messing around.
My mouth was on fire. In a not so great way.
I should have known I was in trouble when it came out of the bottle a fiery red color.
Needless to say, I hit up another grocery store and secured a couple bottles of pure sesame oil. Minus the flames. Because, no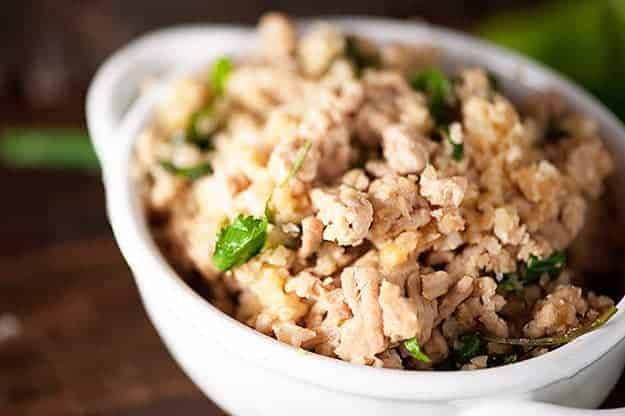 Then I came home and made some low carb Asian chicken lettuce wraps.
I really like to add fried rice to my lettuce wraps to bulk them up a bit, but since I'm doing a keto diet, I made some quick cauliflower fried rice to mix in with my ground chicken and it made these wraps super filling and delicious!
My daughter took a bite of these and said they were her new favorite Asian dish, which is big because she usually just sticks to spring rolls and potstickers when we do Asian for dinner!
These are perfect for carb lovers, too!
If you want to swap out the cauliflower fried rice for regular rice, go right ahead. Just cook it as you normally would and then use it in place of the cauliflower.
Personally, I've been eating cauliflower rice for a long time now, even when I am eating the heck out of some carbs. It has a great flavor and texture and I love that it's healthier than a starch.
Be sure to check out my Thai Peanut Noodles, too! They're another favorite recipe I use sesame oil in.
For more low carb recipes, try my egg roll in a bowl (pictured above) or my cheeseburger casserole! Both are super popular with readers and always a hit on my own table.
That egg roll in a bowl up there would be great in a lettuce wrap too, now that I think of it! 🙂
Hope you guys love this recipe as much as we do!
Asian Chicken Lettuce Wraps
These lettuce wraps are low carb dinner perfection. We love the dipping sauce and even my kids gobble these up!
Prep15 minutes
Cook20 minutes
Total35 minutes
Ingredients
For the cauliflower rice:
1 head cauliflower cut into florets
1 teaspoon olive oil
2 cloves garlic minced
1 inch piece of ginger minced
1 teaspoon soy sauce
1/4 cup chopped scallions
1/4 cup chopped cilantro
For the chicken:
1 pound ground chicken
1 teaspoon olive oil
1 clove garlic minced
1 teaspoon soy sauce
1 teaspoon red pepper flakes
For the sauce:
1/4 cup soy sauce
1 tablespoon lime juice
2 teaspoons sesame oil
1 tablespoon chopped scallions
Butter lettuce rinsed and dried
Extra scallions and cilantro for serving
Instructions
Place the cauliflower florets in a food processor and pulse until you have small, rice sized pieces of cauliflower.

Heat a large non-stick skillet over high heat. Add the olive oil to the skillet and heat.

Add the cauliflower, garlic, ginger, and soy sauce to the hot oil and cook for 2 minutes, stirring constantly.

Remove from heat and transfer to a large bowl. Toss in the scallions and cilantro.

Return to the pan to heat and add another teaspoon of olive oil to the skillet. When hot, add the ground chicken and cook until not longer pink, breaking up the meat as you cook it.

Add the garlic, soy sauce, and red pepper flakes to the chicken and continue cooking for 1 minute.

Add to the bowl with the cauliflower and toss to combine.

Whisk together all the ingredients for the sauce.

To serve, spoon the chicken mixture into the pieces of lettuce. Sprinkle with salt and top with extra scallions and cilantro. Drizzle sauce over top or use as a dip.
Tips & Notes:
For a non-keto version of this recipe use regular rice instead of the cauliflower rice. Everything else stays the same!
Nutrition Information:
Calories: 253kcal (13%)| Carbohydrates: 10g (3%)| Protein: 24g (48%)| Fat: 13g (20%)| Saturated Fat: 3g (19%)| Cholesterol: 97mg (32%)| Sodium: 1099mg (48%)| Potassium: 1079mg (31%)| Fiber: 3g (13%)| Sugar: 3g (3%)| Vitamin A: 295IU (6%)| Vitamin C: 72.8mg (88%)| Calcium: 49mg (5%)| Iron: 2.1mg (12%)