Let's talk about the words "fat bomb." I know. It sounds scary and dangerously unhealthy and probably like something you're going to want to avoid, especially in January.
The thing is, if you're following a keto diet, you need fat. It's not the enemy. Fat is filling and actually helps you to consume less calories without feeling hungry. If you've been on a low carb high fat diet, you know that feeling of being pleasantly full at the end of the day and then calculating up your nutrition to see that you've not even hit your calorie goal. It's kind of crazy, but eating a low carb high fat diet can be super effective.
A fat bomb is a way to boost your fat intake up and keep your macros in check. Generally, most people on a keto diet try to stay around 75% fat, 20% protein, and 5% carbs. That can be difficult if you don't like eating cream cheese or butter by the spoonful. Which, I do, obviously. I mean, have we met? Cream cheese flows through my veins.

Even if you don't need a fat bomb and are just looking for a low carb dessert that won't spike your blood sugar, this little keto dessert will do the trick quite nicely.
This is the perfect thing when I'm craving something sweet…almost like a peanut butter cup!
You'll be able to go from talking yourself into cheating on your diet and into staying on track with just one bite. I should know, because I do it nearly every night. 😉
These clock in at around 1.5 carbs for me, based on the products I use. Your mileage may vary. I always buy MaraNatha Almond Butter for these. For the maple flavor, I use Walden Farm's Pancake Syrup – it's zero carbs, calories, fat, everything and I love that it doesn't taste like fake sugar and actually is full of maple flavor.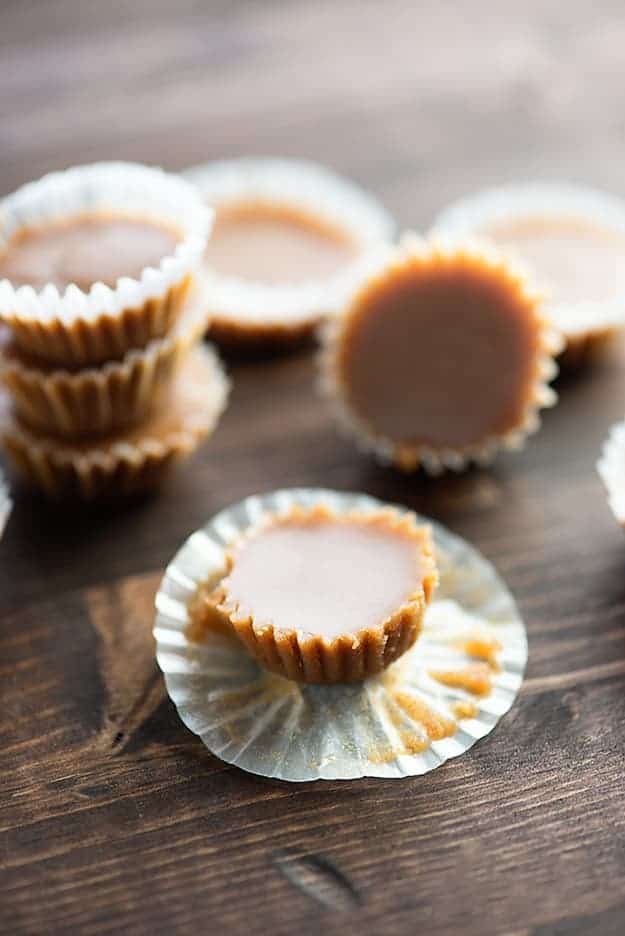 Maple Almond Fudge Fat Bomb
A fat bomb is a way to boost your fat intake up and keep your macros in check.

Prep5 minutes
Total5 minutes
Serves 24 bite sized pieces
Ingredients
1/2 cup all-natural almond butter
1/4 cup butter
2 tablespoons coconut oil
1 tablespoon sugar free zero carb maple syrup
Instructions
Melt the almond butter, butter, and coconut oil in the microwave for 2 minutes, stirring every 30 seconds, or until smooth and fully melted together.

Whisk in the maple syrup and stir well to combine.

Pour mixture into bite sized paper liners set inside a mini muffin tin.

Refrigerate or freeze until hardened.

You may store these at room temperature for a soft consistency or in the freezer or fridge for a more firm consistency.
Nutrition Information:
Calories: 60kcal (3%)| Carbohydrates: 1g| Protein: 1g (2%)| Fat: 5g (8%)| Saturated Fat: 2g (13%)| Cholesterol: 5mg (2%)| Sodium: 18mg (1%)| Potassium: 38mg (1%)| Vitamin A: 60IU (1%)| Calcium: 19mg (2%)| Iron: 0.2mg (1%)