I'm about to get my southern belle on, y'all!
I whipped up my dad's famous biscuits and, instead of slathering them in butter and raspberry preserves like I usually do, I went the savory route. The spicy route. The creamy, cheesy, perfection route.
I'm fairly in love with pimento cheese. Not the kind you buy from the store. That kind is weird and gloppy and way too smooth for my liking. I like my pimento cheese to actually be cheese. Shreds of cheese, mixed with mayo and cream cheese, dotted with pimentos, and this time around, studded with jalapenos. You can totally leave out the jalapenos if they aren't your thing, but I love the spice they lend to these perfect little biscuits.
So, if you're new to biscuit making or you're scared of biscuit making or you just need a really good fool-proof recipe that has all of my tips and tricks and secrets to biscuit success, click if you want to know how to make homemade biscuits! That recipe is just the best. Hands down.
It's all broken down step by step for you, so you can have biscuit perfection in your life too! Nobody wants to live without perfect biscuits.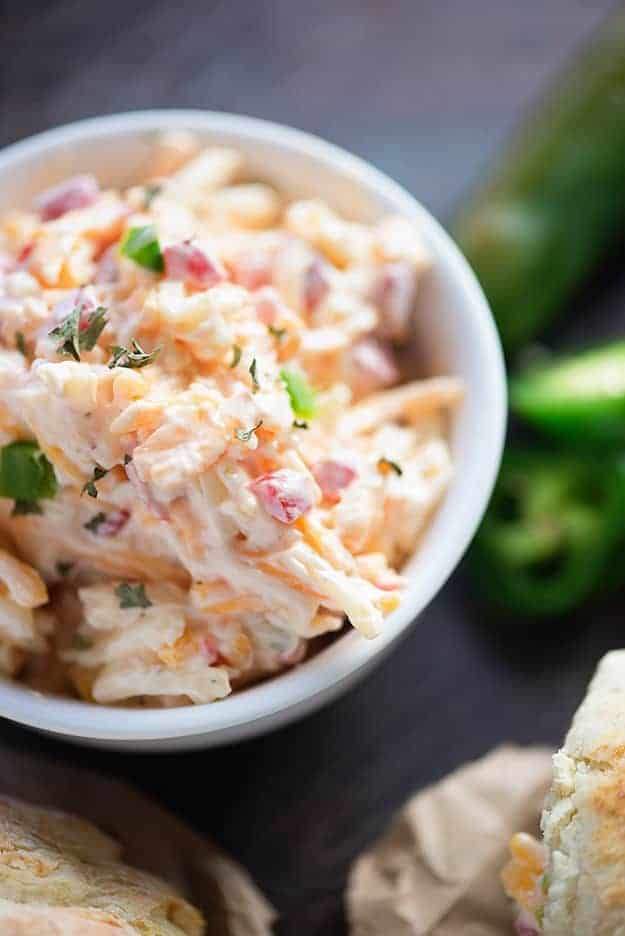 Now, let's talk about this cheese some more, shall we? I used a mixture of pepperjack and cheddar because I was going for spicy. You can use monterey jack instead, if you don't like the spice. I grate my cheese myself, using my food processor, so that it's really creamy and fresh. Pre-packaged shredded cheese just isn't as creamy as freshly grated. It's coated in cornstarch to prevent it from sticking. I mean, it works if you're really opposed to grating your own, but I think the extra 30 seconds to grate your own are well worth it.
I do add cream cheese to my pimento cheese. Apparently there is a bit of a debate about that. Some people feel pretty strongly that a good pimento cheese is just cheese, mayo, and pimentos. Personally, I can often be found eating a spoonful of cream cheese the way some people eat a spoonful of Nutella or peanut butter. I love the stuff and I love what it does here. It makes this extra creamy, helps it hold together more firmly, and it just adds more cheesy goodness to the mix.
As for the jalapenos, I just diced up fresh jalapeno for this, but the "tamed" jalapenos from a jar are also excellent. They give it more of a tangy flavor than a spicy flavor. Which come to think of it, makes me really want to try pickles in my pimento cheese next time! If you don't like spice, leave them out completely.
I hope you guys love these little southern treats as much as I do. They're perfect for a snack, excellent at brunch, and if you cut your biscuits really small, would make a great appetizer! Add some bacon or ham and you could even call these little guys lunch!
Jalapeno Pimento Cheese Biscuits
This recipe for jalapeno pimento cheese will yield about 2 cups worth of cheese. You'll have plenty for slathering on a full batch of biscuits, with enough leftover to dip a few crackers in!
Prep5 minutes
Total5 minutes
Ingredients
1 cup grated cheddar cheese
1 cup grated Pepperjack cheese
4 ounces cream cheese room temperature
1/2 cup mayonnaise
3 tablespoons jarred pimentos
3 tablespoons diced jalapeno
1/2 teaspoon salt
1/2 teaspoon pepper
1/2 teaspoon garlic powder
1/2 teaspoon onion powder
Instructions
Add the cheddar, pepperjack, cream cheese, and mayonnaise to a large bowl and stir well to combine.

Stir in the pimentos, jalapeno, salt, pepper, garlic powder, and onion powder.

Cover and refrigerate for at least 20 minutes to firm up and let the flavors meld.

Spread inside hot biscuits or eat with crackers.
Nutrition Information:
Calories: 171kcal (9%)| Carbohydrates: 1g| Protein: 5g (10%)| Fat: 16g (25%)| Saturated Fat: 6g (38%)| Cholesterol: 32mg (11%)| Sodium: 296mg (13%)| Potassium: 45mg (1%)| Vitamin A: 440IU (9%)| Vitamin C: 7.7mg (9%)| Calcium: 147mg (15%)| Iron: 0.3mg (2%)