Cherry pie in bar form! These are full of gooey cherry pie filling and made simple with an easy 3 ingredient crust.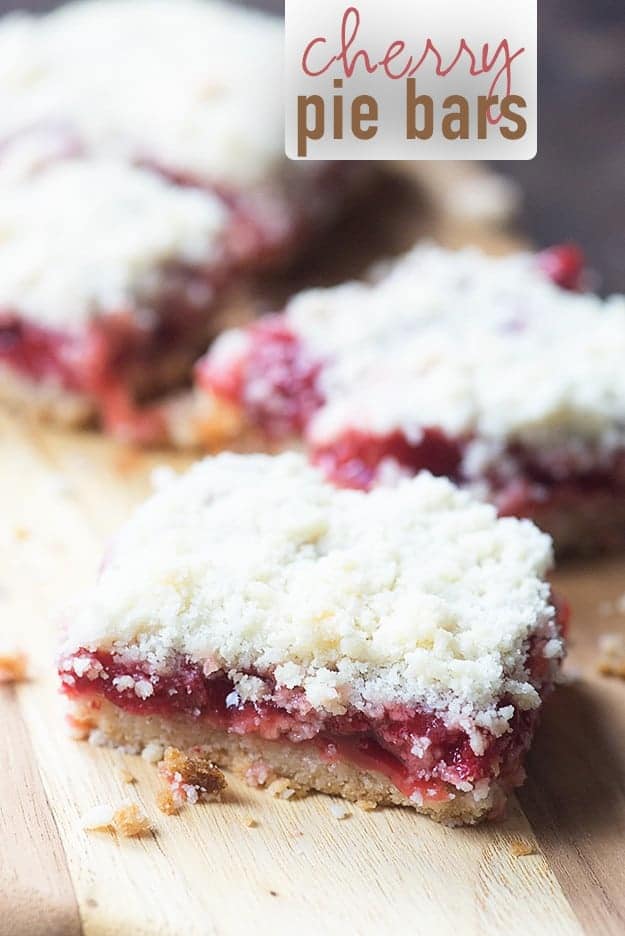 Have y'all been out and about lately? I mean, like, to a store? With pretties for your home? Like a home decor store?
I don't recommend it.
Hobby Lobby has had Christmas decor out since the beginning of June. Michael's is all decorated for Fall. HomeGoods and Pier 1 both have Fall goodies. JoAnne Fabrics had HALLOWEEN decor and look, I know Halloween comes before Christmas and you would expect to see that first, but you never do. I am always dying for Halloween decor to come out in mid-August and I can't ever find it anywhere.
And yet.
Here we are.
In July.
And there are bones and creepy cats and carved pumpkins.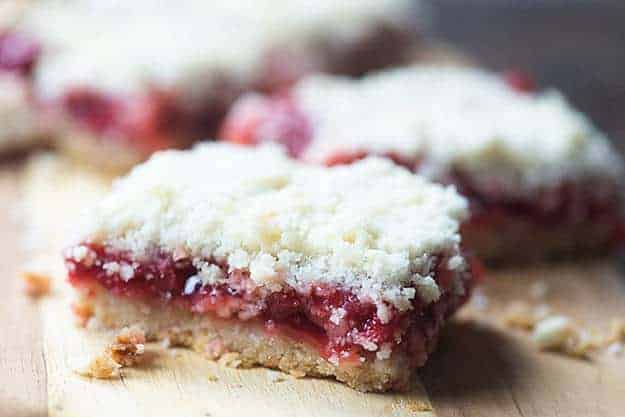 I know it's very cliche and overdone to complain about the stores starting so early with this business, but look. I feel like I've barely even started summer and every time I see a Christmas tree I literally almost vomit. Can we just not?
These cherry bars are beyond easy!
I'm doing my best to think happy summery thoughts and so that's why I'm here today with these cherry pie bars. Cherry pie always screams summer to me, especially in bar form, because then you can eat it by the pool with your hands. No mess, save a few stray crumbs.
This is a 4 ingredient recipe, my friends. You're going to love how easy it is and also how totally delicious.
Let these cool completely and you can pick them up with your hands for a portable handheld pie. Orrrrr, scoop some out of the dish warm and top it with vanilla ice cream for more of a cherry pie crumble situation. Either way, this stuff is good.
Skip your usual cherry pie recipe. These are just as good and way simpler!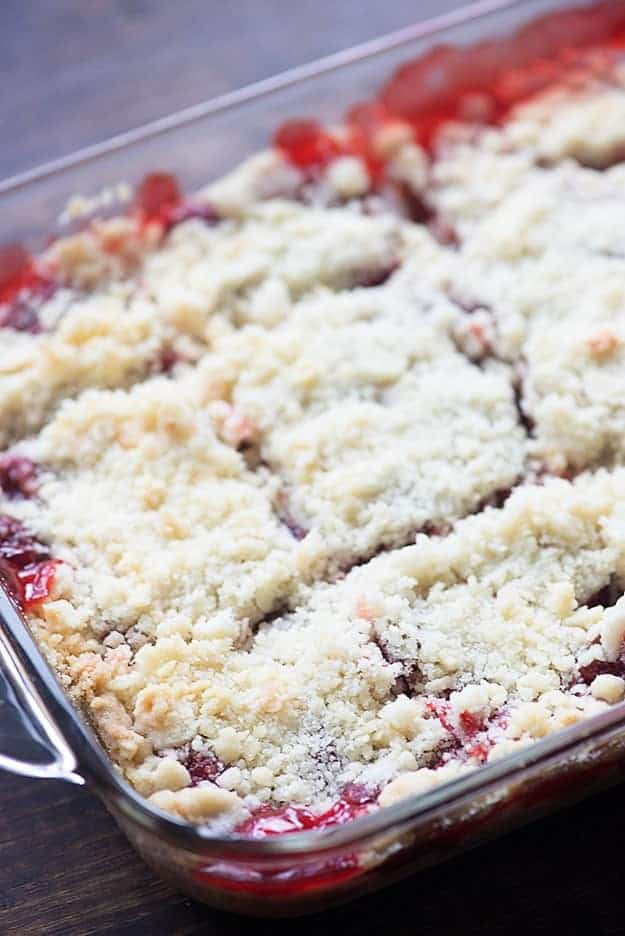 If you like these cherry pie bars, check out my strawberry crostata, sugar pie, or my raspberry pie recipe.
Now, it's been lovely chatting with you, but I have to head out back to the pool. Apparently there are only 30 seconds of summer left and I intend to enjoy them.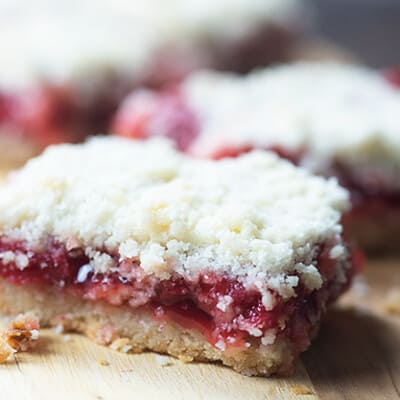 Cherry Pie Bars
Cherry pie in bar form! These are full of gooey cherry pie filling and made simple with an easy 3 ingredient crust.
Prep10 minutes
Cook1 hour 10 minutes
Total1 hour 20 minutes
Ingredients
1 1/2 cups all-purpose flour
3/4 cup sugar
12 tablespoons butter cut into cubes
21 ounce can cherry pie filling
Instructions
Preheat oven to 350 degrees.

Add flour, sugar, and butter to a medium mixing bowl and use a pastry cutter or two knives to cut the butter into the flour and sugar until you have coarse crumbs. Alternately, add the flour, sugar, and butter to the bowl of a food processor and process just until you have coarse crumbs. Do not overmix.

Press half of the dough into the bottom of a 7x11 or 9x9 baking dish. Bake for 10 minutes.

Remove crust from the oven and spread the cherry filling over the top. Sprinkle the remaining crust mixture evenly over the filling.

Return to the oven for 50-60 more minutes or until the crust is starting to turn golden at the edges.

Cool completely before cutting and serving.
Nutrition Information:
Calories: 350kcal (18%)| Carbohydrates: 51g (17%)| Protein: 2g (4%)| Fat: 15g (23%)| Saturated Fat: 9g (56%)| Cholesterol: 40mg (13%)| Sodium: 145mg (6%)| Potassium: 96mg (3%)| Sugar: 16g (18%)| Vitamin A: 600IU (12%)| Vitamin C: 2.4mg (3%)| Calcium: 15mg (2%)| Iron: 1.1mg (6%)