Fresh strawberry pie is always a favorite, but a strawberry crostata is just as easy and somehow manages to be even prettier!
I'm popping in today with a recipe that I shared way back when in June of 2009. Did y'all even know I've been blogging for that long?
Yeah. I started in December of 2008, which means I'm coming up on my ninth year. Seems so crazy to me! Leave a comment below and let me know how long you've been reading Buns In My Oven! I think it'd be really interesting to see how many of you have been around for a long time vs. how many of you just found me. 🙂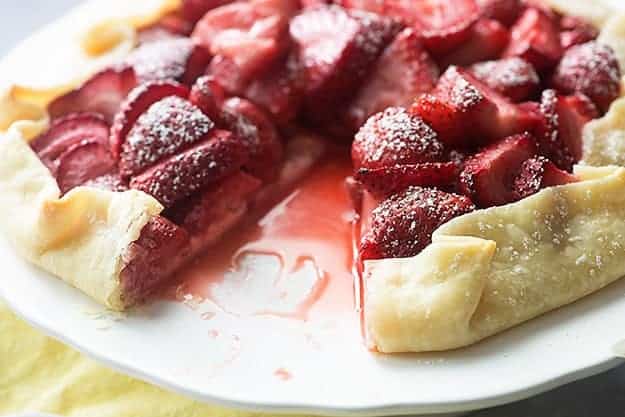 Anyway!
I made this Strawberry Crostata for Father's Day way back when and it was amazing. The thing is…I didn't really super know what I was doing with my camera. I was all up close and the photographs were just of the crostata on a piece of parchment paper. Kinda lame.
I decided that hey, strawberries are bursting with flavor right now – seems like a good time to remake this gorgeous little dessert and retake those photos! I went ahead and made a video at the same time, because YES. You guys are following me on Facebook to see all of my videos right??
Original photo below! It's not nearly as bad as some of my first photos, but I thought it could use a little updating.
You should also check out my honey cinnamon blackberry crostata. It is to die for!
If you've never had or heard of a crostata, it's basically a pie for people that don't own pie plates. It's super easy! You just take your pie crust (store bought is what I'm using, but homemade is fine too) and lay it out on a baking sheet. Load up the center with the good stuff and then fold the edges up to keep all the juices from leaking out. Easy peasy!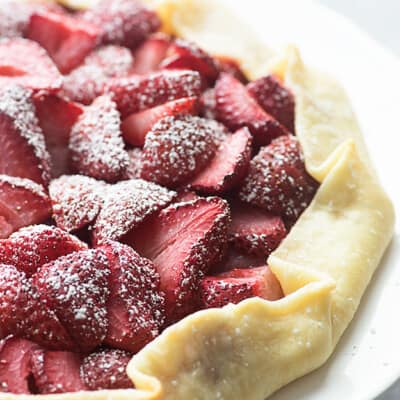 Strawberry Crostata
Fresh strawberry pie is always a favorite, but a strawberry crostata is just as easy and somehow manages to be even prettier!

Prep10 minutes
Cook25 minutes
Total35 minutes
Ingredients
1 1/2 pounds strawberries
2 tablespoons sugar for sprinkling
8 ounces cream cheese softened
2 tablespoons flour
2 tablespoons sugar
1 tablespoon vanilla
1 pie crust storebought or homemade
Instructions
Preheat oven to 400 degrees.

Hull and slice strawberries. Sprinkle with sugar and set aside.

Mix together cream cheese, flour, sugar and vanilla.

Line large baking sheet with parchment paper and place the pie crust on the parchment paper. Using an off-set spatula, spread the cream cheese mixture on the pie crust leaving a one inch border around the edge.

Pile the strawberries on top of the cream cheese mixture. Work your way around the pie crust folding the edges up every one inch or so.

Bake for 20-25 minutes. Allow to cool and serve at room temperature or slightly warm.
Nutrition Information:
Calories: 341kcal (17%)| Carbohydrates: 34g (11%)| Protein: 5g (10%)| Fat: 20g (31%)| Saturated Fat: 9g (56%)| Cholesterol: 41mg (14%)| Sodium: 238mg (10%)| Potassium: 253mg (7%)| Fiber: 3g (13%)| Sugar: 15g (17%)| Vitamin A: 520IU (10%)| Vitamin C: 66.7mg (81%)| Calcium: 61mg (6%)| Iron: 1.5mg (8%)