My whole family loves mashed potato pancakes and this potato pancake recipe is packed with ham and cheese, making it a filling side dish or appetizer! Big thanks to Roth Cheese for sponsoring this post.
Alright, guys.
Two things that I might have mentioned to you: 1) My husband just took a new job out of state, which means he's only home on the weekends so I'm slacking in the housewife department and 2) I wrote a book full of pancake recipes.
What do these two things have to do with this recipe?
Well! Pancakes are easy to the peasy. Even I, on my most slacker-y day can pull together a batch of pancakes. And, with my husband out of town, I have a lot of slacker days. What's the point in cooking dinner if he's not here to appreciate the hard work, am I right?
It's all easy dinners all the time right now.
So, I grabbed my book and I looked for an easy pancake recipe to make from the savory chapter. But, then I got all excited about the humongo chunk of Roth Grand Cru cheese I had hanging out in my fridge. Side note: One of the best parts of working with food brands is that they send me big boxes of their food. Yum. Their cheese won 10 awards in 2014 alone and I have a big ol' hunk just waiting for me to devour it. I love my life.
Anyway, I had promised Roth a tasty recipe using their Grand Cru alpine-style cheese and I had a book full of pancake recipes sitting in front of me and so the rest is history. I doctored up my potato pancake recipe into these tasty little treats.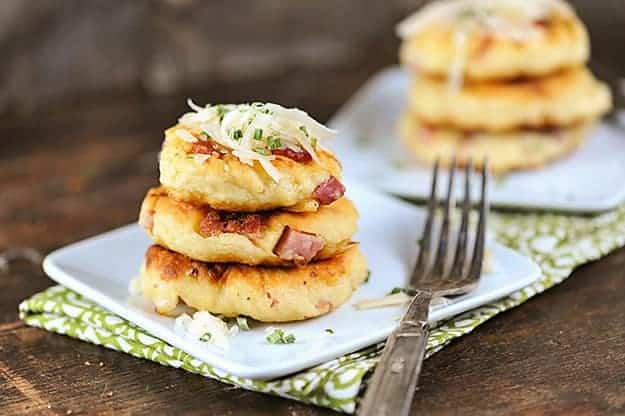 Ham and Cheese Potato Pancakes. They're made with leftover mashed potatoes, plenty of diced ham, lots of onion, and gobs of melty cheese.
Serve these little guys with a side salad and some roasted carrots for a main dish. Or serve them on the side next to my ranch cheddar chicken or bacon cheeseburger meatloaf! Either way, these little guys will be the star of your next dinner!
Be sure to check out my book, Stack Happy, if you haven't done so already! Lots more creative pancake recipes where this came from!
If you need more ideas for leftover ham, try my ham and bean soup!
Ham and Cheese Potato Cakes
My whole family loves mashed potato pancakes and this potato pancake recipe is packed with ham and cheese, making it a filling side dish or appetizer!

Prep10 minutes
Cook20 minutes
Total30 minutes
Ingredients
2 cups cold mashed potatoes
1 1/2 cups flour more as needed
1 cup grated Grand Cru cheese
1 tablespoon chopped chives
2 eggs beaten
1 cup ham diced
1/2 sweet onion minced
1 clove garlic minced
1 teaspoon salt
1 teaspoon black pepper
Vegetable oil for frying
Instructions
In a large bowl, stir together the mashed potatoes, flour, cheese, and eggs.

If you're using leftover mashed potatoes that had a lot of milk in them, you will likely need to add more flour until the mixture is thick and workable. You should be able to take a ball of dough in your hand and press it into a patty without it sticking to your hands. Add flour until it reaches this consistency. Alternately, if the dough is too thick and dry, add milk one tablespoon at a time until it reaches the right consistency.

Once your dough is the right consistency, stir in the ham, onion, garlic, salt, and pepper.

Heat a large skillet over medium heat. Add just enough oil to lightly cover the bottom of the skillet.

When the oil is hot, take a golf ball sized ball of dough and press into a patty. Place in the skillet. Repeat with the rest of the dough, being sure not to crowd the pan.

Cook for 2 minutes per side or until golden brown.

Drain on a paper towel lined sheet.

Sprinkle with extra cheese and chives before serving.
Nutrition Information:
Calories: 174kcal (9%)| Carbohydrates: 21g (7%)| Protein: 8g (16%)| Fat: 5g (8%)| Saturated Fat: 2g (13%)| Cholesterol: 44mg (15%)| Sodium: 413mg (18%)| Potassium: 195mg (6%)| Fiber: 1g (4%)| Sugar: 1g (1%)| Vitamin A: 145IU (3%)| Vitamin C: 9mg (11%)| Calcium: 80mg (8%)| Iron: 1.2mg (7%)