These roasted vegetables are a staple in my house. They're quick to toss together and make a great side dish for just about any dinner.

Oh, friends.
I'm home from a whirlwind trip to Disney World last weekend and basically I am failing at life.
Like, where is the housekeeper that cleans my room each night? Why am I not within walking distance to five thousand and three restaurants?
Most importantly, why are my kids constantly asking me to do things for them?
I went to Disney without the kids this time. It was 3 full days of my life spent not answering demanding children.
I'd like to go back now, please.

I can just picture a lot of you out there wrinkling your foreheads in confusion. "She went to Disney World without her kids?," you're thinking.
Yep. Sure did. It was grand.
My kids have been to Disney plenty of times and I love to take them. It really is magical and we always have a great time.
However, Disney is a completely different experience without children. It's somehow even more magical. Just in a different way.
Highly recommend you do an adults only Disney trip at least once in your life.
Check out some of my favorite Disney foods!
In the meantime, I'm here with a Tuscan seasoned roasted vegetables recipe. I think you're going to love these.
Roasting vegetables wasn't always a thing I did. I mean, I just discovered the magic a few years ago.
I don't know why steamed vegetables taste one million times different than baked vegetables, but I totally think they do.
Baked vegetables get all nutty and have these little crispy bits that I can never get enough of.
Have you tried roasting vegetables before?
Roasted broccoli and cauliflower are two of my favorites, but this time around I threw in some other goodies.
We have bell pepper, zucchini, onion, and radishes.
Roasted radishes are crazy good, even though I know it probably sounds a little out there. They taste a bit like a potato, so if you're low carb, I really think you'll love these!
I used all low carb vegetables in this mix, but you could add in some diced sweet potatoes as well. I always have a hard time turning down a sweet potato!
How To Roast Vegetables:
My roasted vegetables recipe is super easy.
You'll just chop everything up and then toss it in some olive oil.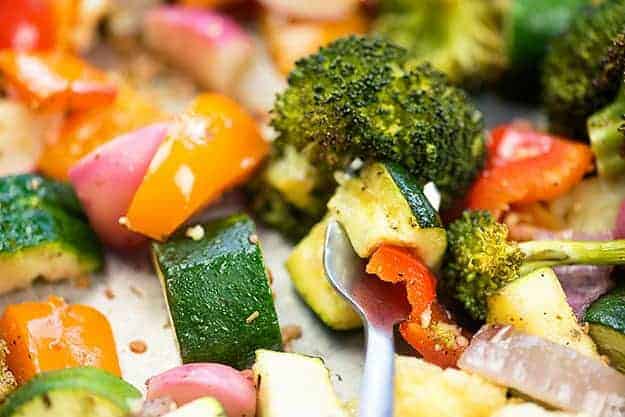 I season these with a Tuscan seasoning, but really, anything will do. Italian seasoning is a bit easier to find, so just use that if it's all you've got.
Don't forget the salt and pepper!
These roast in a 450 degree oven in about 40 minutes.
I stir these once halfway through, but otherwise, you really don't have to babysit them. Just pop them in and go about your business.
What To Serve With Roasted Vegetables
We love these low carb vegetables with my turkey meatloaf.
If you're strictly low carb, these are also great with my low carb meatloaf!
Of course, they also go great alongside chicken and rice or pork milanese.
Be sure to try my roasted sweet potatoes too. They're just as simple, but tossed in honey and cinnamon. They're basically heaven on a sheet pan!
Okay, friends. Give these roasted veggies a try and let me know what you think!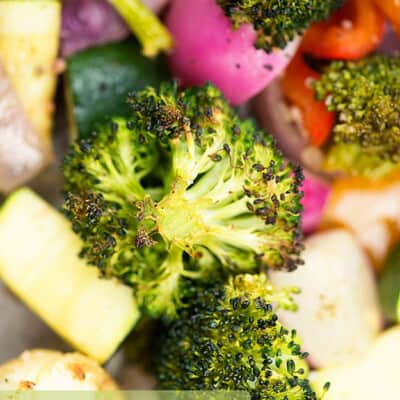 Tuscan Roasted Vegetables
These Tuscan roasted veggies are so quick to prepare for a busy weeknight and the leftovers reheat beautifully. This is my favorite way to serve vegetables!

Prep10 minutes
Cook40 minutes
Total50 minutes
Ingredients
1 head broccoli
1 head cauliflower
1 bunch radishes
1 bell pepper any color
1 red onion
1 zucchini
1/4 cup extra virgin olive oil
1 teaspoon Tuscan seasoning blend
1 teaspoon salt
1/2 teaspoon ground black pepper
Instructions
Preheat oven to 450 degrees.

Cut the broccoli and cauliflower into florets and place on a large, rimmed baking sheet.

Dice the radishes, pepper, onion, and zucchini into bite-sized pieces and add to the baking sheet.

Drizzle the vegetables with olive oil. Sprinkle on the Tuscan seasoning, salt, and pepper. Stir to coat.

Roast for 40 minutes, stirring once halfway through.

Serve hot.
Nutrition Information:
Calories: 160kcal (8%)| Carbohydrates: 16g (5%)| Protein: 5g (10%)| Fat: 9g (14%)| Saturated Fat: 1g (6%)| Sodium: 457mg (20%)| Potassium: 790mg (23%)| Fiber: 6g (25%)| Sugar: 6g (7%)| Vitamin A: 1330IU (27%)| Vitamin C: 170.4mg (207%)| Calcium: 93mg (9%)| Iron: 1.7mg (9%)