These pan-fried pork chops are served alongside egg noodles with a simple cream cheese sauce. Perfect for a quick weeknight dinner!

Someone please tell me that I'm not the only one who gets sudden intense cravings for fried food.
I mean, I guess I can't be the only one, because you people seem to super duper love my fried pickles and fried zucchini. You even like my oven fried chicken strips, which are so easy because they don't actually involve a frying pan but do involve frying, like woah, it's magic.
Anyway, fried food. It's not something that you should probably eat every single day of your life, but when done right, frying doesn't add a ton of fat or calories to your food. If your oil is hot enough, not much grease is being absorbed into your food. So, basically, I'm telling you to suck it up and go fry some pork. Because fried pork is kind of amazing.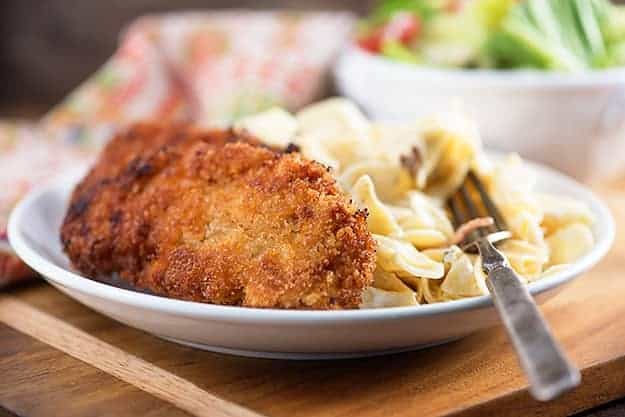 I've been working with Smithfield this year to bring you tasty recipes using their marinated fresh pork. This time around I snagged one of their Peppercorn and Garlic Pork Tenderloins. Now, you might not think that a pork tenderloin would make for a quick weeknight dinner, but you'd be wrong. The pork is already seasoned (time saver!) and when you slice it into chops and pound it thin, it fries up in no time.
I love these fried pork chops with a super simple side of egg noodles tossed in a chive and onion cream cheese sauce. I even threw in some bacon, because more pork is always a good option. Serve with a side salad for a complete meal!
Give this recipe a try with any of the Smithfield tenderloin flavors. They'd all work well in this recipe!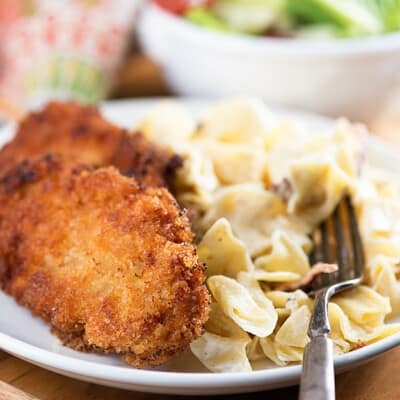 Pork Milanese with Cream Cheese Noodles
These pan-fried pork chops are served alongside egg noodles with a simple cream cheese sauce. Perfect for a quick weeknight dinner!

Prep10 minutes
Cook20 minutes
Total30 minutes
Ingredients
1 pound Smithfield Peppercorn & Garlic Pork Tenderloin
8 ounces egg noodles
1 cup flour
1 cup Panko bread crumbs
2 large eggs beaten
1/4 cup chive and onion cream cheese
2 tablespoons milk
2 tablespoons crumbled bacon pieces
Oil for frying
Instructions
Bring a large pot of water to a boil.

Add 1/4 inch of oil to the bottom of a large skillet. Heat over medium heat.

Place the flour in a shallow bowl, the eggs in a second shallow bowl, and the Panko in a third shallow bowl.

Slice the tenderloin into 1 inch thick slices. Place each slice between two pieces of plastic wrap and use a mallet to pound to 1/4 inch thick.

Dredge the meat in the flour, then egg, then Panko to coat each side.

When the water is boiling, add the egg noodles and cook until al dente. Drain and set aside.

Fry the meat in two batches until golden brown and cooked through, about 5 minutes per side. Drain on a paper towel lined plate.

Drain the grease from the frying pan, but do not wipe it out. Return to medium heat and add the cream cheese, milk, and crumbled bacon. Stir until melted.

Stir the sauce into the egg noodles to coat.

Serve the pork with the egg noodles on the side.
Nutrition Information:
Calories: 618kcal (31%)| Carbohydrates: 76g (25%)| Protein: 42g (84%)| Fat: 14g (22%)| Saturated Fat: 5g (31%)| Cholesterol: 227mg (76%)| Sodium: 345mg (15%)| Potassium: 708mg (20%)| Fiber: 3g (13%)| Sugar: 2g (2%)| Vitamin A: 305IU (6%)| Calcium: 98mg (10%)| Iron: 4.8mg (27%)