This fried cabbage recipe is such a simple way to get dinner on the table!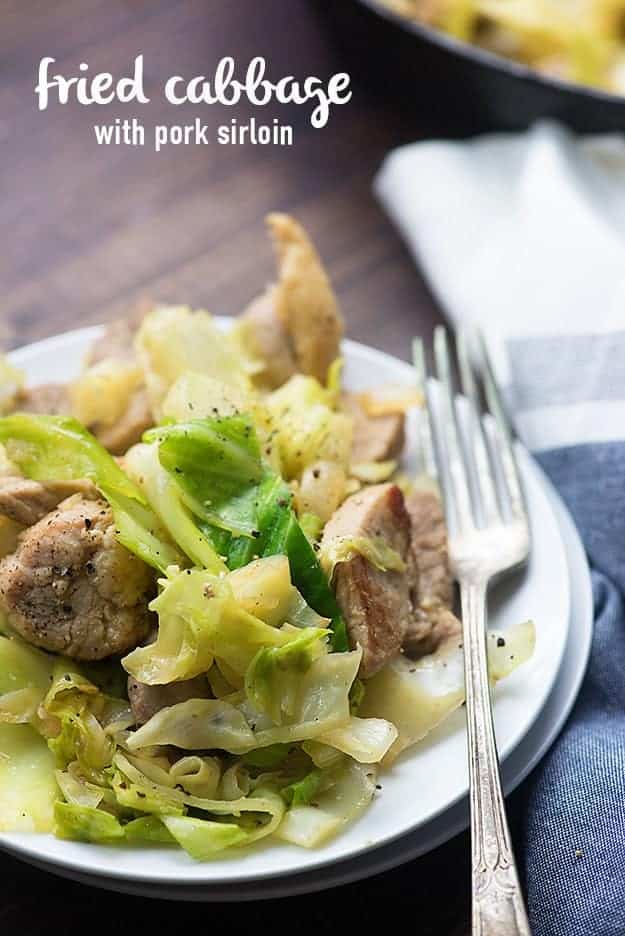 When I was a kid, my mom didn't often branch out from her usual repertoire of recipes. I mean, I don't blame her. I was one picky child.
And my brother? Well, he was fluent in Whine, if you know what I'm saying.
So. We stuck to the basics that everyone knew and loved and that was alright by us.
As I've grown up I've gotten a lot more adventurous and I've tried really hard to bring my kids along for the ride. I mean, sure. I'd like to eat tacos every night of the week too, guys, but maybe we could have a vegetable just once this week?

The easiest way for me to accomplish adding new foods to our table with minimal complaints is to incorporate something they already love with something new.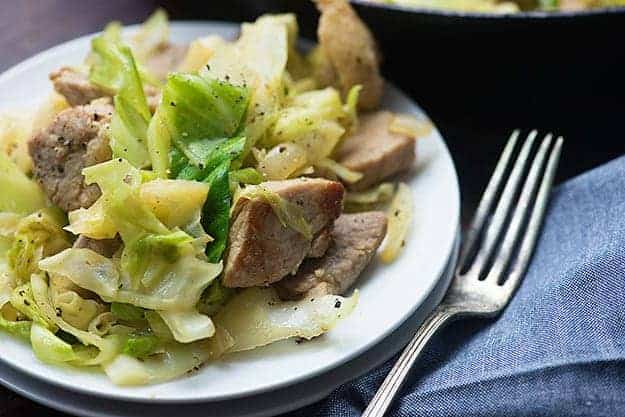 When they ask what's for dinner, I play it down. "Oh, this? This is that pork that you really liked from a few weeks ago. I just added a few things so we wouldn't get bored eating the same thing again."
It works surprisingly well.
If I get excited and tell them how they're going to love the new meal? They will hate the new meal because they are kids and kids are out to ruin their parents lives. Fact. 😉
My kids are used to me getting boxes full of Smithfield marinated pork in the mail. Smithfield has been a client of mine for a couple years now and I love coming up with new recipes for you that feature their fresh pork. The kids love it too, which makes their pork sirloin a perfect way to introduce something a little different to my kids – fried cabbage!
Oh yes. I'm got all vegetable-y on my kids and you know what? They didn't even mind.
This makes a great meal and it's so filling! I used the Smithfield Roasted Garlic & Herb Marinated Fresh Pork Sirloin for this recipe. Chop it up into bite sized pieces and it cooks so quickly. Stir in some cabbage and onions and you have a classic dinner recipe with a bit of a twist. The pork is seasoned with garlic and herbs so that step is done for you. Perfection!
This fried cabbage recipe is perfect for busy weeknights!
Check out my above video so that you can see just how quick and simple this fried cabbage is! You're going to love it. 🙂
Try my Cuban sandwich recipe for another great Smithfield recipe! For more cabbage, try this fried cabbage. It has smoked sausage, potatoes, and peppers in a tangy sauce.
Check out the Smithfield Real Flavor Real Fast site for more recipe inspiration! And be sure to check out this recipe for Filet Mignon Pork with Buttery Mushrooms. So good!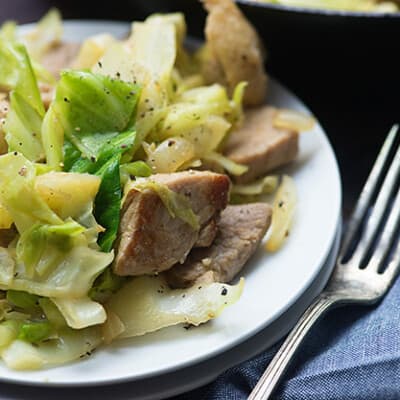 Fried Cabbage with Pork Sirloin
This fried cabbage recipe is such a simple way to get dinner on the table!
Prep5 minutes
Cook18 minutes
Total23 minutes
Ingredients
1 package Smithfield Roasted Garlic & Marinated Fresh Pork Sirloin
2 tablespoons olive oil divided
1 sweet onion diced
3 cloves garlic diced
1 large head cabbage
1 teaspoon salt
1 teaspoon ground pepper
Instructions
Dice the pork sirloin into bite-sized pieces. Chop the cabbage into 1-inch pieces.

Heat 1 tablespoon olive oil in a dutch oven over medium heat. Add the pork to the skillet and cook, stirring often, until pork is nearly cooked through, about 8 minutes.

Add the onion, garlic, and cabbage to the skillet. Drizzle the remaining tablespoon of olive oil over the skillet and sprinkle with the salt and pepper.

Cook the cabbage, stirring constantly, until it becomes tender, about 10 minutes.

Serve immediately.
Nutrition Information:
Calories: 220kcal (11%)| Carbohydrates: 16g (5%)| Protein: 24g (48%)| Fat: 6g (9%)| Saturated Fat: 1g (6%)| Cholesterol: 58mg (19%)| Sodium: 477mg (21%)| Potassium: 802mg (23%)| Fiber: 5g (21%)| Sugar: 9g (10%)| Vitamin A: 205IU (4%)| Vitamin C: 79.3mg (96%)| Calcium: 102mg (10%)| Iron: 1.9mg (11%)