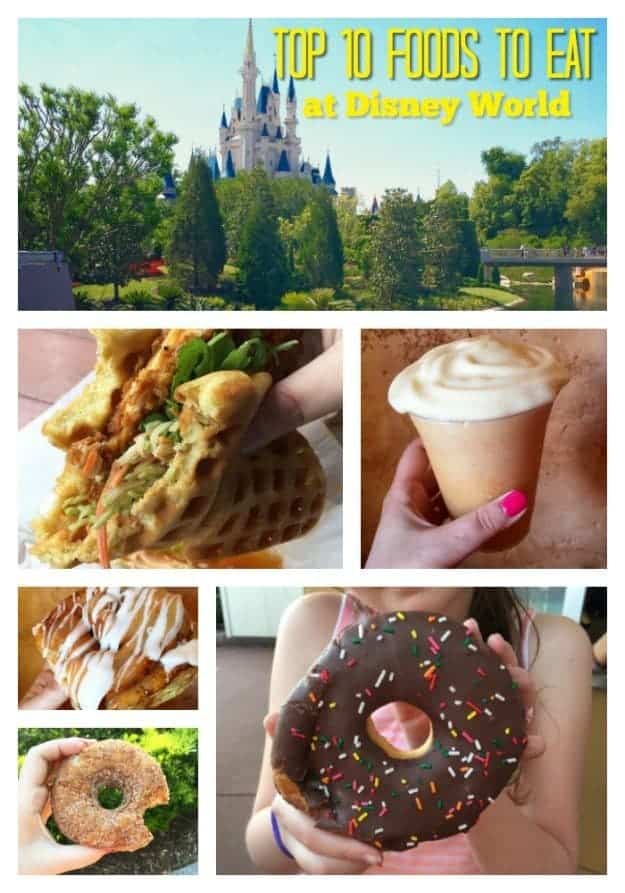 A couple of weeks ago, I had the opportunity to attend the Disney Social Media Moms Celebration and it was such an amazing time. Of course, anything hosted at Disney World is going to be fab, right? I love that place.
My family and I went to Disney for the first time ever in 2013. None of us had ever been before and we instantly fell in love with the magic. We were back again in 2015 (once for them, twice for me!) and then again this year. To say that we are hooked on Disney is such an understatement.
Of course, there is so much that is magical about that place, but one of the things that I love most about it is the food. It's not your traditional theme park with overpriced junk food. Yes, the food is pricier than your standard drive-thru fare, but it's so much fresher and tastier too! And did I mention creative? I love how they get creative in their kitchens.
So, here we go! My top 10 Disney foods that I have to eat every time I visit!
1. The Croissant Donut at the Refreshment Port
This donut is a spin off of the cronut and oh my, it does not disappoint. You will find this guy at the Refreshment Port just inside the World Showcase, right before you enter Canada. It's just under $5 for the donut and worth every penny AND every calorie. I love the abundance of cinnamon and sugar coating this thing. And the fluffy/flaky interior? To die for.
2. Sweet and Spicy Chicken Waffle Sandwich at Sleepy Hollow
Y'all. If I had a spirit animal, it would be this chicken sandwich.
This guy has a big ol' chicken breast, battered, fried, and coated in a sweet and spicy sauce. It's then topped with some arugula and coleslaw. All of that gets stuff inside one of Disney's utterly delicious full-size waffles. This is the sandwich that dreams are made of. Oh, and they're just about $7 making it a really great price for what is large enough to count as a full meal, in my opinion. Find this one at Sleepy Hollow in Magic Kingdom, right on the edge of Liberty Square.
3. Nutella and Fresh Fruit Waffle at Sleepy Hollow
Of course, Sleepy Hollow doesn't just do savory waffle sandwiches. No. They also load their waffles up with Nutella and freshly sliced fruit. This one is just as irresistible as it's savory counterpart, though I like to hit the restaurant twice – once for lunch and once for dessert later in the day. Unless you're sharing, I doubt you'll have room to eat two of these huge waffles in one go. But if you can? More power to you.
4. Scotch Egg at the Rose and Crown Pub

My husband has long been obsessed with Scotch Eggs so imagine our surprise to find that the best one we've ever eaten was found in Disney World! These are pretty pricey at around $9 for a single egg. Then again, it's a boiled egg wrapped in sausage and served as an appetizer – you likely won't want more than half if you're preparing to eat a full meal as well. Either way, it's worth the splurge. These are perfectly crispy on the outside and the egg on the inside is cooked to perfection.
6. Roasted Turkey Sandwich on Challah Bread at Beaches and Cream
People love Beaches and Cream Soda Shoppe, located at Disney's Beach Club Resort. This is a short walk or boat ride from the back entrance of Epcot (yes, Epcot has a back entrance, located just near the UK in the World Showcase) and totally worth leaving the park for!
This ice cream joint has more than just ice cream though and I totally recommend stopping in for lunch. I've heard good things about the tomato bisque, but I risked trying their roasted turkey sandwich on challah. It has dried cranberries, smoked gouda, jalapeno jam (!!!), and fried onions. The jalapeno jam paired so well with the dried cranberries. The perfect mixture of sweet, spicy, crispy, and creamy all in one sandwich, if you ask me. One thing I would recommend is asking for a double portion of that jalapeno jam. They were a little skimpy with it. It's not overly spicy and a little extra would have been perfect.
This sandwich clocked in at $14 plus $3.50 for a side of fries. Worth it.
7. The Kitchen Sink at Beaches and Cream
The real reason we stopped by Beaches and Cream was to get a look at The Kitchen Sink. This is their signature sundae and it's a doozy. It comes in a big kitchen sink full of 8 different scoops of ice cream, every topping they have (we're talking candy bars, cookies, sprinkles, hot fudge, chocolate chips, fruit, multiple slices of cakes and brownies, and an entire can of whipped cream.)
When they delivered this to our table, sirens went off and the staff shouted out the details of the dessert. It was an entertaining experience, to say the least.
This says it serves four, but my husband, 11 year old daughter, 16 year old son, and I came nowhere close to finishing this thing. It's massive. This one costs $29.00.
8. Fish & Chips at Rose and Crown Pub
Time to head back to Epcot for dinner! The Rose and Crown doesn't just offer up delicious appetizers (see the Scotch Egg above!), it also makes some of the best fish and chips I've ever had. The fish is perfectly fried, not greasy but crispy, flaky and delicious. The chips are just your standard french fries, nothing special there, but that fish. So good!
I have heard that the Fish and Chips at Yorkshire County Fish Shop (located right next to the Rose and Crown) are even better, but I've never had a chance to try it. I always hit R&C for the Scotch Egg and can never resist getting their fish as well. Do note that Yorkshire County is about $1 cheaper than the Rose and Crown's $12 for two pieces of fish with chips.
10. Cinnamon Rolls from Gaston's Tavern
If you're a cinnamon roll lover you absolutely must stop in for the enormous rolls offered up at Gaston's Tavern, located at Fantasty Land in Magic Kingdom. These things look like a small loaf of bread – hugely awesome. The picture I'm sharing doesn't even come close to showing how tall and thick these things are. The four of us shared one of these for a snack, no problem, which makes these a steal at $4.50.
These guys seem to be topped with two types of icing, which makes a frosting girl like me very happy.
Bonus Foods:
While you're in Gaston's grab yourself a cup of LeFou's Brew. You can get it in a regular cup for less than $5 or a souvenir cup for $12.
I'll be honest – we didn't totally love this one. It's pretty sweet and my husband thought it tasted like gummy worms.
It was definitely fun to taste and we all had a blast trying to figure out what it was made of. The online menu says it's made of apple juice with a hint of toasted marshmallow (!!!) and topped with a passion fruit and mango foam. We didn't finish this as it was too sweet for us, but it was certainly worth trying!
Get yourself a massive donut at any of the Joffrey's coffee locations throughout the parks. Personally, I will always choose the croissant donut over one of these guys, but the kids loved these. I think it has to do with the sprinkles and the size. I did hear that the chocolate frosting was not nearly as good as the pink frosting, so proceed accordingly.
You absolutely have to eat at the 50s Prime Time Cafe. This one would have made the top 10 list, had I gotten a photo of the PB&J shake. Unfortunately, we drank it immediately upon arrival without stopping for a photo shoot. That thing was so stinking good and was only $6.
Also delicious at the 50s Prime Time Cafe was the meatloaf and pot roast. It really did taste like mama's home cooking and the staff were so fun, making us set the table ourselves, shouting at my husband for wearing his hat at the dinner table, and coercing my non-green bean eating husband into one last bite of his veggies. A little girl a few tables over cleared her plate and the staff all came around to applaud her. It was just a really fun atmosphere and the food was phenomenal.
I had the sample plate of Mom's Favorites, which was $23 and included fried chicken, pot roast, meatloaf, green beans, and mashed potatoes and gravy. My daughter ordered fried chicken and my husband shared our food. The son ate an entire order of pot roast himself, but he's a teenager so that's to be expected. Serving sizes were generous and everything was amazing.
Finally, we have Mickey ice cream sandwiches. These guys aren't anything super special, aside from the fact that they're shaped like Mickey. But, still. You definitely can't go to Disney without eating at least one of these guys.
Let me know in the comments what some of your favorite Disney foods are. I'm sure I'll be back soon and I'm always looking for new things to try!