We love made from scratch pancakes and this buttermilk pancake recipe is an easy one! Skip the box mix and whip up these thick, fluffy buttermilk pancakes in minutes!
Tell the truth – you're guilty of making pancakes from a box mix, aren't you?
I mean, so am I. Let's be real.
Sometimes you just want QUICK and SIMPLE!
But no worries – our buttermilk pancake recipe is still quick and simple, but oh goodness…so much better than the box mix!
These cook up so thick and fluffy every time. Slather them in butter, drizzle on some syrup, and prepare yourself for the ultimate breakfast treat!
These take about 5 minutes longer than the box mix and I think it's worth it. I know those 5 minutes are important minutes that you could be spending shouting at your children to brush their teeth, searching for shoes to put on everyone's feet (shoes that match, even, because you are Super Woman), and maybe you need that time to explain to your husband that no, his shirt really doesn't match his tie and he sort of looks like a hobo.
I get it.
You're busy.
These pancakes are worth the 5 minutes, is what I'm trying to say!
Announcing our First Cookbook:
This post contains affiliate links. As a member of Amazon and other affiliate programs I earn from qualifying purchases.
I've been making these fluffy pancakes my whole life, and made from scratch pancakes are definitely the best. In fact, I wrote the book on it!
You can find many more amazing pancake recipes just like this one in Stack Happy: 70 Flipping Delicious Flapjack Recipes for Breakfast, Dinner, and Dessert.
Our cookbook is dedicated to thick, fluffy pancakes for breakfast, decadent dessert pancakes, syrups and toppings, and we even have a chapter for dinner pancakes and healthy pancakes!
This is the ULTIMATE cookbook for pancake lovers and I hope you love it!
What Readers are Saying!
"These are hands down the best pancakes I've ever made. I usually omit the cinnamon and nutmeg when making for our boys, but they are amazing with them too. They also freeze like a dream, so I always double the recipe to have some to put in the freezer!"
-Sarah
Buttermilk Pancake Ingredients:
Flour
Sugar
Cinnamon
Nutmeg – A little spice makes everything nice!
Baking Powder
Baking Soda
Salt
Buttermilk – The key ingredient to this classic pancake recipe! No buttermilk? Just add a tablespoon of white vinegar to regular milk and let sit for 5 minutes to thicken up.
Vanilla
Egg
Melted Butter
How to Make Buttermilk Pancakes:
Dry Ingredients: We'll start these made from scratch pancakes by mixing together all of the dry ingredients. Flour, sugar, salt, cinnamon, nutmeg, baking powder and baking soda! Stir together in a large mixing bowl and set aside.
Wet Ingredients: In a separate bowl go ahead and add all the remaining wet ingredients and mix until they are well combined. The vanilla and the buttermilk will add a lot of flavor, and the melted butter doesn't hurt either!
Cook: You can now go ahead and pour the wet ingredients in with the dry ingredients and whisk together until most of the lumps are gone. Be careful to not overmix! A few lumps are good!
For this recipe we used a skillet, but if you have a griddle or flat top grill those work just as well! Use cooking spray to grease the surface and start pouring your pancakes to the desired size. About a quarter cup works well for one pancake.
Once bubbles start forming and popping on the surface you can flip it over and continue cooking until it turns a nice golden brown on the bottom. Finally top with a pat of butter and a drizzle of maple syrup.
Tip: If you want to get real precise with your pancakes, take a look at this batter dispenser! It's an easy way to make perfectly sized pancakes.
HOMEMADE CINNAMON SYRUP:
If you are in need of syrup and want something homemade, check out my cinnamon syrup recipe that goes with these Apple Cider Pancakes.
MORE PANCAKE RECIPES!
And of course, many more pancake recipes in my book, Stack Happy!
MORE BREAKFAST RECIPES!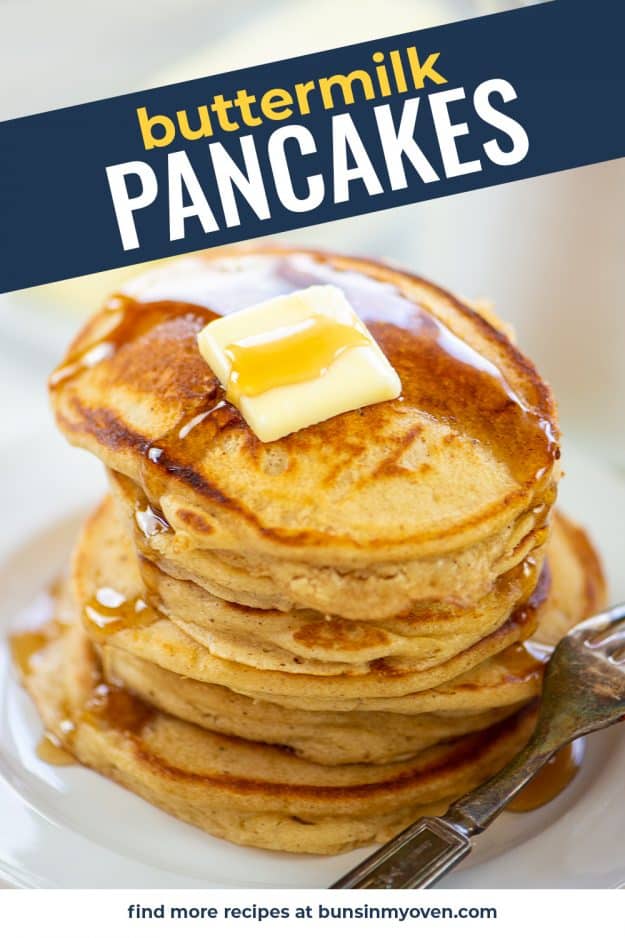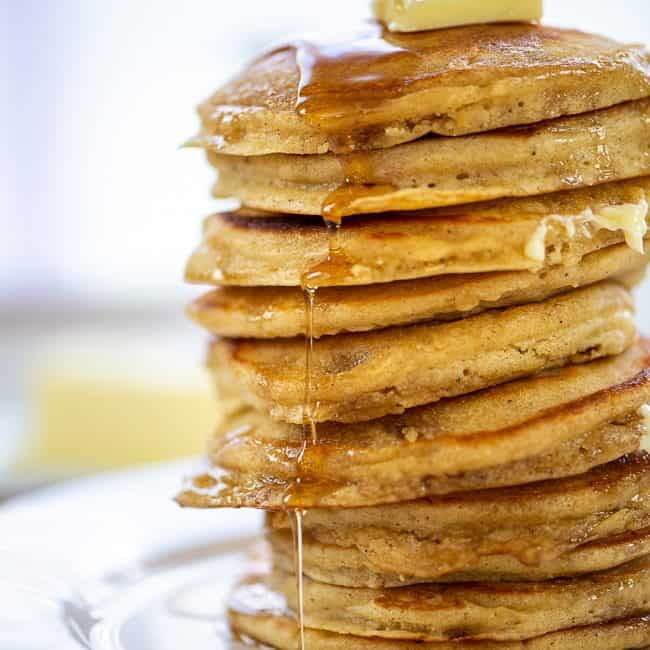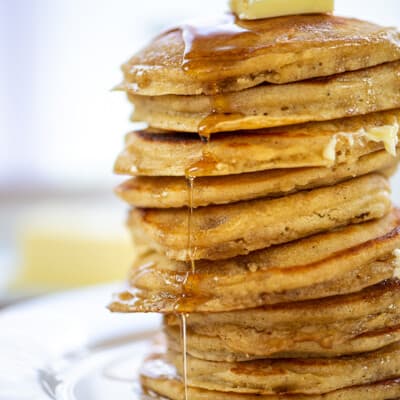 Classic Buttermilk Pancakes
These pancakes always cook up super fluffy and flavorful! They're just as easy as the box mix, but they taste so much better.
Prep5 minutes
Cook10 minutes
Total15 minutes
Ingredients
1 cup all purpose flour
2 tablespoons sugar
1 teaspoon cinnamon
1/8 teaspoon nutmeg
1 teaspoon baking powder
1/2 teaspoon baking soda
1/2 teaspoon salt
3/4 cup buttermilk see note
1 teaspoon vanilla
1 large egg
2 tablespoons butter melted
Instructions
Combine the flour, sugar, cinnamon, nutmeg, baking powder, baking soda, and salt in a large mixing bowl.

In a small bowl, mix together the buttermilk, vanilla, egg, and melted butter until well combined.

Pour the wet ingredients into the dry and whisk together until most, but not all, of the lumps are gone. Do not overmix.

Heat a large skillet over medium heat and spray with cooking spray or grease with butter.

Pour 1/4 cup of batter into the skillet and cook until bubbles form on the surface. Flip the pancake and cook until browned on the bottom and the center is done. Continue with remaining batter.
Tips & Notes:
Buttermilk Substitute: Add 1 tablespoon of white distilled vinegar or lemon juice to 3/4 cup of cow's milk. Stir and let sit for 5 minutes to thicken. Use as buttermilk in this recipe.
Nutrition Information:
Serving: 2pancakes| Calories: 119kcal (6%)| Carbohydrates: 17g (6%)| Protein: 3g (6%)| Fat: 4g (6%)| Saturated Fat: 2g (13%)| Trans Fat: 1g| Cholesterol: 33mg (11%)| Sodium: 272mg (12%)| Potassium: 109mg (3%)| Fiber: 1g (4%)| Sugar: 4g (4%)| Vitamin A: 159IU (3%)| Vitamin C: 1mg (1%)| Calcium: 57mg (6%)| Iron: 1mg (6%)