August 8, 2018
Penne Alfredo with Bacon and Broccoli
This penne Alfredo recipe is better than any at a restaurant because of the homemade Alfredo sauce.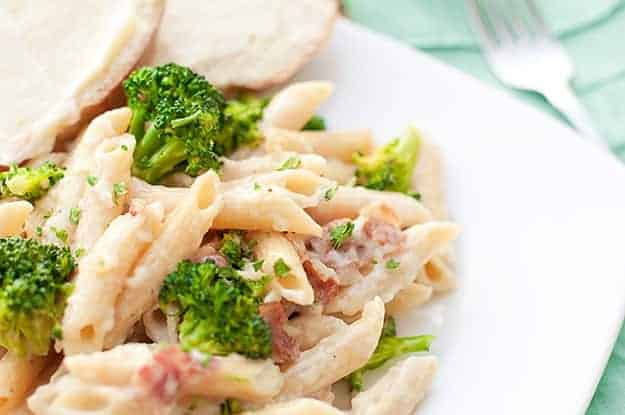 I still remember the first time I had Alfredo sauce. I was at Olive Garden with a friend and she ordered a side of Alfredo sauce for dipping her breadsticks in. I didn't even know what Alfredo sauce was and (this is embarrassing) I thought it was going to taste like Ranch dressing when I got my first glimpse of it. (Even more embarrassing, this was just about 5 years ago. Oh, how far I've come…)
My life changed for the better the moment I licked that luscious cheese sauce off of that soft, pillowy breadstick.
(I apologize if that sounded a bit dirty. I meant it in the most respectable, adult-like, un-twelve-year-old-boy-ish way possible.)
I went home and within a week I was making my own Alfredo sauce. Unfortunately, that was back before I had any idea what was what in the kitchen. The first recipe I tried had an ingredient list a mile long and involved non-stop stirring for thirty minutes straight.
It was torture.
Not only did I hate making that recipe, it wasn't even that great. Certainly not worth the long list of ingredients and 30 minutes spent standing over a hot stove.
Didn't that Alfredo recipe know that I had television to watch and phone calls to make and toe nails to paint? How dare it require stirring for 30 entire minutes of my life?
I pretty much gave up on Alfredo sauce that day. Until, that is, I realized that cooking was fun and that I was pretty good at it. Then I made the simplest, most delicious Alfredo sauce around.
Butter, heavy cream, and Parmesan cheese. That, my friends, is what makes a delicious Alfredo sauce. Well, that and a bit of garlic powder, salt, and pepper.
I don't know why I haven't shared this easy penne Alfredo recipe sooner!
I've been wanting to share that sauce recipe with you ever since I started this blog. I just kept forgetting not to eat it all before I had a chance to photograph it. Luckily, this time I made enough to feed an army, so once I had my fill I was sure to snap a few photos.
Keep in mind that the recipe for this sauce is perfect on plain fettucini, but I've fancied it up a bit by using Barilla Plus Pasta (seriously, tastes like regular ol' pasta, but chock full of protein, fiber, and Omega-3s) (this isn't a paid review or sponsored post, just me sharing what I use in my own kitchen) penne, adding in some chopped broccoli, and a teensy handful of crispy, fried bacon. This is delicious topped with grilled chicken, too.
And for all of you vegetarian/healthy eaters, you can certainly make this meatless by sauteing the broccoli in olive oil instead of the bacon grease. I'm not sure why you'd want to ruin this delicious platefull of pasta that way, though.
Bacon. It is my friend and I like it.
Penne Alfredo with Bacon and Broccoli
Servings: 4
Calories: 1122 kcal
Alfredo can only get better with broccoli and bacon added!
Ingredients
1 pound penne pasta
2 cups chopped broccoli
5 slices bacon diced
1/2 cup butter
1 cup heavy cream
1 1/2 cups grated Parmesan cheese
1/2 teaspoon garlic powder
salt and pepper to taste
grilled chicken optional
Instructions
Bring a large stock pot of water to a rolling boil. Boil pasta according to package directions.

While the pasta is boiling, fry the diced bacon until crisp. Add in the broccoli florets and cook, stirring occasionally, for about 5 minutes or until they are tender-crisp.

Meanwhile, in a small sauce pan, add the butter and heavy cream until heated through and butter is melted. Add in the Parmesan cheese, garlic powder, salt, and pepper. Stir until the cheese is thoroughly melted and sauce is a smooth, creamy consistency.

Drain pasta when done and add to a large serving bowl. Pour in the bacon and broccoli and toss it in with the penne. Pour the Alfredo sauce over top of the penne and stir until well combined.

Serve topped with sliced grilled chicken, if desired.
Nutrition Facts
Penne Alfredo with Bacon and Broccoli
Amount Per Serving
Calories 1122 Calories from Fat 612
% Daily Value*
Total Fat 68g 105%
Saturated Fat 38g 190%
Cholesterol 193mg 64%
Sodium 1002mg 42%
Potassium 542mg 15%
Total Carbohydrates 91g 30%
Dietary Fiber 4g 16%
Sugars 4g
Protein 35g 70%
Vitamin A 43.8%
Vitamin C 49.6%
Calcium 50.7%
Iron 12.5%
* Percent Daily Values are based on a 2000 calorie diet.
Nutrition Disclaimer: All information presented on this site is intended for informational purposes only. I am not a certified nutritionist and any nutritional information shared on bunsinmyoven.com should only be used as a general guideline.