This pasta recipe is a favorite in our house. It's one of the easiest meals to make with just a few ingredients and best of all, the whole family loves it!

I've mentioned before that it's not often my family eats the same dish with any regularity. I mean, how could we, really, when I'm constantly creating new recipes for this blog and my clients? We can only eat so much food, you know?
So, a few of the recipes that are on repeat for dinner in this house are my fried tacos, my Dorito chicken casserole, and my grape jelly meatballs. For dessert, our repeats are Nutella brownies, butter pecan cake, and chocolate glazed donuts.
But this one right here? This pasta recipe that is loaded with crispy bacon, crunchy broccoli, and copious amounts of melty mozzarella cheese? This is probably the one we repeat the most. Every single person in my family gets excited when they see me pulling the ingredients out. Which, did I mention, there are only four ingredients to be pulled out? Mm hmm.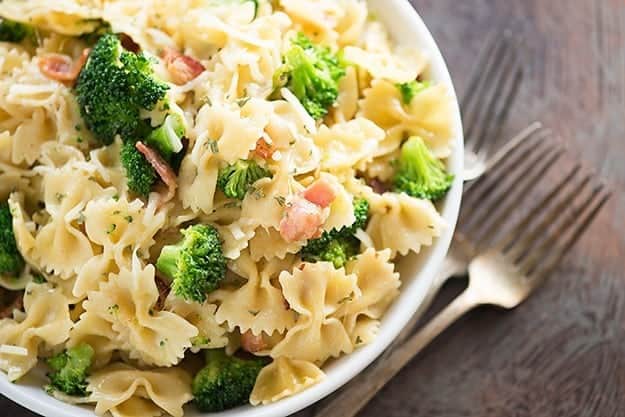 What I Love About This Recipe:
Four Ingredients: When I first started making this, it was from something I found on Allrecipes. It had a bunch of extras in there and we've slowly paired it down to the four main ingredients, because that's seriously all it needs. Pasta, bacon, broccoli, mozzarella cheese. Done. You can add garlic or a mix of cheese or extra protein or different veggies, but the way I've written the recipe here is absolute perfection, thank you very much.
20 minutes: Yes! I love being able to get this done so quickly. Boil water, cook pasta, fry bacon, add broccoli, stir together with cheese. Boom. How simple and quick is that?
It's Versatile: Normally, I make this recipe for lunch. It's quick, filling, and it has broccoli so I feel good about my choices. Our family of four always has leftovers of this, which means that it doubles as a side for dinner that night. We paired it with my turkey meatloaf the other night and it was an amazing dinner! If we don't eat it with dinner, someone always heats it up for breakfast the next morning. I mean, hey. There's bacon in there. Legit breakfast food.
Picky Eaters Be Gone: My entire family gobbles this one up with excitement. Even my 11 year old who hates every single vegetable she's ever encountered. She doesn't LOVE the broccoli in here, but she eats it without complaint. I'm 99% sure that has to do with the fact that it's cooked in bacon grease and tossed with cheese. It's probably not the way I'd serve broccoli to her every night, but it's a great way to at least get her to quit whining and just EAT IT for once. Sometimes mama needs a break from the complaints. The rest of the family loves the broccoli pieces. If you've never had broccoli cooked in bacon grease, you are seriously missing out.
Please note:
We DO NOT drain the bacon grease when making this recipe. There is no real sauce to coat the pasta – just cheese. The bacon grease helps make the broccoli taste like something magical, but it also keeps the pasta nice and moist. If you're really worried it's too much grease for you, go ahead and pour off a bit – be sure to leave at least a few tablespoons in the pan. We don't find this particularly greasy, but I imagine some people might. If that is you, feel free to experiment with draining and see how it works best for you.
If you'd like to make additions to this recipe, feel free! We never miss garlic here, but it's fine to add it. Parmesan cheese is great. Onions would be divine, cooked with the broccoli in the bacon grease. Cooked chicken works great here to make the meal stretch more. Peas and carrots would be good. Melt some cream cheese into the pasta before adding in the bacon and broccoli. You can't mess this up and I've done all these things myself. I will say we always come back to this original though. It's our favorite version and I love that it also happens to be the easiest!
This pasta will not have a traditional creamy sauce. It's just melted mozzarella, oozing all over the place. We love it like this, but I've had a few people comment that I "messed the recipe up" because there is no traditional creamy cheese sauce. This is how it's meant to be, but if that's not your thing, check out my Penne Alfredo recipe instead – same idea, but with an Alfredo sauce.
Butterfly Pasta with Bacon and Broccoli
This one is a family favorite - both because it's so easy and quick and because it's just plain delicious!
Prep5 minutes
Cook15 minutes
Total20 minutes
Ingredients
1 pound farfalle butterfly shaped pasta
1 pound bacon
12 ounces fresh broccoli florets
2 cups grated mozzarella cheese
Instructions
Bring a large pot of water to a boil and cook pasta according to package directions.

Meanwhile, dice the bacon into bite sized pieces and add to a large skillet. Cook over medium heat until just beginning to crispy.

Add the broccoli directly to the bacon without draining the grease. Cook for 3 minutes or until broccoli is tender-crisp.

When pasta is cooked to your liking, drain and return to pot. Add the mozzarella cheese and stir a few times to mix it together.

Pour the bacon and broccoli over the pasta and stir well to mix everything together as the cheese melts.

Serve hot.
Nutrition Information:
Calories: 730kcal (37%)| Carbohydrates: 61g (20%)| Protein: 29g (58%)| Fat: 41g (63%)| Saturated Fat: 16g (100%)| Cholesterol: 83mg (28%)| Sodium: 785mg (34%)| Fiber: 2g (8%)| Sugar: 3g (3%)