I love having a big bowl of leftover pulled pork in the fridge, because it can be put to so many uses! This enchilada skillet is one of my favorite ways to use it up and it's ready in less than 20 minutes!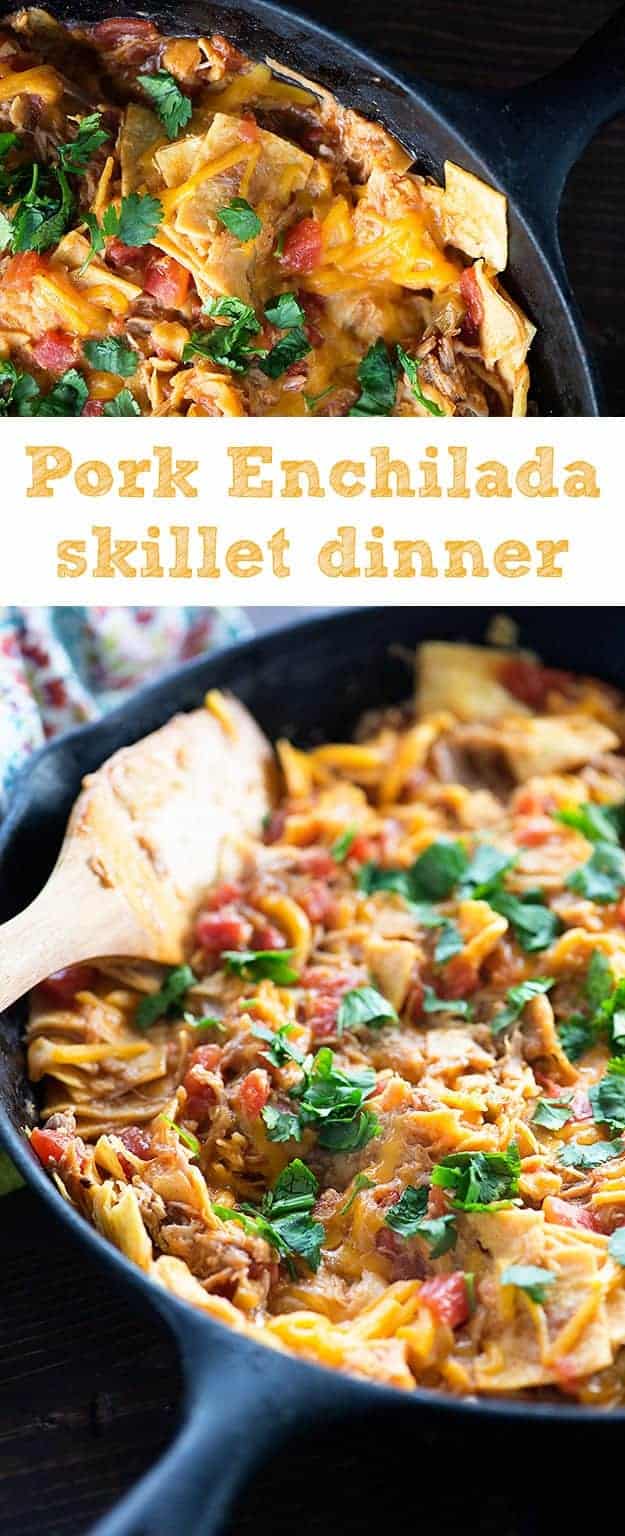 Let's talk about what it's like to be a hermit, shall we?
I mean, I go to the grocery store just about every day, so maybe I don't completely qualify, but mostly, I'm just home. Home in my office. Home in my kitchen. Home on my couch. Home home home. I'm not complaining. In fact, I live for being home.
My kids are homeschooled, which means that they are often hermits as well. Lately, though? Nope.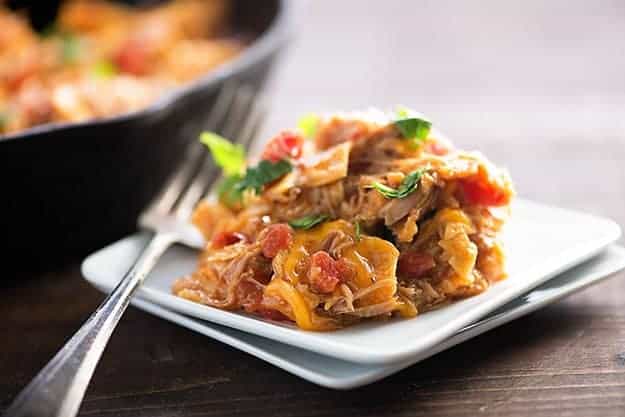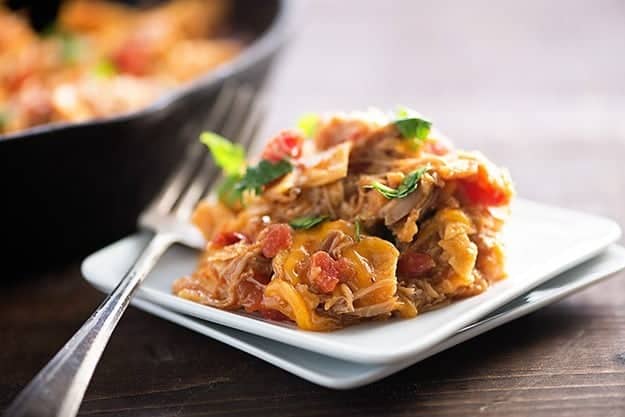 My son is in driver's ed (what?? how?? why??) and our state doesn't allow home educators to teach that themselves. Not that I mind. I mean, I have knocked at least 10 mirrors off the side of my car and probably I shouldn't be teaching a human being all the rules of the road. So, the son has been needing rides to driving class on the regular and I'm the lucky one who gets to haul him around.
My daughter has been taking a drawing class that just so happens to fall about 30 minutes after the driving class pick up time.
And, of course, all of this happens at dinner time. Which means I've been on a major kick of easy to the peasy recipes that are ready in no time with minimal clean up. Had to share the latest one with you!
As you know, I've been working with Smithfield to bring you creative ways to use their products. A few weeks ago I slow cooked one of their Boneless Netted Fresh Pork Shoulder Roasts and ended up with the juiciest, most tender pulled pork. I rubbed it in some simple seasonings prior to cooking and then added in some orange juice for a little sweetness. Such a fun way to make pulled pork and so quick to prep. It took me about 2 minutes to rub the pork down and another 2 minutes to get it situated in the slow cooker with some OJ. I love recipes with such minimal prep work and since Smithfield hand trims their shoulder roast, the pork is good and ready for the seasoning and cooking just as soon as you take it out of it's packaging.
You don't really think of pulled pork as a weeknight dinner, until you stop and realize how perfect it is for popping in a slow cooker, you know?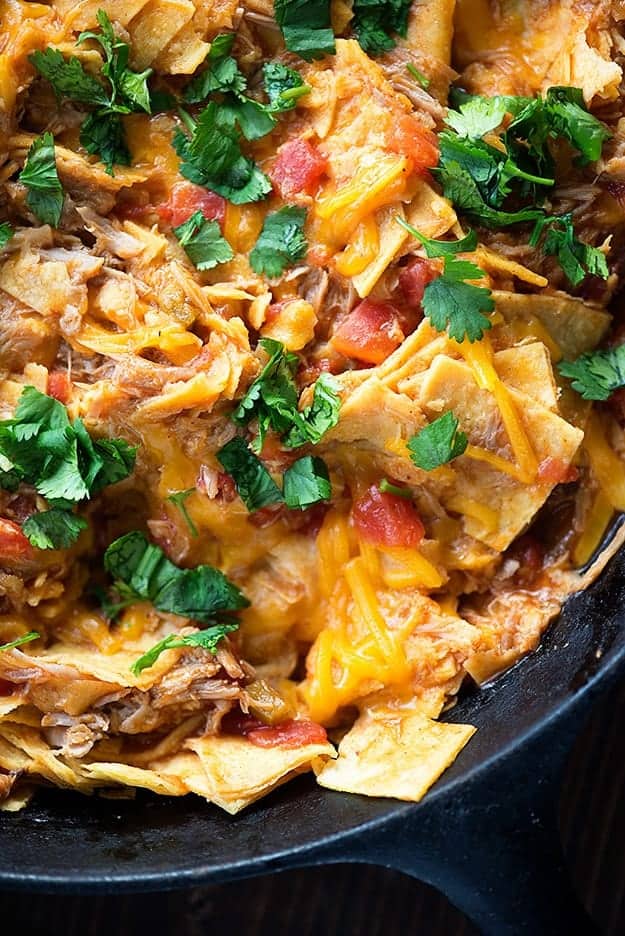 Anyway, I used some of that pulled pork on these Cuban Sliders and holy heck, those were some amazing sandwiches. Sweet and tender pork, salty ham, melty cheese, tangy pickles, all served up on a sweet Hawaiian roll? Does life even get any better than that?
Well, maybe. Maybe it does, because I've gone and whipped up another incredible dinner that is ready in just one skillet and takes less than 20 minutes from start to finish. You guys are going to love this recipe! This is now a favorite way to use leftover pulled pork in my house.
I love the Mexican flavors in this recipe. The texture that the corn tortillas takes on is divine. They don't get mushy, but they do melt in your mouth. The sweetness of the pork pairs so well with the tomatoes and chiles and, did I mention that it's cheesy? Everyone loves cheesy dinners.
Head to the store, snag a Boneless Netted Fresh Pork Shoulder Roast, pop it in your slow cooker, and get dinner on the table. You won't regret it.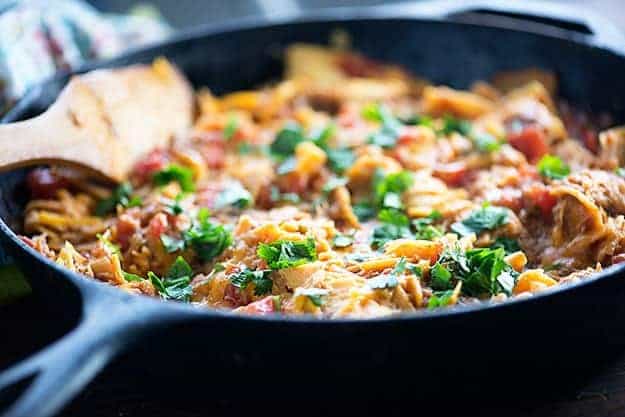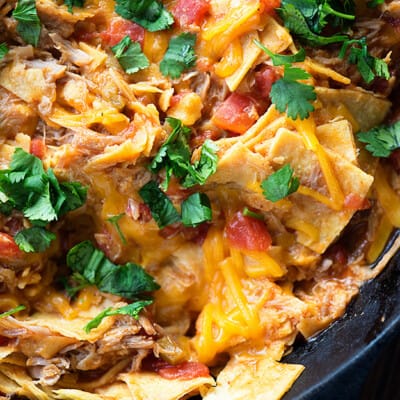 Pulled Pork Enchilada Skillet
I love having a big bowl of leftover pulled pork in the fridge, because it can be put to so many uses! This enchilada skillet is one of my favorite ways to use it up and it's ready in less than 20 minutes!

Prep2 minutes
Cook15 minutes
Total17 minutes
Ingredients
12 corn tortillas cut into bite-sized pieces
3 cups leftover pulled pork
10 ounces diced tomatoes with chiles 1 can
10 ounces red enchilada sauce 1 can
8 ounces tomato sauce 1 can
1/2 cup grated cheddar cheese
1/4 cup diced cilantro
Instructions
Spray a large skillet with non-stick cooking spray and heat the pan over medium heat.

Add the corn tortillas and pulled pork to the pan and cook for 2 minutes, stirring often, just until heated through.

Add the diced tomatoes, enchilada sauce, and tomato sauce to the pan and stir to combine. Cover and cook 5 minutes or until hot and bubbly.

Sprinkle on the cheese, stir to combine, and cook 1 more minute.

Sprinkle on chopped cilantro before serving.
Nutrition Information:
Calories: 464kcal (23%)| Carbohydrates: 46g (15%)| Protein: 39g (78%)| Fat: 14g (22%)| Saturated Fat: 6g (38%)| Cholesterol: 94mg (31%)| Sodium: 1113mg (48%)| Potassium: 959mg (27%)| Fiber: 7g (29%)| Sugar: 9g (10%)| Vitamin A: 1010IU (20%)| Vitamin C: 12.2mg (15%)| Calcium: 206mg (21%)| Iron: 3.7mg (21%)