This enchilada recipe has quite the twist! It's made with canned biscuit dough instead of enchiladas and it's so much fun!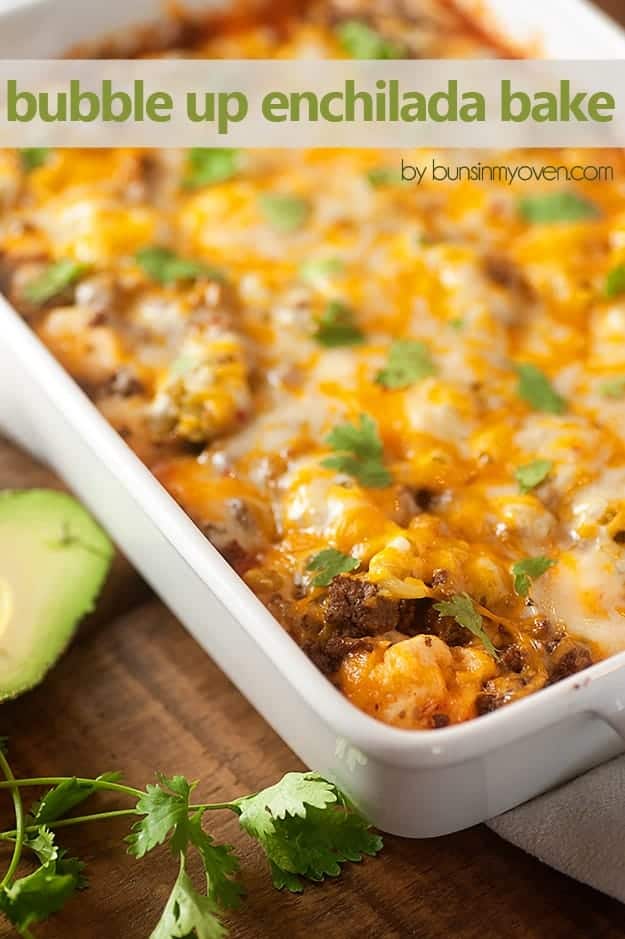 My favorite holiday of the year is coming up soon. Any guesses what it is??
Cinco de Mayo.
Apparently, it's not that big of a deal in Mexico.
Americans have sort of taken it over and turned it into a big taco fest and I'm absolutely, 100 percent okay with big taco fests.
I mean. Taco. Fest.
Who would turn that down?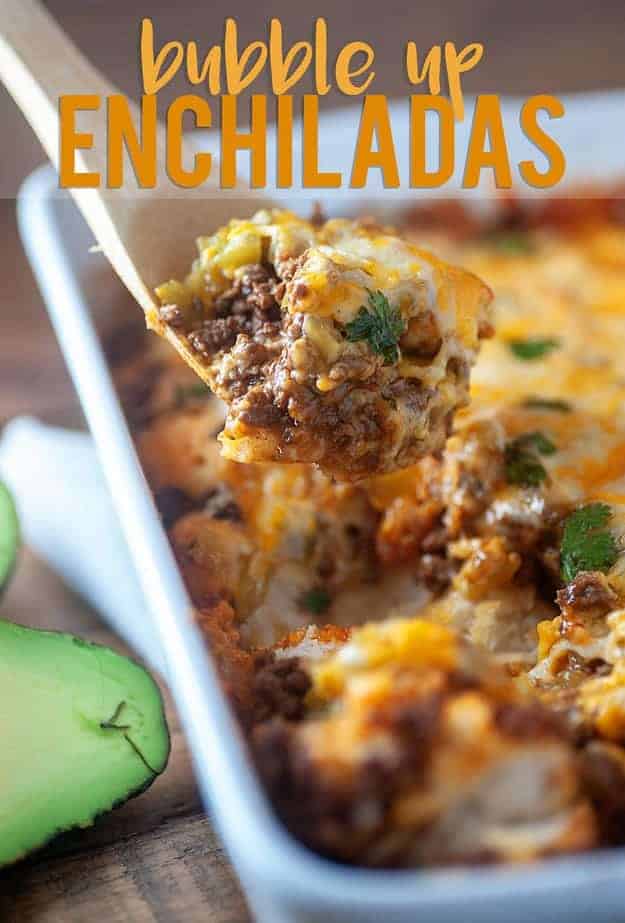 Taco fests are my jam.

This year, I thought we'd experiment with some other recipes, though.
My family will only eat tacos for 3.423 meals in a row before they start giving me dirty looks.
Enchiladas are always a favorite, but when I got it in my head that I needed enchiladas for dinner, I was all out of tortillas. The horror!
I mean, honestly. We are much more likely to have tortillas in our house than sandwich bread. My husband finds this odd, but you'd think he'd understand me after nearly 20 years of marriage.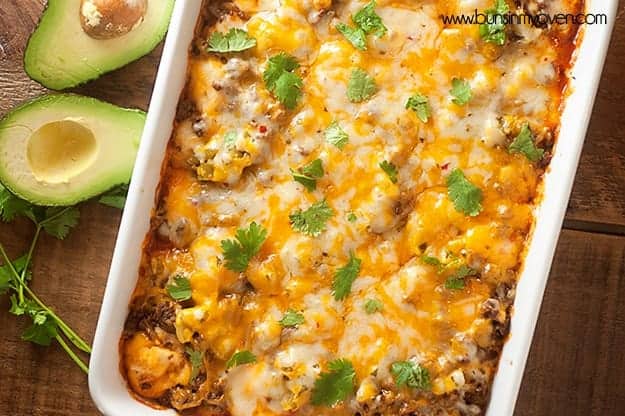 So, anyway, when that enchilada craving hit, I improvised and used canned biscuit dough.
I always have tons of tubes of dough in my fridge. Is that weird? I don't think so! They're so versatile.
Anyway, I just chopped up some biscuits, coated 'em in enchilada sauce (my favorite kind is from Trader Joe's, but any canned or homemade sauce works here!), and then threw the rest of the enchilada fixin's right on top.
Couldn't be easier than this!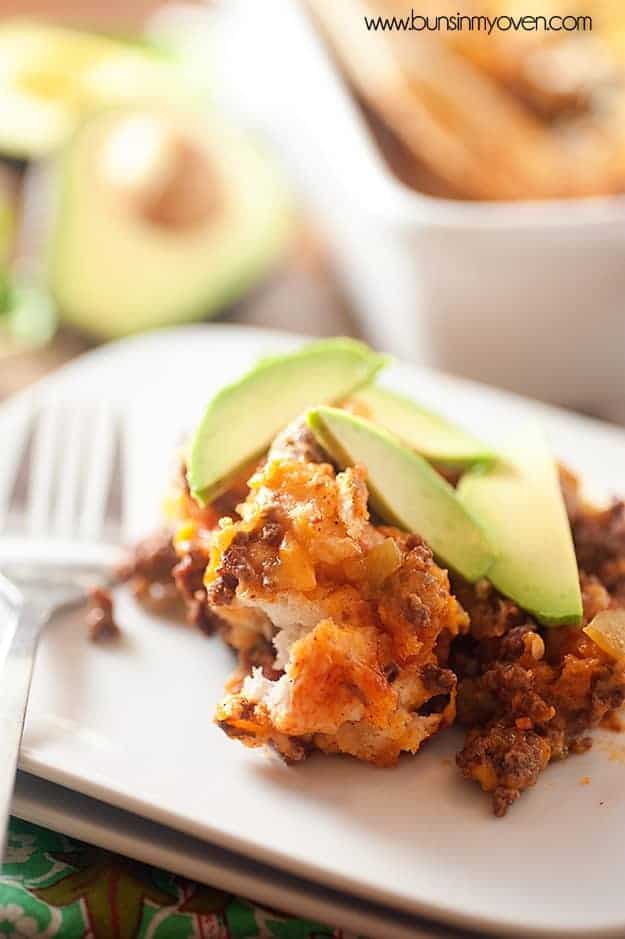 You can totally customize this to fit your family's tastes!
Use ground or shredded chicken instead of the beef.
Swap out green enchilada sauce for the red.
Add more or less cheese. (I vote for more. Who would use less cheese?!)
Toss in some black beans and chopped tomatoes.
The biscuits "bubble up" as they bake, which is how this gets the name!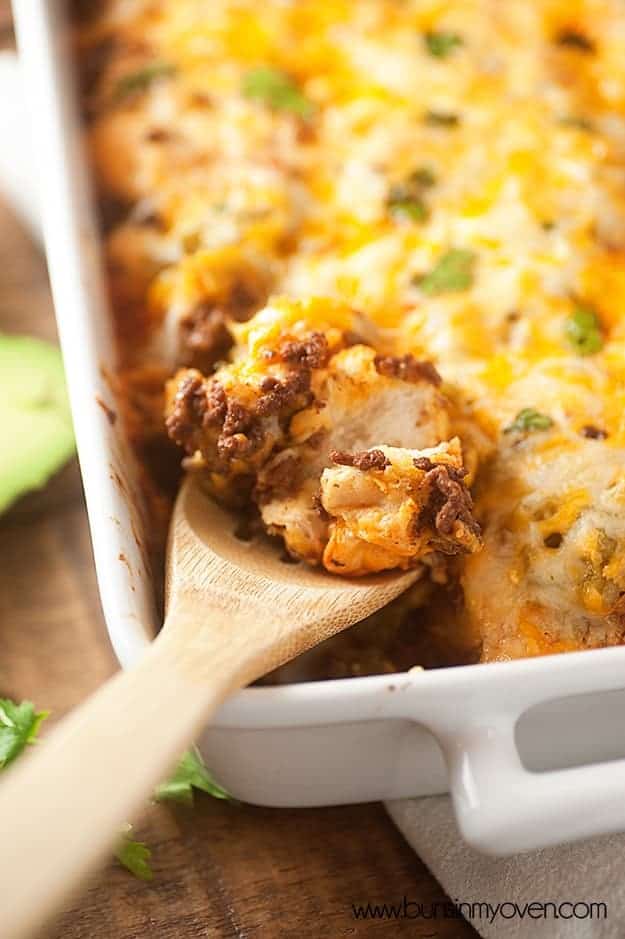 You'll probably notice that I have a lot of Mexican inspired recipes on this blog.
I'm just a white girl in the middle of a bunch of cornfields, so I don't claim that these are authentic, but they sure hit the spot for my family!
You might like my low carb taco casserole or my fried tacos, too. Oh, and my taco lasagna? Seriously good stuff.
Hope you enjoy! 🙂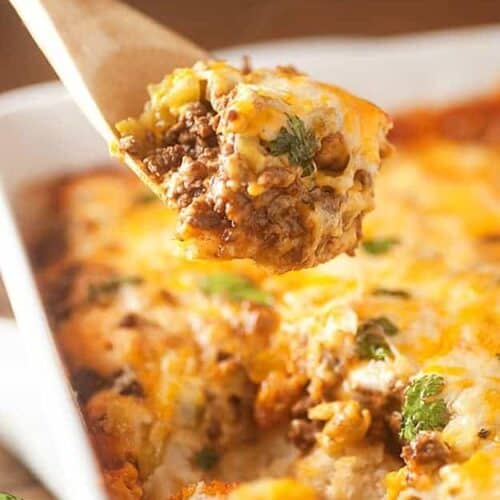 Bubble Up Enchilada Bake
This bubble up enchilada casserole gets it's name from the way the biscuits bubble up as they bake! It's always a hit with my family.

Prep10 minutes
Cook30 minutes
Total40 minutes
Ingredients
1 package Pillsbury Grands! biscuit dough
10 ounces enchilada sauce
1 pound ground beef
1 packet taco seasoning
4 ounce can diced green chiles
1 cup grated cheddar
1 cup grated pepper jack or monterey jack
Cilantro for garnish
Avocado or guacamole for serving
Instructions
Preheat oven to 350 degrees.

Open the biscuits and slice each biscuit into 8 small pieces. Add to a medium bowl and pour the enchilada sauce over the top. Stir to coat.

Brown the ground beef in a large skillet. Drain the grease and stir in the taco seasoning and 2 tablespoons of water. Stir in the green chiles.

Pour the biscuits and enchilada sauce into a 9x13 baking dish. Top with the ground beef. Sprinkle the cheese evenly over the top.

Bake for 30 minutes or until the biscuits are cooked through and the cheese is fully melted.

Top with cilantro, avocado, sour cream, hot sauce, etc.
Nutrition Information:
Calories: 653kcal (33%)| Carbohydrates: 45g (15%)| Protein: 27g (54%)| Fat: 39g (60%)| Saturated Fat: 15g (94%)| Cholesterol: 90mg (30%)| Sodium: 1949mg (85%)| Potassium: 431mg (12%)| Fiber: 3g (13%)| Sugar: 7g (8%)| Vitamin A: 1220IU (24%)| Vitamin C: 10.1mg (12%)| Calcium: 334mg (33%)| Iron: 5.2mg (29%)
This post contains affiliate links.