Turkey meatballs are the perfect lightened up weeknight dinner! Serve them with some marinara over pasta or zoodles or just pile them on your plate and serve with some veggies. Simple, healthy, and filling!
It's the start of a new year and that means it's time to step away from the Christmas cookies and step up your healthy eating game.
I have the biggest success feeding my family healthier meals when I take something they already love and just lighten it up a bit.
Enter these baked turkey meatballs!
Everyone loves a good meatball and these are lightened up with ground turkey in place of beef and they're baked to perfection rather than cooked in oil on the stove.
I could put down the entire batch of these turkey meatballs in one sitting, but I guess that would defeat the whole 'healthy eating' thing I'm going for here. But, man, these are good.
How to Make:
This post contains affiliate links. As an Amazon associate and member of other qualifying programs, I earn from qualifying purchases.
To start your turkey meatball recipe, you'll add some ground turkey (or chicken, if you prefer chicken meatballs!) and bread crumbs to a mixing bowl.
We're going to add flavor with some minced onion and garlic, lots of fresh parsley, and a little Italian seasoning. Don't forget the salt and pepper.
Mix that all up using either a wooden spoon or your hands. Either works.
Mix until everything is just held together. Don't overwork the meatballs.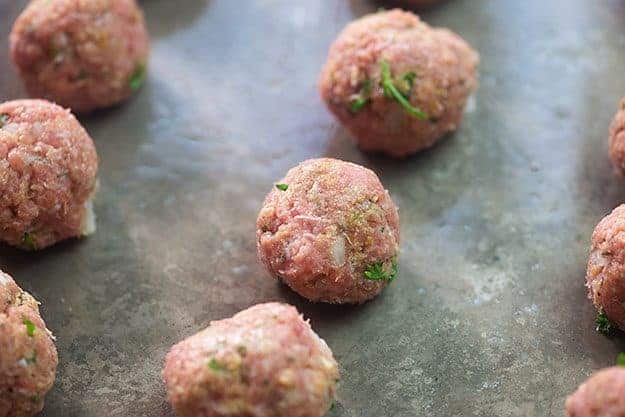 Place your meatballs on a large baking sheet that you've sprayed with non-stick spray and then pop them in a hot oven.
Helpful Tip!
I use a large cookie scoop (affiliate link) to scoop out balls of the meatball mixture and then roll it into a nicely shaped ball in the palms of my hands.
These will take about 15 minutes to bake. I always check poultry with a thermometer before serving. These should reach an internal temperature of 165 degrees. We use and love this instant thermometer. It's magnetic, so you can stick it to the side of your fridge and know just where to find it.
How to serve with these healthy turkey meatballs:
These turkey meatballs can be served any number of ways!
Pop a toothpick in them and serve them as a snack or appetizer. They're super flavorful on their own, but some warmed marinara or BBQ sauce makes a nice dip. You could even dip these in our honey mustard dressing.
Heat some marinara on the stove and toss your meatballs in. Serve over pasta or zucchini noodles.
Treat them as a main dish and pile them up on your plate next to a serving of my roasted vegetables and a side salad topped with this homemade ranch dressing.
Pile them into a hoagie roll, top with some low fat mozzarella, and some marinara. How good does that sound?
I also think would be amazing served alongside an air fryer baked potato!
These baked turkey meatballs will be a hit no matter how you serve them!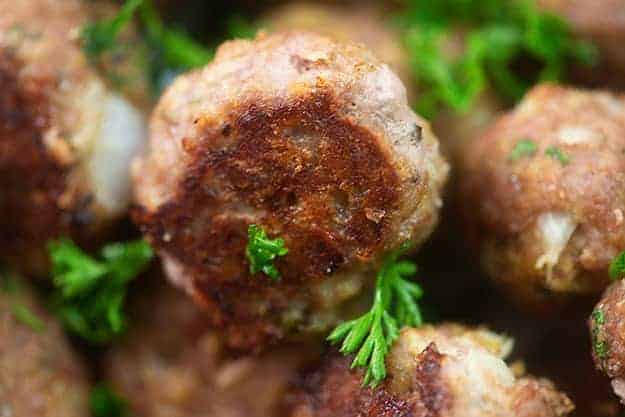 Questions about this recipe:
Can I freeze the meatballs?
Yep! We prefer to freeze these after cooking. Pop them on a baking sheet and place in the freezer for 1 hour. Remove from the freezer and place the meatballs in a ziptop bag. Reheat on the stove in some marinara sauce.
Can the turkey meatballs be a little pink in the middle?
No. Poultry needs to be fully cooked and there should be no pink at all.
How can I tell when they are fully cooked?
The internal temp should be 165 degrees F.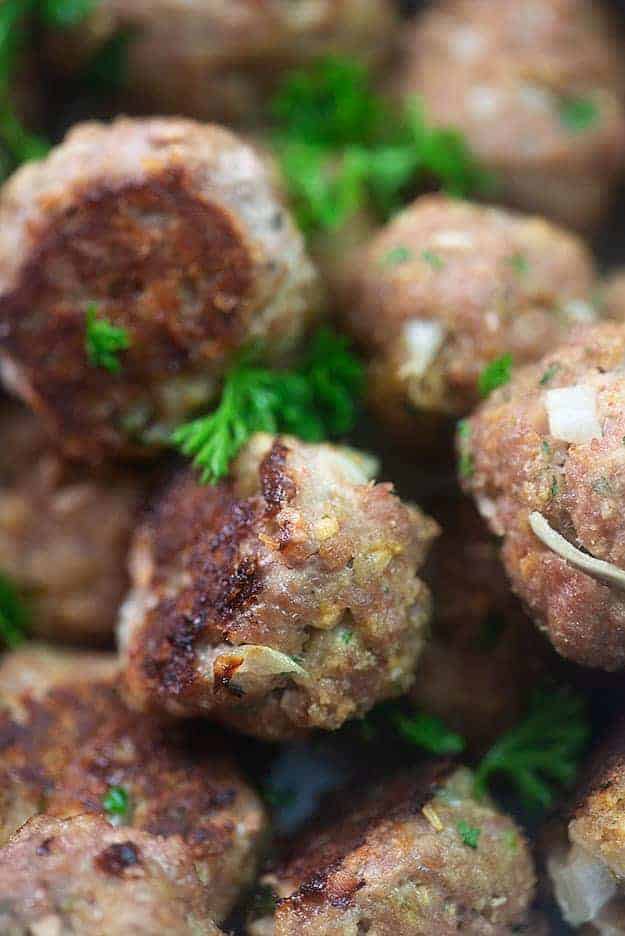 Turkey Meatballs
Healthy turkey meatballs made easy by baking them in the oven!
Prep10 minutes
Cook15 minutes
Total25 minutes
Ingredients
1 pound ground turkey
1/2 cup bread crumbs
1 large egg
1/3 cup minced onion
2 cloves garlic minced
2 tablespoons minced parsley
1 teaspoon Italian seasoning
1/2 teaspoon salt
1/2 teaspoon pepper
Instructions
Preheat oven to 400 degrees. Spray a large rimmed baking sheet with non-stick spray.

Add all of the ingredients to a large mixing bowl and stir well to combine.

Serve hot.
Tips & Notes:
Serve with a dish of warmed marina for dipping or over pasta with marinara sauce. To freeze, place cooked and cooled meatballs in a freezer safe bag and seal. Store in the freezer for up to 3 months. To reheat, add frozen meatballs to marinara and cook over low heat until warmed through.
Nutrition Information:
Calories: 234kcal (12%)| Carbohydrates: 18g (6%)| Protein: 31g (62%)| Fat: 4g (6%)| Saturated Fat: 1g (6%)| Cholesterol: 108mg (36%)| Sodium: 473mg (21%)| Potassium: 479mg (14%)| Fiber: 2g (8%)| Sugar: 1g (1%)| Vitamin A: 265IU (5%)| Vitamin C: 5.3mg (6%)| Calcium: 84mg (8%)| Iron: 2.4mg (13%)