These TERIYAKI MEATBALLS are juicy, tender, and flavorful. A simple homemade teriyaki sauce is perfect for tossing your homemade beef meatballs in. Serve over rice for a quick dinner.
In our house, we like to get creative with meatballs.
Not only do we season them in a multitude of ways, we also serve them up for a variety of things.
Snack time? Grape Jelly Meatballs.
Dinner? Crockpot Meatball Subs.
Quick lunch? Air Fryer Meatballs with pasta.
Football food? Buffalo Chicken Meatballs.
The thing I love about these teriyaki meatballs is that you can serve them for any occasion! They're good on a toothpick as an appetizer and they're delicious and filling over a pile of rice for dinner!
Plus, these homemade teriyaki meatballs are easy and the homemade sauce is so flavorful! Way better than the stuff you find bottled at the grocery store!
Teriyaki Meatball Ingredients:
This post contains affiliate links. As an Amazon associate and member of other qualifying programs, I earn from qualifying purchases.
Ground Beef – We use all beef, but you could swap in 1/2 pork if you prefer.
Panko Bread Crumbs
Eggs – Helps to hold everything together!
Seasoning – You'll need green onion, garlic, soy sauce, and ginger.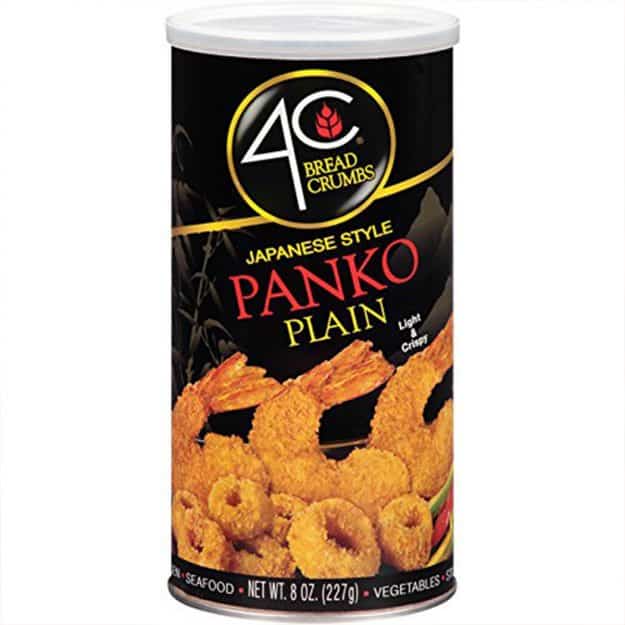 Panko is a Japanese bread crumb that is light, airy, and crispy. It can be found in most any grocery store. We highly recommend using Panko over traditional bread crumbs in any breading recipe where you want a crispy finished product.
Homemade Teriyaki Sauce Ingredients:
Low Sodium Soy Sauce – It's important to use low sodium here or your sauce will be too salty.
Brown Sugar
Ginger
Garlic
Honey
Cornstarch – We use this to thicken the sauce up a bit.
How To:
Prepare the meatballs: Add all of the ingredients for the meatballs to a mixing bowl and mix well.
Shape: We like to use a medium cookie scoop to shape our meatballs. It makes it easy to get them a consistent size, which is important for them to cook evenly.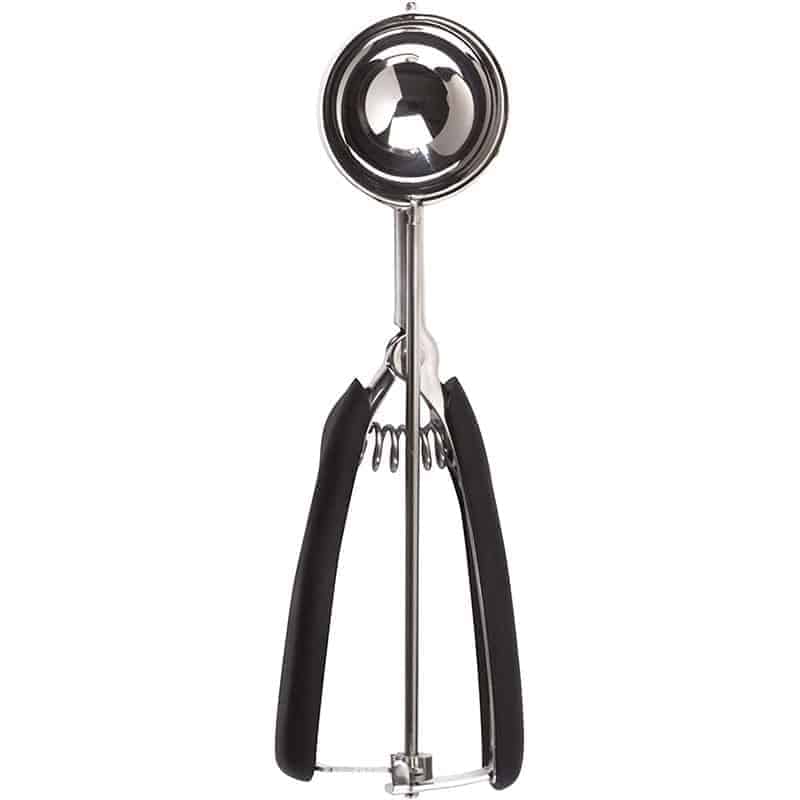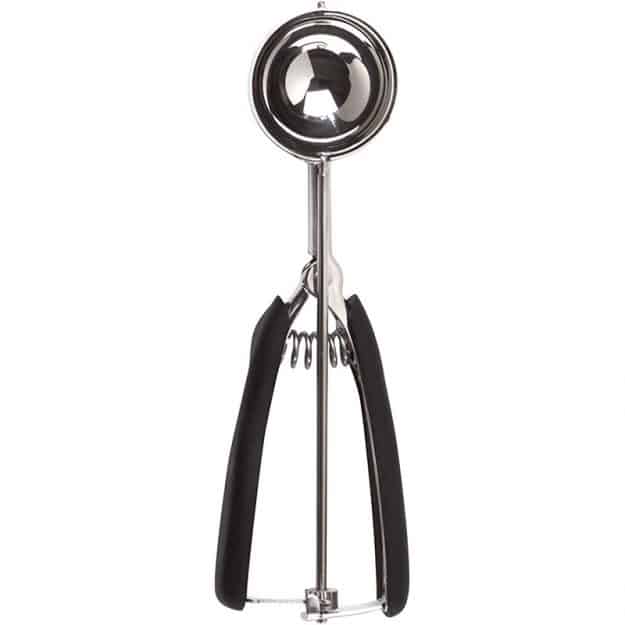 We use cookie scoops for everything from baking cookies to scooping meatballs to easily filling muffin tins.
Bake: These meatballs bake in a 400 degree oven in about 15 minutes. Quick, simple, and tasty!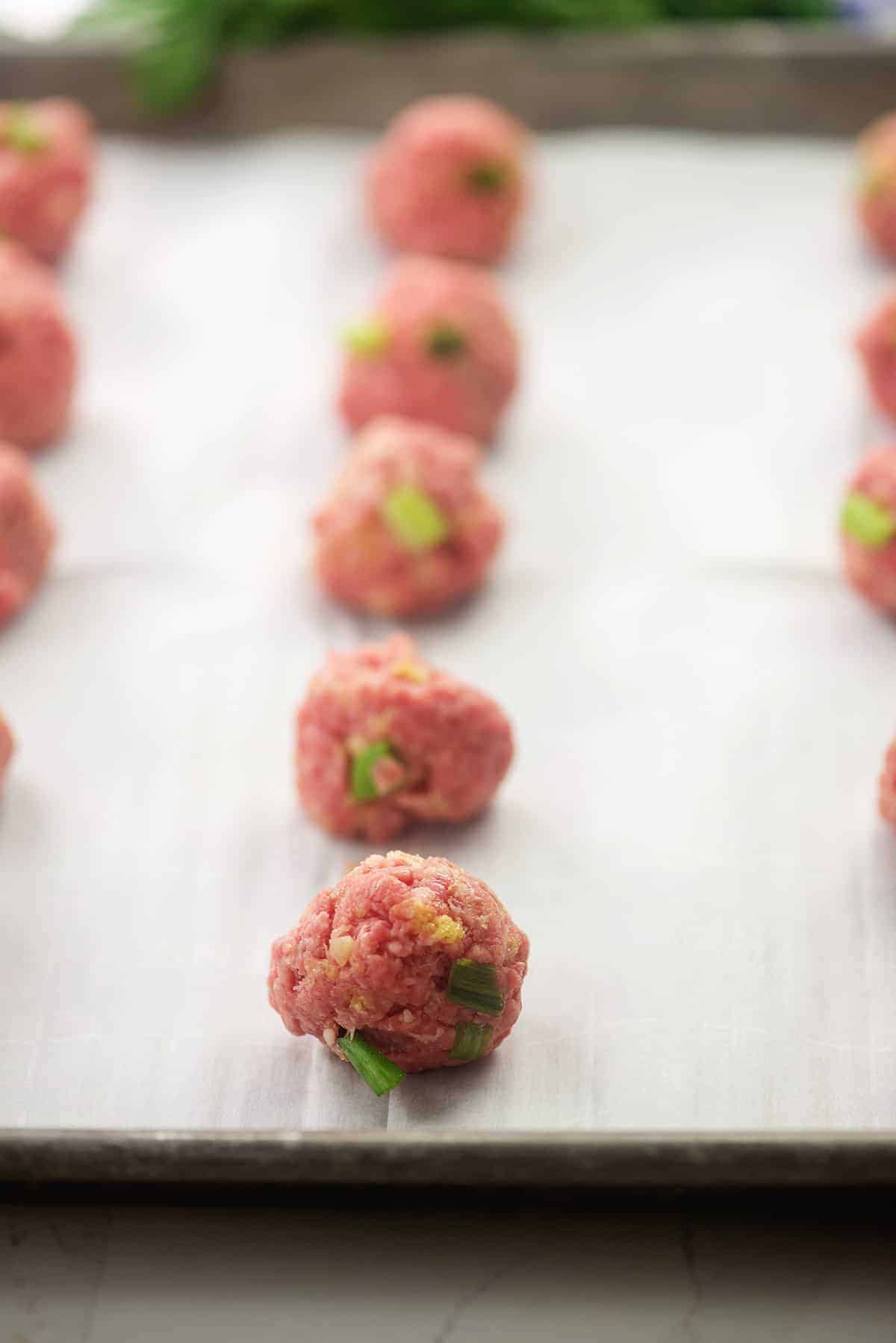 Prepare the sauce: While the meatballs are baking, whip up the teriyaki sauce. Just whisk together the soy sauce, brown sugar, garlic, honey, and ginger with a cup of water. Whisk in a cornstarch slurry and cook until the sauce has thickened.
Helpful Tip!
How to make cornstarch slurry:
A cornstarch slurry is a quick and simple way to thicken a sauce. Just mix together 1 tablespoon of cornstarch with 2 tablespoons of water, until smooth. Whisk into your hot liquid.
Mixing the cornstarch with water prior to adding to hot liquids keeps you from getting a lumpy sauce.
Combine: Once your sauce has thickened to your liking and the meatballs are cooked through, add the sauce and meatballs together and toss them around to coat.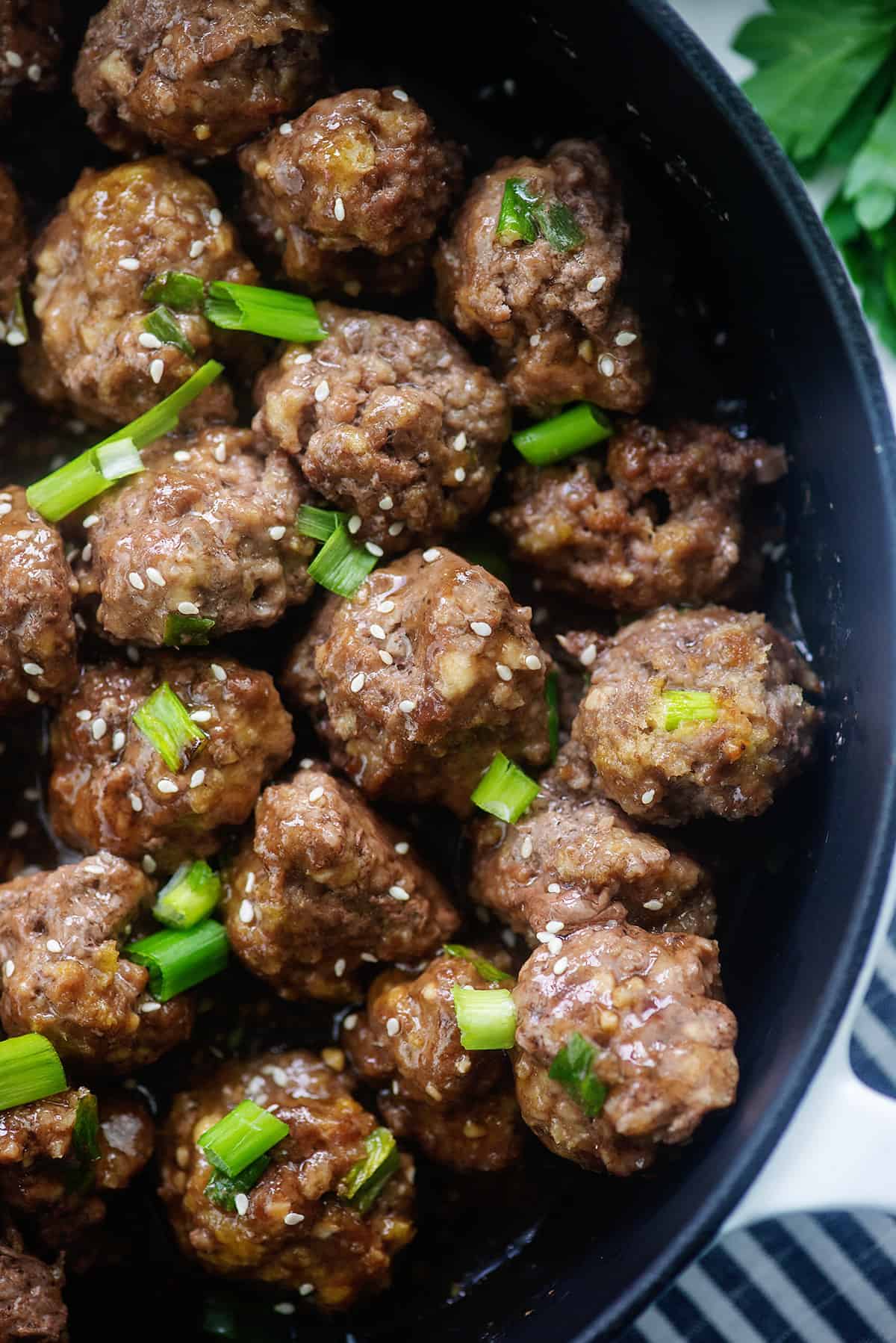 What to serve with teriyaki meatballs?
We're big fans of rice in this house, so a big pile of perfectly cooked rice is the obvious answer for us!
My rice pilaf is an easy way to cook rice that turns out tender and flavorful every time. Keep it simple and add some steamed vegetables on the side. We buy the Asian medley at our local grocery store.
Serve with a side of our sausage egg rolls and bacon fried rice for a really flavorful Asian-inspired meal.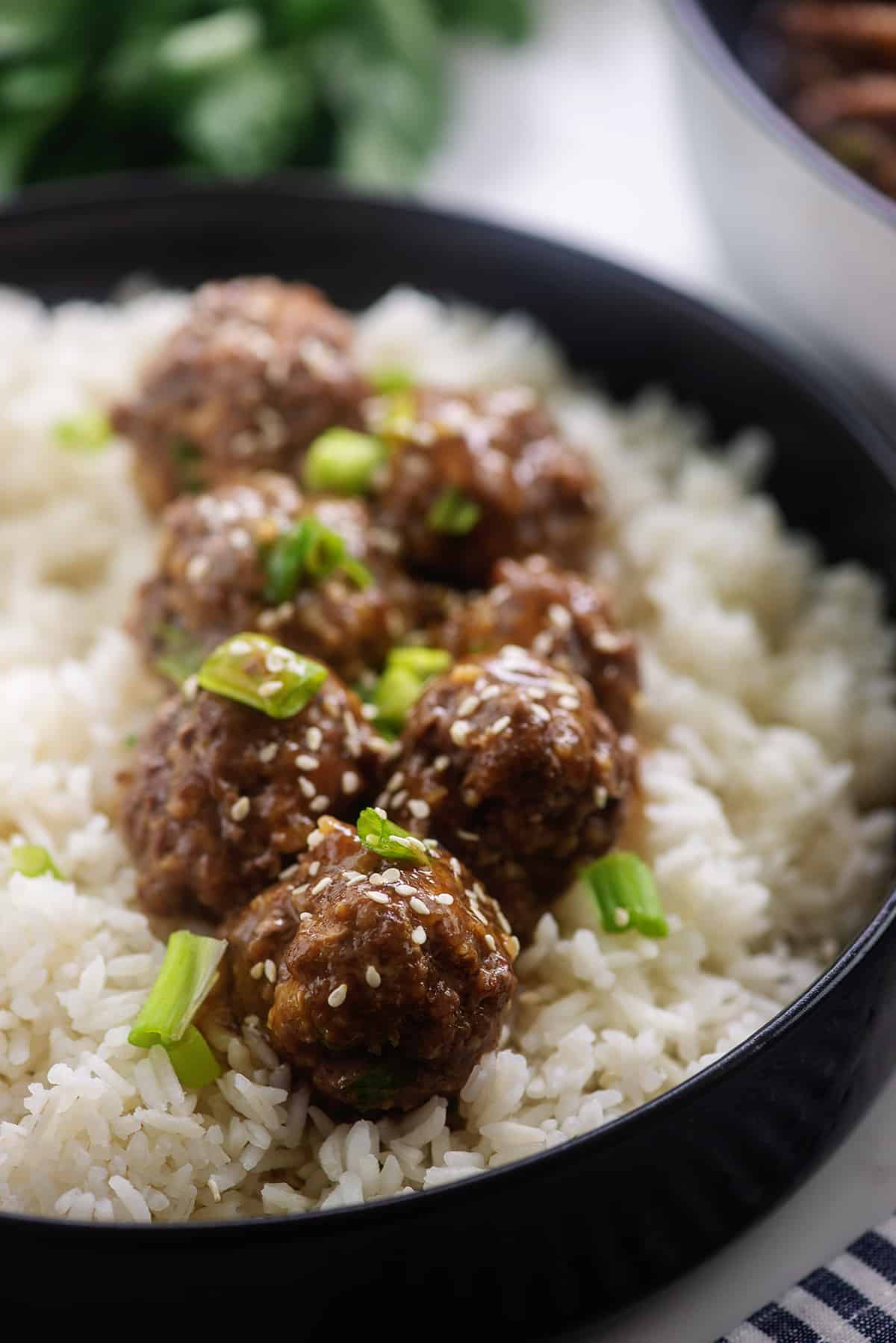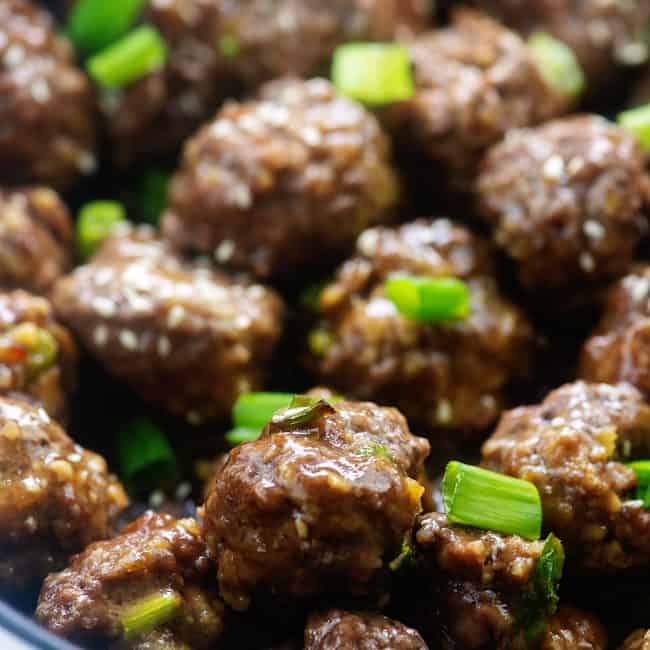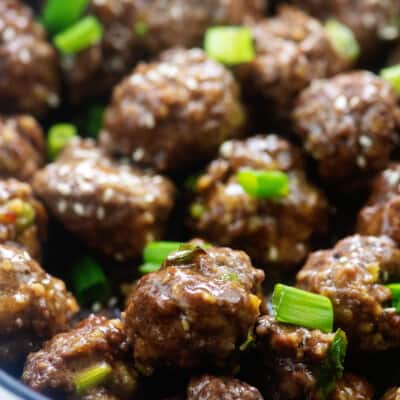 Teriyaki Meatballs
Juicy, tender meatballs tossed in a simple homemade teriyaki sauce. These make a great appetizer, served with toothpicks, or an easy dinner, served over rice.
Prep15 minutes
Cook15 minutes
Total30 minutes
Ingredients
For the meatballs:
2 pounds ground beef
¾ cup Panko breadcrumbs
2 large eggs
¼ cup chopped green onions
2 cloves garlic minced
1 tablespoon soy sauce
1 teaspoon minced ginger
For the sauce:
¼ cup low sodium soy sauce
¼ cup brown sugar
2 cloves garlic minced
1 tablespoon honey
1 teaspoon minced ginger
1 tablespoon cornstarch
Instructions
To make the meatballs:
Preheat oven to 400 degrees. Line 2 baking sheets with parchment paper.

Add all of the meatball ingredients to a large mixing bowl and use your hands to combine the mixture. Be careful not to overmix.

Use a medium cookie scoop to scoop out balls of the mixture and roll gently into a meatball.

Place the meatballs evenly spaced on the prepared baking sheets and bake for 15 minutes or until cooked through.
To make the sauce:
While the meatballs are cooking, add the soy sauce, brown sugar, ginger, garlic, honey, and 1 cup of water to a saucepan over medium heat and whisk well to combine.

Bring sauce to a simmer.

Add the cornstarch to a small bowl with 2 tablespoons of water and stir with a fork to combine.

Pour the cornstarch slurry into the simmering sauce and whisk well until the sauce has thickened, about 2 minutes.
For serving:
Toss the cooked meatballs in the teriyaki sauce to coat.

Serve over rice or with toothpicks.

Sprinkle with sesame seeds and chopped green onions, if desired.
Tips & Notes:
Be sure to use low sodium soy sauce in the sauce, so that you can control the salt levels. It's easy to add additional salt (or a dash or two of regular soy sauce) after the sauce comes together, but it will be too salty if you start with regular soy sauce. For an extra dark sauce, use half low sodium soy sauce and half dark soy sauce. It adds a gorgeous color to the sauce without adding a ton of extra sodium.
Nutrition Information:
Serving: 5meatballs| Calories: 501kcal (25%)| Carbohydrates: 21g (7%)| Protein: 30g (60%)| Fat: 32g (49%)| Saturated Fat: 12g (75%)| Trans Fat: 2g| Cholesterol: 169mg (56%)| Sodium: 627mg (27%)| Potassium: 503mg (14%)| Fiber: 1g (4%)| Sugar: 13g (14%)| Vitamin A: 132IU (3%)| Vitamin C: 1mg (1%)| Calcium: 67mg (7%)| Iron: 4mg (22%)
This recipe was one of the first on this blog, originally published in January 2009. The recipe itself has been updated along with the photos in 2021. Original photo below.
Aren't you glad my photography has improved? 😉