These AIR FRYER MEATBALLS are tender, juicy, and loaded with Italian flavor. Made with a mix of beef and pork, they turn out perfect every time. The air fryer cooks them in less than 10 minutes!
I've mentioned before, but I think it bears repeating, that my parents never served me a single meatball or slice of meatloaf my entire life.
I was a full grown adult with a child of my own before I ever had meatloaf.
To say that I'm making up for lost time is, well, an understatement.
I'm obsessed with meatballs. They make a great snack, they're perfect with pasta, they're amazing on a toasted sub. Like, you really can't go wrong.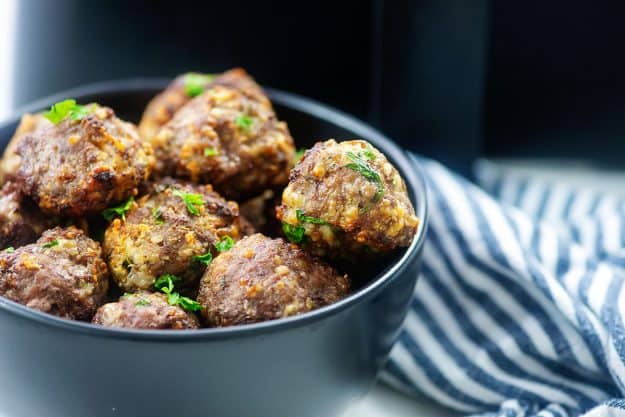 Get the recipe:
Today, we're sharing our air fryer meatballs, along with video, over on our other blog, AirFried.com.
These meatballs take just 7 minutes to cook, they get that crispy fried exterior, and they are so flavorful! Plus, they won't eat up your entire kitchen with a hot oven. You're going to love them!
No air fryer? Try baking these at 425 degrees for 10-15 minutes to cook through.