This Mango Mojito Recipe, made with fresh mango, plenty of lime, and fresh mint, is a refreshing way to enjoy your summer that'll leave you feeling like you're on the beach!
We've been looking forward to summer since, well, last summer. Partially because nothing beats floating around a pool on a hot summer day, going back and forth between napping and reading the latest summer thriller.
But, also…we're here for the summer cocktails!
We recently shared our (utterly perfect) frozen strawberry margarita and our blackberry mojito, but now it's time for something a little more tropical.
This Mango Mojito recipe is so tasty with the fresh mango puree, tart lime juice, and refreshing mint flavor. Plus, any leftover mango puree goes great on ice cream or as a topping for pancakes or waffles!
Ingredient Notes:
This post contains affiliate links. As an Amazon associate and member of other qualifying programs, I earn from qualifying purchases.
White Rum – A traditional mojito is made with white rum. Any brand you enjoy is fine, we went with Bacardi.
Mint – Fresh mint leaves and a sprig for garnish. You can find this in most grocery stores near other fresh herbs. Of course, you can also easily grow mint at home!
Turbinado Sugar – It's got more flavor than your standard white granulated sugar and it's perfect for making mixed drinks like these mango mojitos! It will leave more texture than regular white sugar though, so if you don't like that, go for the granulated sugar.
Lime Juice – Freshly squeezed lime juice is best! You could use the bottled kind but it's not as good as freshly squeezed.
Mango Puree – You'll prepare this in a food processor to turn fresh mango fruit into a puree! See below for more info on choosing the right mango.
Ice & Club Soda – Pretty standard mixed drink ingredients.
What We Love About This Recipe:
They're a perfectly refreshing summer drink!
We don't eat mango very often but this is a great way to enjoy it!
The leftover mango puree is perfect on pancakes, biscuits, ice cream, and more!
Tools Needed:
Tall Glass – Also known as a highball glass. These tumblers are perfect for making mixed drinks!
Muddler – A wooden spoon or spatula can be used in place of a muddler.
Citrus Squeezer – This will make squeezing the fresh lime juice a whole lot easier!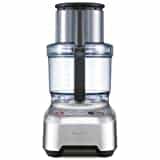 Food Processor
We use our Breville food processor in all kinds of recipes! It makes short work of chopping veggies and many other other tasks. This is our favorite food processor because it is so heavy duty and it will last!
How to Choose a Ripe Mango:
If you're not sure how to tell if a mango is ripe I've got a few easy tips!
Squeeze: Not too hard! Just enough to see if it gives slightly from the pressure. If not, it probably still needs to ripen a bit.
Color: This actually really doesn't make much difference when choosing a mango. You don't want to go off color alone, just squeeze it to test for firmness.
Ripen Quickly: Here's a neat trick: stick the mango in a paper bag along with an avocado, assuming it also needs ripening. Storing them together will speed up the ripening process in both fruits!
How To Make Mango Puree:
Prepare: To get started you'll need to cut the mango into chunks. Use a sharp knife to cut the fresh mango fruit away from the peel and seed. Slice the mango fruit into small chunks.
Process: Add the chunks of mango fruit to a food processor or a blender. You may need to add a tablespoon of water depending on how ripe the mango is. Pulse it several times to puree the fruit into a nice smooth texture!
Either use the puree right away to prepare the mango mojitos or refrigerate it for later (up to a week, or 3 months in the freezer!).
How To Make Mango Mojitos:
Muddle: To start preparing the mojito add the fresh mint leaves to a tall glass along with the turbinado sugar and freshly squeezed lime juice.
Use a muddler to muddle the mint leaves gently to release the minty flavor and dissolve the sugar in the lime juice.
Helpful Tip!
We like the turbinado sugar in this mango mojito recipe, but you could also use a simple syrup in place of it. Boil together equal parts water and sugar until the sugar has dissolved to easily make simple syrup.
Mango: You can now add the freshly pureed mango to the glass along with the white rum and ice cubes. Fill the remainder of the glass with club soda. You can make these mojitos as strong as you like!
Serve: We garnish these with a sprig of mint and serve them immediately! These mango mojitos are your answer to those hot summer days when you need something perfectly fruity and refreshing!
FAQ's:
What type of alcohol to use?
Traditionally, white rum is used for mojitos, for that a light, refreshing flavor. Vodka may also be used, but it's not as common.
Are mango pulp and puree the same thing?
Yes, pretty much. They are both made by processing mango fruit into a smooth consistency.
Is mango puree the same as mango nectar?
Mango nectar is a thinner, sweet blend of mango puree and simple syrup. We would not recommend using mango nectar in this recipe or your drink may be sweeter than intended.
Mango Mojitos
These mango mojitos are the perfect summer drink with the fresh mango puree, refreshing mint, and crisp flavors of white rum.
Prep10 minutes
Total10 minutes
Ingredients
For the mojito
4-6 mint leaves plus a sprig of mint for garnish
1 teaspoon turbinado sugar
1 ounce lime juice
2 tablespoons mango puree
2 ounces white rum
Club soda
Instructions
To make the mango puree
Using a sharp knife, cut the mango away from the peel and stone (seed).

Add the mango chunks to a food processor or blender and pulse several times to puree the fruit into a smooth texture. You may need to add a tablespoon of water, depending on the ripeness of the mango.
To make the mojito
In a tall glass add mint leaves, turbinado sugar, and lime juice. Muddle the mint gently to release the flavor of the mint and dissolve the sugar in the lime juice.

Add the pureed mango, rum, ice cubes, and fill the glass with club soda.

Stir the drink and add a sprig of mint to garnish.
Tips & Notes:
Mojitos are best served immediately after making. Use mango puree right away or store in the refrigerator for up to 1 week or freeze in a freezer safe container for up to 3 months.
Nutrition Information:
Serving: 1cocktail| Calories: 258kcal (13%)| Carbohydrates: 32g (11%)| Protein: 2g (4%)| Fat: 0.1g| Saturated Fat: 0.01g| Polyunsaturated Fat: 0.03g| Sodium: 3mg| Potassium: 60mg (2%)| Fiber: 3g (13%)| Sugar: 26g (29%)| Vitamin A: 195IU (4%)| Vitamin C: 10mg (12%)| Calcium: 14mg (1%)| Iron: 0.3mg (2%)