We're celebrating fall with a pitcher full of our Caramel Apple Sangria, made with sweet moscato, flavored vodka, and fresh apple cider! This sweet cocktail is perfect for a fall day!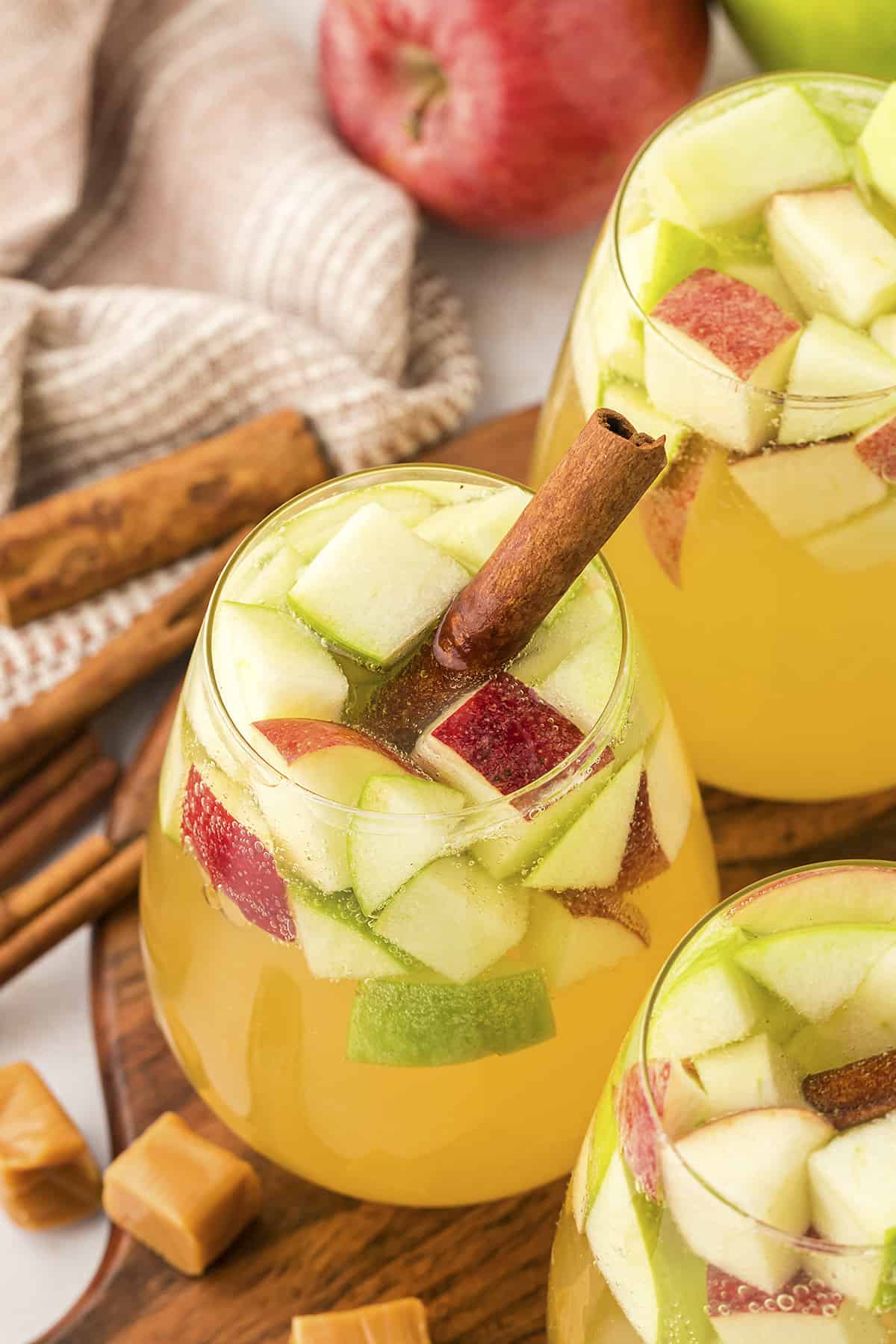 Fall is most definitely my favorite season of the year, with my only complaint being that it leads straight to dreaded winter. I hate winter, man.
A crisp day, the smell of leaves on the ground, and a glass of Caramel Apple Sangria, though? Yes, please. All I need is a flannel and a stack of pumpkins to greet me on the front porch to complete the perfect Fall day.
Our apple cider mimosa is a big favorite around here too, but we thought we'd go the sangria route this time and I'm not mad about it.
Sweet wine, two types of flavored vodka (caramel + apple, duh), and chunks of apples, all mixed up with cider from our favorite local orchard. <— Fall perfection in a pitcher.
And hey, if you have leftover cider, you'll have the perfect excuse to make our apple cider donut bread that's always popular this time of year.
Ingredient Notes:
This post contains affiliate links. As an Amazon associate and member of other qualifying programs, I earn from qualifying purchases.
Moscato – A white Moscato or a pink Moscato are good choices here but any will do. We love a sweet wine like Moscato, but a dry Riesling or pinot grigio would also work, if you like your sangria a bit less sweet.
Apple Cider – This can be as simple as buying cider from the grocery store, but we love hunting down fresh cider from a local orchard! None of our local orchards were open quite yet when I took these photos, so you see store bought here. 😉
Vodka – We're using two types of vodka – caramel vodka and green apple vodka. Smirnoff makes both flavors, but use any brand you can find. You could also use just one, if you're on more of a budget and don't want to buy two bottles. We recommend using caramel vodka in this case.
Fresh Apples – Some freshly diced apples are a great way to infuse more apple flavor into the sangria! You can use any variety of apple you like, sweet or tart, including green apples.
Cinnamon Sticks – These will add warm cinnamon flavor to the drink which will pair perfectly with the caramel apple flavors!
Club Soda – It can't all be alcohol, can it? Plus this will add some fizzy carbonation to the caramel apple sangria!
What We Love About This Recipe:
Fall Vibes: Caramel apples are a fall staple and this cocktail brings them to life in a new way.
Feelin' Fancy: Elevate your wine experience with a sophisticated twist, as moscato mingles with caramel vodka and apple vodka to create the fusion of flavors.
Signature Cocktail: Every good party needs a signature cocktail and this one will be the star of the show. Not too sweet or too dry, this caramel apple sangria is a crowd pleaser.
Easy as (Apple) Pie: Sangria is a dream to make, because it looks and feels very elegant, but really you're just dumping a few things in a pitcher!
Tips & Tricks:
Alcohol: We love a good bottle of wine, and you can certainly use your favorite here, but you can also get away with a budget bottle since we'll be mixing it with apple cider and vodka.
Apples: This is a great way to use up those extra apples you picked at the orchard. Slice or dice them however you like and pop them right in the pitcher. They add to the presentation and you can eat them too!
Serving: You'll want to add the club soda just before serving to keep it from going flat. The bubbles make this drink so tasty!
Presentation: Want to take this a step further? Rim your glass with caramel and cinnamon sugar like we did for our apple cider mimosa!
What's the difference between apple cider and apple juice?
Apple cider is fresh and unfiltered and is often sold unpasteurized from local orchards.
Apple juice is filtered and pasteurized, which makes for a smoother and sweeter taste.
If you can only find apple juice, it will work just fine in this recipe. Because apple juice tends to be a bit sweeter, we'd recommend swapping out the moscato for a less sweet wine, such as riesling or pinot grigio.
FAQ's:
Can I make this ahead of time?
Sure! You need to let the pitcher of caramel apple sangria chill in the fridge for a couple of hours before serving anyways so you can prepare it ahead of time. We don't recommend making this more than 12 hours in advance. Be sure to add the club soda just before serving.
How to store leftovers?
You can keep the caramel apple sangria stored in the fridge for up to a few days. You may want to remove the cinnamon sticks if you think you'll store it for more than a day. The club soda will have gone flat after awhile, but the drink is still tasty.
MORE MIXED DRINK RECIPES!
Caramel Apple Sangria
This one tastes like fall in a wine glass! We love to use apple cider from the local orchard, but cider from the grocery store is tasty too.
Prep5 minutes
Chill Time2 hours
Total2 hours 5 minutes
Ingredients
750 ml moscato
2 cups apple cider
½ cup green apple vodka
½ cup caramel vodka
3 apples diced, any variety
2 cinnamon sticks
1 cup club soda
Instructions
Add the moscato, apple cider, green apple vodka, and caramel vodka to a large pitcher. Stir well to combine.

Add the diced apples and cinnamon sticks and refrigerate for 2 hours.

Just before serving, pour the club soda into the pitcher and stir to combine.
Tips & Notes:
We love a sweet wine like moscato, but a dry riesling or pinot grigio will work well here too. If preferred, you can skip the green apple vodka and use double the caramel vodka. We like the flavor of the apple vodka, but caramel is also delicious and it's a little more budget friendly to just buy one bottle. If you can't find apple cider, you may use apple juice. Apple juice does tend to be a bit sweeter, so you may opt for a drier wine in that case.
Nutrition Information:
Calories: 281kcal (14%)| Carbohydrates: 29g (10%)| Protein: 0.4g (1%)| Fat: 0.3g| Saturated Fat: 0.05g| Polyunsaturated Fat: 0.1g| Monounsaturated Fat: 0.02g| Sodium: 13mg (1%)| Potassium: 183mg (5%)| Fiber: 3g (13%)| Sugar: 17g (19%)| Vitamin A: 53IU (1%)| Vitamin C: 5mg (6%)| Calcium: 25mg (3%)| Iron: 0.3mg (2%)