Hootenanny is the perfect breakfast for busy moms with hungry kids! No bread needed, but this breakfast recipe has a total French toast vibe the kids love. Plus, it's fun to watch it bake up into crazy shapes!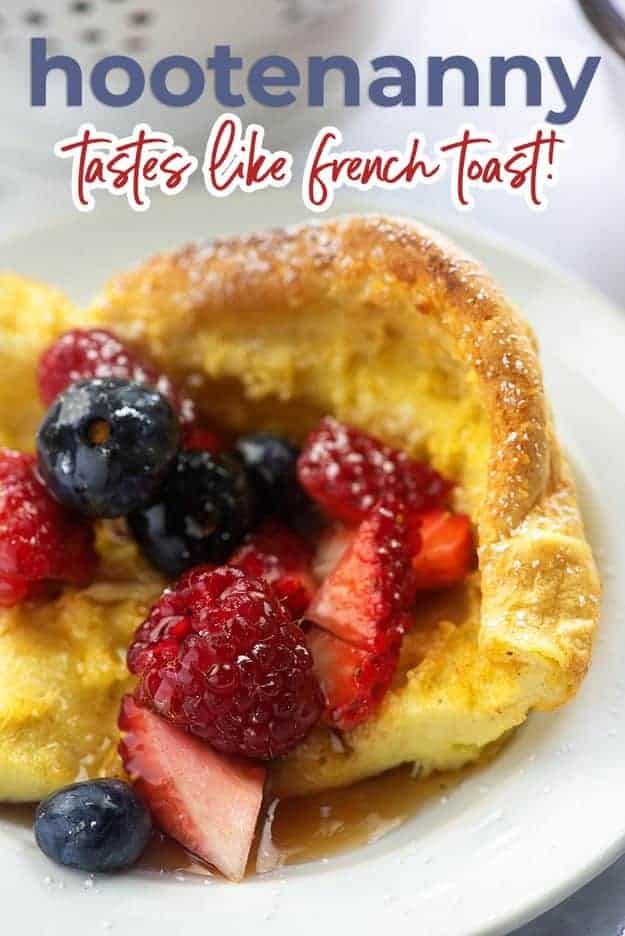 I asked my daughter if she'd like to help me make some Hootenanny for breakfast the other morning.
I got the usual look…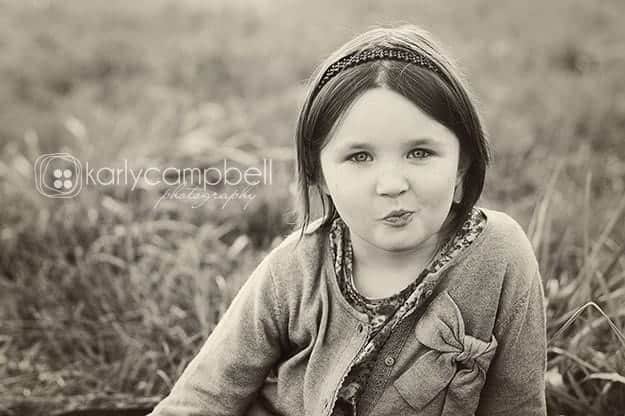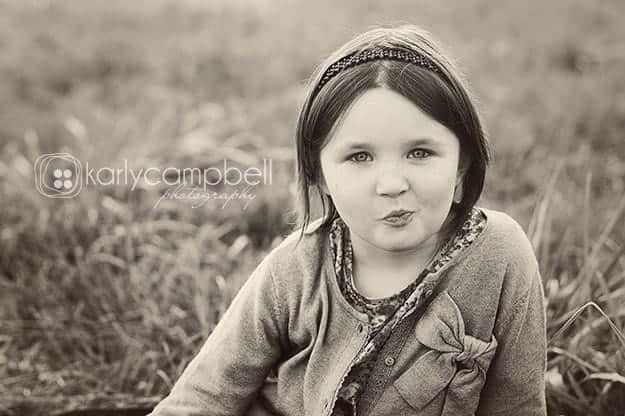 That basically means something along the lines of "Mom. You're crazy."
Or, maybe "How did I end up stuck with the wackadoo for a mother?"
It could also mean "Yep. She's finally lost her mind."
Whatever. Children can be so judgemental.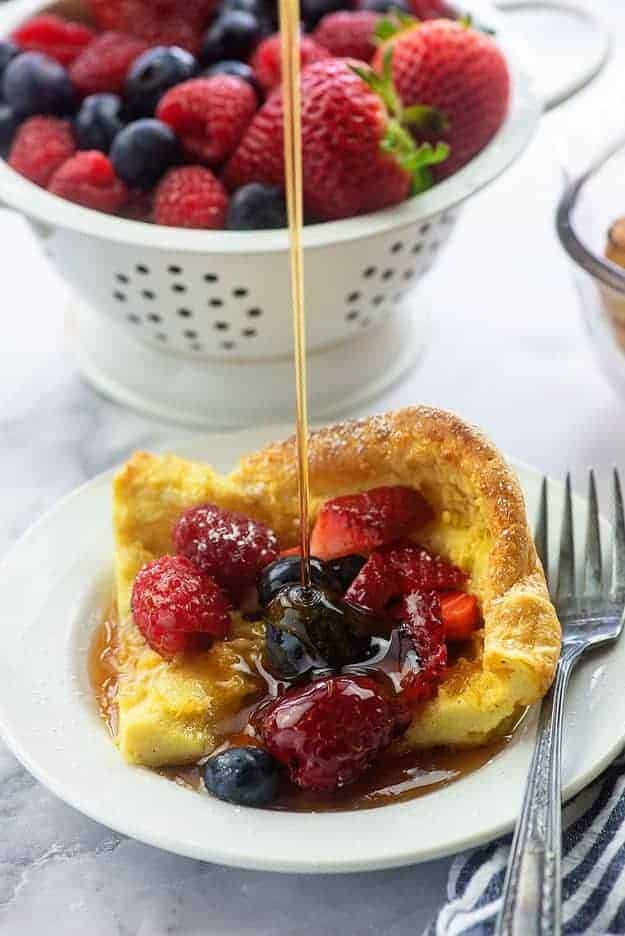 Hootenanny is just another term for a German Pancake (or Dutch Baby)!
Hootenanny is definitely the more fun name for this crazy shaped breakfast dish, but most people know these as either German pancakes or dutch babies.
If you've never had the pleasure of devouring a slice of this for breakfast, it tastes like a cross between pancakes and french toast. We like it because it's so much easier than either of those (stir together and bake!).
Plus, the kids absolutely LOVE it, thanks to the crazy shapes it puffs up into while baking.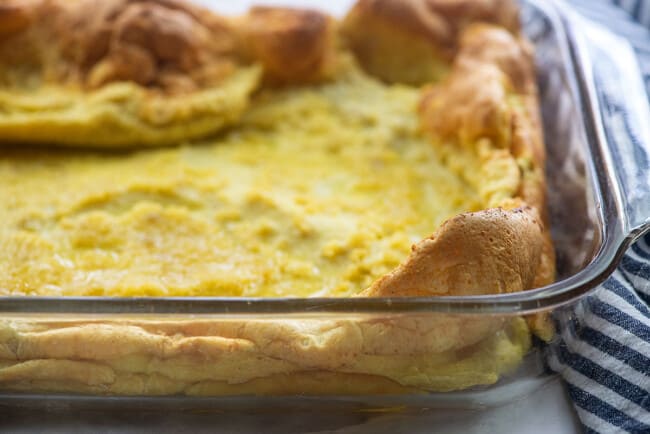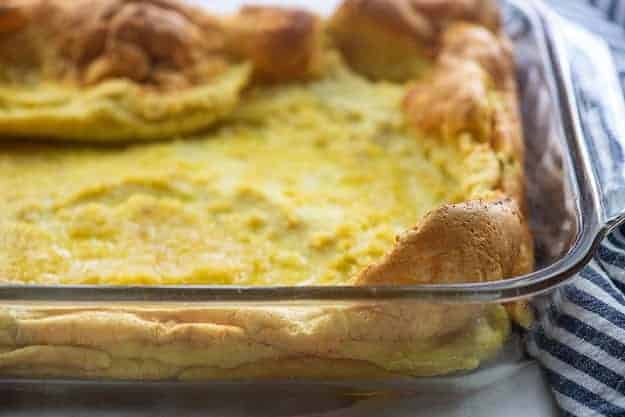 Bonus: This recipe uses pantry staples like flour, eggs, milk, and butter!
This comes in super handy when you're craving french toast, but don't have bread on hand!
It calls for basic ingredients that you're sure to have around and the kids will love watching it poof up in crazy shapes.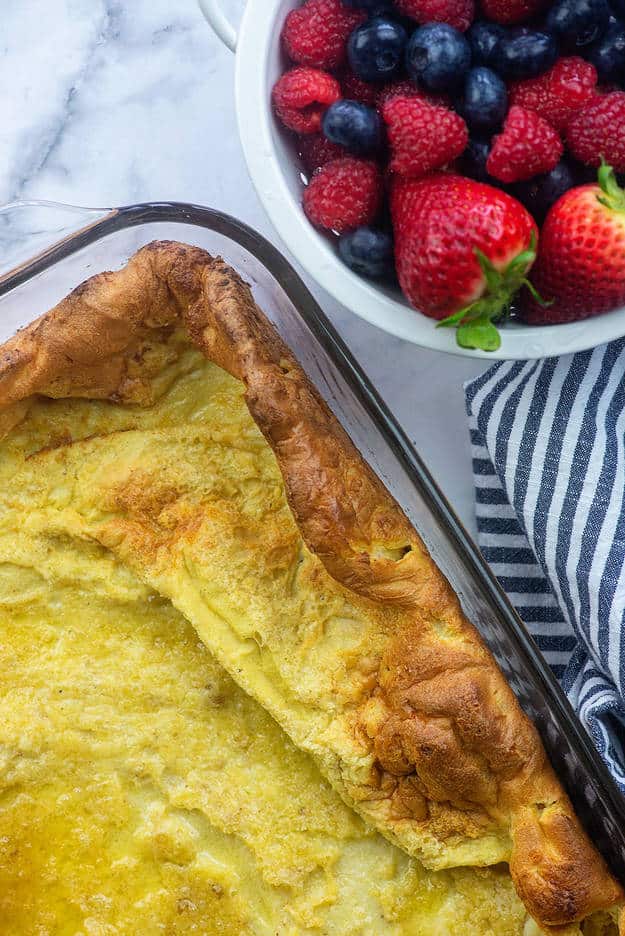 Tip: The hootenanny will NOT bake up the same if you don't melt the butter/heat the pan in the oven. Something about the batter hitting an already hot dish helps it to puff up nicely. It will settle a bit as it cools – this is normal.
This is the perfect kind of morning treat. Nobody has time to be flipping pancakes or soaking bread in eggs or dealing with a waffle maker at 7am. (Although my best waffles and homemade biscuits are kind of worth the extra effort.)
Top this off with some fresh fruit and a drizzle of maple syrup. You can't go wrong!

More kid-friendly breakfast recipes: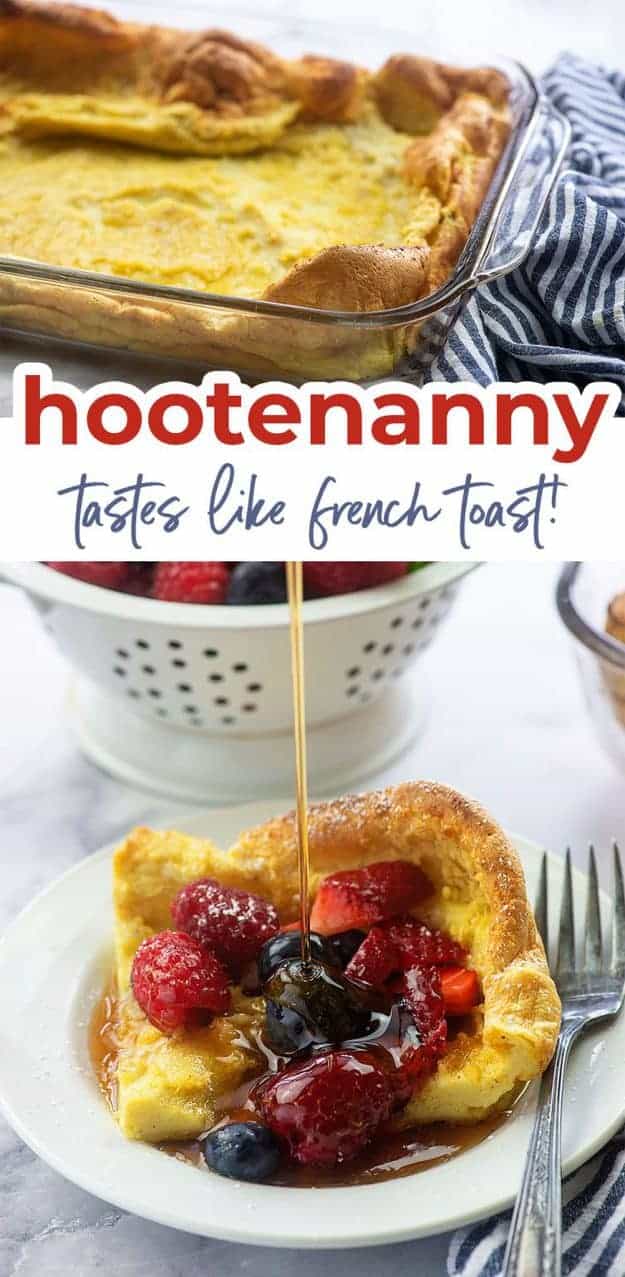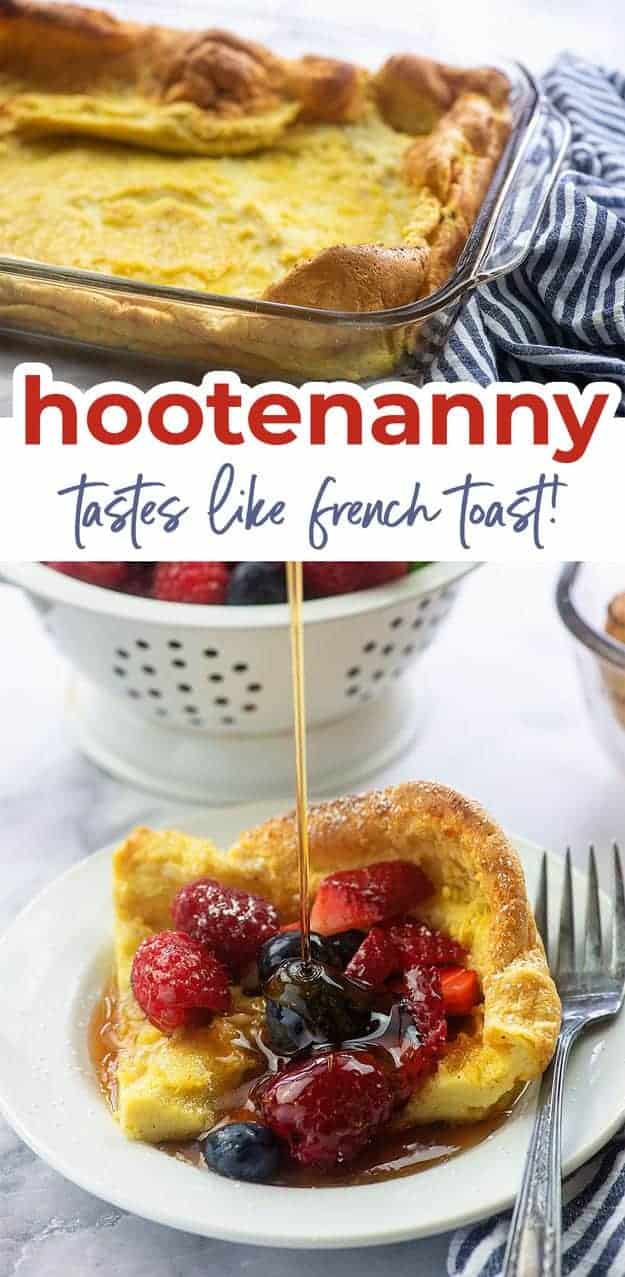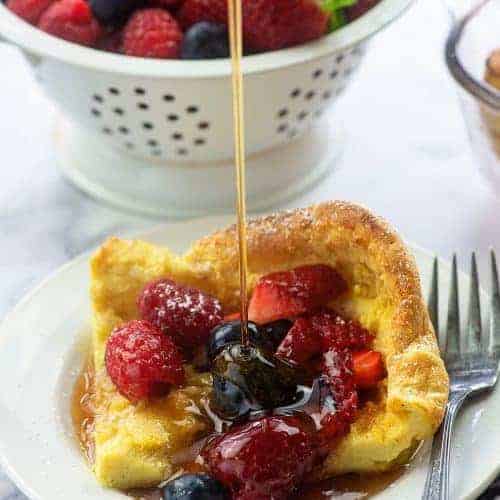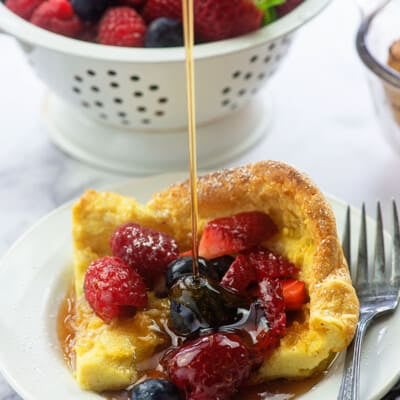 Hootenanny
Hootenanny is a kid favorite in our house! Tastes like french toast, but it's so much easier to make!
Prep10 minutes
Cook25 minutes
Total35 minutes
Ingredients
6 tablespoons butter
6 large eggs
1 cup milk
1/4 teaspoon salt
1 cup flour
1 teaspoon cinnamon
1/2 teaspoon vanilla
1/4 teaspoon nutmeg
Instructions
Preheat the oven to 425 degrees.

Place the stick of butter in a 9x13 baking dish and put it in the oven to melt while you prepare the batter. Keep an eye on the butter and remove the pan from the oven if it starts to brown, but work quickly so that the pan does not cool.

Beat the eggs, milk, salt, cinnamon, vanilla, and nutmeg until frothy.

Whisk in the flour until well combined.

Pour over the melted butter in the baking dish. Do not stir.

Bake for 25 minutes or until the center is set and the edges are browned.

Slice into 8 pieces and serve with maple syrup, fresh fruit, or powdered sugar.
Tips & Notes:
Be sure the butter and pan are hot from the oven before pouring the mixture into the pan or it will not puff up as well. The hootenanny will settle a bit after removing from the oven. This is normal.
Nutrition Information:
Calories: 232kcal (12%)| Carbohydrates: 13g (4%)| Protein: 7g (14%)| Fat: 16g (25%)| Saturated Fat: 9g (56%)| Cholesterol: 173mg (58%)| Sodium: 240mg (10%)| Potassium: 108mg (3%)| Sugar: 1g (1%)| Vitamin A: 605IU (12%)| Calcium: 64mg (6%)| Iron: 1.4mg (8%)
This recipe was originally published in November 2011. It's been updated with new photos in April 2020.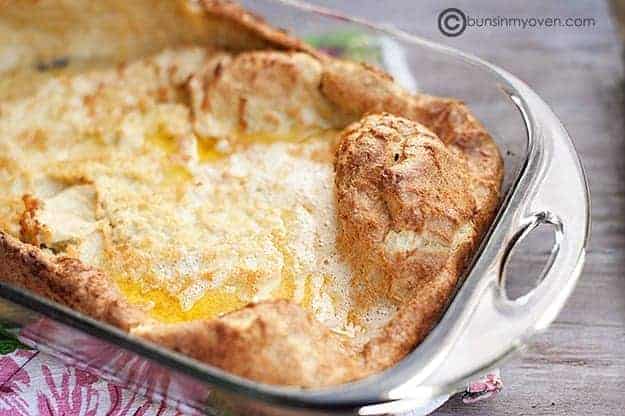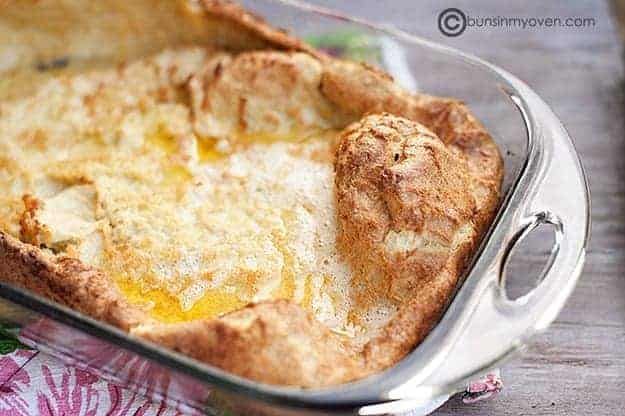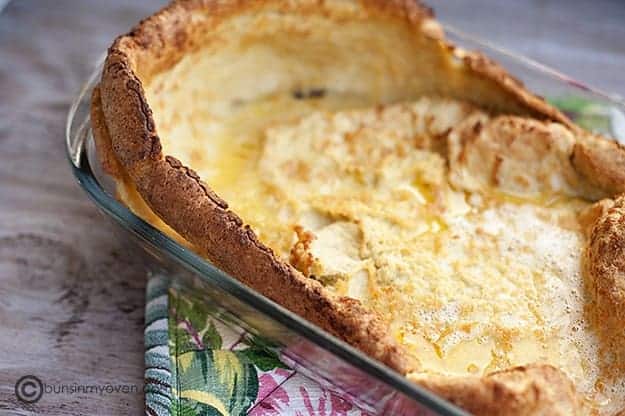 adapted from Food.com