August 24, 2018
Chocolate Cobbler
Let's talk about growth for a moment, shall we?
No, not the type of growth one might experience from devouring this chocolate cobbler recipe. I mean the type of growth you do as you're learning something new.
For instance, photography. There is so much growth to be done when you first pick up a camera.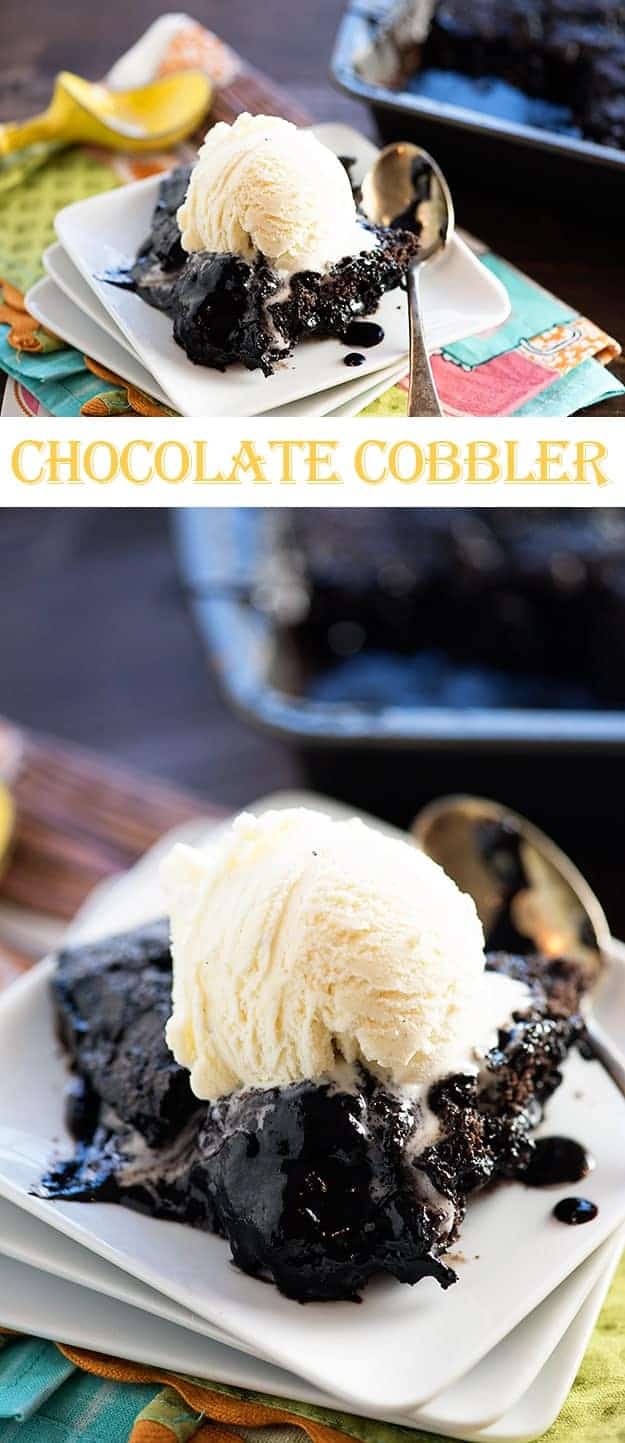 I thought I was a pretty good photographer by the time I got around to starting this blog. I thought that people would flock to me for my photos just as much as they would my recipes. You guys. I had so much to learn.
I shared this chocolate cobbler recipe way back in December of 2008. It was one of the first few recipes that I shared on this blog and I was pretty proud of everything about it.

Here is one of the images from that post. It's a close-up, so please prepare yourself.
Just for fun, because it's sometimes okay to make fun of yourself for the amusement of others, here is the "beauty shot" and I put that in quotations, because there is nothing beautiful about it.
I mean. This is a delicious dessert. It's beyond easy to make. I'll bet no one actually knows that though, because they are sucked into the black hole that is the darkness of these photos. The terrible color. The weird angles. All of it just speaks to you, right? And what it says is, "this girl needs to practice with her camera."
So, here we are 8 years later and I'm pretty proud of the photos I'm sharing of this recipe today. Of course, 8 years from now I'll probably look back, cringe, and reshoot everything again. Growth, man. It's funny how it works.
Why I Love This Recipe:
No weird ingredients: This cobbler calls for nothing but the staple ingredients most people are stocked with. Unlike fruit cobblers, you don't have to worry about your fruit getting too ripe or washing, peeling, and chopping anything. It's all just simple things in your cabinet that you grab and go. The recipe does call for espresso powder, but if you don't have it on hand, just skip it. No big. It does help deepen the chocolate flavor, so I do recommend you buy some. It's great in my perfect chocolate chip cookies, homemade brownies, and just about any dessert that calls for a lot of chocolate. Get it here.
It's easy: That's something I say about a lot of my recipes, but that's because I like easy recipes and so I share them a lot. This one is simple. The hardest part of the whole thing is heating up some water to slowly drizzle over the top of the mixture before you bake it.
It's chocolate: Most people haven't even heard of a chocolate cobbler. I mean, cobbler is for fruit, right? Not this time. This thing is loaded with gooey chocolate, much like a simpler version of a lava cake.
It's versatile: Top it with ice cream, like I'm showing here. Or top it with fresh fruit and whipped cream. Sprinkle on some powdered sugar. Drizzle with a fruit syrup. Leave it alone and eat it straight out of the pan. There are many ways to dress this up if that's the route you want to go!
Chocolate Cobbler
Servings: 6 servings
Course: Dessert
Cuisine: American
Keyword: easy chocolate recipes, easy dessert recipes, holiday recipes
Calories: 404 kcal
This cobbler calls for nothing but the staple ingredients most people are stocked with. It's all just simple things in your cabinet that you grab and go. The recipe does call for espresso powder, but if you don't have it on hand, just skip it.

Ingredients
For the cobbler:
6 tablespoons butter
1 cup flour
3/4 cup white sugar
2 tablespoons cocoa powder
1 teaspoon espresso powder
1 1/4 teaspoons baking powder
1/4 teaspoon salt
1/2 cup milk
2 teaspoons vanilla extract
For the topping:
1/2 cup brown sugar
1/4 cup white sugar
1/4 cup cocoa powder
1 1/2 cups hot water
Vanilla ice cream or whipped cream, for serving
Instructions
To make the cobbler, pre-heat oven to 350 degrees.

Place the butter in an 8x8 baking dish and put inoven while it preheats until butter has melted.

Mix together dry ingredients.

Whisk milk and vanilla into dry ingredients until well combined.

When butter has melted, carefully spoon the chocolate mixture over the melted butter evenly.

To make the topping, mix together the dry ingredients with a whisk. Sprinkle over the top of the chocolate cobbler.

Slowly and carefully pour the hot water over the top, being sure to cover the topping with water.

Bake for 30-35 minutes until the top has firmed up, but the cobbler is still quite jiggly in the middle.

Serve warm with either vanilla ice cream or whipped cream.
Nutrition Facts
Chocolate Cobbler
Amount Per Serving
Calories 404 Calories from Fat 108
% Daily Value*
Fat 12g18%
Saturated Fat 8g50%
Cholesterol 32mg11%
Sodium 216mg9%
Potassium 243mg7%
Carbohydrates 71g24%
Fiber 2g8%
Sugar 52g58%
Protein 3g6%
Vitamin A 385IU8%
Calcium 89mg9%
Iron 1.9mg11%
* Percent Daily Values are based on a 2000 calorie diet.
Nutrition Disclaimer: All information presented on this site is intended for informational purposes only. I am not a certified nutritionist and any nutritional information shared on bunsinmyoven.com should only be used as a general guideline.