These Star-Spangled Brownies are the perfect patriotic treat for the 4th of July and it's an easy recipe that the kids will enjoy decorating!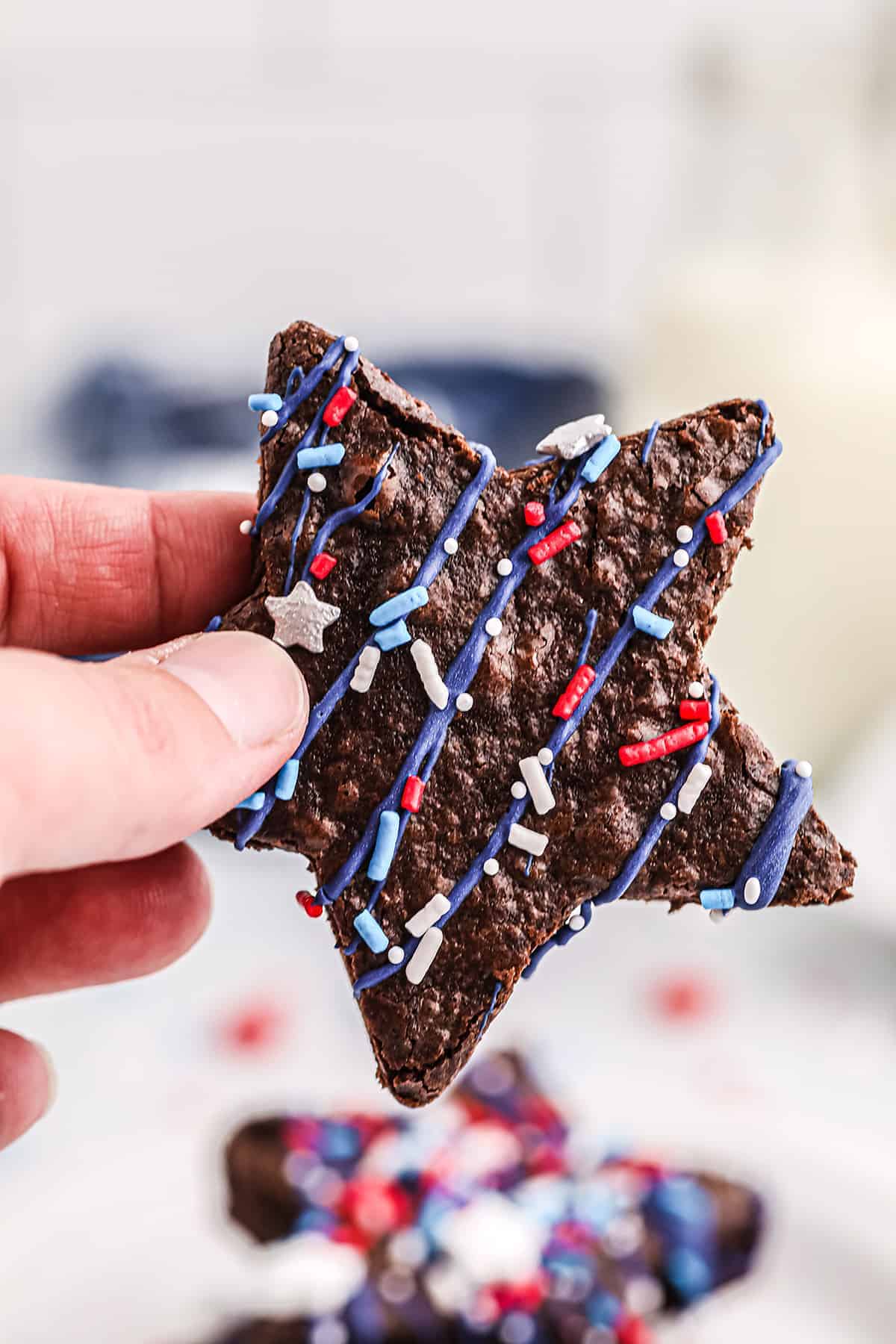 I'm not much of a cake baker or cookie decorator. I like to keep it simple, both because I don't have a ton of patience for decorating and because I really don't have the skill for it! 😉
Of course, I still like to make fun treats for my kiddos and friends to enjoy on the holidays, so I've got quite a few tricks up my sleeve for simple, festive treats.
Like these Star Spangled Brownies! They look adorable, they're super festive, and they take about zero skill to make. But of course, they're delicious and everyone is going to think you're a star for making them!
Brownie Ingredients:
Box of Brownie Mix – Whatever your favorite brownie mix is will work, just be sure it's made for a 9×13 pan so your brownies aren't super thin. Alternately, use my homemade brownies!
Eggs
Cold Coffee – The secret ingredient! This will ramp up the chocolatey flavor of any boxed mix. Not to worry – these won't taste like coffee.
Butter
Cocoa Powder
Vanilla Extract
Blue Candy Melts
Red & White Sprinkles
What We Love About This Recipe!
We love to make homemade brownies, but made from scratch is definitely more time consuming. This recipe is simple because it uses a boxed mix, but extra special with our improvements, like swapping the water for coffee!
How to Make Brownies:
Mix: We're going to cheat a little and use a boxed brownie mix for this recipe. This will save us some time, and luckily we know how to make boxed brownies better!
Add the brownie mix, eggs, butter, cocoa powder and vanilla extract to a mixing bowl. Finally, add in the secret ingredient: the cold coffee! Don't worry, your brownies won't taste like coffee but they will taste more chocolatey!
You can start pre-heating the oven while you do the mixing!
Helpful Tip!
While most boxed brownie mixes are pretty similar, you may have different requirements. The easiest way to adjust is to substitute however much water the boxed recipe calls for with the coffee. And for the oil, just substitute it with the butter.
Bake: When the mixing is done you can move on to the baking. It's easiest to use a parchment paper lined dish for this recipe. Pour the brownie batter into the pan and smooth.
The brownies should take about 20 to 25 minutes to bake. When they've finished go ahead and allow them to cool before moving on to the next step!
Cut: Once the brownies are cool, grab a star shaped cookie cutter and start cutting out your stars. You can use both large and small cookie cutters so that you can use as much of the brownie as possible.
Any scraps are obviously for the baker to munch on. 😉
Decorate: This next step can get messy! We used a wire cooling rack over a baking sheet to decorate the brownies for easy cleanup.
Melt the blue candy melts in the microwave and begin drizzling it over the top of the brownies.
Finally, top the brownies with the red & white sprinkles before the melts have set so that the sprinkles will stick. Let the melts set and finally you can serve!
Frequently Asked Questions:
How do I store these Star-Spangled Brownies?
These brownies will stay soft and tasty for about 3 to 5 days if stored at room temperature in an airtight container.
Should I eat these warm or cold?
That's up to you! We love a fresh warm brownie soon after it's out of the oven, but you also will want to leave a little time for the candy melts to cool and set.
What kind of brownie mix should I use?
Your favorite kind! In this recipe we used a Duncan Hines mix, but this is an easy recipe that should work with any boxed mix.
Why do you use coffee in this recipe?
Coffee and dark chocolate have similar flavors, and when you add the coffee it helps enhance the chocolate flavor. Espresso powder can also be used in place of a brewed cup of coffee or you can just leave it out altogether and use the water called for on your box of brownies.
MORE BROWNIE RECIPES!
Check out some of our other favorite brownie recipes below. We have so many brownie recipes that we needed to make a whole category for them. Follow the link if you want to see all of our brownie recipes!
More Fourth of July Favorites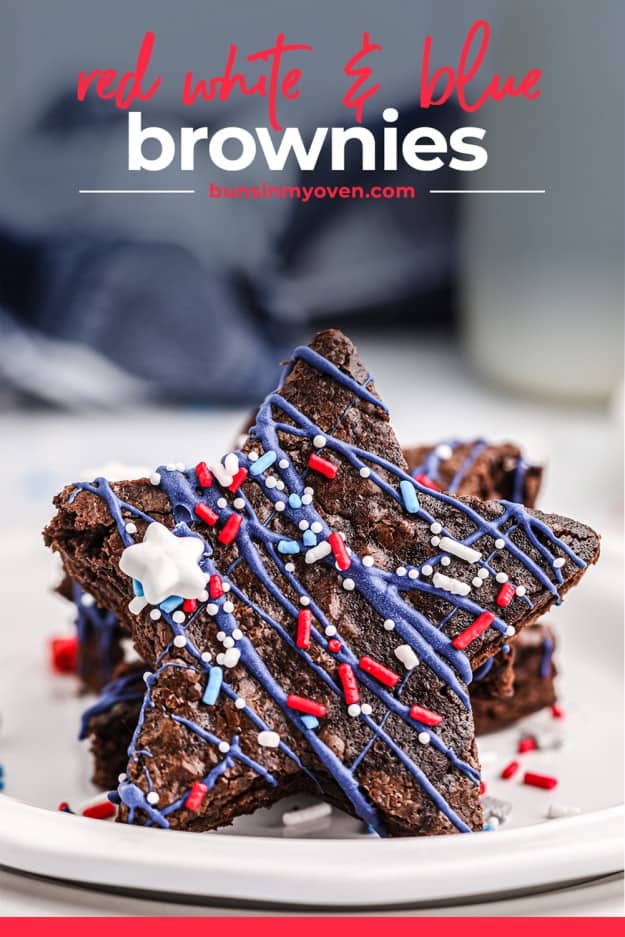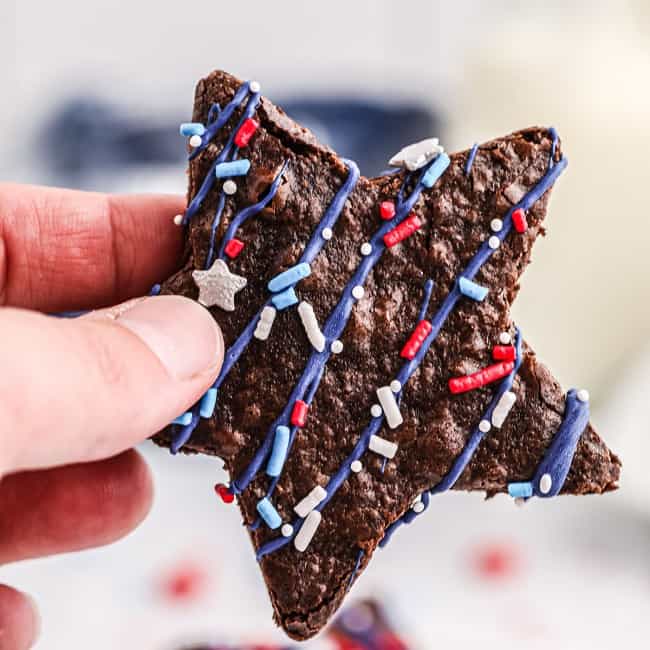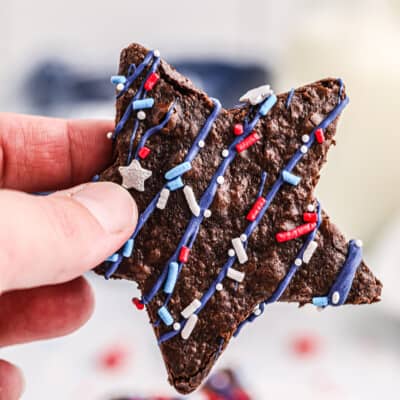 4th of July Brownies
These star shaped brownies are all dressed up for the 4th of July with melted candy and loads of sprinkles. The kids love to help decorate these simple, patriotic treats.
Prep20 minutes
Cook25 minutes
Total45 minutes
Ingredients
1 box brownie mix 9×13 size
2 large eggs
1/3 cup cool coffee
1/3 cup butter, softened
2 tablespoons cocoa powder
1 teaspoon vanilla extract
6 ounces blue candy melts
red, white, and blue sprinkles
Instructions
Preheat oven to 375 degrees. Line a 9×13 baking dish with parchment or foil.

In a large bowl, combine the brownie mix, eggs, coffee, butter, cocoa powder, and vanilla extract. Beat well to combine.

Pour the brownie batter into the prepared baking dish.

Bake for 20-25 minutes, or until a tester comes out clean.

Allow the brownies to cool before removing them from the pan.

Using a star shaped cookie cutter, cut the sheet of brownies into stars. The number of stars you get will depend on the size of your cookie cutter. Use a smaller star for more brownies.

Place a wire cooling rack inside a baking tray and place the star shaped brownies on top.

Place the candy melts into a microwave safe bowl and heat in 15-20 second bursts, stirring each time, until melted and smooth.

Drizzle the melted candy over the brownies and then top with the sprinkles immediately.

Allow the candy melts to set before serving.
Tips & Notes:
The number of brownies you get will vary based on the size of cookie cutter you use. We like to use a small star to cut tiny brownies from the scraps as well. Otherwise, the scraps are just munched on while we decorate.
Nutrition Information:
Serving: 1brownie| Calories: 334kcal (17%)| Carbohydrates: 45g (15%)| Protein: 4g (8%)| Fat: 15g (23%)| Saturated Fat: 7g (44%)| Polyunsaturated Fat: 1g| Monounsaturated Fat: 5g| Trans Fat: 1g| Cholesterol: 53mg (18%)| Sodium: 225mg (10%)| Potassium: 35mg (1%)| Fiber: 1g (4%)| Sugar: 30g (33%)| Vitamin A: 243IU (5%)| Calcium: 9mg (1%)| Iron: 2mg (11%)