Building a Mother's Day Charcuterie Board is simple with our easy tricks and this charcuterie board is sure to impress mom! We loaded this with meats, cheeses, fresh fruits, and sweet treats for plenty of variety and color! Plus, we're sharing how to make a salami rose to make your board extra special!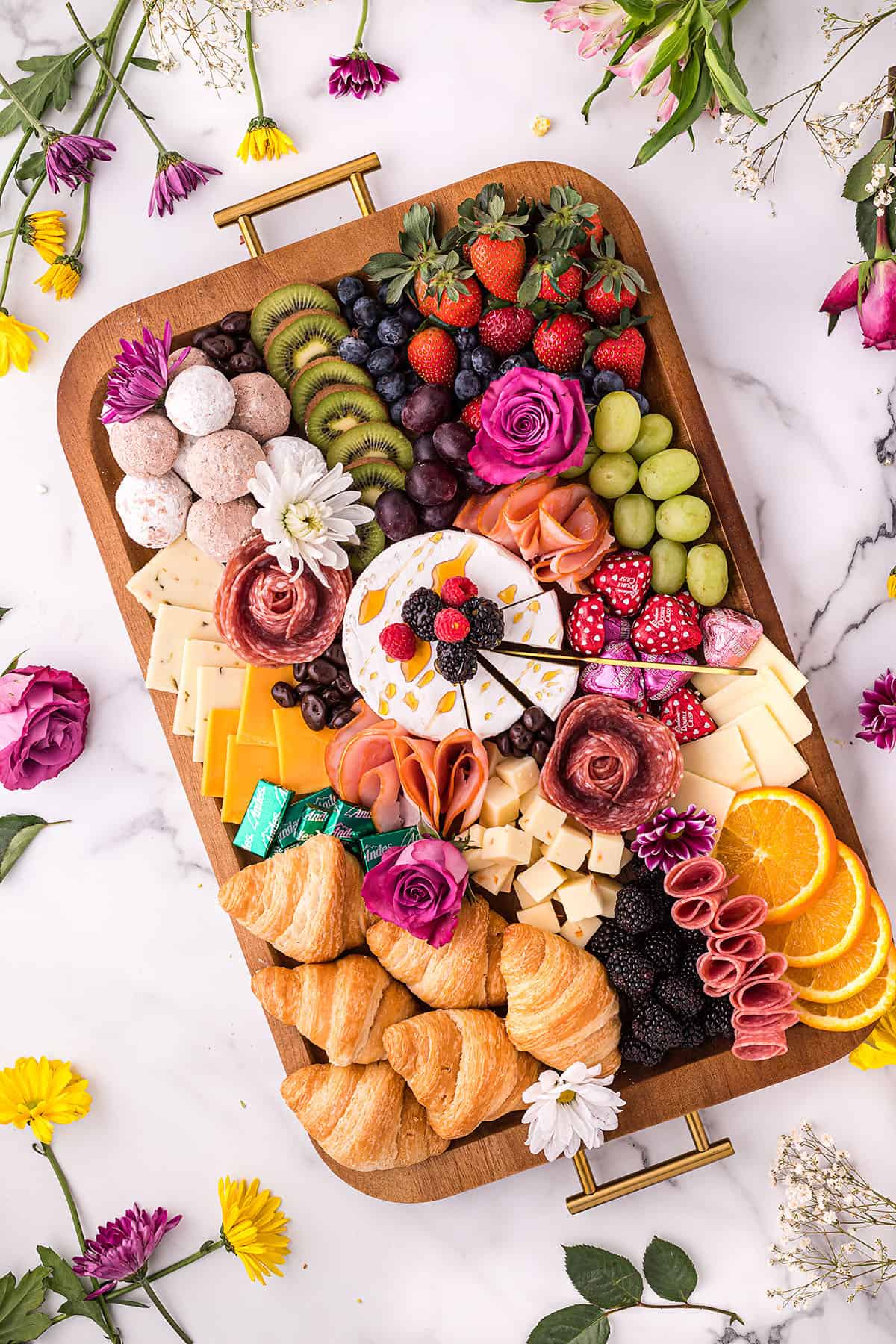 Mother's Day is almost here and that means we'll be hosting a Mother's Day lunch at house, featuring plenty of Mom's favorite foods.
My husband does a lot of the prep work (after all, I'm a mom, too!) and the kids do all of the clean up.
I'm happy to pitch in by creating a gorgeous charcuterie board for Mother's Day!
Charcuterie boards are one of my favorite things to make for a gathering because they are guaranteed to get oohs and ahhhs from guests, everyone loves grazing, and charcuterie boards are just plain pretty!
Did I mention how easy it is to make this board? Let me walk you through it!
Ingredients Used:
This post contains affiliate links. As an Amazon associate and member of other qualifying programs, I earn from qualifying purchases.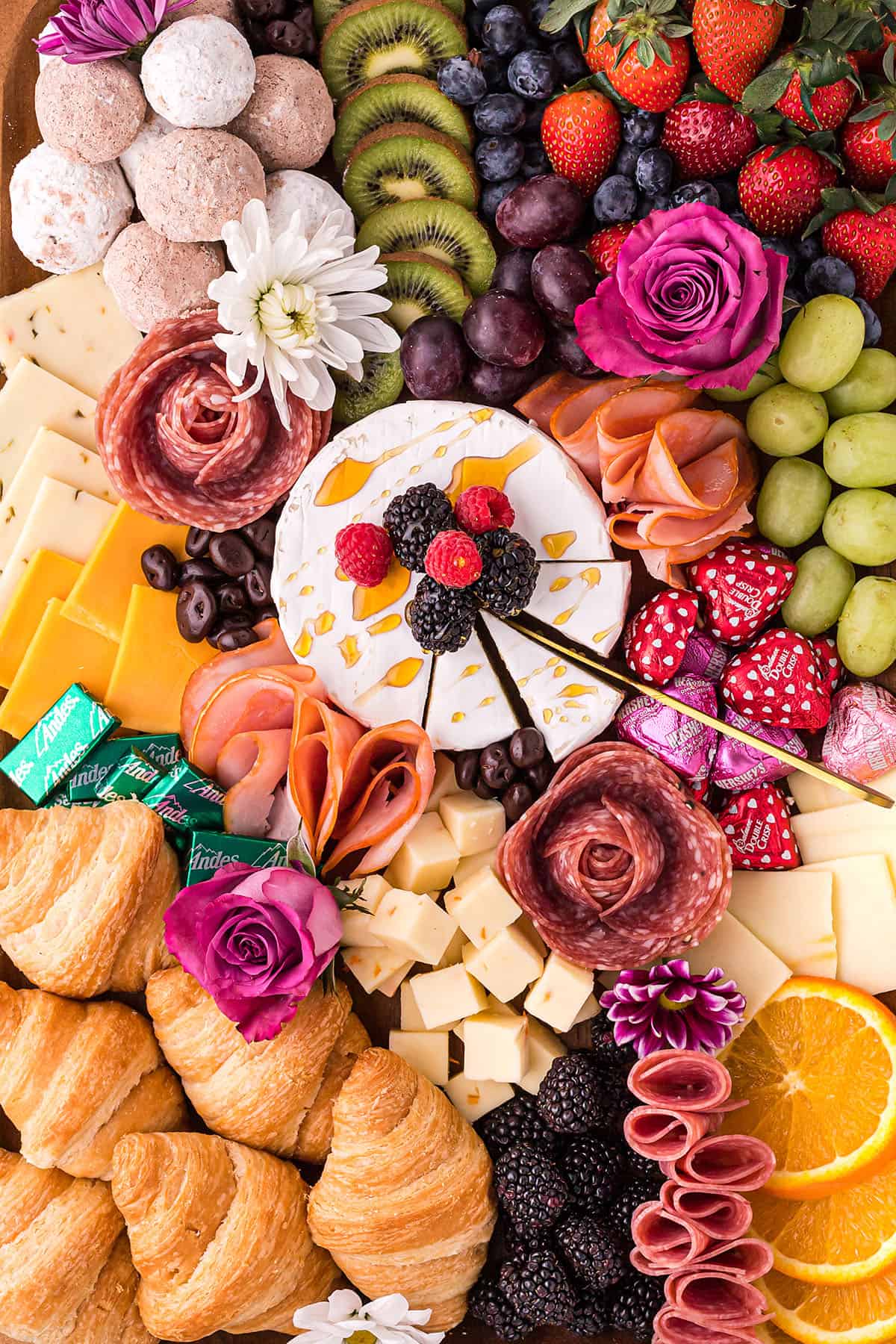 If this seems like it's a lot of stuff… well, it is! You'll need to shop around if you want to make a charcuterie board just like the one featured here, but feel free to swap in some of Mom's favorites! There's really no wrong way to put this together, so long as you have a good bit of variety and you really pile things on!
You'll need:
Fresh Fruit – I'm using a variety of fresh fruits on this board which include: Kiwi, Strawberries, Blueberries, Grapes, Blackberries, Raspberries, and Oranges. You can swap any of these out for whatever colorful fruit you want!
Meat – We're using freshly sliced salami and honey ham from the deli. Keep reading to see how we make that salami rose – it's easy!
Cheese – We placed a wheel of brie in the center of our board, drizzled it with a touch of honey, and filled in with cheese cubes and cheese slices. Any variety that Mom likes will work well!
Fillers – To fill in the gaps and add a little fun and variety, we added a handful of donut holes, mini croissants, Dove Dark Chocolate Hearts, chocolate covered raisins, and Andes mints.
What We Love About This Board!
This Mother's Day Charcuterie Board has loads of variety, looks gorgeous thanks to the salami roses and fresh flowers, and has a little something for everyone! While charcuterie boards are not the most budget friendly item, they are always a huge hit and they're beyond simple to make while looking super impressive!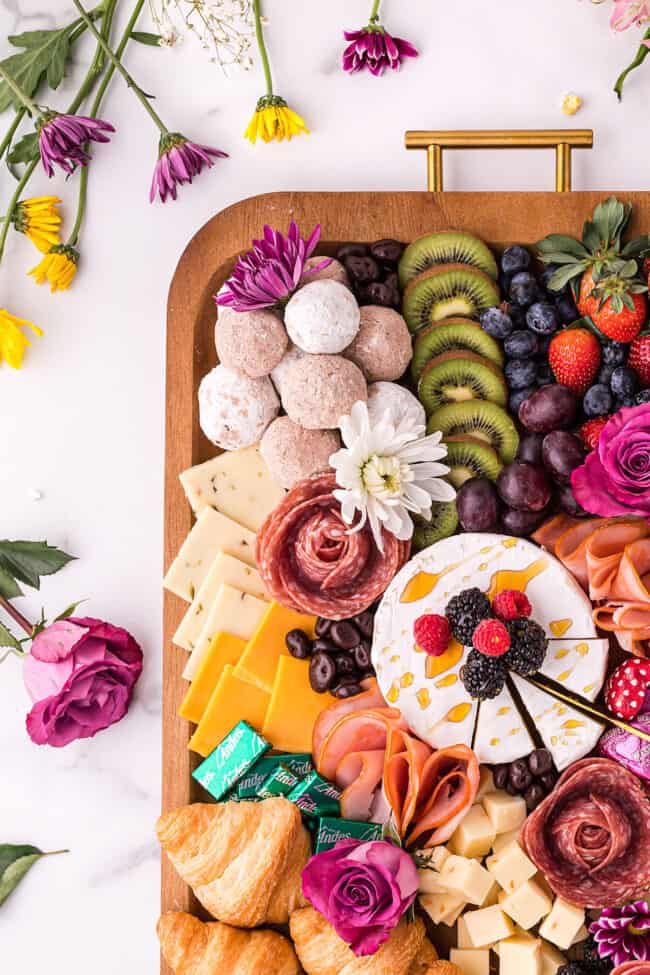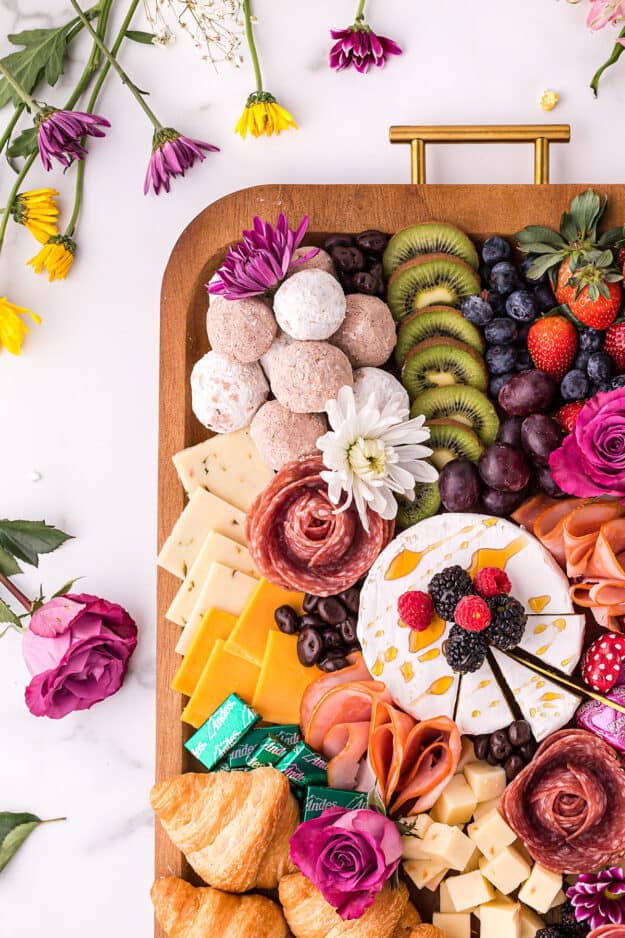 Tools Needed:
Charcuterie Board – You can find the exact same wooden tray that I used in this recipe by following the link. Of course, any board or tray will work!
See the tips and tricks section for more info on choosing a charcuterie board!
Flowers – This is a great way to add some color and appeal to the board while also filling in any gaps or empty spaces. These are optional, but what mom doesn't love fresh flowers?
How to Make Charcuterie Board: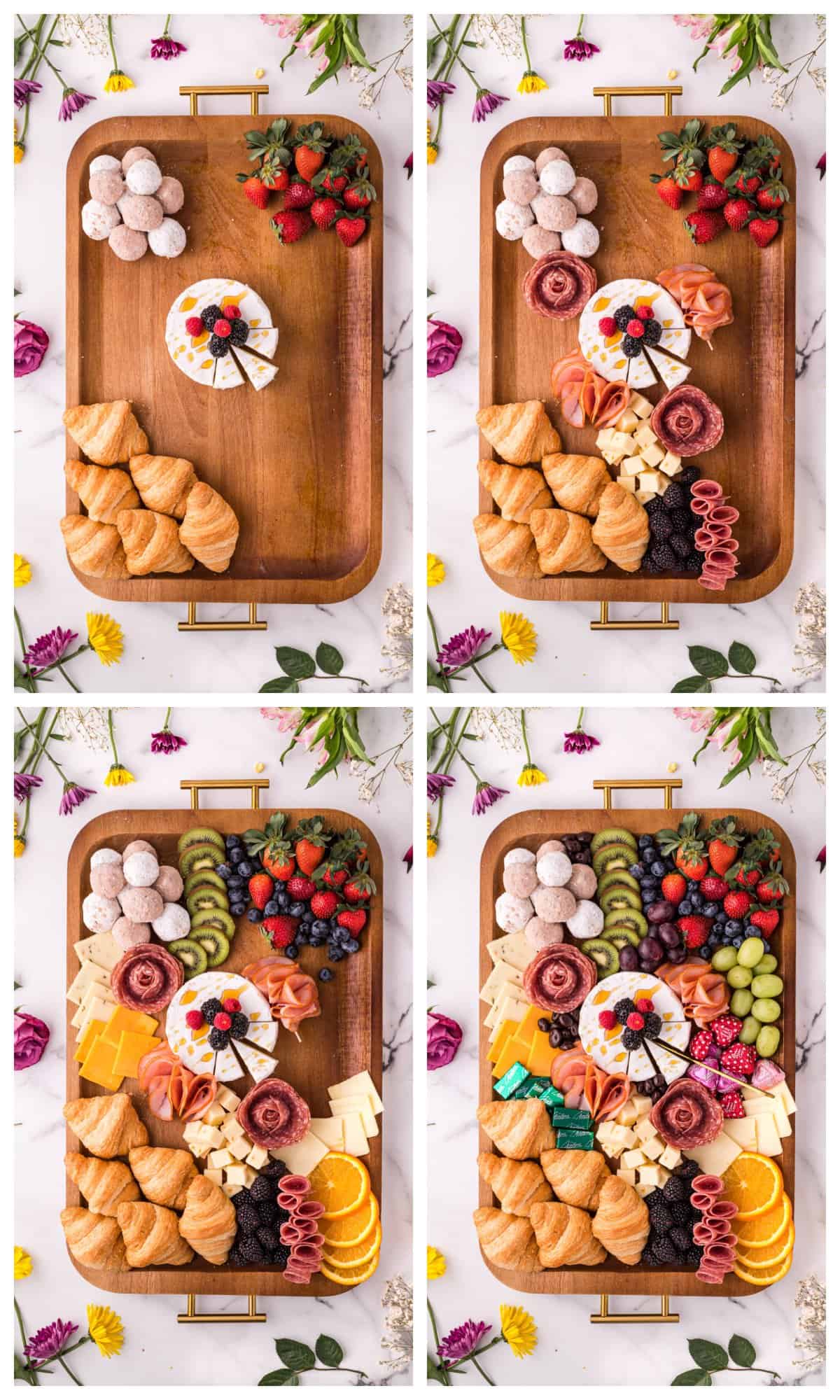 Prep: Slice up your fruit, slice the cheese, and gather the meats and candies.
Outline: I would suggest starting with the brie cheese, mini croissants, strawberries, and donut holes to give a bit of an outline to your board. We like to start with the larger items first.
Fill: Start filling in the spaces. We like to line things from the edge of the board (or the edge of another item). Create lines of cheese slices and meats, arrange the sliced kiwi from one edge to another as an outline around the donut holes, make piles of fruit, etc.
Stuff: Once you've got your main ingredients filling in the board, it's time to really load the board up. Fill in any gaps and spaces with the wrapped candies, smaller fruits, or cubes of cheese. We want our board to look as if it's overflowing with goodies, so get it in there and fill it up.
How to Make Salami Roses:
You've probably seen salami roses on TikTok, but if not, they're just a simple way to arrange salami that makes it look a little nicer and quite pretty – especially for Mother's Day! Here's a quick video showing the process.
Use a drinking glass or wine glass and place one slice of meat on the rim, folding it over so that half of the meat is inside the glass and half is outside.
Layer the next slice of meat so that it's overlapping the first and repeat the fold. Continue layering slices of meat all the way around the rim of the glass. Keep going to make a nice, full flower with 3-4 layers of meat.
Flip the glass over and place it where you'd like it on the board. Gently remove the glass, leaving the salami flower in place on the board.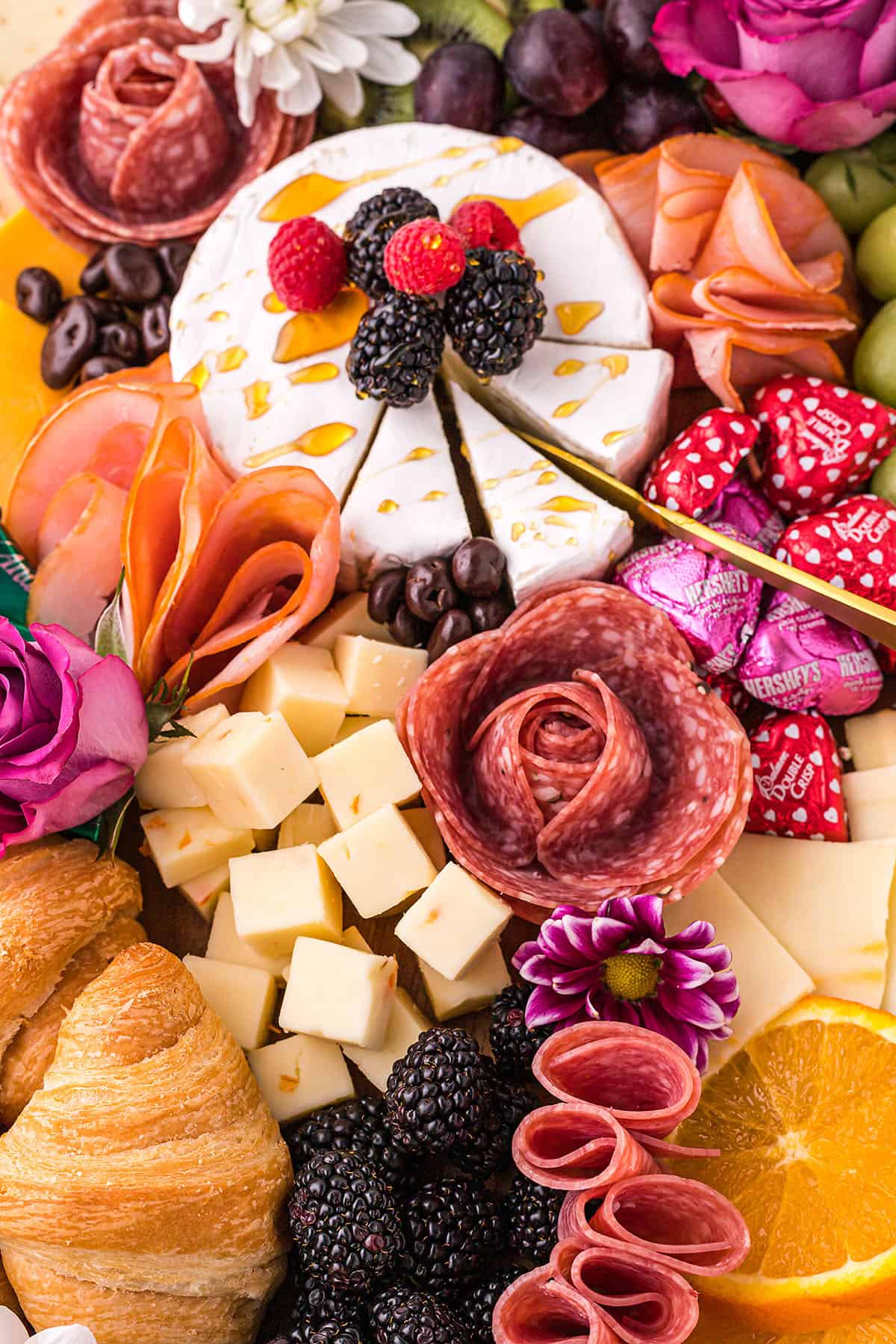 Charcuterie Board Tips & Tricks
These tips and tricks apply for just about any type of charcuterie board, snack board, or dessert board! So whether you're piling it up with fresh fruits, sugary treats or savory meats keep these tips and tricks in mind!
Board: Whatever type you're making you'll obviously need an appropriate board or platter to go with it. They come in all shapes and sizes; some are simple, some are fancy, and some are even themed for holidays or events! We've even used sheet pans as the base for our charcuterie board!
Size: Before choosing a charcuterie board you'll want to keep in mind just how much food you plan to put on it. The bigger the board, the more you'll need to add to fill in all the spaces to keep it looking as appealing as possible.
Shape: There is no rule for what shape of board to use. They are usually either rectangular or circular. Just pick whichever you feel is going to look the best for the theme you are going for!
Material: Something to keep in mind is what the board/tray is made of. Wooden boards look great and work for just about anything, but you might also find that a metal tray or plastic colorful tray is best for the type of board you are assembling.
No Board: You can't have a snack board, dessert board, or charcuterie board without a board! Or can you? You could lay down some parchment paper (or butcher's paper) over a table and arrange the goodies on it if you don't have a board or platter.
Appeal: A lot of the appeal of a charcuterie board is visual! When you see all the colorful treats and savory meats it's supposed to look a bit overwhelming. You want guests to be wowed and a little bit unsure of where to start, because there are just so many tasty options.
Color: You're going to want as much color as possible, arranged artfully to look as appealing as possible! Try to space out the colors. Some flowers are a great way to add more color and appeal to this Mother's Day charcuterie board!
Space: Nothing is sadder than a charcuterie board with lots of gaps or empty spaces. You want the board to look like it is bursting with snacks! Fill in as many gaps and empty spaces on the board as you can so that it's totally packed with snacks, treats, or meats! When you think you've added enough, go back and sprinkle in a little more.
Variety: Go for lots of variety! If you've only got a few snacks to choose from you may want to opt for a smaller board.
Quantity: I prefer variety over quantity on a snack board, so you don't need to have a huge amount of each ingredient unless you've got room to fill in. We often use small amounts of each ingredient and then pop in and refill the board a bit after guests have gone through for the first time. It keeps it looking full when people come back for more.
Budget: Snack boards do cost a bit of money to prepare, because you're just buying such a large variety of goodies. You can keep it more budget friendly by limiting yourself to 4-5 varieties of items and just create several different piles of each rather than keeping them all grouped together. This will make the board look more visually appealing.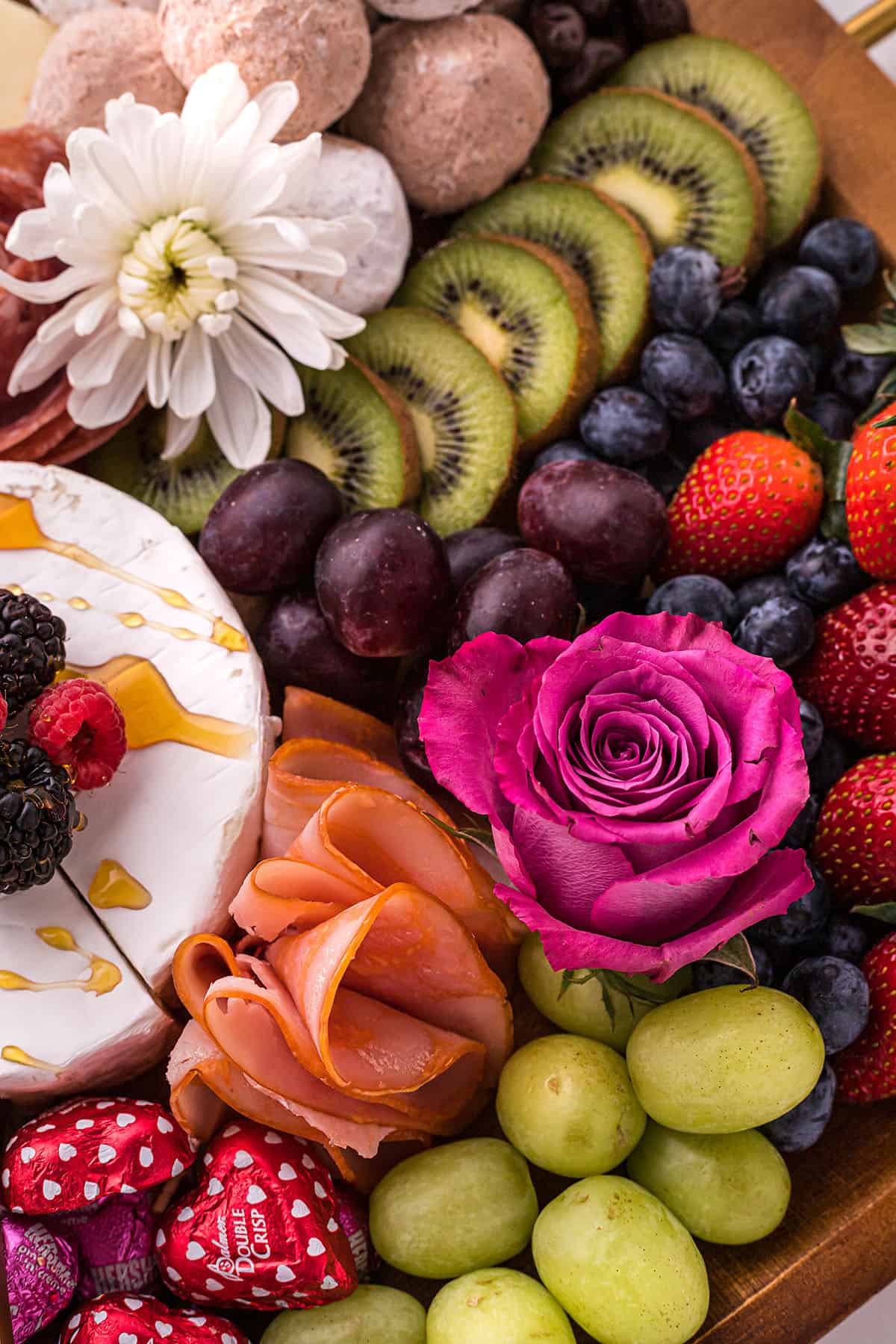 FAQs:
Where do I put everything?
That's where the artistic or creative part of a charcuterie board comes in. It's really up to you how you want to arrange it so go for appealing as possible. I'd recommend starting with the sliced brie cheese as the centerpiece, and then adding in the other items from there.
What to call this board?
It's a Mother's Day charcuterie board because that's what we're celebrating this week, but you can make this board for any holiday or event!
MORE MOTHER'S DAY RECIPES!
Check out some more of these great recipes that you can enjoy on Mother's Day for brunch or dinner!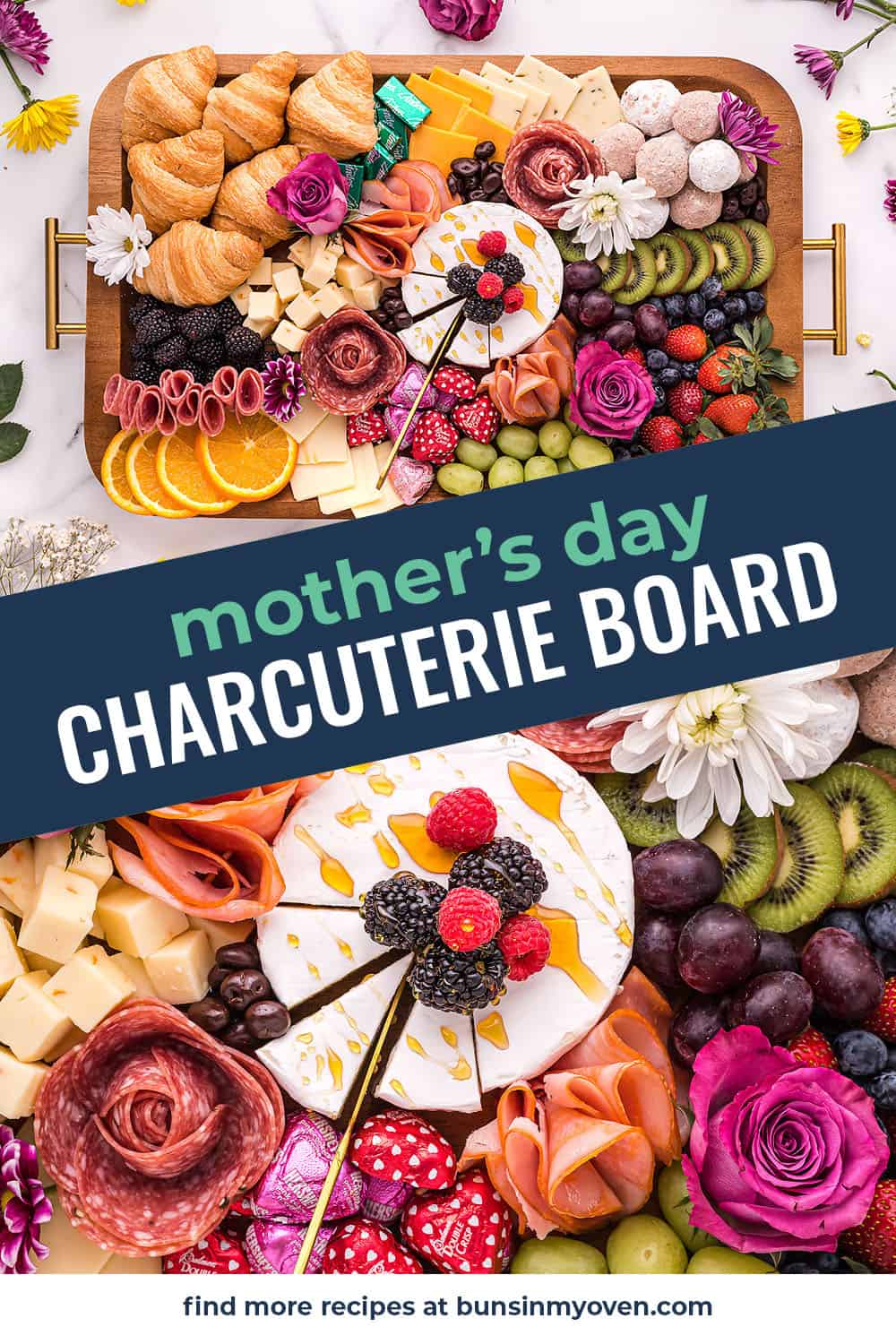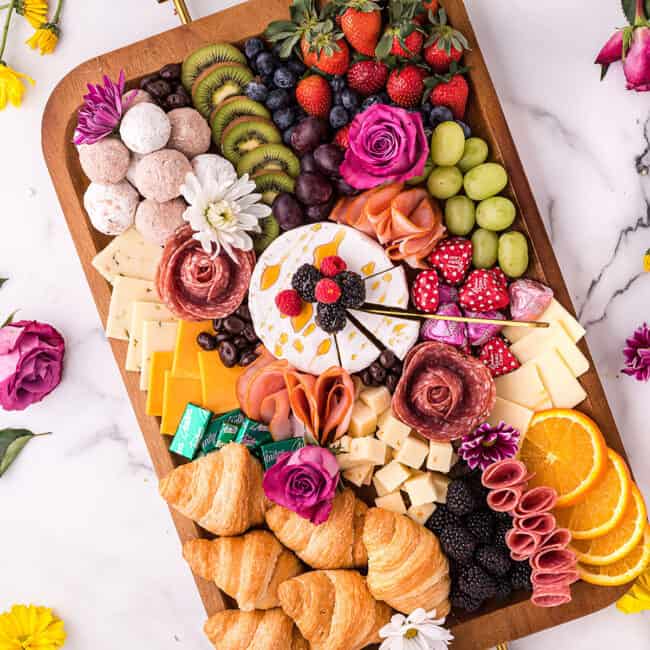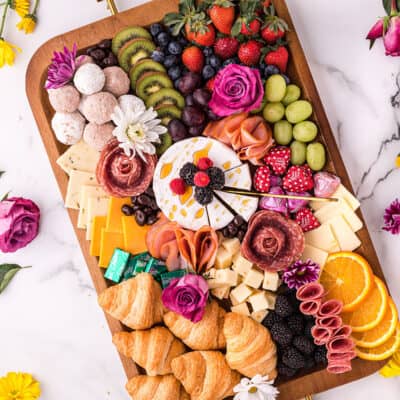 Mother's Day Charcuterie Board
This charcuterie board for Mother's Day is simple to prepare, but so impressive and always a hit! The salami roses add the perfect touch!
Prep30 minutes
Total30 minutes
Ingredients
donut holes
mini croissiants
Brie cheese
cheese cubes
cheese slides such as cheddar, monterey jack, swiss
salami
honey ham deli cut
kiwi
strawberries
blueberries
grapes
blackberries
raspberries
orange
chocolate hearts
chocolate covered raisins
Andes mints
fresh flowers optional
Instructions
Add the brie to the center of a cookie sheet or large wooden tray.

Drizzle brie with honey and sprinkle with a few blackberries and raspberries.

Arrange the croissants, donut holes, and strawberries in the outer corners of the tray.

Start filling in the tray with the remaining ingredients. See notes below to make salami roses or just fold salami in quarters and arrange on the tray.

Fill in any gaps with candies and fresh flowers to make the board look very full.
Tips & Notes:
I did not add measurements for this board due to the size of board you will be using, depending on what type of board you are using or how large of a crowd you are feeding, you could need more or less. To make salami flowers- Use a drinking glass or a smaller glass for small flowers, place meat on the outside and fold down on the rim. Layer next slice of meat and make sure slices are overlapped. Repeat until full. Flip glass over and place flower where you are wanting it on the board. Remove glass. See blog post above for link to video showing how this is done, if needed. I love getting the variety pack of sliced cheese, just because it is already sliced but you can get any cheese you prefer. Remember if you have a certain savory treat that you like or do not like, fill free to switch out these items, do what best fits you and your family. To top this Charcuterie board off I got some smaller flowers and cut them down, placed them over the board to make this board even more beautiful.
Nutrition Information:
Calories: 300kcal (15%)