The ultimate Praline Crunch Snack Mix – Crispix cereal and pecans coated in a buttery brown sugar sauce! This snack mix has been known as Crack Cereal in our house, because it's impossible to stop munching once you start!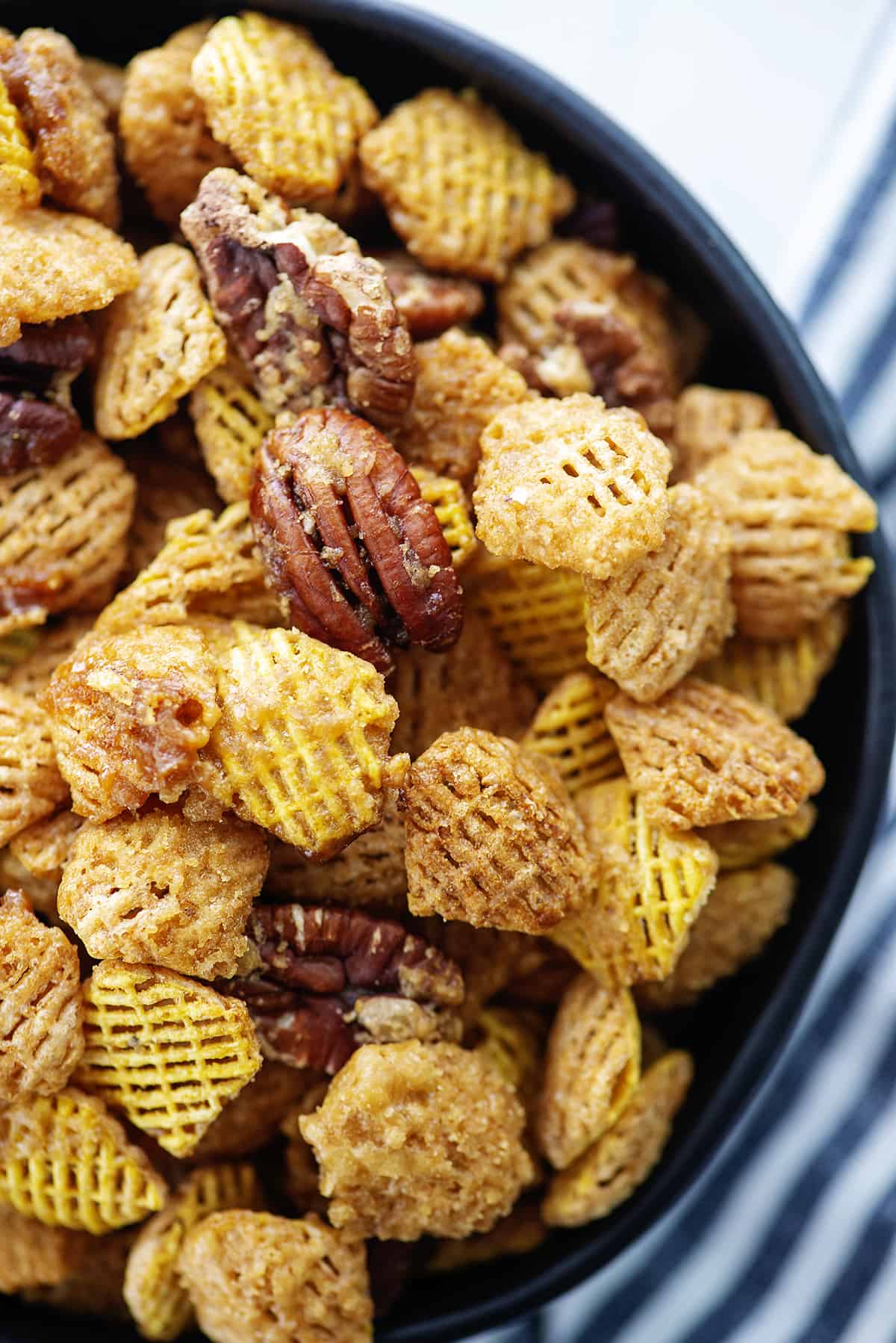 Well, here it is. The recipe that I have become known for over the years, causing friends and family to first love me and then quickly start to hate me when they realize what I've done…
This Praline Crunch Snack Mix is literally one of the best things I've ever put in my mouth. It's so simple with the light texture of Crispix cereal and a simple brown sugar buttery mixture that is just the right amount sweet to keep you coming back for more.
You could easily eat the whole bag of this and not feel sick to your stomach. Which is a problem. Because you'll find yourself accidentally eating a whole bag of this.
And that's why friends and family now hate me. I've ruined every diet for them. I've made them powerless to resist the call of the Crack Cereal. I'm basically the worst.
Take my advice: Make this the next time you have guests, print out a few extra copies of the recipe for people to take home (trust me), and then package up any leftovers for friends and get it out of your house. Or you'll find yourself in the pantry snacking on this at 2 in the morning when there is no one around to shame you. Ask me how I know.
Ingredient Notes: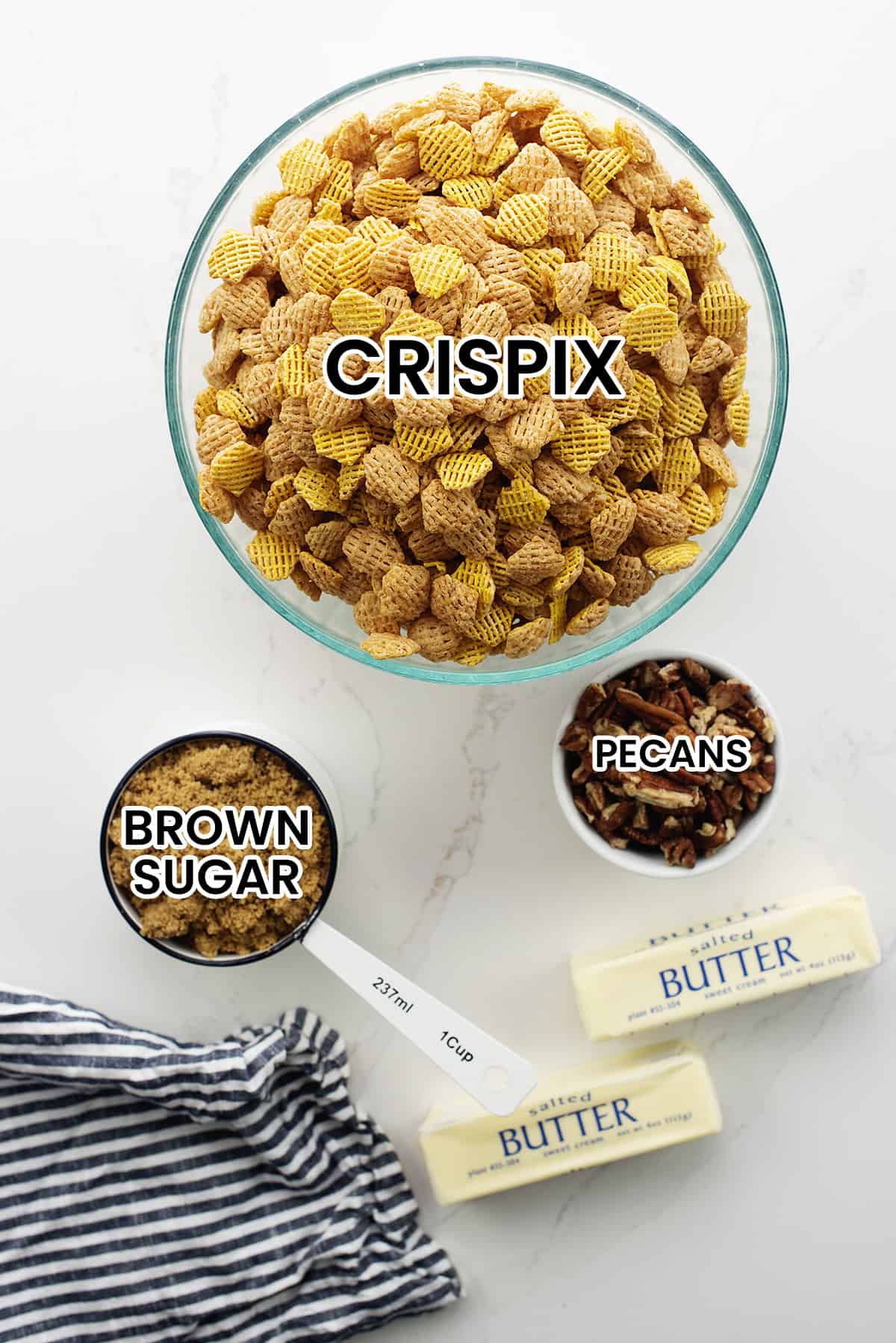 Crispix Cereal – This crunchy, crispy cereal is perfect for making this praline crunch snack mix! You could also use Chex cereal, but we do prefer Crispix in this one!
Pecans – You'll need plenty of pecan halves for this crunchy snack mix.
Caramel Mixture – This is a simple mixture of equal parts butter and brown sugar.
What We Love About This Recipe!
It's just four simple ingredients and this praline crunch snack mix is ready in no time! Usually caramel treats are very sweet, but this has just the right amount of coating to keep you coming back for more. And that light, crispy texture is just divine with the soft, buttery pecans mixed in.
How to Make Snack Mix:
Boil: Melt the butter and brown sugar together in a sauce pan and bring it to a boil for two minutes while stirring frequently.
Prepare: Line 2 large baking sheets with foil and spray with non-stick spray. Divide the cereal and pecans between each pan evenly.
Helpful Tip!
Don't overload the sheet pans, that's why you're using two of them! You want a fairly even layer on each so that you're able to evenly distribute the caramel.
Mix: Pour the caramel mixture evenly over the cereal and pecans on each baking sheet. Give it a quick stir.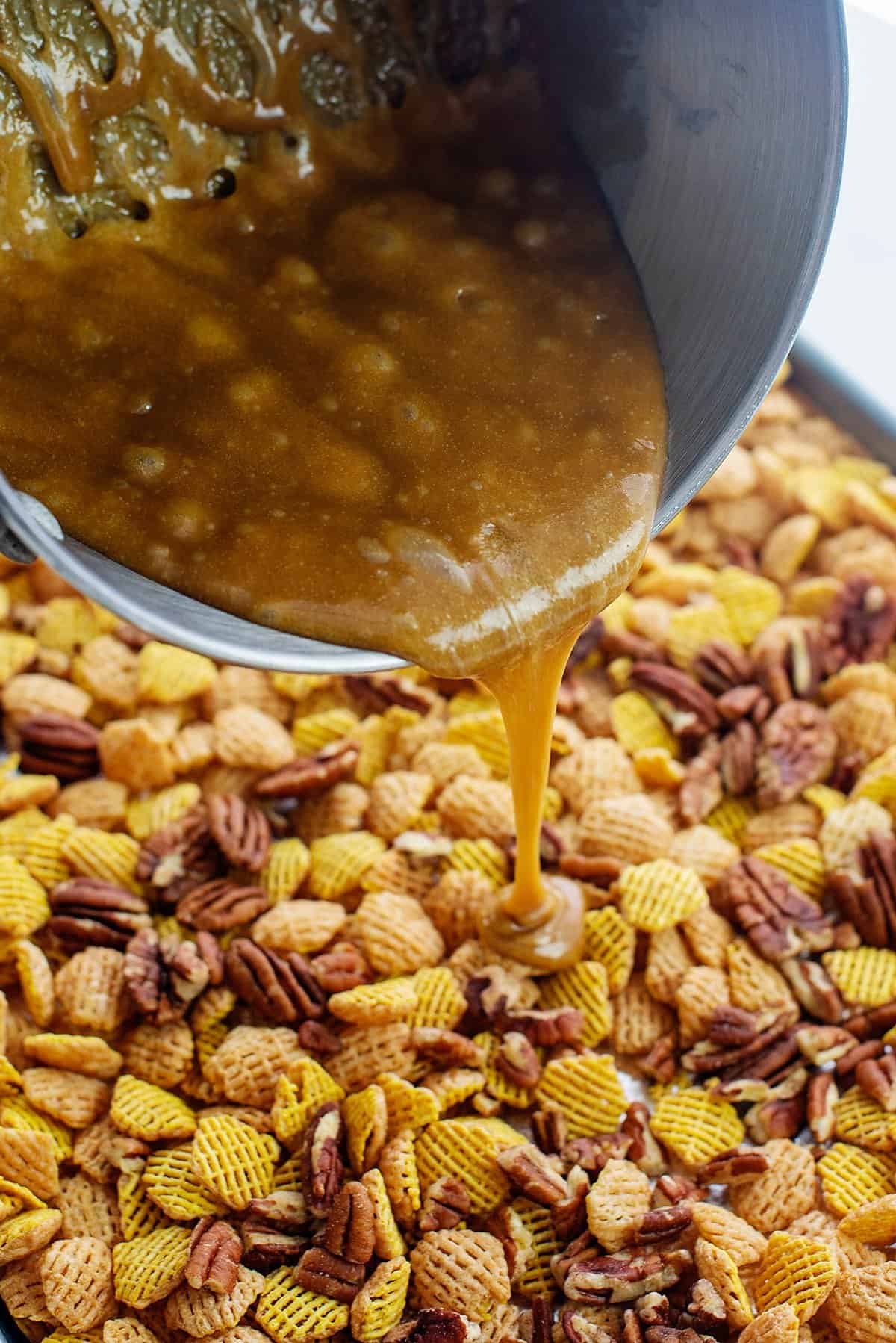 Bake: Bake for 15 minutes, stirring around the 10 minute mark. Let cool completely before serving.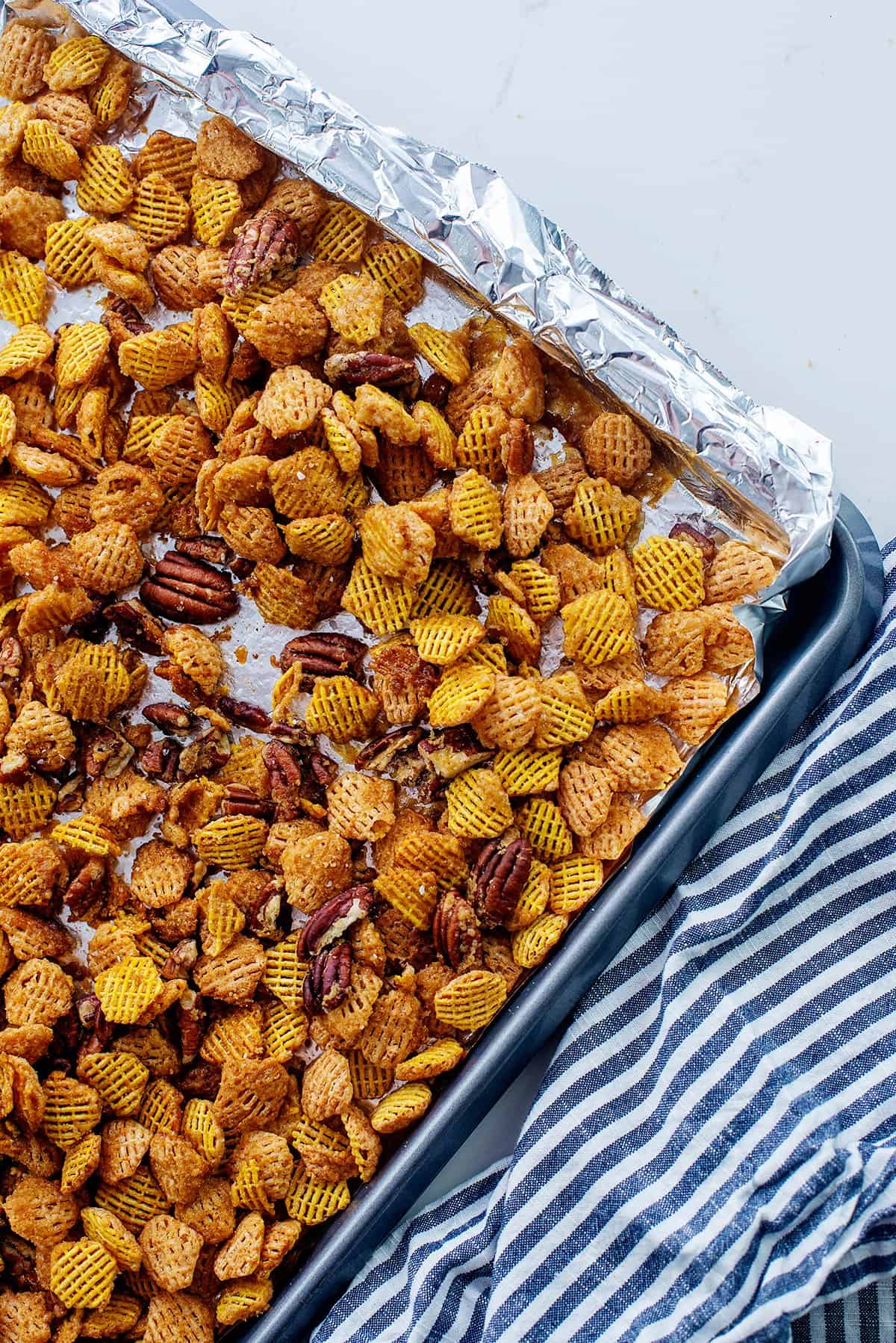 FAQs:
What is praline?
Pralines are a sweet candy made with nuts that are very popular in the American South.
How to store snack mix?
This pecan praline crunch mix is best stored in an airtight container at room temperature. It should keep for about a week!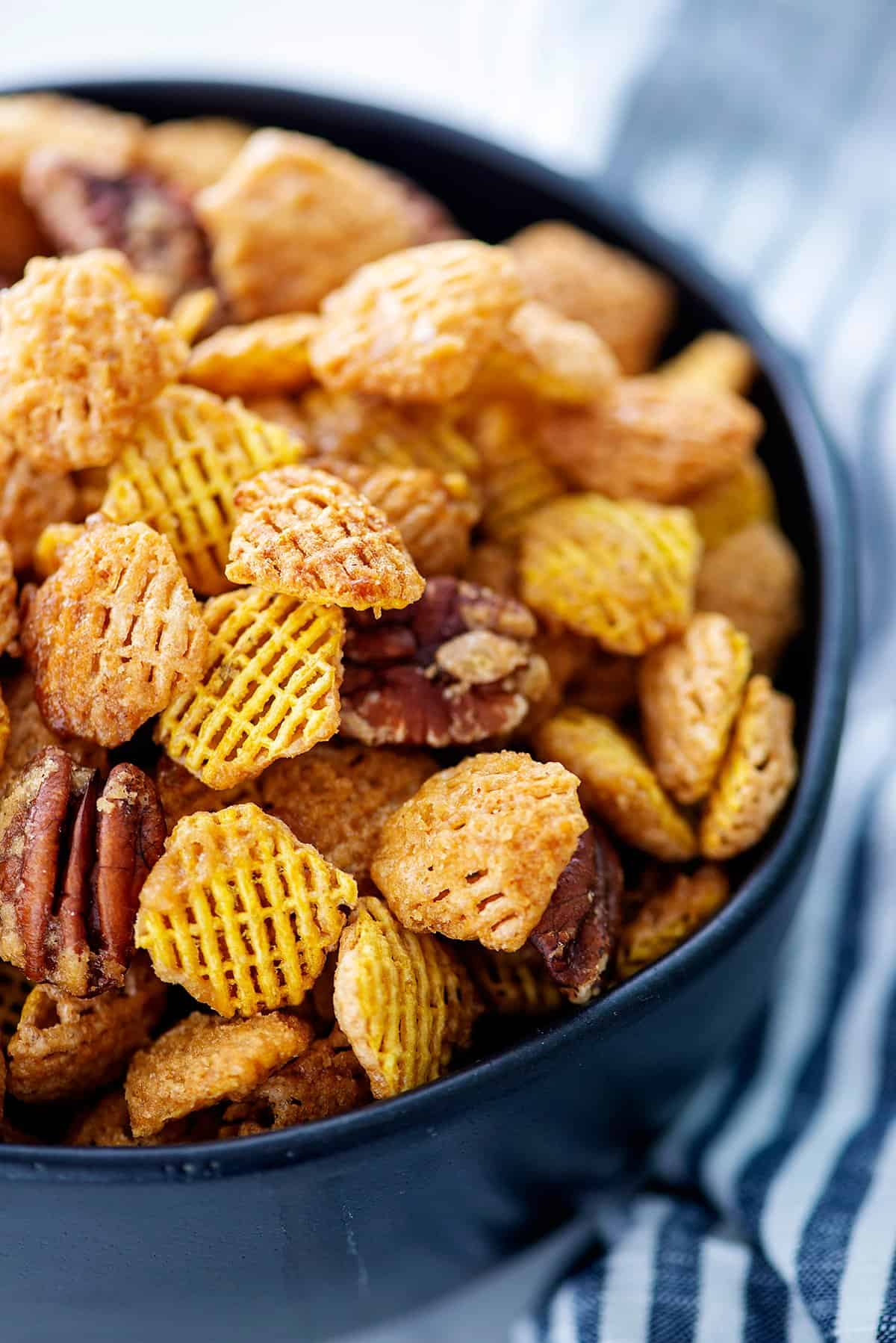 MORE SNACK MIX RECIPES!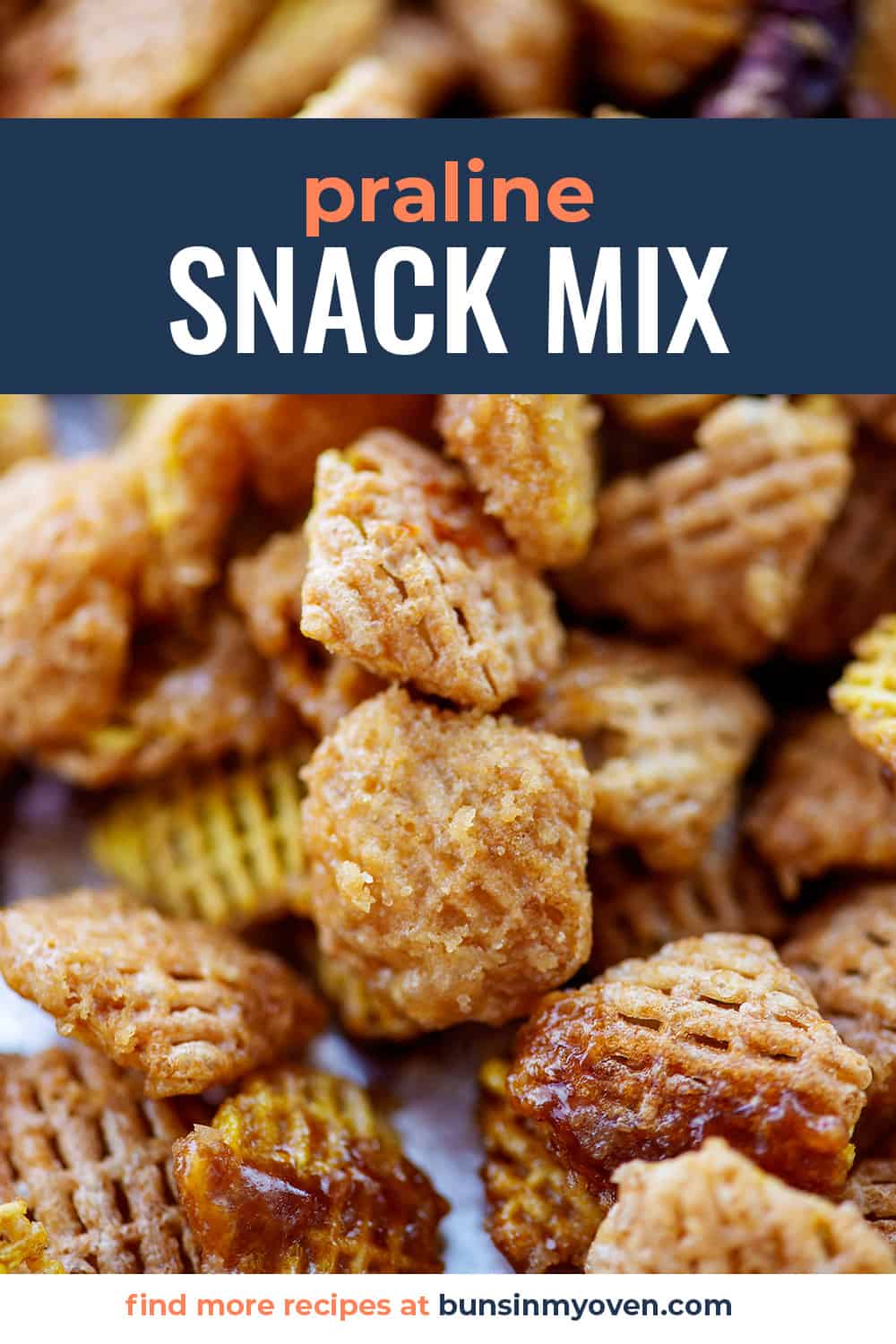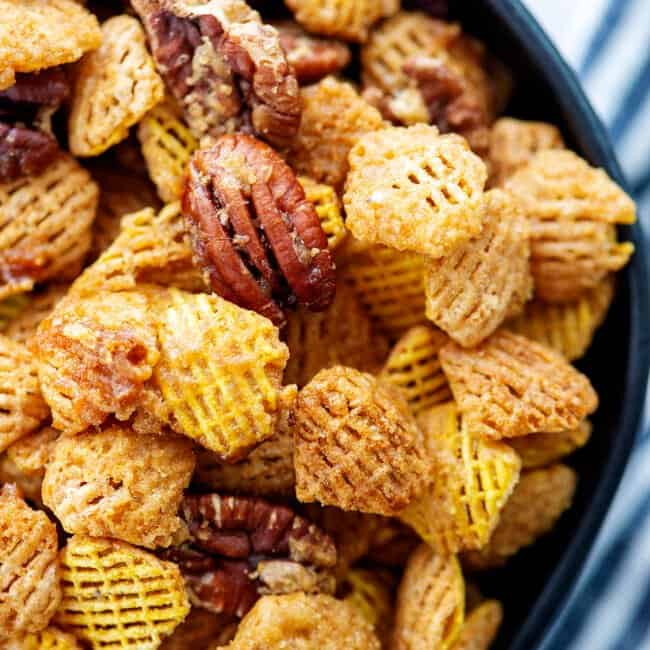 Praline Crunch Snack Mix
This snack mix is coated in a simple brown sugar and butter sauce that adds the perfect touch of sweetness. We love to serve this at parties – the bowl disappears quickly and everyone asks for the recipe.
Prep5 minutes
Cook17 minutes
Cooling Time30 minutes
Ingredients
8 cups Crispix cereal
1 cup pecan halves
1 cup salted butter
1 cup brown sugar
Instructions
Preheat oven to 325 degrees. Line 2 large rimmed baking sheets with foil and spray with non-stick spray.

Pour the half of the cereal onto each sheet pan and sprinkle evenly with the pecans.

Add the butter and brown sugar to a small sauce pan over medium low heat and let melt, stirring often. Bring mixture to a boil and boil for 2 minutes, stirring frequently.

Pour the brown sugar mixture evenly over the cereal and nuts and stir gently to combine.

Bake for 10 minutes and then carefully stir the mixture. Bake for 5 more minutes.

Remove from the oven and let cool completely, about 30 minutes.

Break apart any large chunks and serve immediately or store in an airtight bag until ready to enjoy. Stays fresh for about 1 week.
Tips & Notes:
This recipe lasts for at least a week in an airtight container and may be fine longer – we always eat it too fast to test.
Nutrition Information:
Calories: 304kcal (15%)| Carbohydrates: 40g (13%)| Protein: 4g (8%)| Fat: 17g (26%)| Saturated Fat: 8g (50%)| Polyunsaturated Fat: 2g| Monounsaturated Fat: 6g| Trans Fat: 1g| Cholesterol: 31mg (10%)| Sodium: 272mg (12%)| Potassium: 161mg (5%)| Fiber: 4g (17%)| Sugar: 17g (19%)| Vitamin A: 688IU (14%)| Vitamin C: 4mg (5%)| Calcium: 85mg (9%)| Iron: 10mg (56%)