Everyone loves munching on puppy chow, but I've switched things up to use popcorn in place of cereal for an out of this world snack that the whole family will love! Big thanks to Orville Redenbacher's for sponsoring this recipe!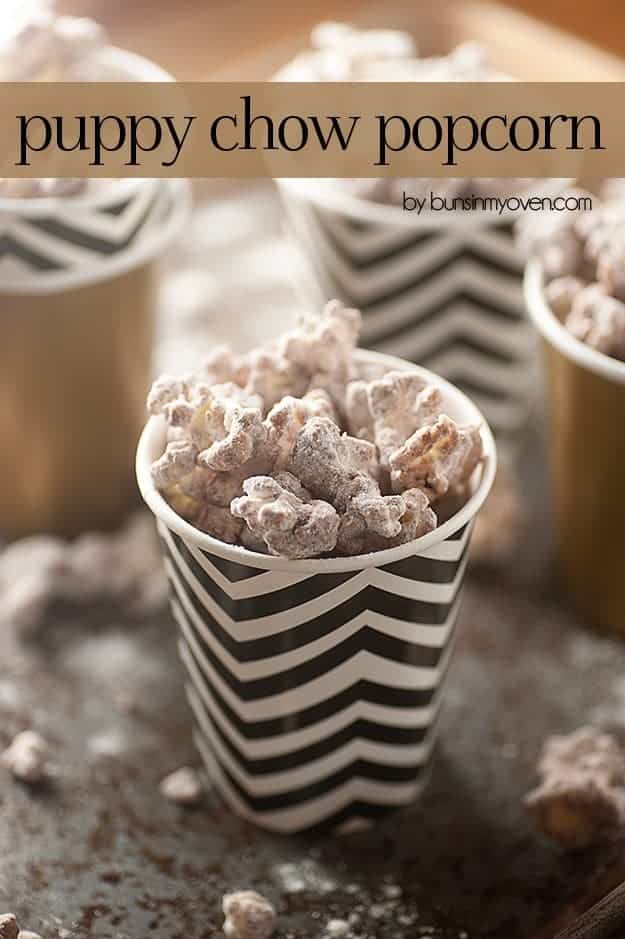 So, I hear there is a big awards show coming up, yeah? Do you have any big plans?
Every year I do the same thing. I put on my comfy pants, I grab a cozy blanket, I shut my children in the other room with a board game or their computers, and then I sit in front of the TV munching on popcorn all night and judging everyone's dresses and thank you speeches.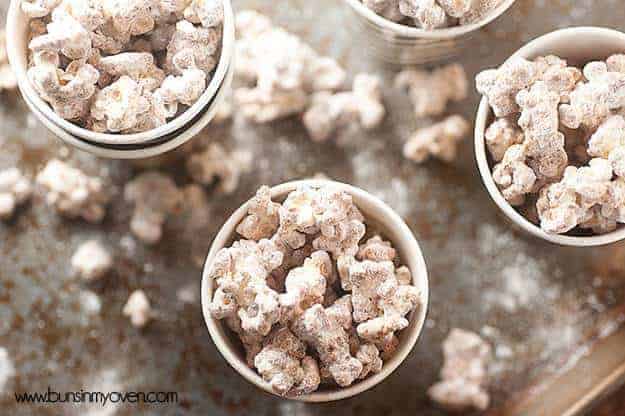 Clearly, I know how to party. My husband can hardly stand how wild and crazy I am!
This year, I plan to switch things up just a bit. Puppy Chow Popcorn, y'all.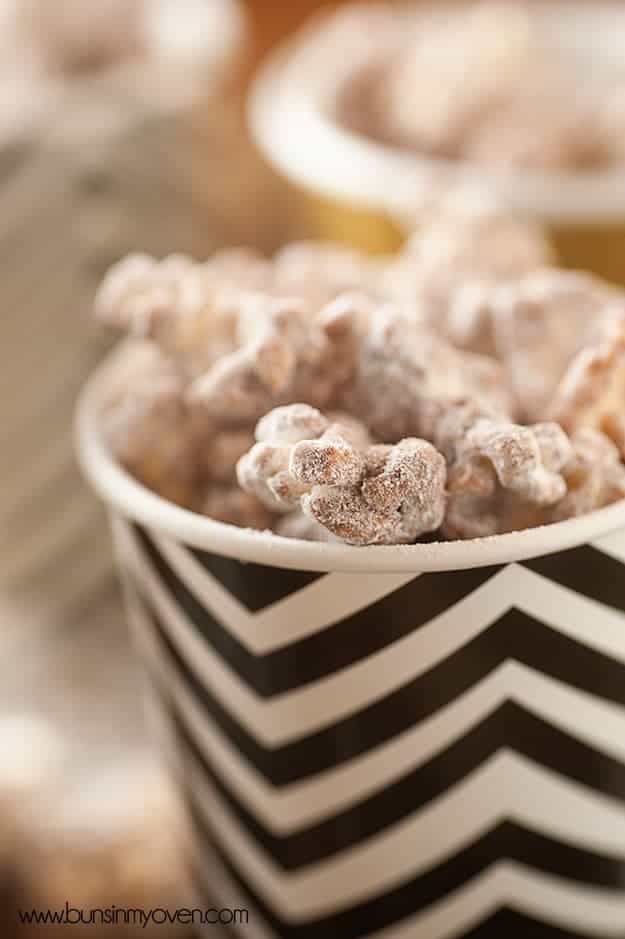 You've had puppy chow before, right? What if I changed the name to Muddy Buddies? I've always called it Puppy Chow, but I know a lot of people (my husband included!) call it Muddy Buddies. Either way, that snack mix is addictive, much the way popcorn is! When I pop a bag of popcorn, I don't stop eating until I'm down to the very end! I thought it'd be ridiculous and dangerous and possibly illegal of me to mix the two snacks and turn them into one unstoppable force of goodness.
Mission accomplished.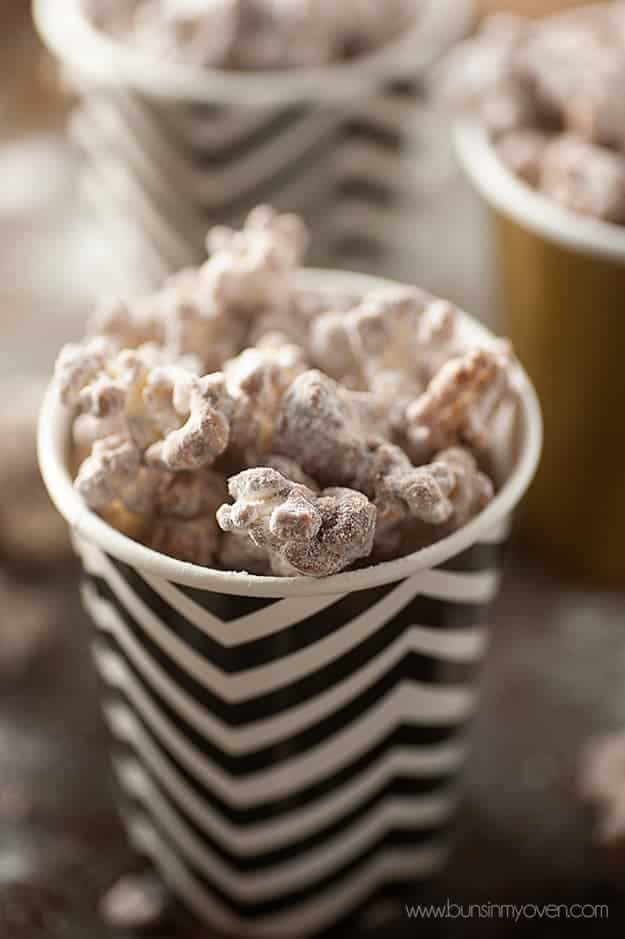 I used Orville Redenbacher's Gourmet Naturals Simply Salted Popcorn for this recipe. There are no artificial ingredients in the popcorn and it has half the fat of regular butter popcorn (and zero grams of trans fat!). Of course, I might have upped the fat just an eensy bit with all of the chocolate, peanut butter, and sugar, but that's neither here nor there! This popcorn is amazing on it's own, with just a light dusting of salt to bring out the flavor.
If you don't have the time to whip up this treat, Orville has additional Gourmet Naturals flavors that are perfect on their own. Garlic Butter and Sea Salt is definitely worth a try for movie night! It's a healthy snack that won't leave you feeling guilty! The Zesty Pepper Butter is sure to be a favorite, too. With the combination of roasted red peppers, seasonings, and sea salt, you'll have a gourmet snack that bursts with flavor!
If you have big plans for an awards show party (either an actual party with other human beings or just you and your couch) I hope you'll whip up this easy treat! It's perfect TV food!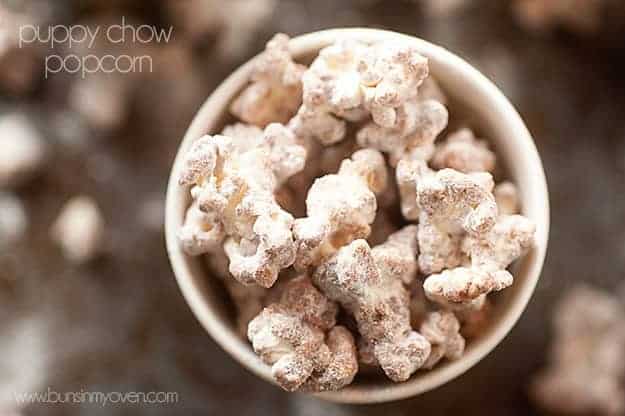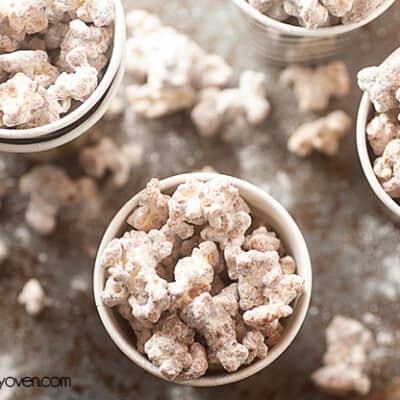 Puppy Chow Popcorn
Everyone loves munching on puppy chow, but I've switched things up to use popcorn in place of cereal for an out of this world snack that the whole family will love!

Prep10 minutes
Cook5 minutes
Total15 minutes
Ingredients
1 bag Orville Redenbacher's Simply Salted Gourmet Naturals Microwave Popcorn
1/2 cup milk chocolate chips
1/2 cup creamy peanut butter
2 cups powdered sugar
Instructions
Prepare the popcorn according to package directions. Set aside.

In a microwave safe bowl, add the milk chocolate chips and peanut butter. Melt in the microwave on low heat for 30 seconds or until melted, stirring every 20 seconds.

Pour half of the popped popcorn into a large bowl. Drizzle with half of the melted chocolate and peanut butter. Gently stir to coat. Add the remaining popcorn and chocolate mixture to the bowl and stir again to coat.

Add the coated popcorn to a large paper bag (or a large bowl with a lid), dump in the powdered sugar, close the bag and shake to coat the popcorn. Serve immediately.
Nutrition Information:
Calories: 327kcal (16%)| Carbohydrates: 46g (15%)| Protein: 5g (10%)| Fat: 14g (22%)| Saturated Fat: 5g (31%)| Cholesterol: 1mg| Sodium: 162mg (7%)| Potassium: 153mg (4%)| Fiber: 2g (8%)| Sugar: 37g (41%)| Vitamin A: 45IU (1%)| Calcium: 23mg (2%)| Iron: 0.7mg (4%)