Marshmallow fruit dip mixed up with Butterfinger candy bars! You won't be able to stop dipping those apples in this easy fruit dip!
You know, I really think that there should be some sort of test before becoming a grown up. This whole arbitrary 18 years of age thing is crap.
I'm in my mid-30s, married with children, have 2 dogs, regularly have to color my hair to hide the gray, and from the outside looking in, I probably appear to be a proper adult.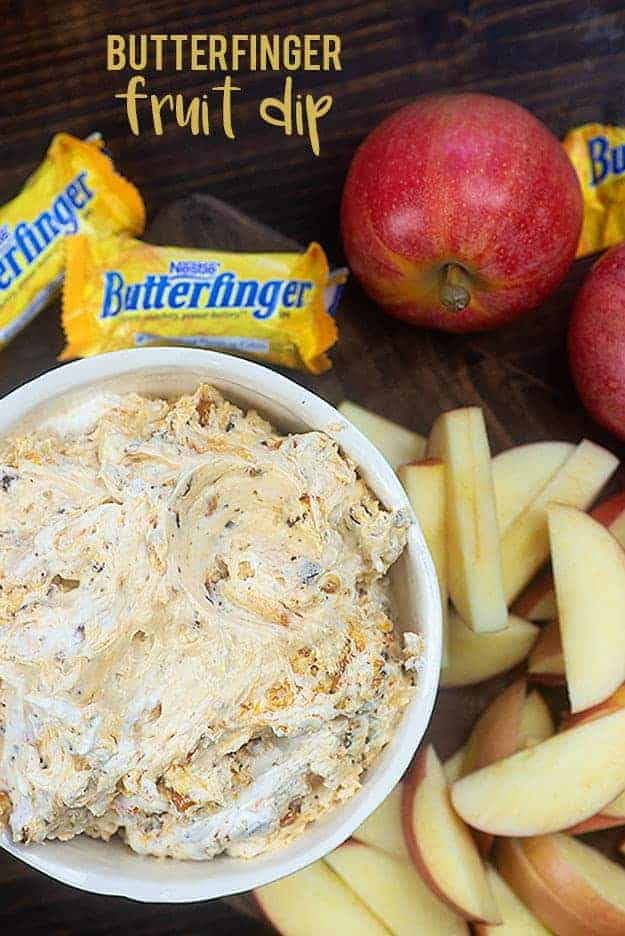 Then I get on the internet and show you how ridiculous my life is.
Like, for my work, the thing I am paid actual dollars to do, I chop up full size candy bars and put them in a mixture of cream cheese, cool whip, and marshmallow fluff and then I feed it to my people on the end of apple slices and graham crackers.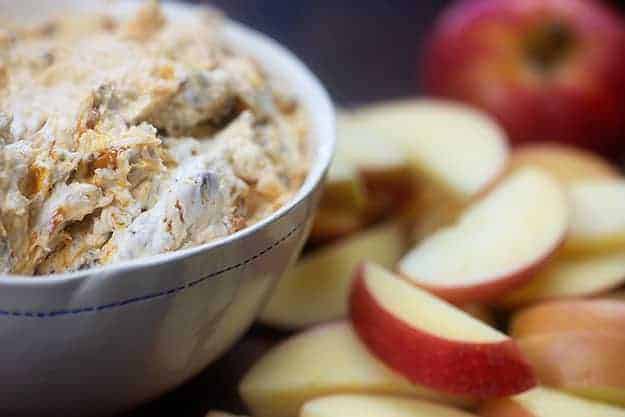 Someone needs to come and take away my grown up adult membership card, because clearly I am a three year old. Candy bars! In my fruit dip! I just feel like that is not something a grown up should be doing.
Life as a mad scientist candy experimenter is good, y'all. I highly suggest creating fruit dip recipes for a living.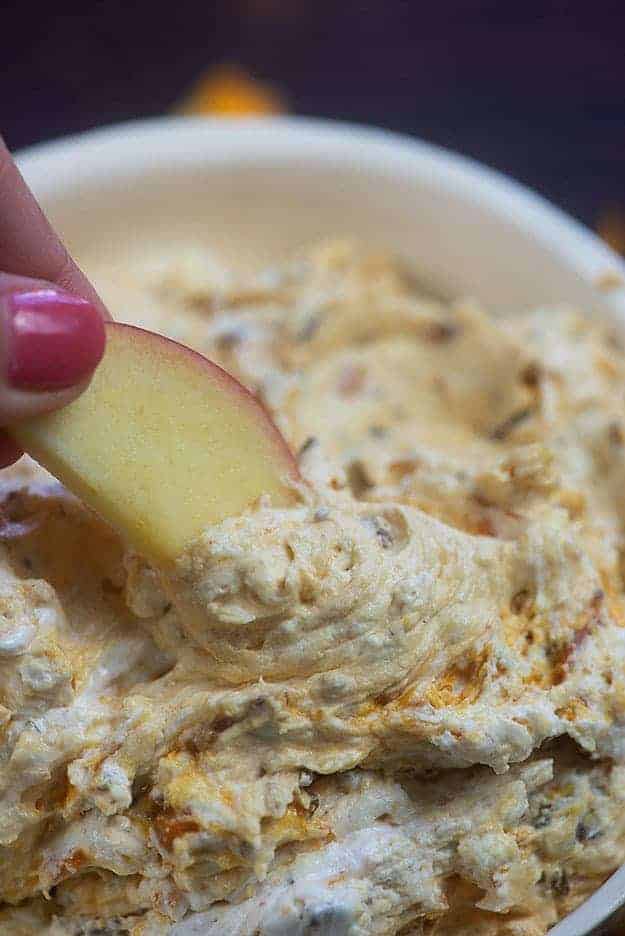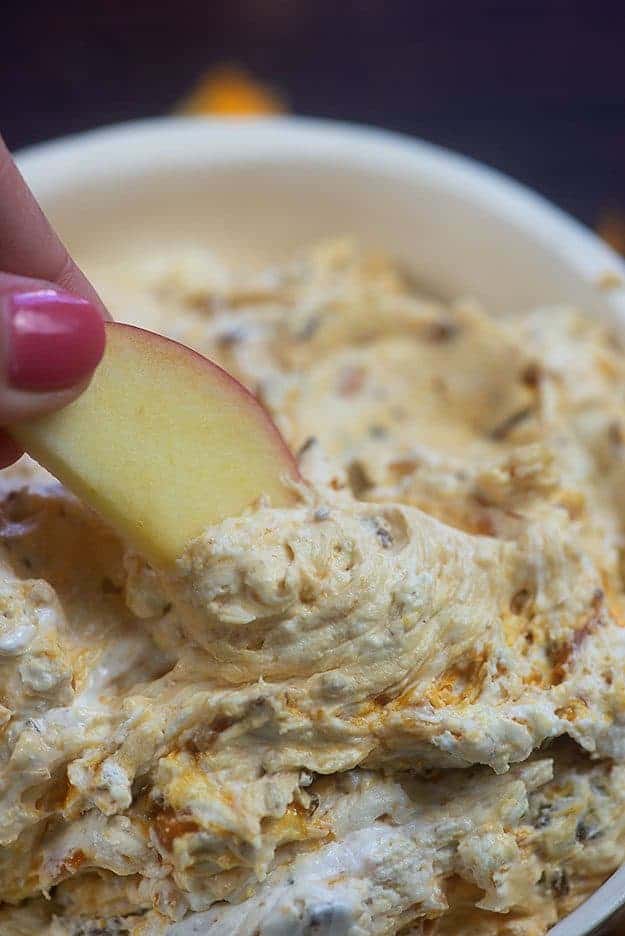 How to make fruit dip with Butterfingers:
To start, grab a few Butterfinger candy bars. You can use 3 full-sized candy bars or about 12 fun-sized candy bars. Chop them up with a sharp knife or pop them in a blender or food processor.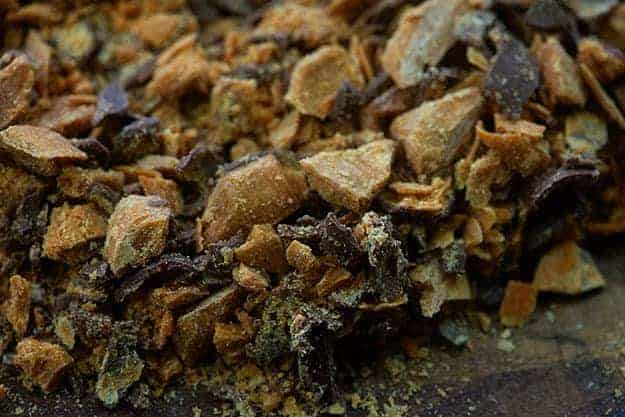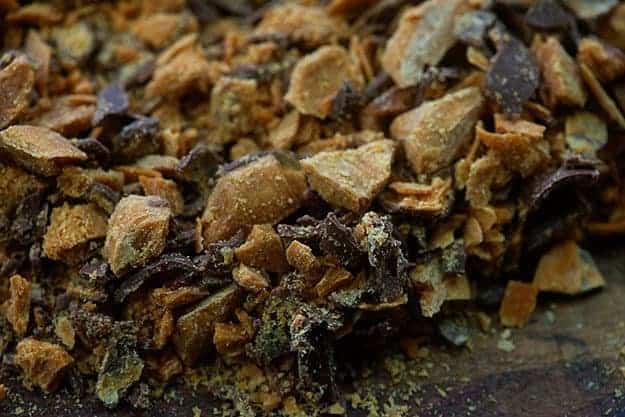 Next, add marshmallow fluff, room temperature cream cheese, and Cool Whip to a mixing bowl and grab your mixer. Beat these together until they're combined and fluffy.
Add in your Butterfinger pieces. Start thinking about how excited your children are going to be when you serve them this cream cheese fruit dip. Because Butterfingers.
Mix it all up again and grab a few apples.
Slice 'em up and serve them with the fruit dip. Graham cracker slices, grapes, berries, Ritz crackers – all of these are acceptable dipping tools. Live your life to the fullest. Enjoy that dip.
This fruit dip recipe should last about 5 days in the fridge, but I'm guessing you'll devour it long before then.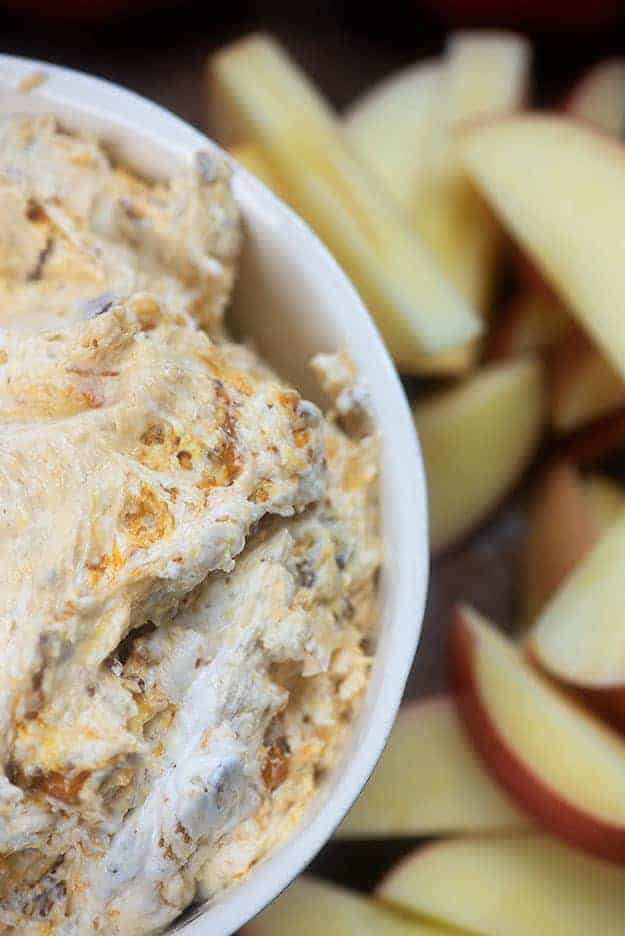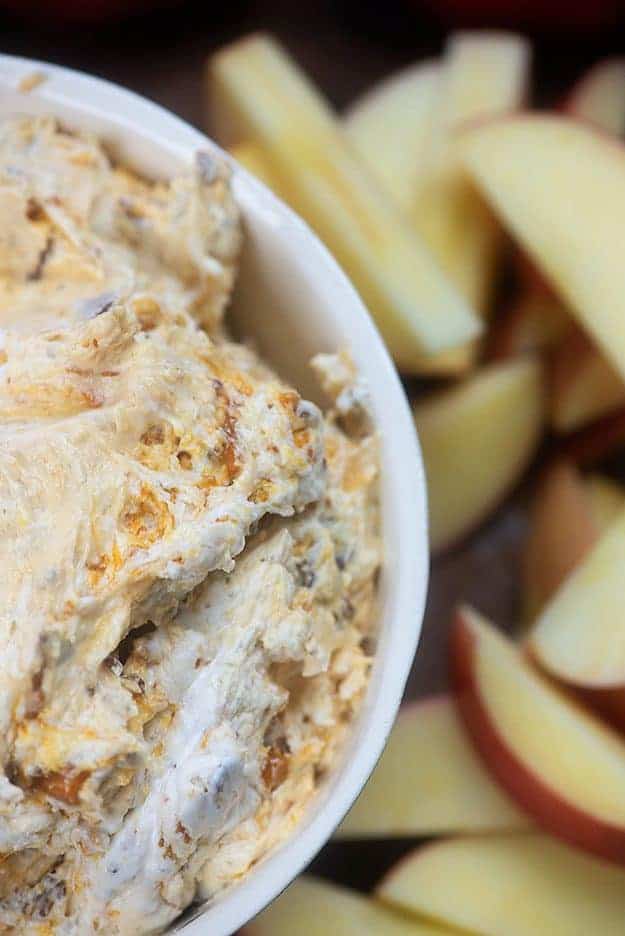 More dip recipes that you will love:
7 Layer Dip: A classic and always a hit!
Spicy Chicken Dip: Perfect for game day!
White Queso Dip: No Velveeta in this one and it's SO easy!
Best Spinach Artichoke Dip: Is it even a party if you don't serve spinach artichoke dip?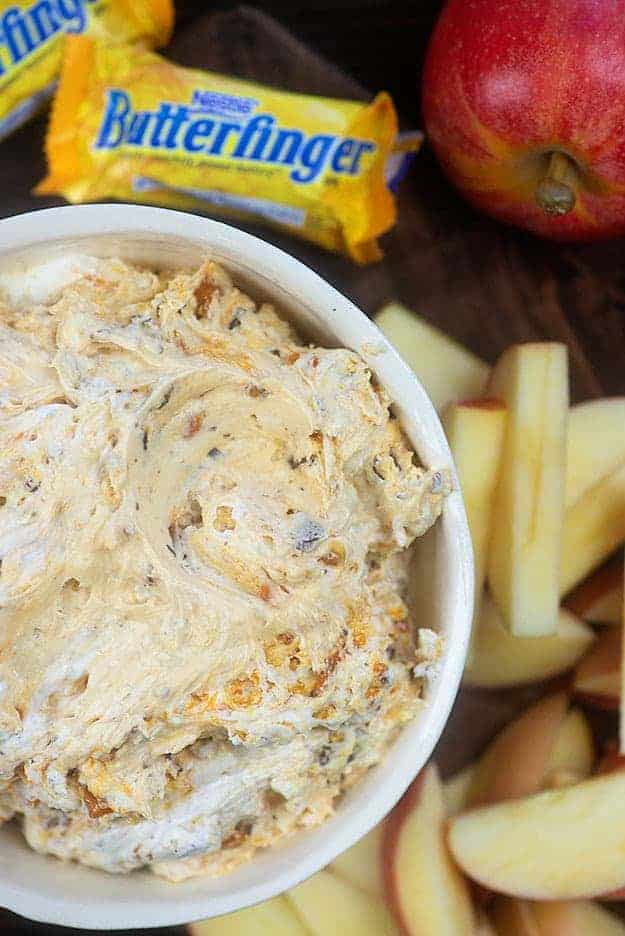 Butterfinger Fruit Dip
Butterfinger candy bars get blended up and added to this light and fluffy fruit dip for a delicious after school snack that is perfect with apple slices!
Prep2 minutes
Cook3 minutes
Total5 minutes
Ingredients
8 ounces cream cheese room temperature
7 ounces marshmallow fluff room temperature
4 ounces cool whip
3 full size Butterfinger candy bars
Instructions
In a blender or food processor, finely grind the candy bars. Alternately, put them in a sealed bag and beat them with a mallet until crushed.

In a large bowl, beat the cream cheese and marshmallow fluff until light and fluffy. Fold in the cool whip and all but a handful of the candy crumbs.

Spoon dip into a serving dish and sprinkle the remaining candy over the top.

Serve with apple slices and graham crackers.
Tips & Notes:
Store in the fridge for up to 5 days.
Nutrition Information:
Calories: 128kcal (6%)| Carbohydrates: 15g (5%)| Protein: 1g (2%)| Fat: 7g (11%)| Saturated Fat: 4g (25%)| Cholesterol: 16mg (5%)| Sodium: 51mg (2%)| Potassium: 64mg (2%)| Sugar: 10g (11%)| Vitamin A: 205IU (4%)| Calcium: 25mg (3%)| Iron: 0.7mg (4%)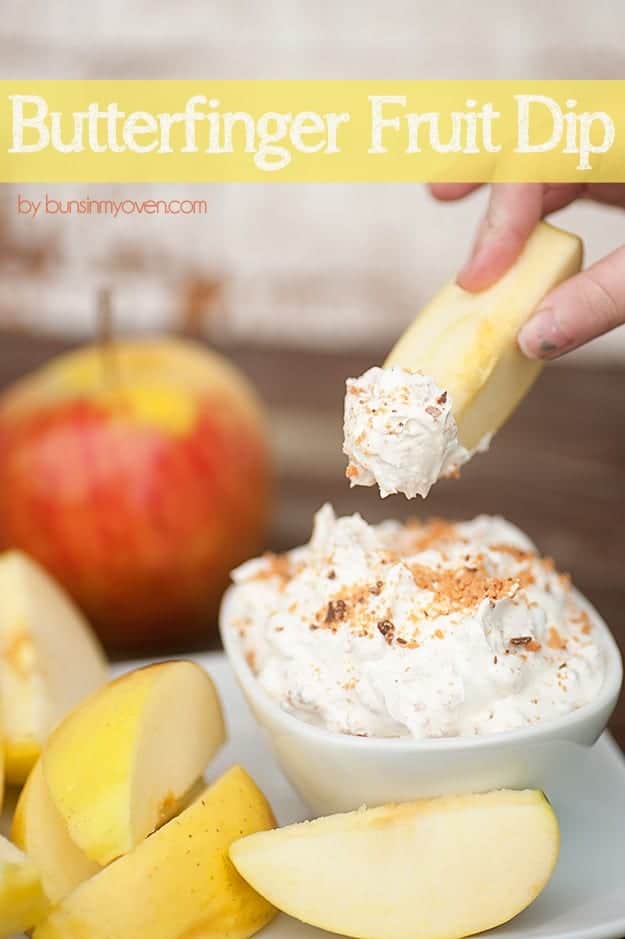 This easy fruit dip was first published in January 2014. It's been updated with new photos and a video. The recipe stayed the same because it's perfect as it is. 😉 Original photo above.