Sweet, sticky, and full of pastel candy, these EASTER CRUNCH BARS are the perfect sweet treat to celebrate the holiday. My kids love help making these gooey, crunchy bars!
Easter is happening and we've been doing alllll the candy eating in preparation.
I don't want to admit how many bags of Reese's peanut butter eggs I've plowed through, but let's just say this…we're approaching double digits and even my yoga pants are getting tight.
*sigh*
This happens every year. But, can you blame me? The Reese's eggs are the BEST shape of all the shapes! So it's my civic duty to eat as many as possible in celebration of Jesus. Right?
Anyway, this recipe has nothing to do with peanut butter eggs, although now my wheels are turning and you might see something pop up soon… 😉
These marshmallow cereal bars are my favorite holiday treat and I make them for basically EVERY holiday that has a colored m&m attached to it. Scroll through my holiday recipes and you'll likely see many colorful variations of these bars. It's just that they're so easy and fun and they taste fabulous!
Seriously, everyone loves these!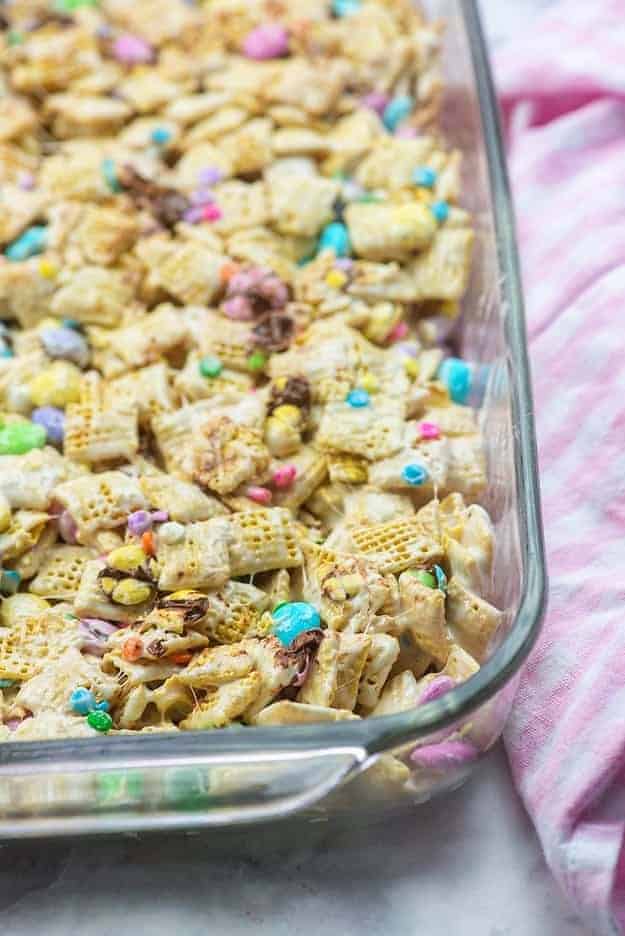 How to:
These start out like most cereal marshmallow bar type recipes – with a bit of butter and a bag of marshmallows.
Melt those together to form your marshmallow goo and then stir in some cereal.
I use Chex cereal here (both the corn and rice variety work great!), but you can definitely use Rice Krispies Treats or most any other cereal you have on hand. We just like the crispy light texture of the Chex.
Once you've stirred the cereal around a few times, dump in your m&m candies and pastel sprinkles. It's so pretty!
Finish stirring, being careful not to break up the cereal too much.
Press this into a greased 9×13 dish and then pat the top down.
I spray a sheet of parchment paper or wax paper with non-stick spray and then use that to press the bars down into an even layer.
You can sprinkle on a few more sprinkles if you like.
These need to cool for a bit to set up, but then you can dig right in.
So crispy and gooey and chocolate-y all at once. How can you resist??
We store these tightly covered at room temperature for up to a week.
More easy desserts:
Bisquick Peach Cobbler: Top this off with ice cream!
Snack Mix Bars: Alllll our favorites in one bar!
Macadamia Nut Cookies: My husband loves these!
Reese's 7 Layer Bars: 7 layers of pure goodness.
Cherry Pie Bars: Just 4 ingredients!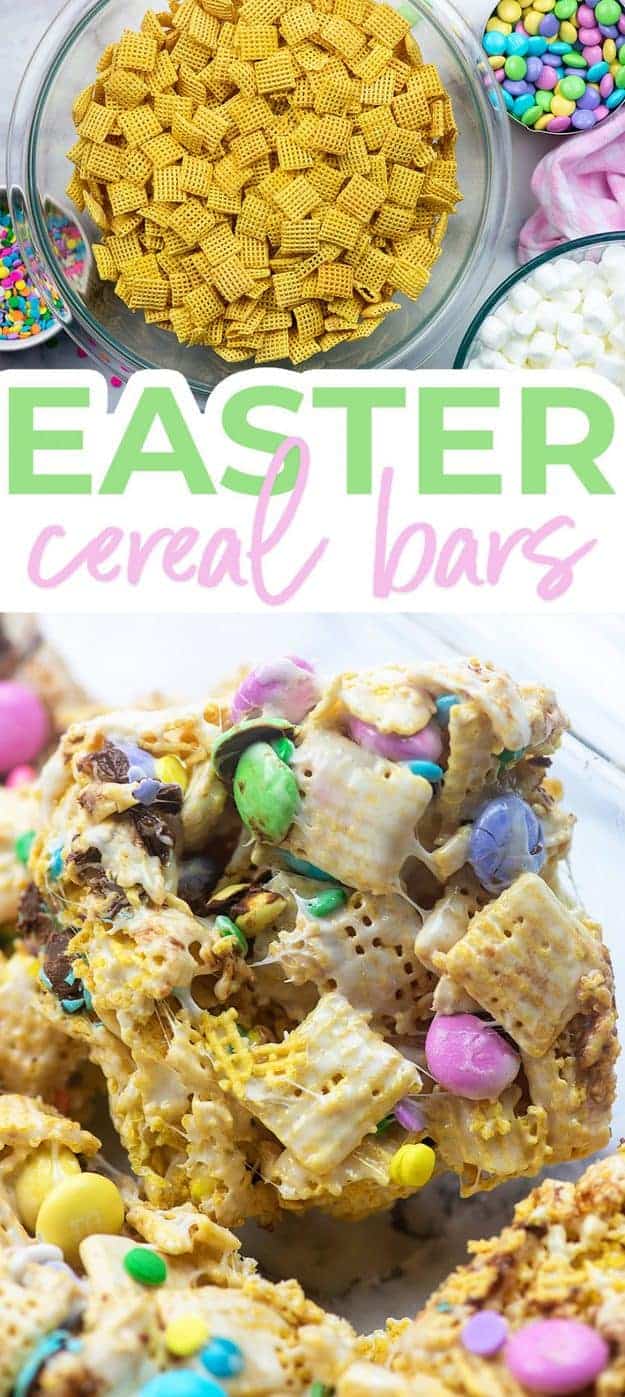 Easter Crunch Bars
These cereal bars are ooey gooey good! Perfect for Easter with the pops of pastel sprinkles and m&ms.
Prep5 minutes
Cook8 minutes
Total23 minutes
Instructions
Heat a large pot over medium heat. Add the butter and melt.

When the butter has melted, stir in the marshmallows. Continue stirring, until marshmallows have just melted. Remove from the heat.

Stir in the cereal until mostly coated in marshmallows.

Add the sprinkles and most of the m&m candies. Reserve a handful of m&m's for sprinkling over the tops of the bars. Stir the mixture together.

Press the mixture into a greased 9x13 baking dish. Press the remaining m&m's onto the top of the bars.

Let cool 20 minutes before cutting into 12 bars and serving.
Tips & Notes:
You can create these bars for any holiday by switching out the sprinkles and m&m candies with various colors!
Nutrition Information:
Serving: 1bar| Calories: 263kcal (13%)| Carbohydrates: 46g (15%)| Protein: 2g (4%)| Fat: 8g (12%)| Saturated Fat: 5g (31%)| Cholesterol: 12mg (4%)| Sodium: 181mg (8%)| Potassium: 30mg (1%)| Fiber: 1g (4%)| Sugar: 28g (31%)| Vitamin A: 655IU (13%)| Vitamin C: 4.6mg (6%)| Calcium: 71mg (7%)| Iron: 4.8mg (27%)