These easy fried onion strings (or rings!) are ready in no time and they've got a perfectly seasoned, crispy golden brown breading that is irresistible!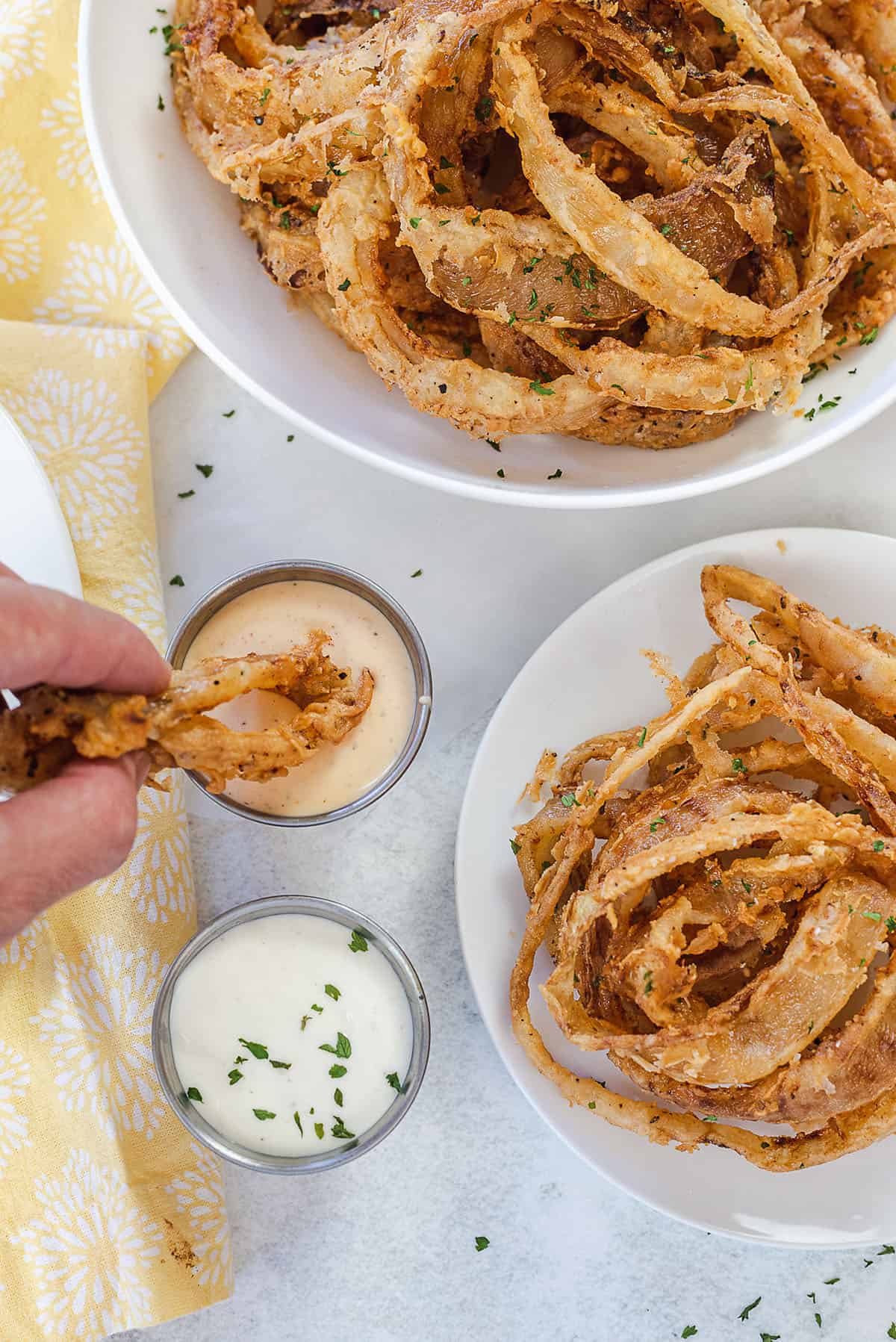 Look, I love my husband. I do.
But the man doesn't eat onions and that means that when we go out to eat there is no one to share an order of onion strings or onion rings with and, I dunno, I'm not saying I want a divorce, but I'm also not saying I DON'T want a divorce. You know?
I kid, I kid. I love the guy and I've also cracked the code for making fried onion strings at home where I can eat them by myself without judgement.
These are shaped like rings, yes, but they have that thinner crispy coating that I LOVE on onion strings. They breading isn't thick and crunchy, it's light and crispy. They're thinly sliced, they're easy to bend in half for maximum dippage, and while the crispy coating is seasoned well, the onion flavor shines right through.
These fried onion strings are delicious served with dip as an appetizer or piled high on my best turkey burgers. Or put them on a sandwich with my crockpot BBQ chicken or these shredded beef sandwiches.
Of course, we love to experiment with loads of different dips for our crispy onion strings recipe too!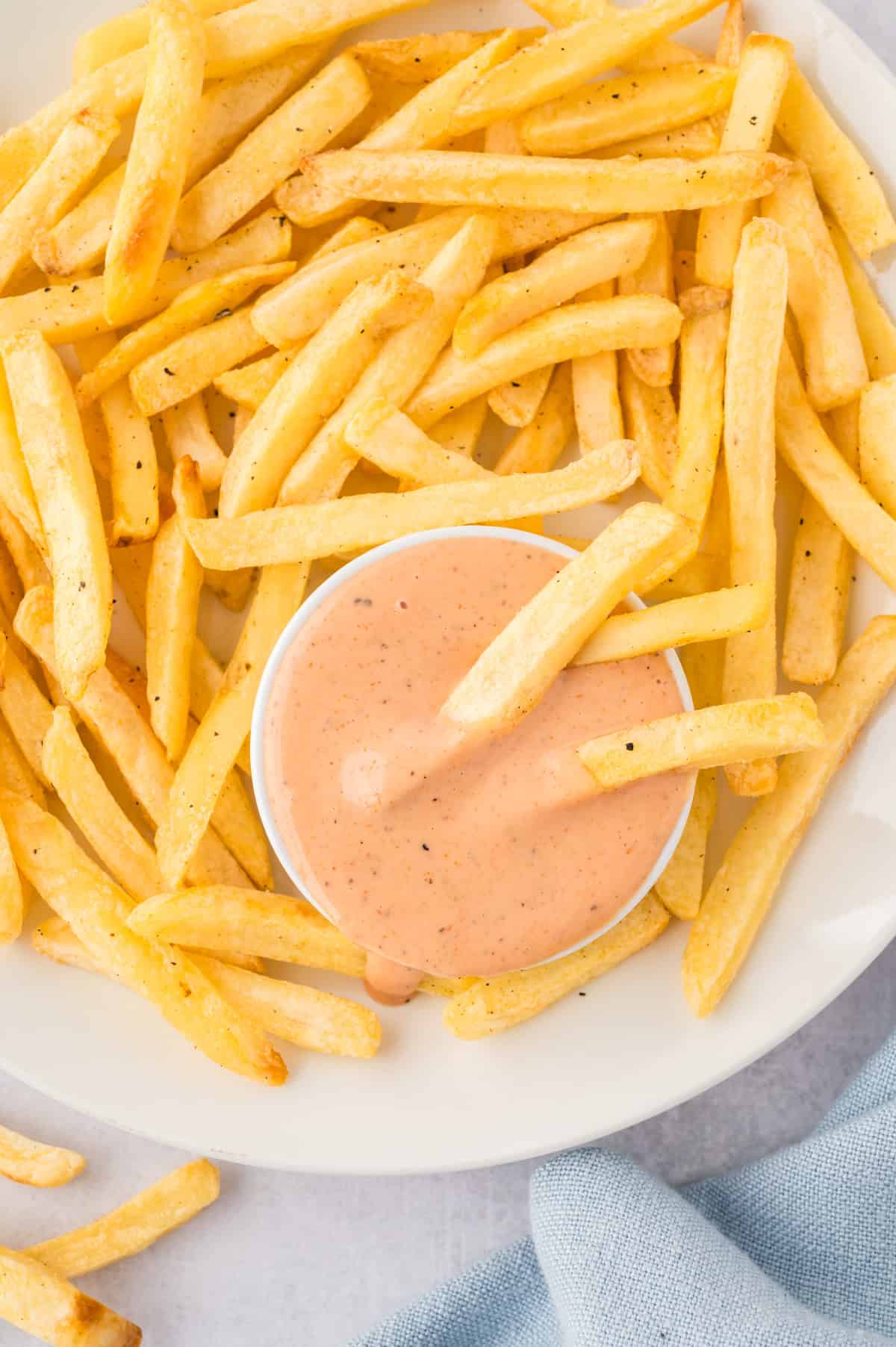 The Perfect Dipping Sauce!
Our Fry Sauce makes the perfect dip for these onion strings. It's a simple mixture of a few ingredients you likely have on hand and it's perfect for fries, on burgers, or with these onion strings!
Be sure to try out this air fryer blooming onion sometime too, if you're an onion lover like me!
Ingredient Notes:
This post contains affiliate links. As an Amazon associate and member of other qualifying programs, I earn from qualifying purchases.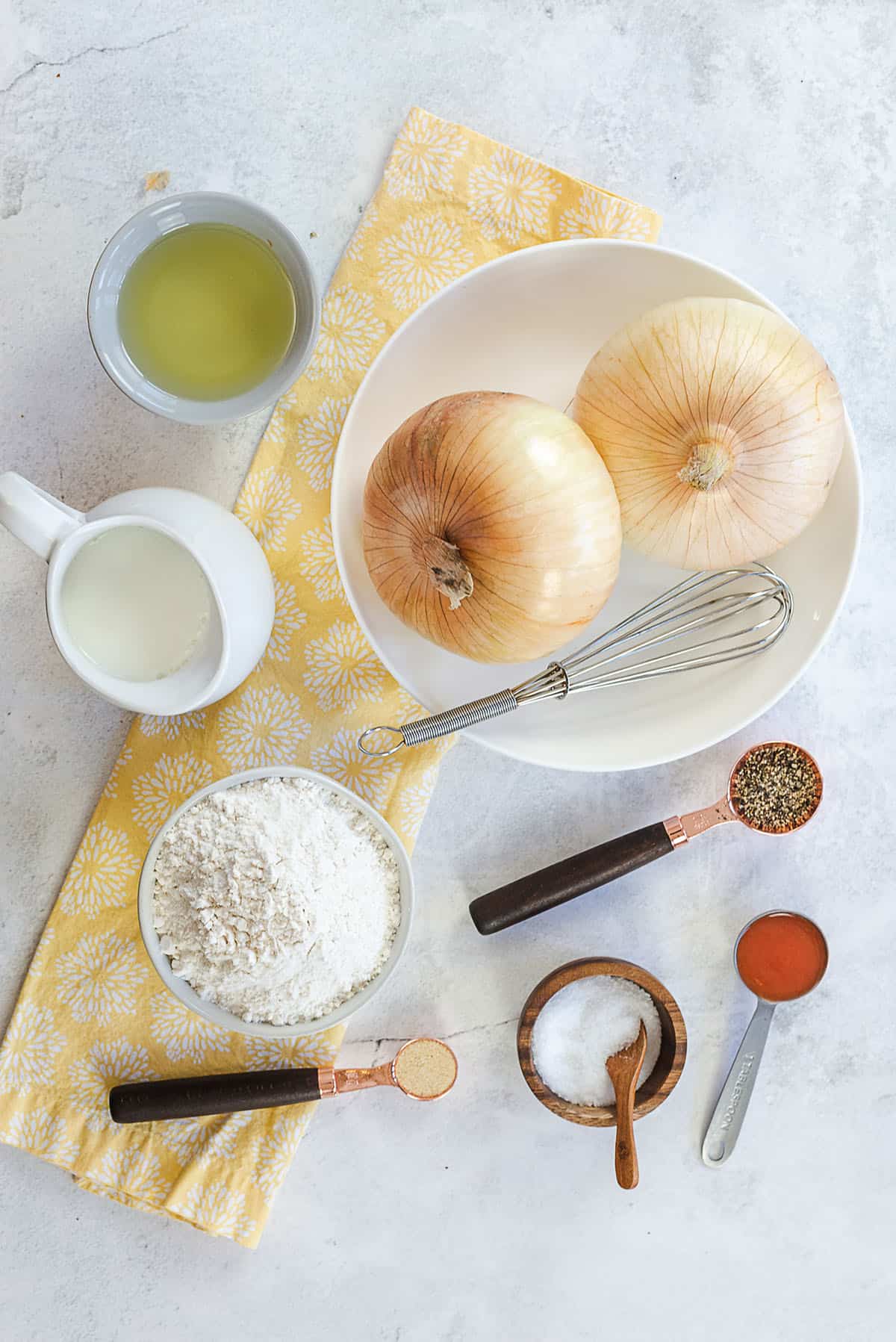 Onion – Sweet, yellow, or white onions will work, but we prefer sweet or yellow onion. White is a bit more strongly flavored and not as sweet.
Buttermilk – Buy a jug at the store or make your own by combining 2 cups whole milk with 2 tablespoons of white vinegar. Let sit for 5 minutes to thicken. Season with a drizzle of hot sauce.
Breading – Flour, garlic powder, salt, and pepper are all that's needed.
Oil – Vegetable oil or peanut oil are preferred for frying.
What Readers are Saying!
"I love these and I love making them. Problem is that I can't stop myself from eating the entire batch!" – Anna
How to Make Onion Strings:
Slice: First up you'll need to prepare the onion by slicing it into thin rings or strings. For strings, just cut the whole onion into thin rings. For strings, cut the onion in half and then cut into thin strips. You can do this with a knife or a mandoline slicer.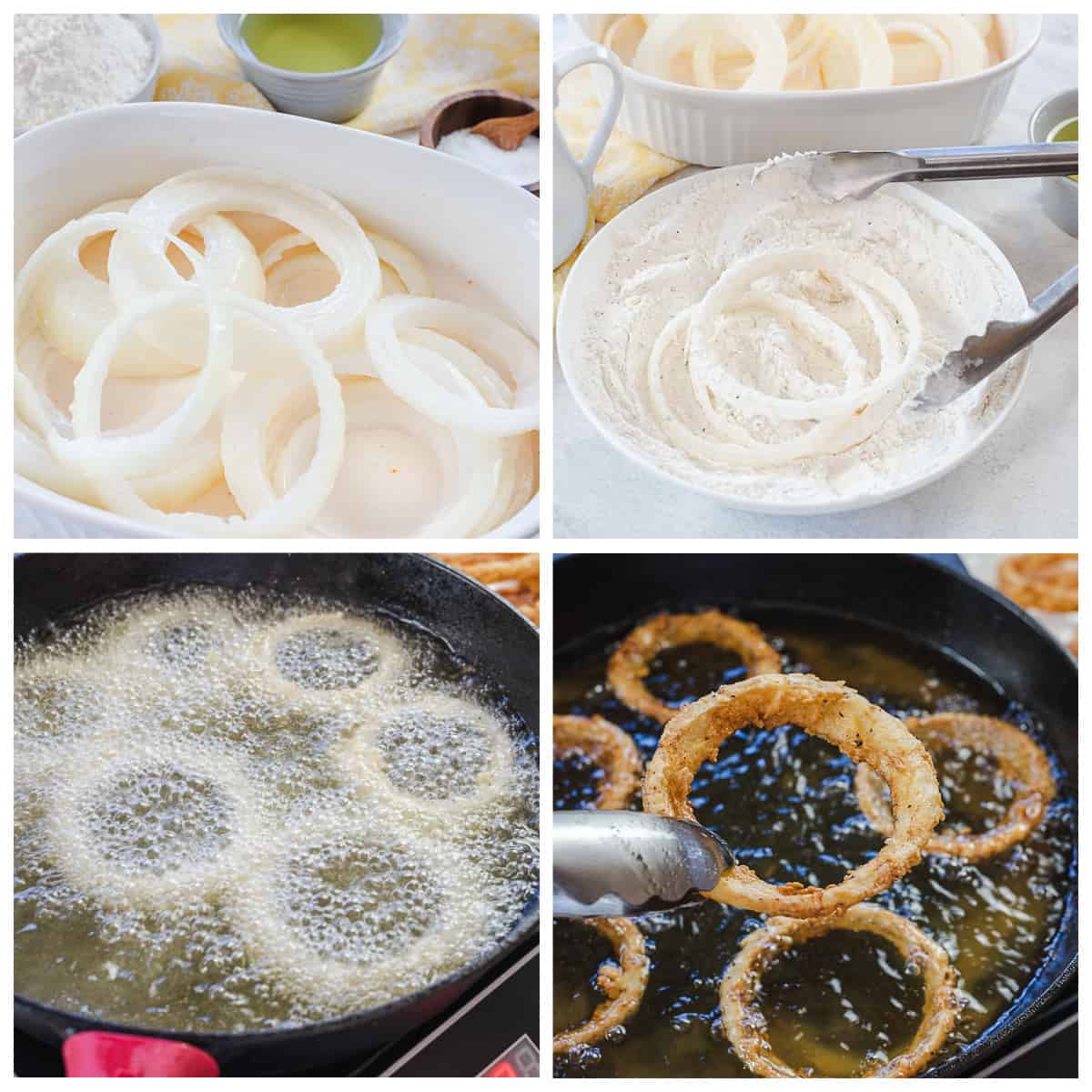 Soak: Soak the onion rings in buttermilk and hot sauce.
Breading: Combine the dry ingredients and toss the onion rings in the breading.
Fry: Heat the oil and add the onion rings. Fry til crispy.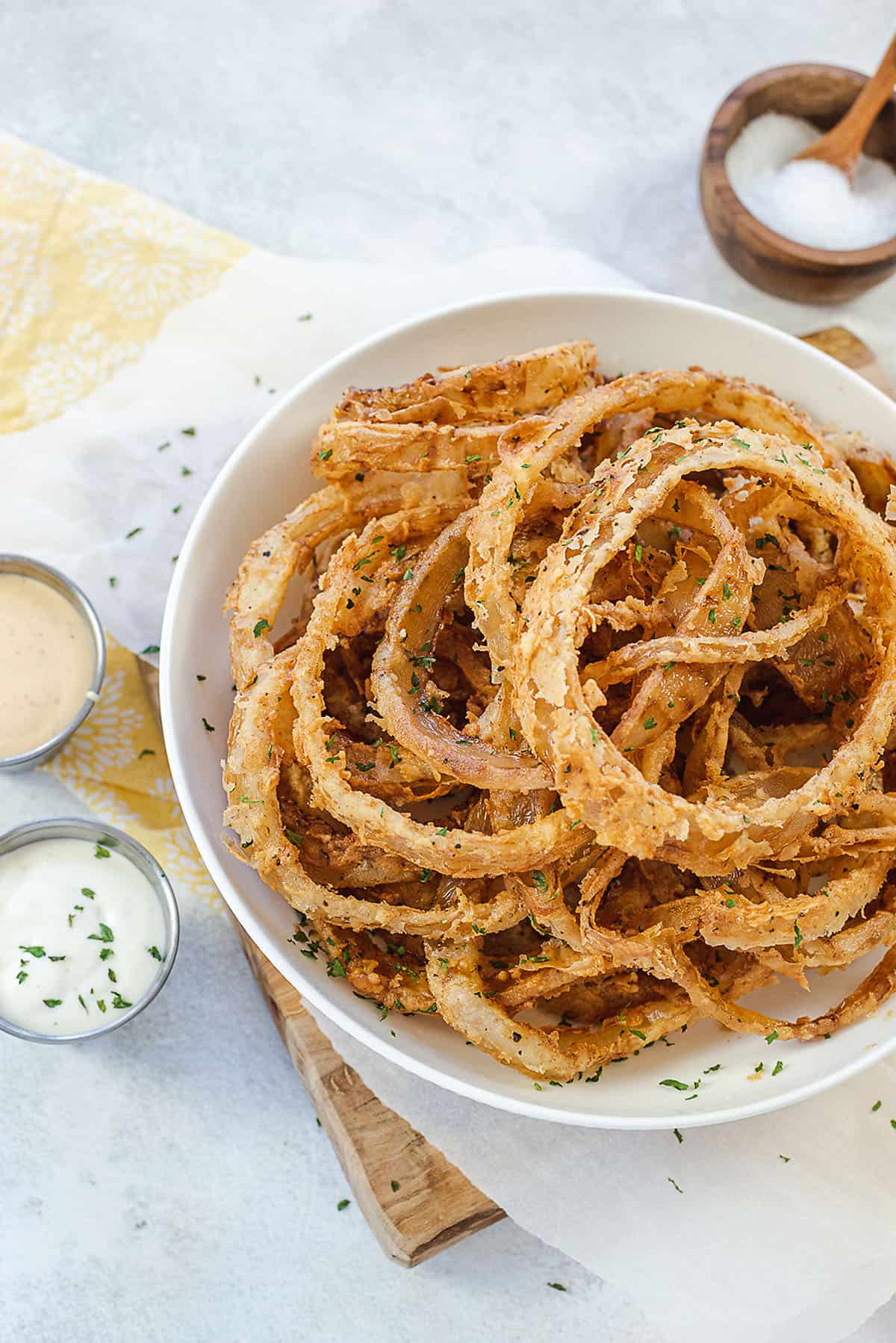 Dipping Sauces:
In our opinion, thick and crunchy onion rings go well with ketchup, but these crispy onion strings are best served with other dips, like those below: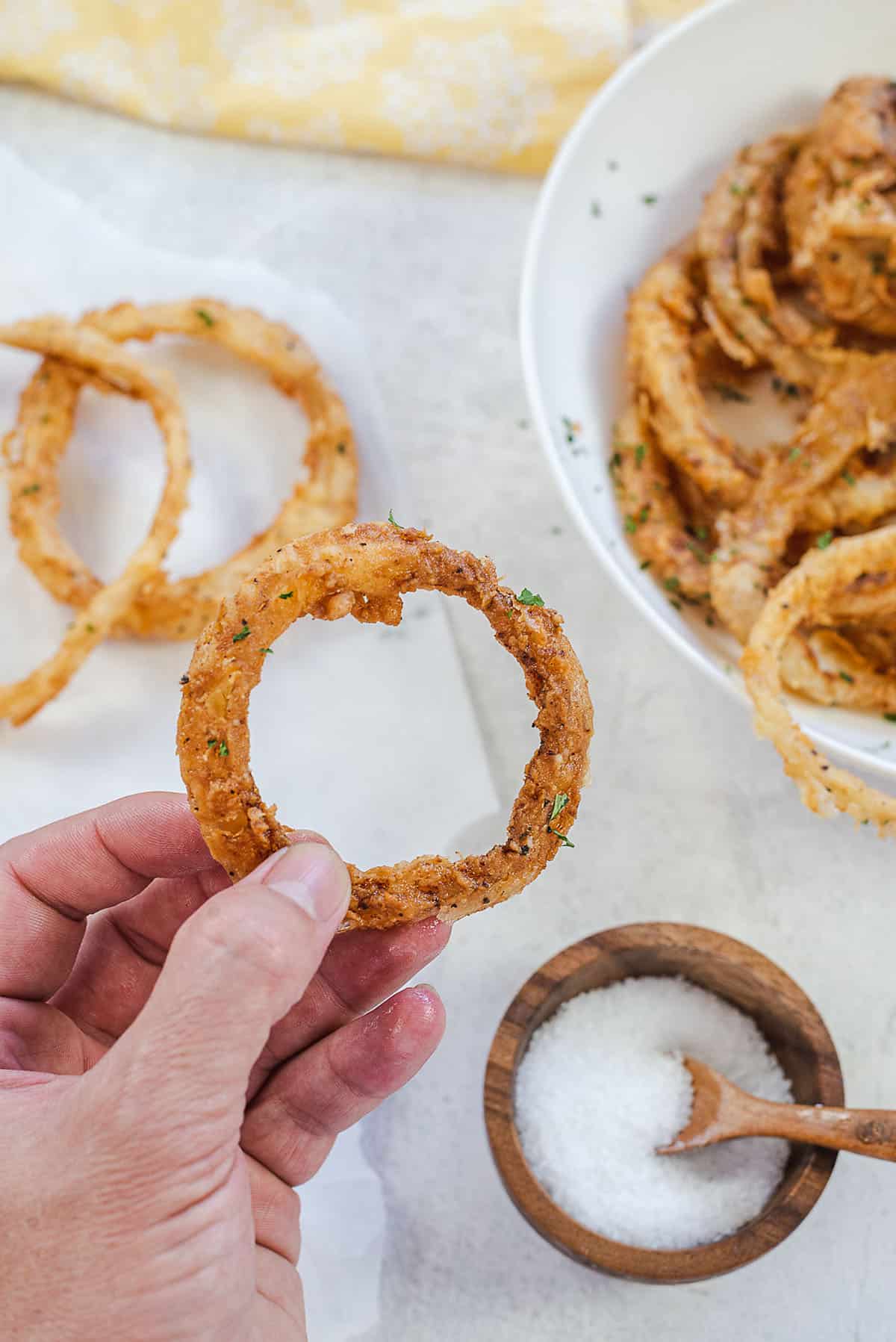 Air Fryer:
We have not tested this specific recipe in the air fryer. I don't believe these will crisp up well in the air fryer, but you can experiment if you like.
If you'd like an air fryer version, we do have homemade air fryer onion rings here. They use a more traditional bread crumb coating and are more crunchy.
FAQs:
Can I reheat onion strings?
Like most fried foods, onion strings are best served hot and fresh. If you must reheat them, your best bet will be to do so in an air fryer at 350 degrees for 3-4 minutes.
What's the difference between onion rings and onion strings?
Onion rings tend to have a thicker, crunchier, more uniform breading. Onion strings have a light, crispy breading and are sliced very thin. They're also often cut in half and not ring shaped, though we do serve ours cut as rings.
How do I prevent my onion strings from being greasy?
The secret to fried food that doesn't turn out soaked in grease is to make sure the temperature of your oil is correct. If the oil is too cool, the food will soak up the grease. Keep your oil around 375 degrees when frying onion strings for crispy, golden onion strings that aren't greasy.
MORE EASY APPETIZER RECIPES!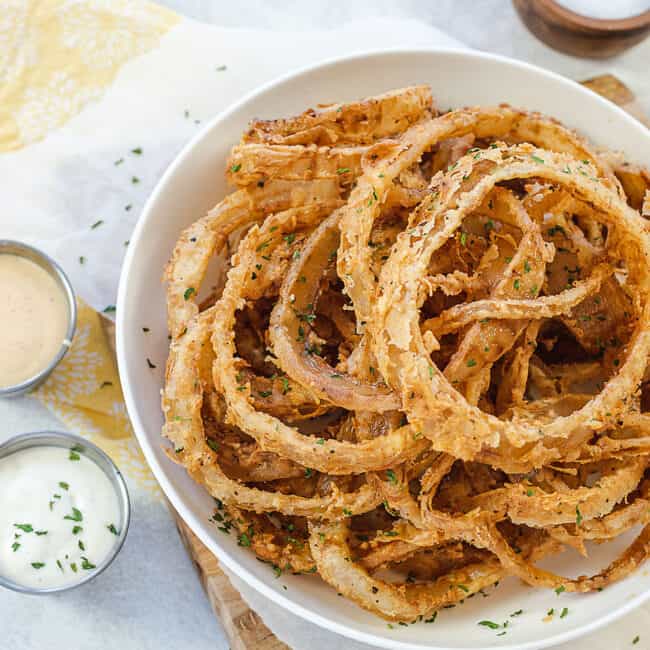 Onion Strings
The breading on these onion strings is light and crispy, not thick and crunchy like on a traditional onion ring. These are perfect dipped in ranch dressing or used for topping burgers!
Prep10 minutes
Cook10 minutes
Soaking Time1 hour
Ingredients
2 large sweet onions
2 cups buttermilk
2 tablespoons Frank's hot sauce
2 cups flour
1 tablespoon salt
1 teaspoon garlic powder
1 teaspoon cracked pepper
Vegetable oil for frying
Instructions
Slice the onion into thin rings.

Add the buttermilk and hot sauce to a 9×13 baking dish and whisk well.

Add the onions to the buttermilk and stir to coat. Let the onions soak for 1 hour.

Add 2-3 inches of oil to a large, deep skillet. Heat to 375 degrees.

Add the flour, salt, garlic powder, and pepper to a shallow mixing bowl and stir together to combine.

Use tongs to remove a handful of onions from the buttermilk and toss them around in the flour mixture to coat. Shake off excess flour gently.

Drop the onion strings into the hot oil and stir gently to break them apart. Fry for 1-2 minutes or until golden brown.

Remove onion strings to a paper towel lined dish to drain and continue cooking the remaining onion strings.

Serve hot with ketchup or ranch for dipping.
Tips & Notes:
The difference between onion rings and strings are the breading and the shape. The breading on onion strings tends to be lighter and crisper (versus thick and crunchy like a traditional onion ring). Onion rings tend to be thicker cut as well. The onions should be sliced thinly for this recipe. The onions can be cut in half before slicing to form strips instead of rings, if preferred. Use a thermometer to check the temperature of the oil. Keeping the oil at or close to 375 degrees will make for a crispy onion string that isn't greasy. If the oil is too cold, the food will soak up the grease and become greasy.
Nutrition Information:
Calories: 239kcal (12%)| Carbohydrates: 45g (15%)| Protein: 8g (16%)| Fat: 3g (5%)| Saturated Fat: 2g (13%)| Polyunsaturated Fat: 1g| Monounsaturated Fat: 1g| Cholesterol: 9mg (3%)| Sodium: 1410mg (61%)| Potassium: 295mg (8%)| Fiber: 2g (8%)| Sugar: 10g (11%)| Vitamin A: 135IU (3%)| Vitamin C: 5mg (6%)| Calcium: 123mg (12%)| Iron: 2mg (11%)
This recipe was originally published in 2010. It was updated with new photos in February 2022.