This BAKED CHICKEN PARMESAN comes out crispy on the outside, juicy on the inside, and it's perfect over a pile of pasta. This is a simple weeknight meal that the family loves.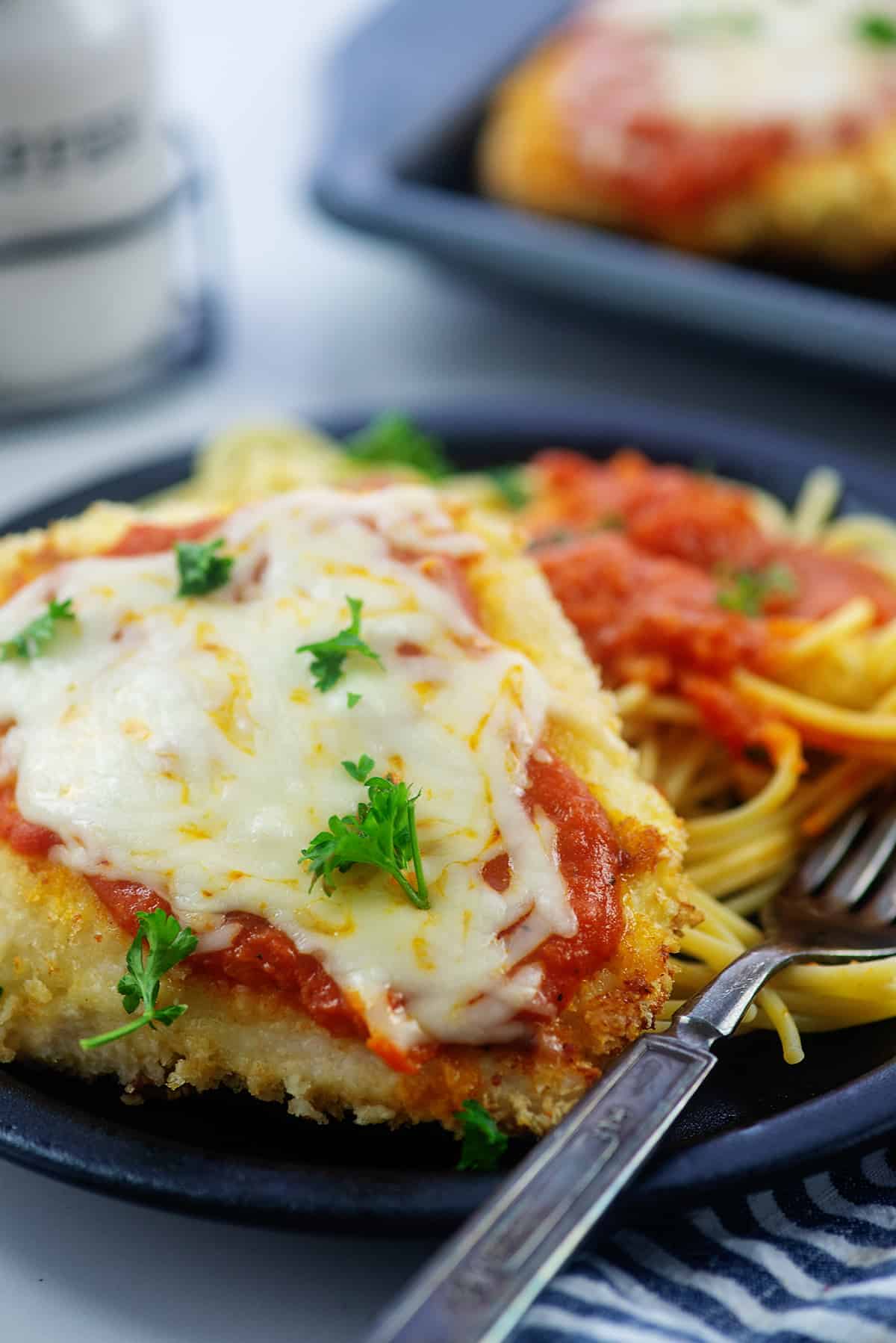 My husband is more or less obsessed with chicken parmesan and will order it any time we're at an Italian restaurant.
He loves the crispy chicken topped with marinara and cheese. And of course, who doesn't love a dish that's served with pasta?
I love it too, but pan frying is messy and you have to babysit it a bit, so I've mastered the whole 'oven fried' thing when it comes to chicken. (See my crispy, delicious oven fried chicken tenders!)
why we love this recipe:
Much easier to toss chicken in the oven, rather than babysit it on the stove.
Healthier than fried chicken, but still nice and crispy!
Easier clean up and no stinky fried food smell in the house.
You can easily double the recipe to feed a crowd, without working in batches. Just pop another sheet pan in the oven at the same time.
You can roast vegetables right alongside the chicken. Add this roasted cauliflower and brussels sprouts to the oven too!
How to Make:
This post contains affiliate links. As an Amazon associate and member of other qualifying programs, I earn from qualifying purchases.
Prep: Anytime we're working with boneless, skinless chicken breasts we like to pound them out to an even thickness. This means they'll cook evenly and you won't be left with thin bits that overcook while the thick bits are still going.
Just place the chicken on a cutting board, top it with a piece of plastic wrap, and pound it out with a meat mallet until it's an even thickness. This only takes a couple of minutes and it's 100% worth the effort.
Breading: To bread the chicken, we'll use a mixture of Panko bread crumbs and shredded Parmesan.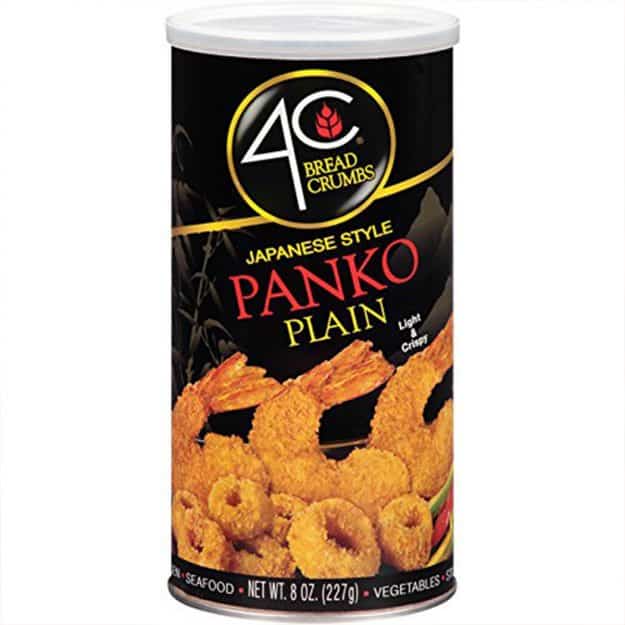 Panko is a Japanese bread crumb that is light, airy, and crispy. It can be found in most any grocery store. We highly recommend using Panko over traditional bread crumbs in any breading recipe where you want a crispy finished product.
First, you'll dip the chicken breasts in a mixture of egg and water and then dip it in a bowl of Panko, Parmesan, garlic powder, and onion powder.
Bake: Bake the chicken for about 20 minutes, or until it reaches an internal temperature of 160 degrees. We use a meat thermometer to test the temperature and make sure we're not over-cooking and drying out our chicken.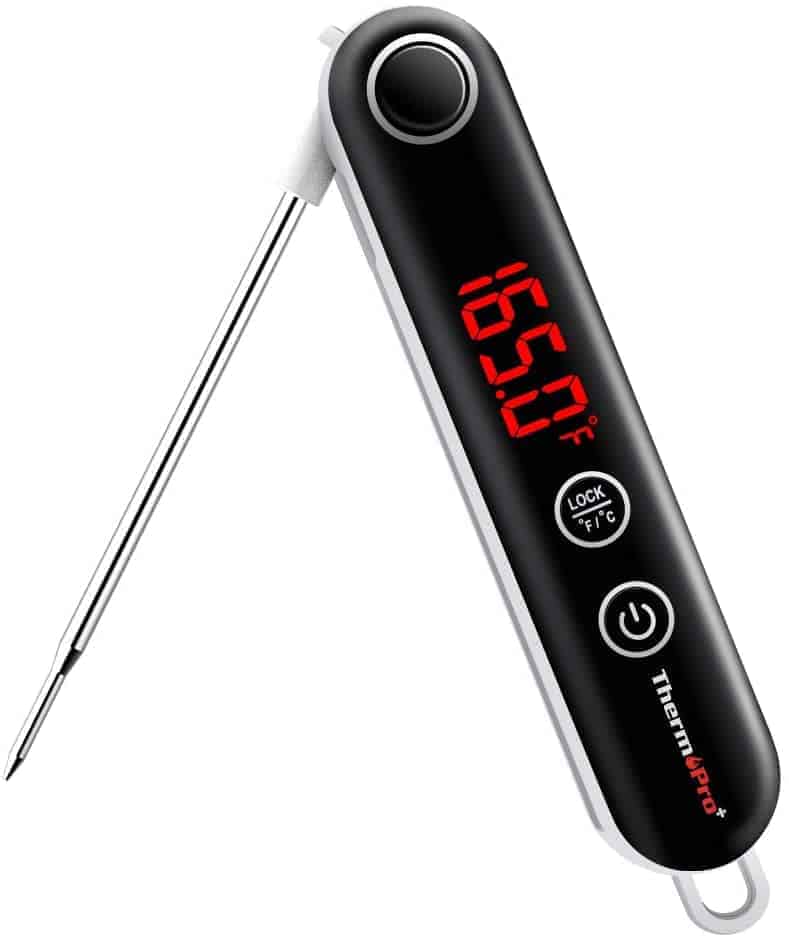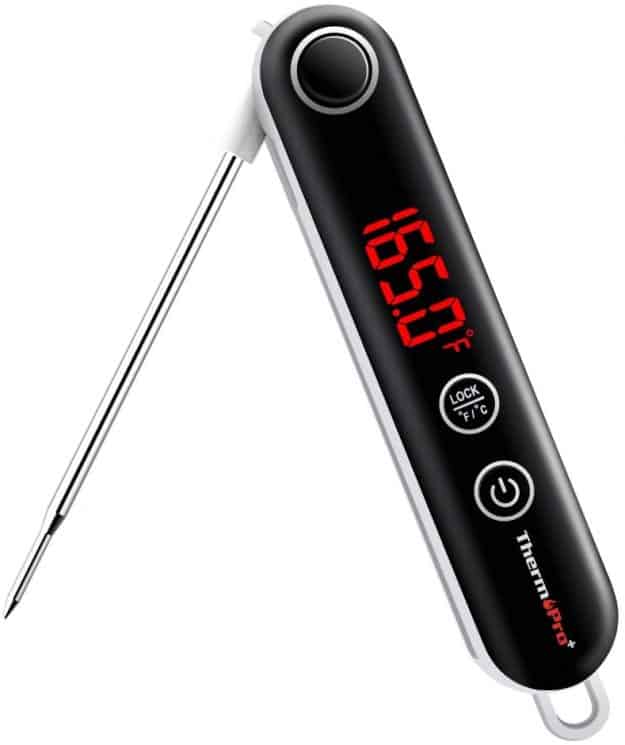 I love using this meat thermometer for making sure the meat is fully cooked! Easy for beginners & absolutely worth the low cost.
Top & Bake Again: Remove the pan from the oven, flip the chicken over, and spread the top of each chicken breast with a bit of marinara and then sprinkle with mozzarella cheese.
Return to the oven for about 5 minutes or until the chicken reaches 165 degrees.
Serve: Serve your chicken with a pile of pasta. Spaghetti topped with marinara is the traditional choice, but any pasta will work well with Chicken Parmesan. We've even been known to drizzle my Alfredo sauce over it all. So good!
Helpful Tip!
Extra Crispy Chicken
Be sure to use panko crumbs and not traditional bread crumbs.
Heat the sheet pan in the oven before placing the chicken breasts on it.
If you don't mind the extra calories and want a true 'fried chicken' flavor, melt butter and pour it over the hot sheet pan (just enough to liberally coat the pan) and then place your chicken top.
Spray the tops of the chicken with non-stick spray before placing in the oven.
more pasta recipes!
Can't get enough pasta? Neither can we! Here are a few of our family's favorite pasta recipes:
Baked Chicken Parmesan
Crispy on the outside and moist on the inside! This lightened up version of chicken parmesan is baked to keep things simple and healthy without sacrificing any of the flavor. Ready in about half an hour!
Prep10 minutes
Cook25 minutes
Total35 minutes
Ingredients
4 boneless, skinless chicken breasts
1 large egg
1 cup Panko breadcrumbs
1/3 cup grated Parmesan cheese
1 teaspoon garlic powder
1 teaspoon onion powder
1/2 cup marinara sauce
1 cup shredded mozzarella cheese
Instructions
Preheat oven to 425 degrees. Spray a baking sheet with non-stick spray.

Pound out the chicken breasts to an even thickness between two sheets of plastic wrap.

Crack the egg into a shallow bowl and add 1 tablespoon of water. Whisk with a fork until combined.

Add the Panko, Parmesan, garlic powder, and onion powder to a second bowl and stir to combine.

Dip each chicken breast into the egg and then the breadcrumbs, pressing the breadcrumbs into the chicken so that they adhere.

Place chicken breasts evenly spaced on the prepared baking sheet.

Bake for 20 minutes or until the chicken breasts reach 160 degrees.

Spoon 2 tablespoons of marinara over each piece of chicken. Sprinkle evenly with the mozzarella.

Bake for 5 more minutes or until the chicken reaches 165 degrees.

Serve immediately.
Tips & Notes:
For extra crispy chicken, preheat the sheet pan in the oven. Add melted butter to the baking dish instead of non-stick spray. Spray non-stick spray over the tops of the chicken breasts before baking. We use and recommend Rao's marinara.
Nutrition Information:
Serving: 1chicken breast| Calories: 466kcal (23%)| Carbohydrates: 14g (5%)| Protein: 62g (124%)| Fat: 17g (26%)| Saturated Fat: 7g (44%)| Cholesterol: 221mg (74%)| Sodium: 854mg (37%)| Potassium: 1025mg (29%)| Fiber: 1g (4%)| Sugar: 3g (3%)| Vitamin A: 529IU (11%)| Vitamin C: 5mg (6%)| Calcium: 284mg (28%)| Iron: 2mg (11%)