Cooked low and slow for hours with homemade BBQ sauce, these SMOKED BABY BACK RIBS take a little effort but the result is worth it. You'll feel like a BBQ pit master and your family, friends, and neighbors will thank you for it!
I got an electric smoker for my birthday a few years ago and oh man. Might just be the best birthday gift yet…for the whole family!
Our whole neighborhood smells amazing when we're smoking these baby back ribs and my husband and kids get so excited for dinner.
Tender ribs, a smoky bourbon BBQ sauce, and just all around delicious smoked goodness.
No smoker? No problem! Try our slow cooker ribs instead!
Smoked Ribs Ingredients:
Rack of Baby Back Ribs – You can easily double or triple this recipe as needed. We plan for a half rack of ribs per person and then happily end up with some leftovers.
Salt
Ground Black Pepper
Garlic Powder
Bourbon BBQ Sauce – Linked above and down in the recipe card.
Tools & Equipment
Electric Smoker -You could certainly use any type of smoker, but we tested this recipe in our Masterbuilt Electric Smoker. It's budget friendly and so easy to use! Highly recommend.
Peach Butcher Paper – Perfect for wrapping the ribs and retaining moisture while cooking. We use this one.
Digital Thermometer – If your smoker doesn't come with a built in thermometer, you'll want to grab one of these. This one is my all time favorite thermometer. It's magnetic, so I stick it to the side of the fridge and it never gets lost.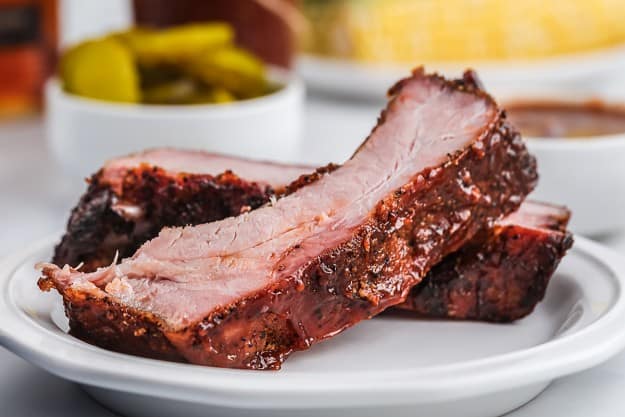 How to Make Smoked Ribs:
Season the Ribs: We're going for layers of delicious flavor here, so even though we'll be slathering these ribs in our bourbon BBQ sauce, we want to start by seasoning the ribs with salt, pepper, and garlic powder.
Allow the ribs to sit in the fridge overnight with the seasoning to get the best results! The seasoning will really soak into the meat and make things extra delicious.
Smoke: Get your smoker heated up to 250 degrees, and if it has a water pan, fill it with water. Next, load it with your preferred type of wood chunks/chips/pellets, whatever your smoker takes.
Begin smoking the ribs, uncovered and without any BBQ sauce yet, for about 3 hours or until they reach an internal temp of 175 degrees. Make sure to check about every 45 minutes if you need more water for the steam pot or wood.
Helpful Tips!
Do not overload with wood! Too much smoke will lead to a charred, chemical taste. There should only be a thin, bluish colored amount of smoke coming out of the unit. If enough smoke is billowing out that you could send signals with it, that's way too much smoke!
There are all types of smokers, from charcoal to electric and gas, and not all use wood chips or large chunks of wood, some use pellets. Whatever type you have, it'll work for this recipe. Just make sure that the temperature remains as close to 250 degrees as possible for the duration of the cook.
Sauce: When the ribs have hit the 175 degrees mark internally, around 3 hours in the smoker, go ahead and remove from the smoker and generously slather the homemade BBQ sauce on both sides of the ribs. Next, cover the ribs fully in either aluminum foil or butcher paper. We prefer peach butcher paper for this recipe.
Smoke: When the ribs are wrapped go ahead and return them back to the smoker. The wrapping will seal in the moisture and juices, turning these into tender, succulent ribs. They'll need 45 minutes in the paper.
Baste and Smoke: Go ahead and remove the butcher paper from the ribs and slather more sauce over the ribs. Continue smoking, unwrapped, for about 30 more minutes or until the ribs reach between 195 and 203 degrees.
Rest: As always, let your meat rest a bit before serving. Just let them sit for 15 minutes before cutting into portions and serving.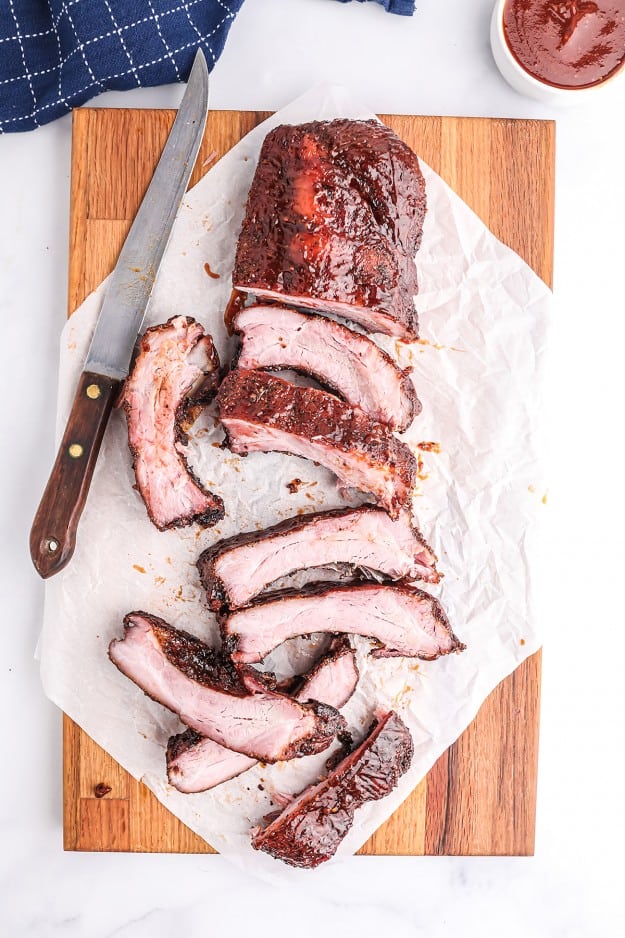 Frequently Asked Questions:
Does it matter what type of wood you use?
Yes! Some woods work better for different cuts of meat. Luckily, for pork, nearly all types of wood will be tasty. We like fruit woods, such as apple, cherry, and peach. We prefer cherry.
What's the difference between baby back ribs and spare ribs?
This recipe calls for baby back ribs, which are our preference. They are thicker, meatier, leaner, and more tender than spare ribs. A full rack of ribs will have somewhere around 10-13 ribs.
How long will ribs last in the fridge?
You can store your leftover ribs in the fridge for 3-4 days.
What temperature should the ribs be?
These smoked ribs will be the perfect texture at 195-203 degrees. Super tender and easily able to pull from the bone is what we're going for.
Make It a Meal!
Pair this with…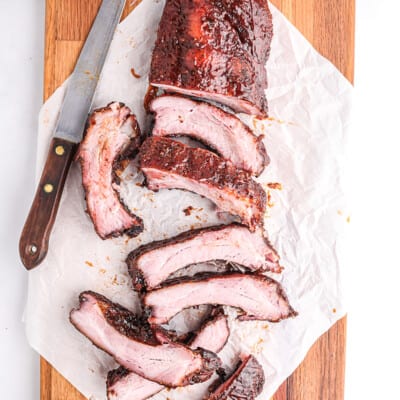 Smoked Baby Back Ribs
Tender ribs that are smoked to perfection! We baste these in a bourbon bbq sauce for loads of flavor.
Prep15 minutes
Cook4 hours 30 minutes
Marinade1 day
Total1 day 4 hours 45 minutes
Ingredients
1 rack baby back ribs
1 tablespoon salt
2 teaspoons ground black pepper
2 teaspoons garlic powder
1/2 cup Bourbon BBQ Sauce
Instructions
Combine the salt, pepper, and garlic powder and sprinkle liberally over both sides of the ribs. For the best flavor, allow ribs to marinate in the fridge overnight. This step is not necessary, but does make for more flavorful ribs.

Fill the water pot in the smoker with water and stock the smoker with wood. We prefer cherry wood for ribs, but use whatever type you prefer. Bring smoker to 250 degrees.

Smoke the ribs for about 3 hours or until they reach an internal temperature of 175 degrees. Make sure to check the water level and wood every 45-60 minutes.

Remove the ribs and place them on a large sheet of butcher paper or aluminum foil. Brush both sides liberally with the bourbon BBQ sauce and wrap tightly in the paper.

Return the wrapped ribs to the smoker and continue to cook for one hour or until the ribs are around 190 degrees.

Unwrap and apply more BBQ sauce to the ribs. Continue cooking, unwrapped, until the ribs reach 195-203 degrees, about 30 more minutes.

Carefully remove the ribs from the smoker and let rest for 15 minutes before serving.
Tips & Notes:
This recipe is easily increased. Make as many racks of ribs as you need and increase the seasoning accordingly. We count on one rack of baby back ribs serving 2 people. The times are just an estimate. Depending on the temperature and wind outside, you may need more or less cook time. Keep an eye on the temperature of the meat for the most accuracy.
Nutrition Information:
Calories: 773kcal (39%)| Carbohydrates: 33g (11%)| Protein: 55g (110%)| Fat: 47g (72%)| Saturated Fat: 16g (100%)| Trans Fat: 1g| Cholesterol: 196mg (65%)| Sodium: 4471mg (194%)| Potassium: 929mg (27%)| Fiber: 1g (4%)| Sugar: 24g (27%)| Vitamin A: 233IU (5%)| Vitamin C: 1mg (1%)| Calcium: 125mg (13%)| Iron: 3mg (17%)