A baked potato is great, but a TWICE baked potato is perfection! Loaded with creamy potatoes, sour cream, cheddar, and bacon. Your family and friends are going to devour this one!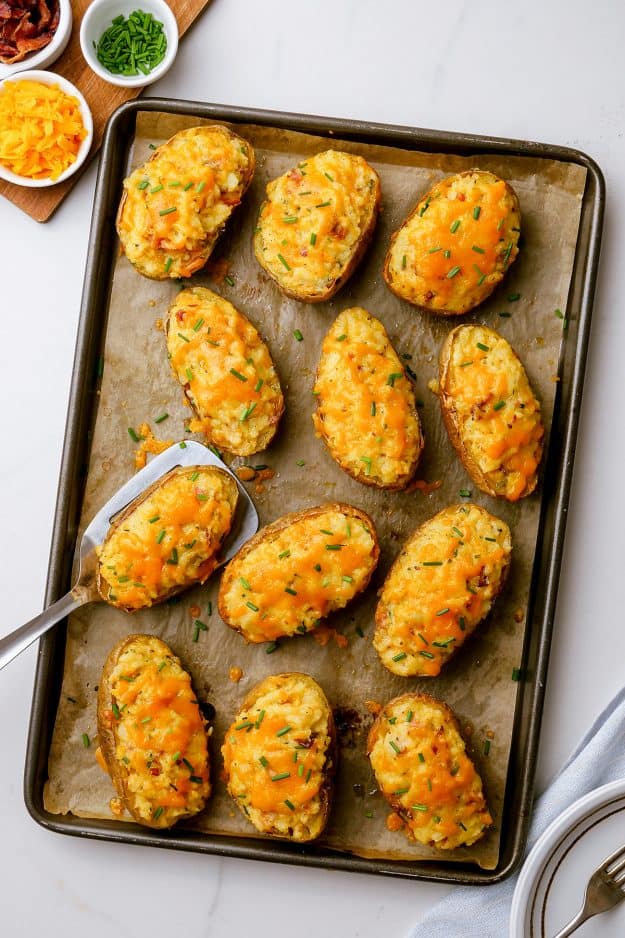 Every time we go out to a restaurant, I'm begging to order an appetizer. I mean, no, I'll never be able to eat my entire meal plus an appetizer, but I'll always try my best. 😉
Potato skins are a favorite of my husbands, but I'm always left a little…sad. Like, what did they do with all the potato? Why do I only get the skin?
Enter twice baked potatoes – they're similar to a potato skin, but they aren't missing all the good parts of a potato!
These twice baked potatoes make the PERFECT side dish – creamy, cheesy, carby. What's not to love? 😉
These definitely are a bit more time intensive than some of my recipes, but a lot of it is hands off time while the potatoes bake. And you know potatoes are always worth the effort!
Between these, our loaded mashed potatoes, and our crockpot potato soup, we eat entirely too many potatoes – and never regret a second of it.
Ingredients:
Potatoes – We use Russet potatoes here.
Milk – I almost always cook with 2%, but any variety should work.
Sour Cream – Sub 0% Greek Yogurt if you like.
Butter
Cream Cheese
Seasoned Salt
Bacon – Fried and crumbled.
Cheddar – We prefer freshly shredded.
Chives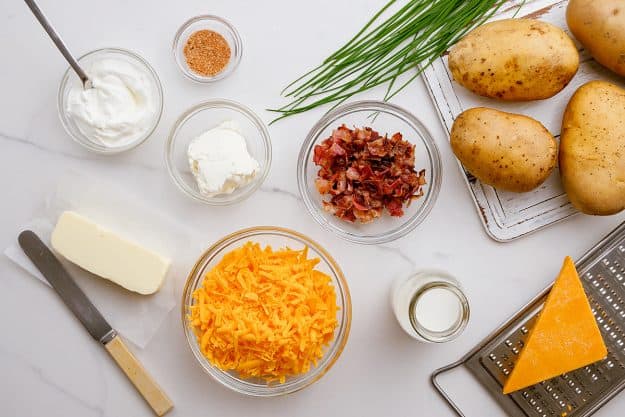 What We Love About This Recipe!
Creamy mashed potatoes, plenty of cheddar, and bacon, and it's all served up in a potato shell, making it easy to serve a crowd. You can easily halve or double this recipe to feed as many people as necessary. Plus, you can freeze these for later – tips on that below!
How to Make:
Prepare: This twice baked potato recipe takes a little more effort than your traditional baked potato, but it is definitely worth your time! While the oven is preheating to 375 degrees, scrub the potatoes clean and poke holes in the sides with a fork so that it can vent while baking.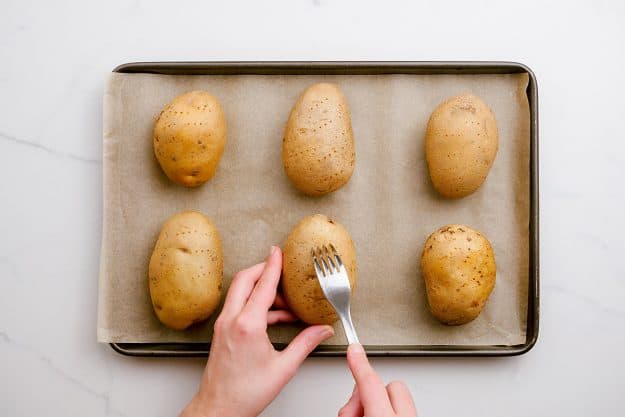 Bake: On a baking sheet, space the potatoes evenly and bake in the oven for 1 hour or until they are fork tender. This probably depends on the size of your Russet potatoes, in this recipe we used smaller Russets. Allow to cool for a couple of minutes.
Scoop: Cut the baked potatoes in half lengthwise and scoop out the inside into a mixing bowl, leaving about 1/8th of an inch of potato along the skin.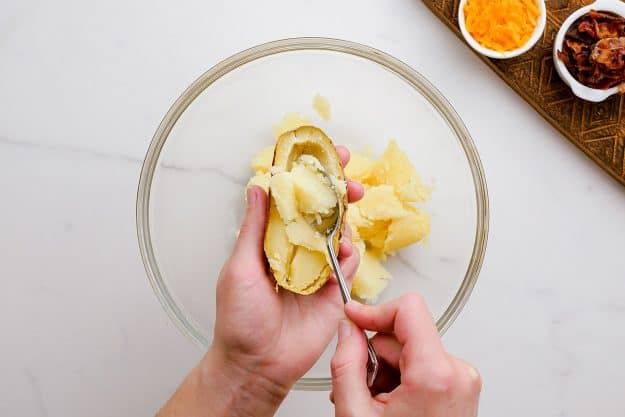 Combine: Add the milk, butter, cream cheese, sour cream, and seasoned salt to the potatoes and mash well until it all comes together. Add additional milk to reach your desired consistency, if you'd like. Mix in the bacon, chives, and cheddar.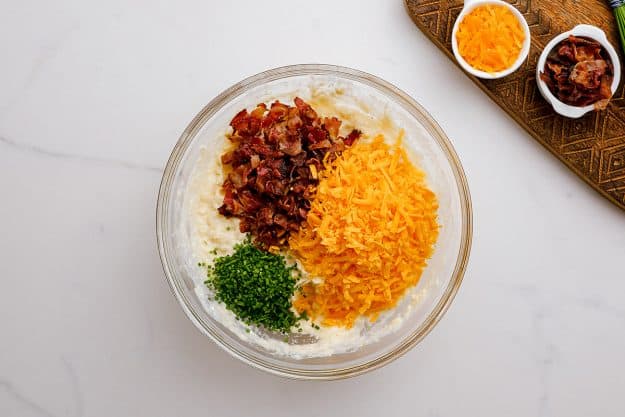 Fill: . Use a spoon to begin filling the potato skin shells evenly with the mixture, and finally top them all with the remaining cheddar cheese!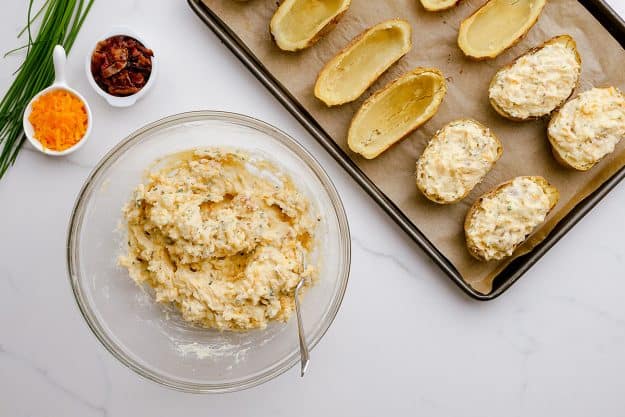 Finish: Bake the filled shells topped with cheese for about 15-20 minutes more in the oven or until the cheese has melted and the potatoes are cooked through. Feel free to add additional chives or other toppings before serving!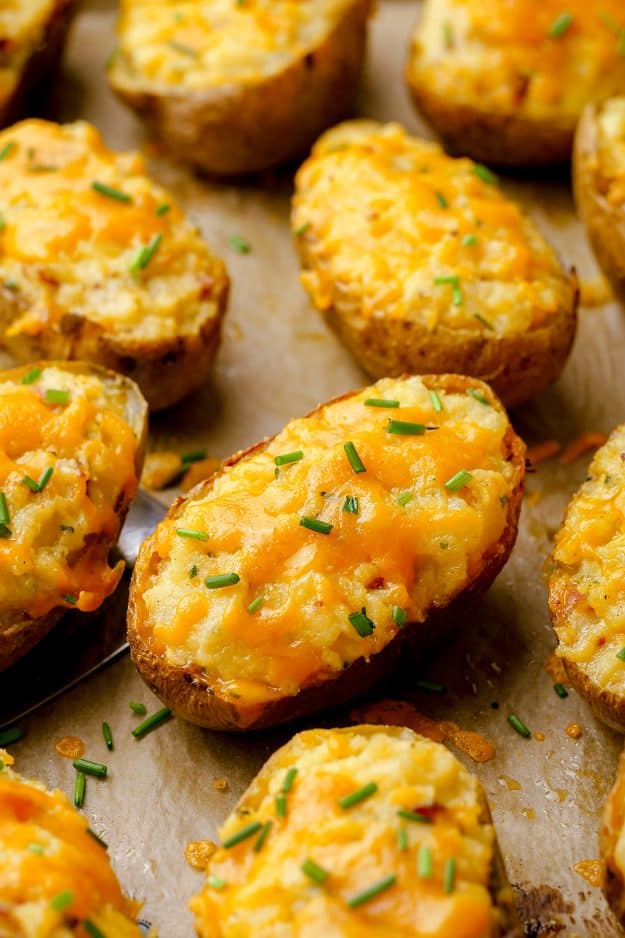 Helpful Tip!
Let the potatoes cool for a few minutes before scooping out the flesh, but not too long or they'll be hard to mash.
Freeze for Later!
While these aren't difficult to make, they do take a bit of time, so I like to make enough to freeze some for later!
Prepare the recipe up to the second bake.
Let the potatoes cool for 30 minutes on a baking sheet, transfer to the freezer for 1 hour, and then wrap individually in foil.
Freeze for up to 3 months.
To reheat, thaw overnight in the fridge, remove the foil, and bake at 350 for about 30 minutes.
Make It a Meal!
Pair this with…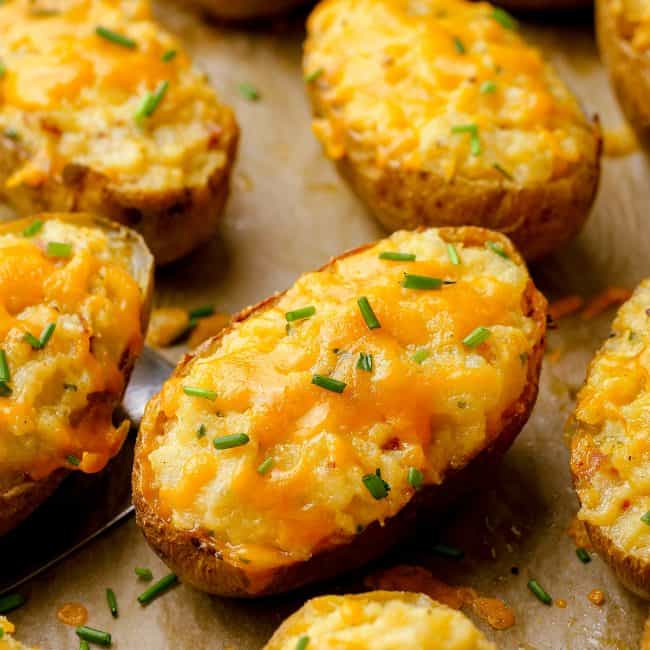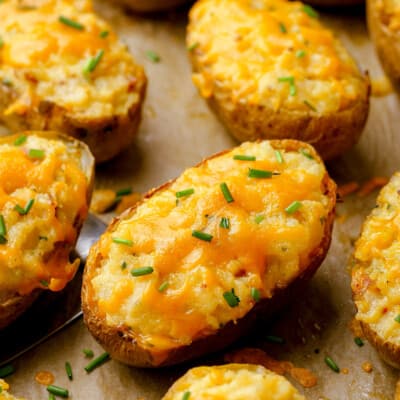 Twice Baked Potatoes
Level up your baked potato game with this recipe! We scoop the potato out of the skin, mash it up with plenty of cream cheese, sour cream, and cheese, and then mix it bacon and chives. This makes the perfect side dish for any night.
Prep20 minutes
Cook1 hour 20 minutes
Total1 hour 40 minutes
Ingredients
6 Russet potatoes
½ cup milk more as needed
¼ cup sour cream
¼ cup butter room temperature
2 ounces cream cheese room temperature
2 teaspoons seasoned salt
6 pieces bacon fried and crumbled
1 ½ cups shredded cheddar divided
2 tablespoons minced chives plus more for garnish
Instructions
Preheat oven to 375 degrees.

Scrub the potatoes clean and poke holes in the skin with a fork.

Place potatoes on a baking sheet and bake for 1 hour or until fork tender. Allow to cool slightly.

Cut potatoes in half lengthwise. Scoop the potatoes out into a mixing bowl leaving about 1/8th of an inch of potato along the skin.

Add the milk, sour cream, butter, cream cheese, and seasoned salt to the potatoes and mash well until smooth and creamy. Add additional milk if needed to reach the desired consistency. Taste and add additional salt, if needed.

Stir the bacon, ¾ cup of cheddar, and chives into the potatoes until combined.

Spoon the mashed potatoes evenly into the shells.

Top with the remaining cheese and bake for 15-20 minutes or until the potatoes are heated through and the cheese has melted.

Sprinkle with additional chives before serving.
Tips & Notes:
We tend to use smaller Russet potatoes in this recipe. One potato half seems to be plenty for most, but bigger appetites may want a full potato. To freeze, fill potatoes and top with cheese. Place on a baking sheet in the freezer for 1 hour. Wrap individually in foil. Freeze for up to 3 months. To cook from frozen, thaw overnight in the fridge. Remove foil and heat at 350 for 30 minutes.
Nutrition Information:
Serving: 1potato| Calories: 253kcal (13%)| Carbohydrates: 20g (7%)| Protein: 8g (16%)| Fat: 16g (25%)| Saturated Fat: 9g (56%)| Trans Fat: 1g| Cholesterol: 41mg (14%)| Sodium: 611mg (27%)| Potassium: 509mg (15%)| Fiber: 1g (4%)| Sugar: 2g (2%)| Vitamin A: 396IU (8%)| Vitamin C: 6mg (7%)| Calcium: 139mg (14%)| Iron: 1mg (6%)