This corn chowder recipe has an unexpected surprise hiding inside – plenty of beans! They make this corn chowder even more filling and hearty.

One of the first recipes I made on this blog that really took off and got people excited was my recipe for chicken corn chowder. It's 5 years old now and still a super popular recipe on my site. People seem to love it and I can totally understand why. Sweet corn belongs in soup, my friends.
So, when I started working with Hurst Beans last year and came across their simple recipe for corn chowder, I knew that I'd have to share it here as well. This makes a great vegetarian option (though I do sneak some bacon on top, because bacon) and is every bit as filling and delicious as my original chicken corn chowder recipe. If you're making this as a vegetarian dish, leave out the packet of ham seasoning that comes in the package of beans. If you're not looking for a vegetarian option, add it. I love those little packets that Hurst's includes in their beans. They add such great savory flavor to the beans!
My Tuscan white bean soup recipe is delicious, too!
I love all of the fiber the beans bring to this soup. It fills you right up and keeps you full, but it still feels like a nice, light soup. Utter perfection!

Why I Love This Recipe
The Beans: I have a basket in my pantry that is full of nothing but dried beans. They last so long and they are so versatile. I love that I always have them on hand for recipes like this.
The Corn: It's so sweet and crunchy. I tend to add corn to a lot of random recipes, because it just really bumps up the flavor. It's perfect in this soup. When corn is in season, cut it straight from the cob and add it to the chowder. During the winter months, go ahead and use canned or frozen corn.
It's Simple: While this recipe does take about 3 hours of cook time, most of that time is spent simmering away on the stove while you do things like paint your nails and watch bad Lifetime movies. Other than chopping up a handful of veggies, this is pretty hands off.
The Garnishes: Hi. You're topping this soup with bacon. And green onions. Maybe some cheddar? A dollop of sour cream? Whatever you add, it's going to be amazing. Especially if you drizzle it all with a little hot sauce. It really takes it over the top!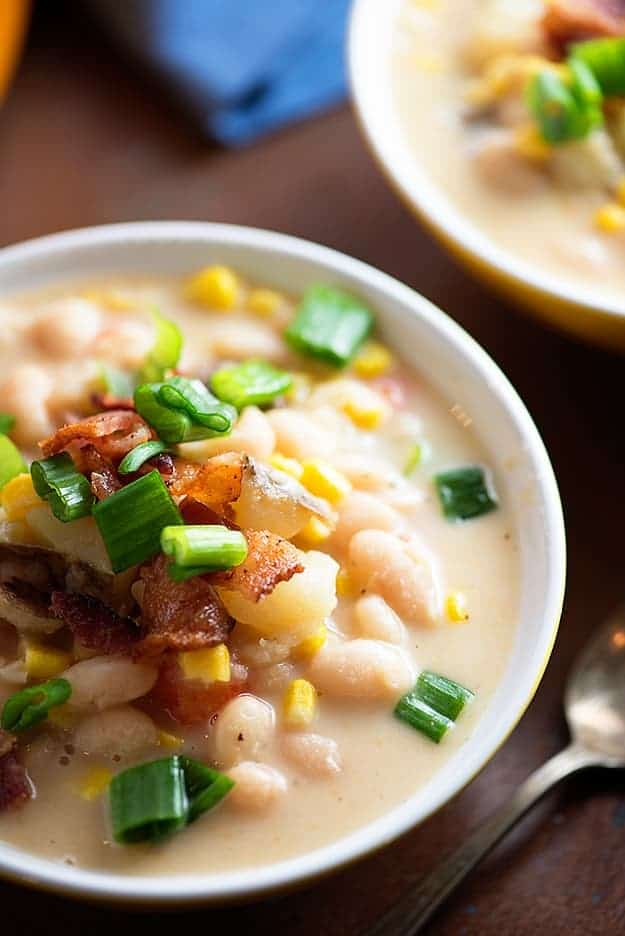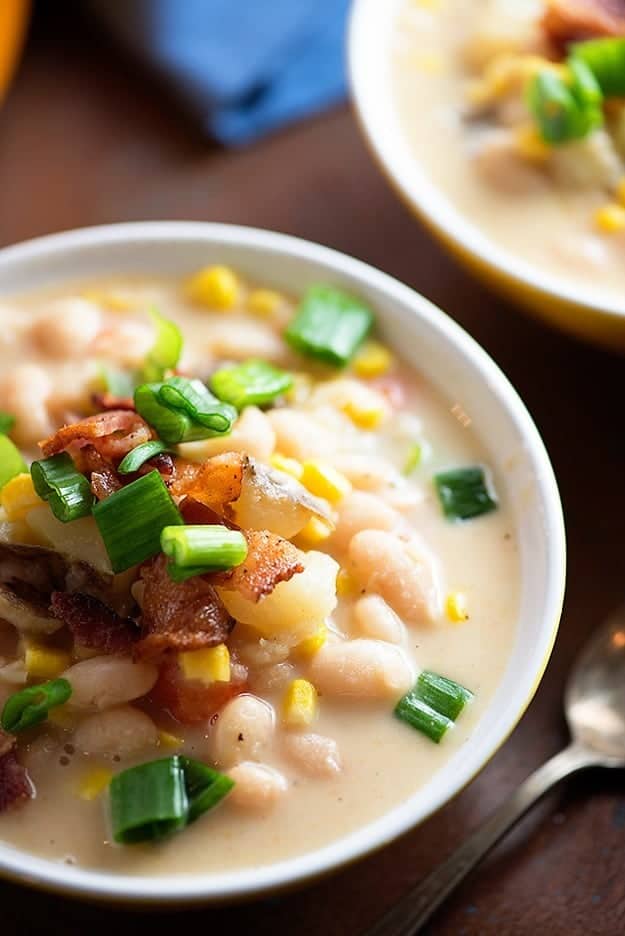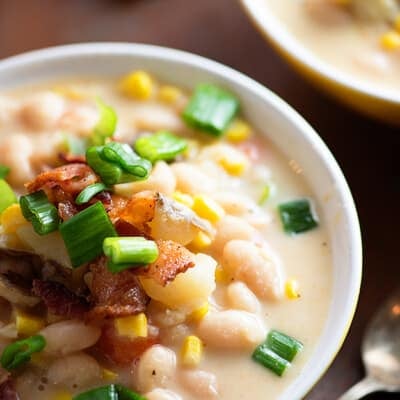 Sweet Corn and Bean Chowder
This corn chowder recipe has an unexpected surprise hiding inside - plenty of beans! They make this corn chowder even more filling and hearty.

Prep15 minutes
Cook3 hours
Total3 hours 15 minutes
Ingredients
1 package Hurst's® HamBeens® Great Northern Bean Soup
24 ounces sweet corn 3 cans
1 sweet onion
3 stalks celery
6 carrots peeled
2 large Idaho potatoes
1/2 cup heavy cream
2 teaspoons Old Bay seasoning
Cooked bacon crumbled
Green onions diced
Instructions
Place the dry beans into a colander and rinse thoroughly with cold water. Check for any small stones or debris and discard.

Place the beans in a 6 quart soup pot and add 12 cups of water. Bring to a boil over high heat, then cover and reduce to a simmer. Cook for 1 hour.

While the beans are cooking, prepare the vegetables. Dice the onion, celery, carrot, and potatoes into 1/4? pieces.

After cooking the beans for 1 hour, add the carrot, onion, celery, potato, and corn into the pot.

Bring to a boil, then cover and simmer for 1.5 – 2 hours, or until beans are tender.

When the beans are tender, turn the heat to low and stir in the heavy cream along with Hurst's ham flavor packet and Old Bay seasoning. Add salt and pepper to the soup to taste.

Sprinkle each bowl with bacon and green onions as desired.
Nutrition Information:
Calories: 246kcal (12%)| Carbohydrates: 44g (15%)| Protein: 8g (16%)| Fat: 5g (8%)| Saturated Fat: 2g (13%)| Cholesterol: 16mg (5%)| Sodium: 47mg (2%)| Potassium: 830mg (24%)| Fiber: 7g (29%)| Sugar: 7g (8%)| Vitamin A: 6535IU (131%)| Vitamin C: 12.6mg (15%)| Calcium: 78mg (8%)| Iron: 2.3mg (13%)
Keep an eye out at your grocery store for Hurst's Beans!