These 20 Minute Thai peanut noodles are so simple to make, loaded with fresh cilantro and crunchy peanuts, and all topped off with a spicy peanut sauce that is just irresistible!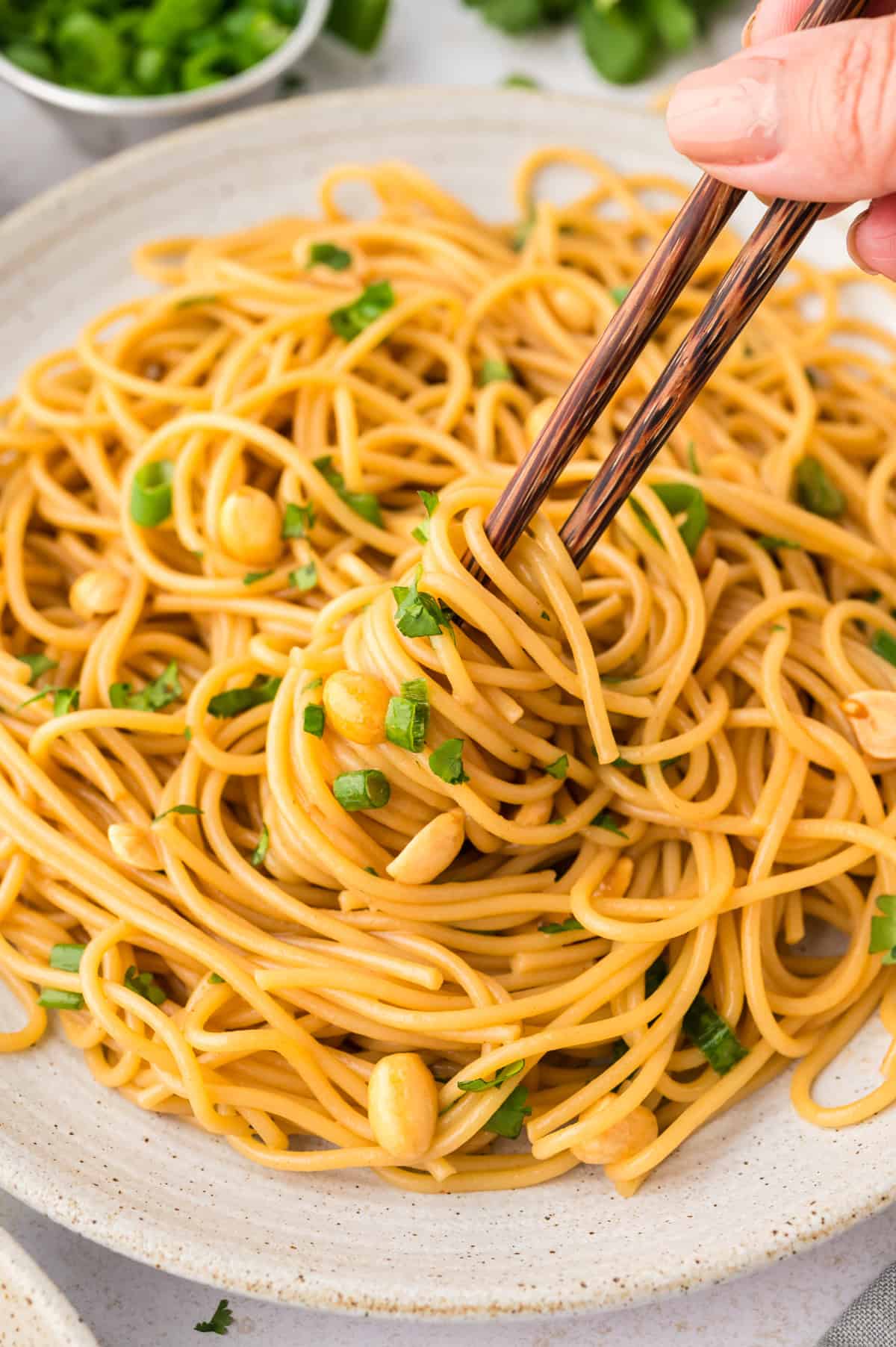 Do you ever get one of those cravings where nothing, and I mean nothing, will do except for a huge bowl full of noodles?
Carbs, man. I try to avoid them, but sometimes you'll see me face first in a plate of pasta.
We do a lot of my Cajun Shrimp Pasta and this Crockpot Lasagna is actual heaven on Earth.
And sometimes we do these Thai inspired peanut noodles. This is probably not an authentic dish, but it's darn delicious and I love it either way.
What We Love About This Recipe:
This recipe takes 20 minutes from start to finish!
These peanut noodles pack in big, bold flavors thanks to the cilantro, sesame, peanut butter, and red pepper flakes.
These are a nice change from the usual red sauce pasta dishes that we often eat in our house.
Ingredient Notes:
This post contains affiliate links. As a member of Amazon and other affiliate programs I earn from qualifying purchases.
Noodles – We're using spaghetti noodles, but you can use ramen or another type of noodle, if preferred. Rice noodles would also work well.
Sesame Oil – Adds loads of flavor and should not be skipped or substituted.
Peanuts – Obviously a pretty important part of these Thai peanut noodles. The crunchiness of the peanuts with the spicy noodles is a perfect combination!
Cilantro – Swap this out for basil if you're not a cilantro fan.
What Readers are Saying!
"Super quick and easy peanut sauce recipe. I make it a little less spicy for the family and generally add some grilled chicken." – Jenn
How to Make Spicy Thai Peanut Noodles:
Boil the Noodles: First up you're going to need to prepare the noodles. Start boiling some water and add whichever type of noodles you plan to use. Just follow the package instructions and cook for however long it calls for.
While the noodles are cooking you can move on to the next step to begin preparing the Thai peanut sauce!
Spicy Thai Peanut Sauce: Heat up the sesame oil with the red pepper flakes on the stove for a couple minutes. Keep the heat low and do not let the oil burn. If it starts to smoke, the oil is burnt and you'll want to dump it out and start over.
I love using this meat thermometer for making sure the meat is at 165 degrees! Easy for beginners & totally worth the $10 cost!
After heating strain the oil through a mesh strainer into a mixing bowl. Discard the red pepper flakes. Now you can stir in the peanut butter.
Finally, add the soy sauce and honey to the oil/peanut butter mixture and continue stirring until all of the sauce ingredients are well combined.
Helpful Tip!
We like our Thai peanut noodles to be fairly spicy, so we use a full tablespoon of red pepper flakes. You can reduce this amount for a less spicy sauce or leave the red pepper flakes in the sesame oil for less time. Either way, you'll have a more mild sauce.
Combine: When the noodles are finished cooking, drain the water from them, and then add the noodles in with the spicy peanut sauce. Toss it well to make sure that the noodles get fully coated in the sauce.
We like to top these spicy Thai noodles with some chopped peanuts, green onion, and cilantro. You'll love the texture of these peanut sauce noodles with the crunchy peanuts!
FAQs:
Can I add protein to these Thai peanut noodles?
Absolutely! Add cooked and chopped chicken, pork, or tofu to the noodles and coat in the sauce. No other adjustments need to be made.
What is Thai peanut sauce made of?
This peanut sauce has sesame oil, red pepper flakes, soy sauce, peanut butter, and honey.
MORE ASIAN INSPIRED DISHES!
Spicy Thai Peanut Noodles
We put our own spin on peanut sauce for these Thai inspired peanut noodles. They're a bit spicy, with loads of flavor and texture thanks to the peanuts, cilantro, soy, and sesame.
Prep10 minutes
Cook10 minutes
Total20 minutes
Ingredients
12 ounces spaghetti
1 tablespoon red pepper flakes more or less, to taste
1/3 cup sesame oil
1/3 cup soy sauce
3 tablespoons honey
2 tablespoons peanut butter
1/4 cup chopped green onions
1/4 cup chopped cilantro
1/4 cup peanuts
Instructions
Bring a large pot of water to a boil and cook noodles according to package directions.

While noodles are cooking, heat the sesame oil and red pepper flakes over low heat for 2-3 minutes. Do not let the oil smoke.

Strain through a fine mesh strainer, discarding the pepper flakes and saving the oil. Stir the soy sauce, honey, and peanut butter into the oil until smooth and creamy.

When noodles have finished cooking, drain liquid and toss the noodles in the oil mixture.

Toss with the peanuts, green onions, and cilantro.

Serve immediately.
Tips & Notes:
Be sure you do not burn the oil. If it begins to smoke, toss it and start over or it will add a burnt flavor to the dish. The dish is fairly spicy as is. Reduce the red pepper flakes if desired. We sometimes add leftover rotisserie chicken to this dish as an easy way to add protein.
Nutrition Information:
Calories: 642kcal (32%)| Carbohydrates: 83g (28%)| Protein: 17g (34%)| Fat: 28g (43%)| Saturated Fat: 4g (25%)| Polyunsaturated Fat: 11g| Monounsaturated Fat: 11g| Sodium: 787mg (34%)| Potassium: 417mg (12%)| Fiber: 5g (21%)| Sugar: 17g (19%)| Vitamin A: 723IU (14%)| Vitamin C: 2mg (2%)| Calcium: 47mg (5%)| Iron: 3mg (17%)