We combined our favorite peanut butter cookies with brownies to make these Peanut Butter Brookies! Gooey brownies and loads of peanut butter make for the ultimate treat!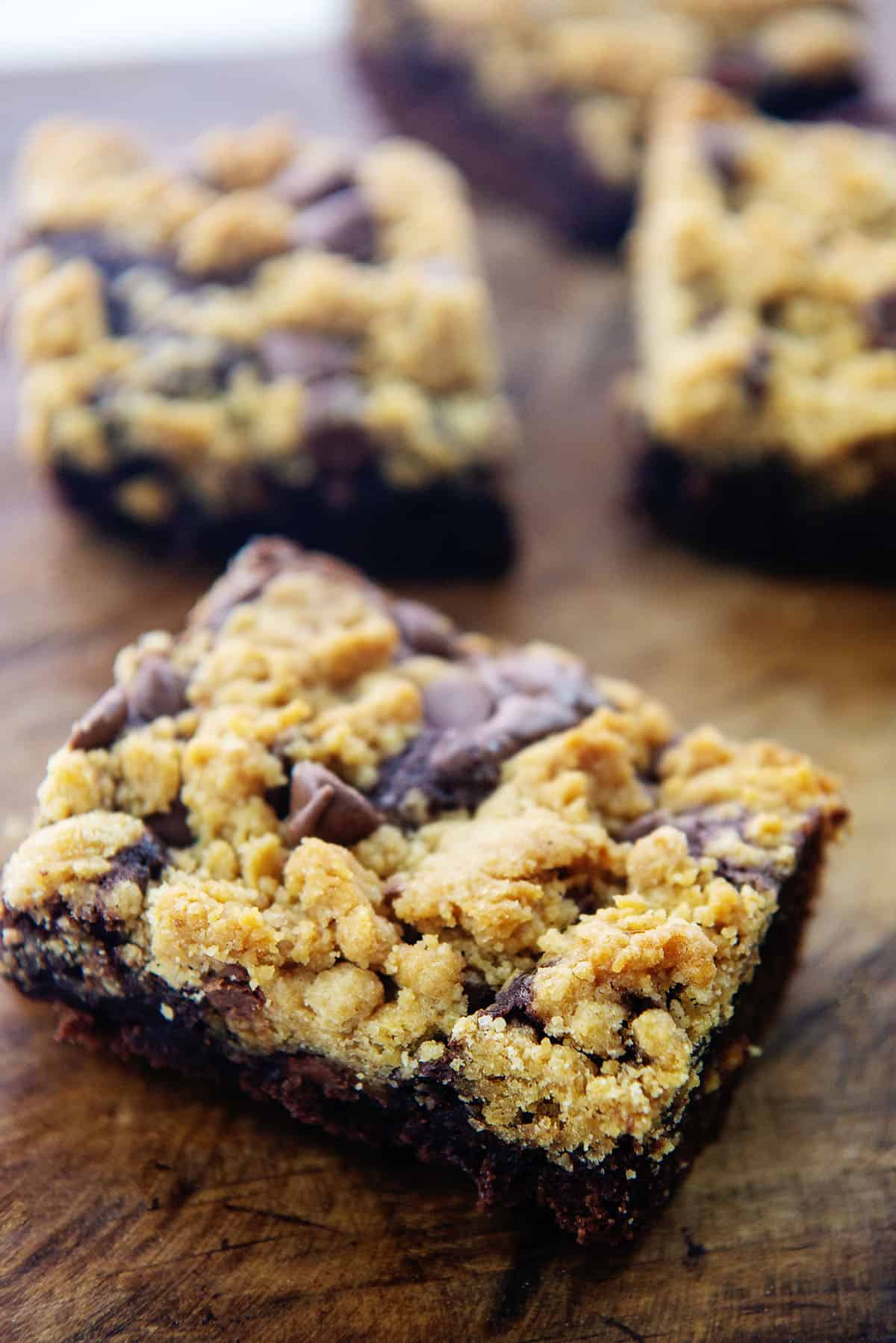 Our traditional Brookies recipe is a fan favorite – thick, chewy brownies swirled with chocolate chip cookie dough. I mean, what's not to love?
We decided to take things up a notch and swap out the CCC dough for some peanut butter cookie dough!
If you know me, you know I love chocolate and peanut butter together and this recipe is no exception!
Not much beats a warm brownie, but adding cookie dough to the top? Well, that might just do the trick. 😉
Ingredient Notes:
This post contains affiliate links. As an Amazon associate and member of other qualifying programs, I earn from qualifying purchases.
Brownie Batter – We love our homemade brownies but prefer a box mix for this recipe because it's simpler, quicker, and the brownies bake faster which means the cookie dough doesn't get too crunchy. Use a 'family size' box of brownie mix or one that's made for a 9×13 sized pan.
Peanut Butter Cookie Dough – This easy homemade cookie dough is made from peanut butter, flour, brown sugar & white sugar, egg, butter, vanilla, and baking soda. This will make double the amount needed for the brookies so you'll have extra cookie dough for later! See my tips on that below!
Chocolate Chips – We like milk chocolate, but use any variety you like.
What We Love About This Recipe!
It's a brownie and a cookie all in one bite! These are basically everyone's favorite goodies all rolled into one, with the addition of peanut butter. We also love that the recipe has leftover cookie dough that you can freeze to bake for later!
How to Make Brookies:
Brownie Batter: To start these chocolate peanut butter brookies you'll first prepare the box of brownie mix per the package instructions. Easy stuff!
Cookie Dough: This peanut butter cookie dough comes together easily with a hand mixer or stand mixer. You'll have twice as much cookie dough as you need, which is FABULOUS because you can pop the extra in your freezer to bake off later when an emergency cookie craving hits. Details below.
Combine: When the peanut butter cookie dough and the brownie batter are ready you can start baking these brookies! Pour all of the brownie batter into a parchment lined 9×13 baking dish.
Next go ahead and crumble half of the peanut butter cookie dough evenly over the top of the brownie batter while setting aside the other half of the dough. All that's left now is to bake!
Helpful Tip!
Grease your pan with non-stick spray so the brownies won't stick. Alternately, line your pan with foil or parchment paper to make it easy to remove the whole tray of brownies and cut them nicely.
Bake: It can be tricky to tell when the brownies and the cookie dough are done, but about 25 minutes should do the trick. The brownies should leave behind moist crumbs when tested with a toothpick an inch from the edge of the pan.
We sometimes like to enjoy these brookies with a scoop of ice cream. And if you like milk and cookies, then you'll love milk and brookies!
Freeze Cookie Dough for Later!
You'll only use half of the peanut butter cookie dough for topping the brownies. We love to freeze the rest to bake another day!
Use a medium cookie scoop to scoop balls of dough onto a large baking sheet. Place the baking sheet in the freezer for one hour for the balls to firm up.
Remove the dough to a freezer safe bag and freeze for up to 3 months.
Bake the dough straight from the freezer at 350 degrees for 9-10 minutes.
FAQs:
What is a brookie?
It's the combination of a brownie and cookie all baked together into one delicious treat.
How do you store brookies?
Peanut butter brookies should be stored in an airtight container for up to 5 days. You can also freeze them and they should remain good for at least a couple of months.
What to do with the remaining cookie dough?
To bake the dough immediately, scoop it out with a medium cookie scoop and bake at 350 degrees for 8 minutes. You'll end up with perfectly soft, delicious peanut butter cookies! We've included instructions for freezing the leftover cookie dough up above.
Can I freeze the cookie dough for later?
Yes! First portion the dough out with a cookie scoop onto a cookie sheet and then freeze for one hour before transferring the balls of cookie dough to a sealed freezer safe bag or container. These cookies can be baked straight from the freezer at 350 degrees for 9-10 minutes.
MORE BAR DESSERT RECIPES!
Peanut Butter Brookies
We topped off fudgy brownies with our favorite soft peanut butter cookie dough. This is a match made in heaven!
Prep15 minutes
Cook25 minutes
Total40 minutes
Ingredients
1 box brownie mix plus ingredients called for on box
1/2 cup butter room temperature
1/2 cup peanut butter
3/4 cup brown sugar
1/4 cup white sugar
1 large egg
1 teaspoon vanilla
1 3/4 cups flour
1 teaspoon baking soda
1/2 teaspoon salt
1 cup milk chocolate chips
Instructions
Preheat oven to 350 degrees and line a 9×13 baking dish with parchment paper.

Prepare the brownie mix according to package directions and set aside.

Add the butter, peanut butter, brown sugar, and white sugar to a large mixing bowl and beat well until smooth and creamy.

Beat in the egg and vanilla.

Add the flour, baking soda, and salt to the peanut butter mixture and mix until well combined.

Stir in the chocolate chips.

Pour the brownie batter into the prepared baking dish and then crumble half of the cookie dough evenly over the top of the brownie batter. Reserve remaining cookie dough for another use. See notes.

Bake for 25 minutes or until a tester comes out mostly clean 2 inches from the edge of the pan.

Let cool for at least 2 hours to allow brownies to continue firming up before slicing and serving.
Tips & Notes:
This recipe makes a full batch of peanut butter cookie dough, but you'll only need half of it for this recipe. The remaining dough can be portioned out with a medium cookie scoop at baked at 350 degrees for 8 minutes to make perfectly soft peanut butter cookies. Dough may also be frozen for another date. Portion onto a cookie sheet, freezer for one hour, transfer to a bag, and then freeze until ready to bake. Bake at 350 degrees straight from the freezer for 9-10 minutes. We like to use the box brownie mix that is labeled family size or 9×13 size for a thicker brownie base. Bake times will vary a bit based on the brownie recipe used. Bake until a tester inserted 1 inch from the edge comes out with moist crumbs.
Nutrition Information:
Serving: 1brownie| Calories: 535kcal (27%)| Carbohydrates: 77g (26%)| Protein: 8g (16%)| Fat: 22g (34%)| Saturated Fat: 9g (56%)| Polyunsaturated Fat: 2g| Monounsaturated Fat: 7g| Trans Fat: 1g| Cholesterol: 38mg (13%)| Sodium: 449mg (20%)| Potassium: 116mg (3%)| Fiber: 2g (8%)| Sugar: 49g (54%)| Vitamin A: 292IU (6%)| Vitamin C: 1mg (1%)| Calcium: 41mg (4%)| Iron: 3mg (17%)