August 26, 2018
Mississippi Mud Brownies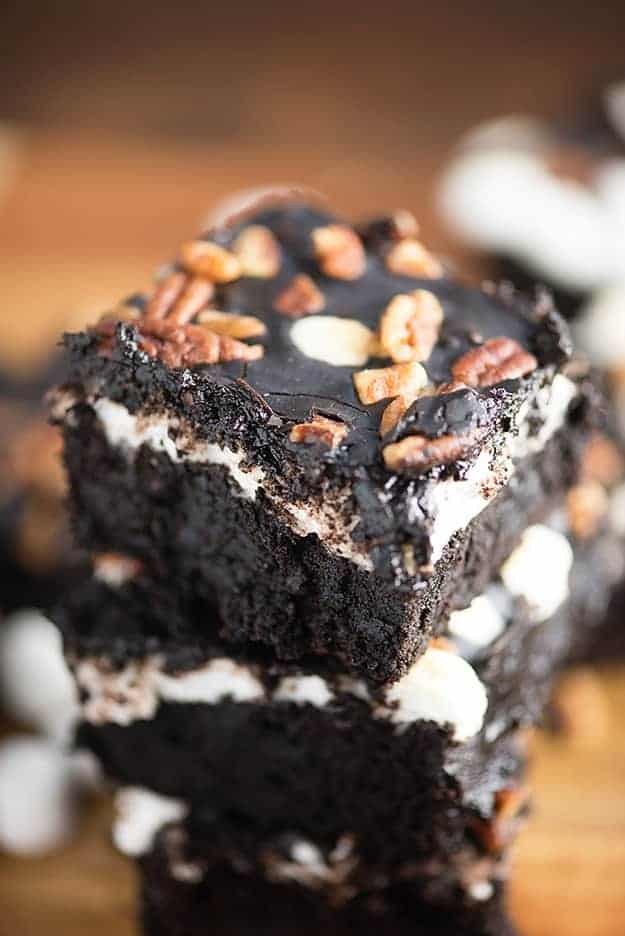 So, this recipe you guys.
It's my nemesis. I mean, the recipe itself is legit. I have no problems with it. It's the photography of said recipe that is my issue.
I have made these brownies four different times and photographed them every time with dismal results.
Do you know how frustrating that is? I mean, yes, we get extra batches of brownies, but I want to spend my time coming up with a new recipe, not making the same freakin' brownies over and over again only to get frustrated with the photographs I take of them!
If that's not a first world problem, I don't know what is. I basically just complained because I had to eat too many brownies. Never thought I'd see the day when too many brownies was a problem!
My kids sure didn't complain about my failures though. Marshmallows are up there as one of their all time top favorite foods, so adding mallows to these deeply chocolate brownies and then topping it all with an easy chocolate frosting? Heaven. They'll probably be insisting I make them some more of these tomorrow. And who am I to resist? They really are delicious!
This brownie recipe is my go to recipe. The flavor is intensely chocolate from the addition of a little espresso powder. If you don't have any, you can leave it out, but it really does help amp up that chocolate flavor. And I promise there is no coffee taste at all! Purchase some from Amazon! 
The texture of these always comes out perfect for us, too. Immensely fudgy and a bit chewy. There is nothing cakey about these brownies and that's exactly the way I like it!
You'll notice that my brownies are nearly black. This is because I use Hershey's Special Dark cocoa powder. I love the flavor it adds and the deep dark color just makes me happy. I love it when my brownies look extra super chocolatey! Purchase that cocoa powder here.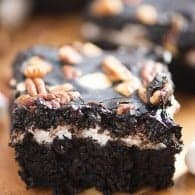 Mississippi Mud Brownies
Servings: 16 brownies
Course: Dessert
Cuisine: American
Keyword: easy brownie recipes, easy dessert recipes, kid-friendly recipes
Calories: 474 kcal
You'll notice that my brownies are nearly black. This is because I use Hershey's Special Dark cocoa powder. I love the flavor it adds and the deep dark color just makes me happy.

Ingredients
For the brownies:
1 cup butter 2 sticks
2 cups sugar
4 large eggs
1 1/4 cups cocoa powder I use Hershey's Special Dark
1 teaspoon salt
1 teaspoon baking powder
1 teaspoon espresso powder optional
1 tablespoon vanilla extract
1 1/2 cups all-purpose flour
10 ounces mini marshmallows
For the frosting:
1/3 cup cocoa powder I use Hershey's Special Dark
1/2 cup butter
2 cups powdered sugar
1 teaspoon vanilla
1/3 cup milk
1/2 cup chopped pecans
Instructions
To make the brownies, pre-heat the oven to 350 degrees. Butter a 9x13 baking dish.

In small saucepan over low heat, melt butter completely. Stir in sugar and continue cooking for 1-2 minutes, stirring constantly. Do not allow sugar mixture to boil.

Pour butter mixture into a large bowl or stand mixer, beat in cocoa powder, eggs, salt, baking powder, espresso powder, and vanilla extract. Mix until well combined.

Stir in the flour until just combined.

Spread into prepared pan (batter will be very thick and sticky) and bake for about 30 minutes, until a tester comes out mostly clean. The edges should be set and the center should still look slightly moist, but not uncooked.

Sprinkle the marshmallows over the top of the brownies. Turn the oven to broil and return the pan to the oven, cooking just until the marshmallows begin to melt and brown, about 3 minutes.

Remove from the oven and set aside to cool for 30 minutes.

To make the frosting, melt the 1/2 cup of butter and stir in the cocoa. Remove from the heat. Whisk in the powdered sugar, vanilla, and milk until smooth. Pour over the brownies and smooth with an off-set spatula.

Sprinkle the chopped pecans over the top.
Nutrition Facts
Mississippi Mud Brownies
Amount Per Serving
Calories 474 Calories from Fat 198
% Daily Value*
Fat 22g34%
Saturated Fat 12g75%
Cholesterol 92mg31%
Sodium 334mg15%
Potassium 211mg6%
Carbohydrates 69g23%
Fiber 3g13%
Sugar 50g56%
Protein 5g10%
Vitamin A 610IU12%
Calcium 44mg4%
Iron 2.1mg12%
* Percent Daily Values are based on a 2000 calorie diet.
Nutrition Disclaimer: All information presented on this site is intended for informational purposes only. I am not a certified nutritionist and any nutritional information shared on bunsinmyoven.com should only be used as a general guideline.