Every year we gather up the top 10 most popular recipes from Buns In My Oven for a little year end recap! It's fun to look back and see the recipes people love most!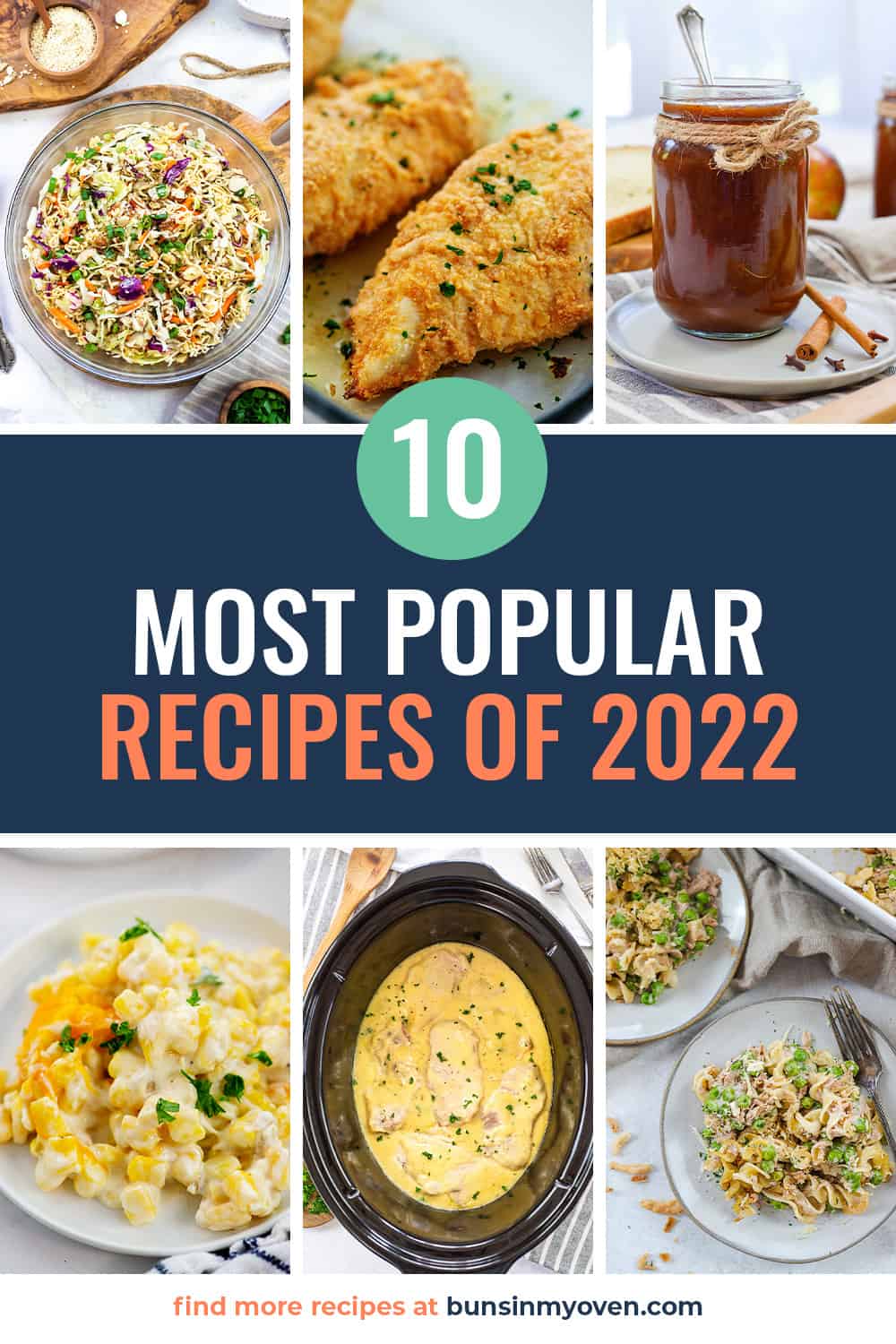 Hard to believe another year is coming to a close, but here we are!
In the midst of planning for the New Year's Eve festivities (getting excited for our grape jelly meatballs and bacon wrapped lil smokies!), we took a minute to look back through all of the recipes we shared over the year 2022.
There were a lot – we shared 105 new recipes in total, ranging from breakfast to dinner to dessert!
Every year we look back and dig up the 10 most popular recipes from the year, based off of views. It's the easiest thing for us to measure the popularity of a recipe so that's what we did this year too!
You'll find the top 10 recipes below…but keep scrolling and you'll see my PERSONAL FAVORITE RECIPE that we shared in 2022.
Karly's Favorite Recipe of 2022:
It's funny because my personal favorite is almost NEVER on the Top 10 list! Makes me sad, because I really want you all to try it each year!
So, I started looking back and it took me about 10 seconds to realize that I already knew what my favorite was…after all, I've been making this one almost weekly for ages now!
These Peanut Butter Stuffed Cookies have the top spot!
I am so proud of the work that went into this recipe, testing again and again to get the perfect peanut butter cookie! That hidden peanut butter center is honestly just to die for and the cookie itself is the perfect texture.
Past Top 10 Recipes:
We do this every year and I love looking back over time to see what's popular.
I'm always surprised it's mostly savory dishes. Y'all are sleeping on my desserts! 😉
Anyway, here's links to the top 10 posts of years past:
2021
2020
2019
2018
2017
2016
2015
2014
2013
2012
Thank You!
I always get a little emotional closing out the year and that's because I want to express to you guys just how thankful I am for all of you, but I never have the words to really do it.
This blog supports not only my family, but also the families of my 2 full time employees. It is such an honor to be able to share my passion with all of you in a way that also brings so much back to my family and team members.
I never take for granted that I couldn't do it without all of you browsing our recipes, trusting our recipes, sharing our recipes, and just generally being supportive of this site. You mean the world to me and I'm so happy that I get to be a small part of your lives!
It truly makes my day every time I hear one of you made one of our recipes. Thank you for trusting us enough to let us into your kitchen!
Happy New Year!